Larsen tours Pathfinder Manufacturing and speaks with local students
EVERETT, Wash., June 1, 2023—Representative Rick Larsen (WA-02) visited Pathfinder Manufacturing in South Everett on Monday, May 8, to meet both CEO Dave Trader and high school students who are within its apprenticeship program.
Pathfinder Manufacturing, formerly Workforce Development Center, is a certified 501(c)(3) that assembles and machine parts primarily for Boeing Commercial as well as some military airplanes — up to 1,500 part numbers. They do this all while partnering with different high schools throughout Snohomish, North King, and Island counties paying 36 students to learn manufacturing while gaining high school credits.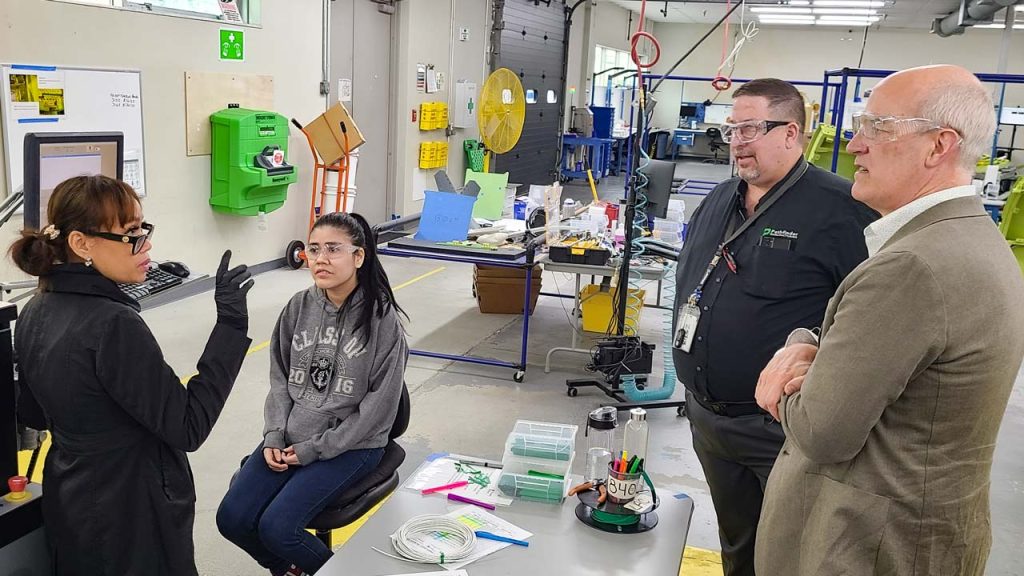 One Pathfinder's graduates and now employee, Zachary, first got involved in the program to make up some high school credits in order to graduate.
"Seeing my development actually allowed me to graduate early," Zachary told the Lynnwood Times. "I'd like to see the program expand, personally. Right now we focus on aerospace primarily, since we're a subcontractor, but if we can expand to do automotive it can allow more training [opportunities] for students."
He truly enjoys mentoring new students and shared that having gone through the program himself, he can related more closely to the varying communication and learning styles of each intern.
"Knowing where I started off and needing to get there makes me feel qualified to help them do the exact same thing, to get if not farther than I am right now," Zachary said.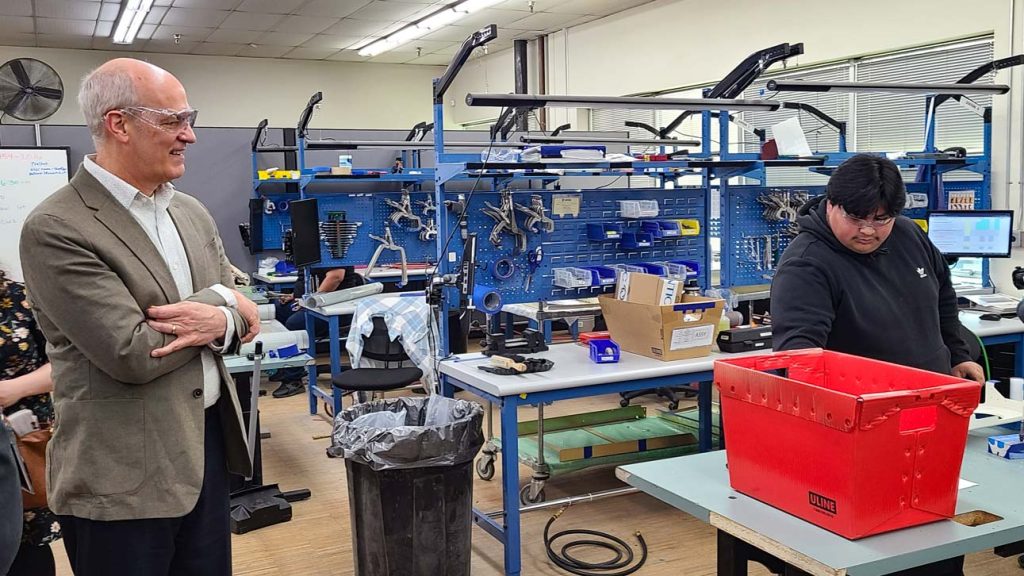 Pathfinder first launched its student program back in 1991, beginning with half a dozen students exclusively doing assembly work. At its peak, before the pandemic, Pathfinder graduated around 80 students who now build wire harnesses and do machining work. Currently, a third of Pathfinder's staff members are prior students from this program.
"It's kind of a fine line we walk," Pathfinder Manufacturing CEO Dave Trader told the Lynnwood Times. "We have our customer – Boeing – who wants their parts on-time and good quality, and then we have our students who we're trying to teach all this stuff to, and keep them going, keep them in school, and graduate. It makes it really interesting at times, but we do a really good job."
Adding to that fine line, as a nonprofit, Pathfinder must compete with for-profit businesses. Although they receive, albeit very little, grant funds it's not nearly enough to support their operation, Trader added, but the company is still "self-sustaining" none-the-less.
"We have a very good training program in my eyes, we have a very good student services person and all of the employees here, including the students, take a lot of pride in what they do," said Trader.
Trader has been with Pathfinder since 1996, five years after it was founded, and became CEO in 2000. Before that he worked in Automotive for 16 years working in "every field except accounting."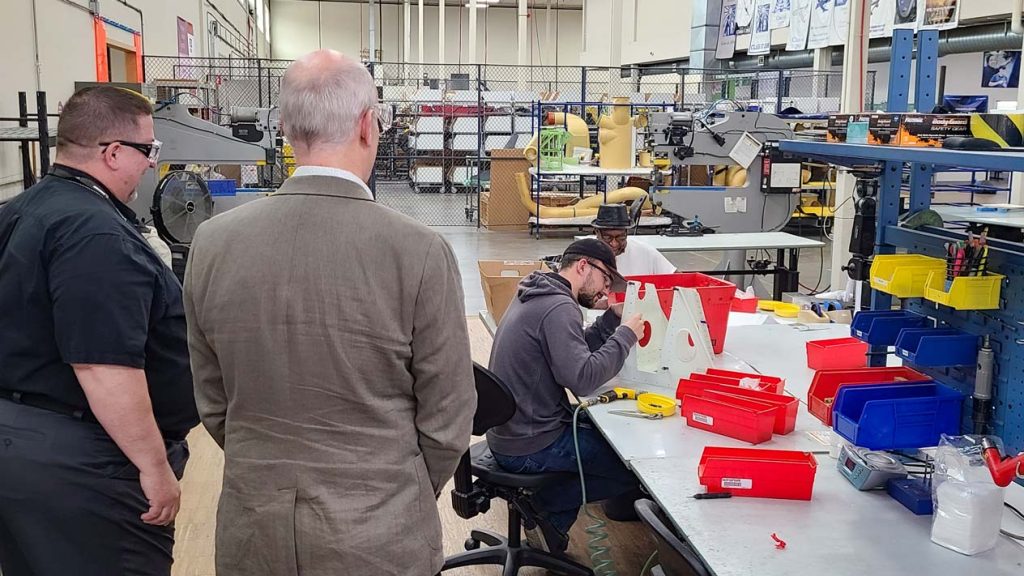 During last month's meeting, Trader and Representative Larsen discussed the important work Pathfinder does for both the aerospace industry and the workforce with hopes the Congressman could bring in much-needed funding to expand its services in the near future.
"We need you to stay in this industry," said Larsen told Pathfinder employees and interns during last month's event. "This industry is growing and if we are going to build safe airplanes, we need people like you."
Larsen added, "I am very much interested and fascinated by this program here at Pathfinder, a non-profit that reaches out to school districts to find students and bring them into the aviation workforce."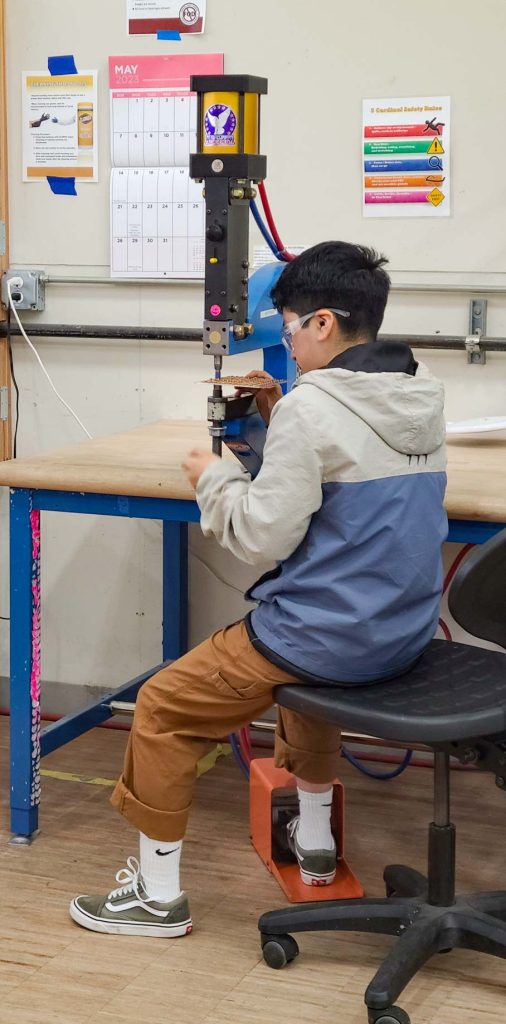 In April, Rep. Larsen participated in a bipartisan hearing, discussing many of the challenges the U.S. aerospace and aviation workforce face. During that hearing, Larsen emphasized the importance of increasing funding for aviation workforce development grants and increasing outreach to underrepresented communities in the industry. This came just a year after he supported the Aviation WORKS Act, centered on boosting investments in aviation workforce outreach.
Senators Deb Fischer, of Nebraska, and Mark Kelly, of Arizona, introduced a companion bill in the Senate.
The bill intended to reauthorized the existing Section 625 aviation workforce development grant program, to $20 million per year, for the aviation maintenance and pilot training programs while generating funding for new aviation manufacturing workforce development programs. However, the legislation did not advance out of committee. The Aviation WORKS Act was reintroduced last February but similar legislation, currently, has not been introduced at the House level.
As for expanding high school students' access to in-demand jobs in growing Science, Technology, Engineering and Mathematics (STEM) fields, Representative Larsen introduced legislation during the 117th Congress that would establish a six-year pathway for high school students to enter an apprenticeship program that would prepare them for jobs in high-skill, high-wage, or in-demand industries. He expects to introduce similar legislation this Session, his office informed the Lynnwood Times in an email.
RELATED ARTICLES