Massive turnout launching Lynnwood Council Vice President's 2023 campaign kickoff
LYNNWOOD, Wash., June 24, 2023—To an impressive turnout of just over 100 supporters at her home, Lynnwood Council Vice President Dr. Julieta Altamirano-Crosby kicked off her 2023 re-election campaign themed "Building Community," with a message of growth, public safety, mental health, and environment.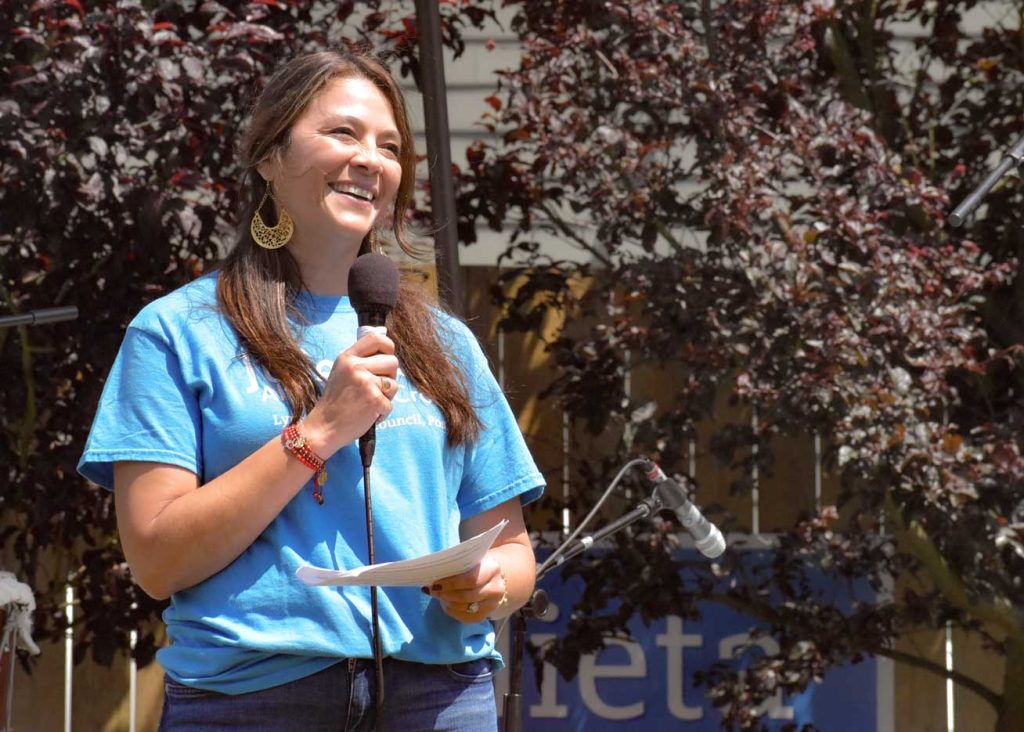 "In a world full of spectators, let's be players," Councilwoman Dr. Altamirano-Crosby said during her campaign kickoff speech. "In a society of division, let's be the bridge. We are not just the city of Lynnwood, we are the hearts of Lynnwood building unity toward a brighter, bolder, and better tomorrow."
Senator John Lovick (D-Mill Creek) shared a story of the positive character traits of humility and kindness he personally witnessed with Altamirano-Crosby on the campaign trail.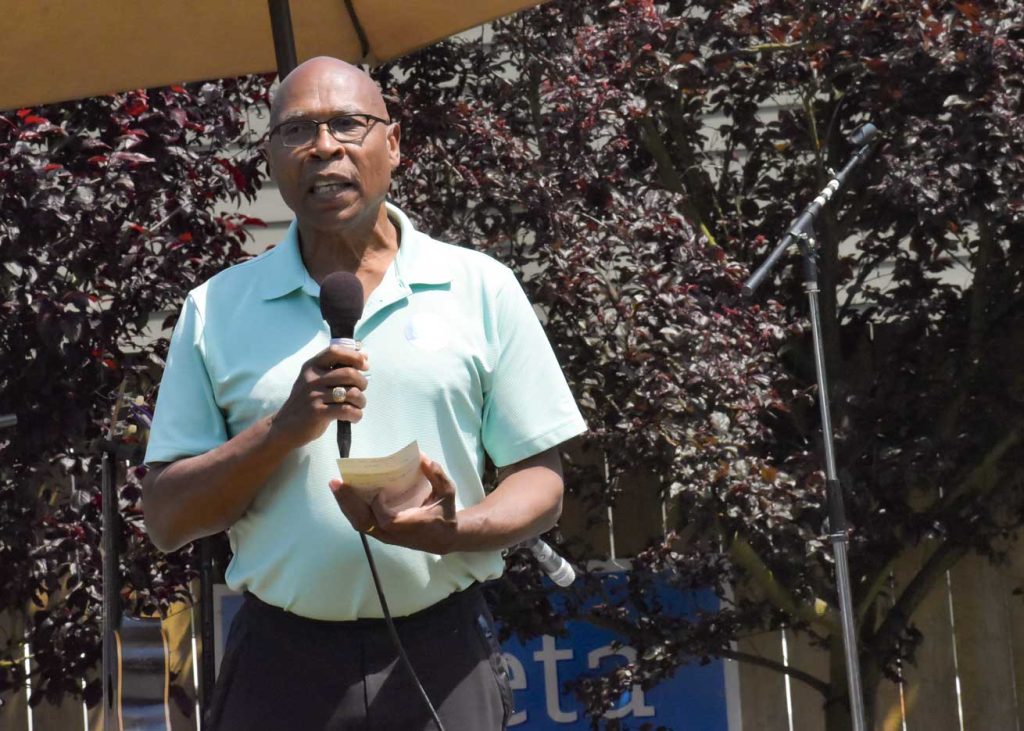 "She didn't tell me all of those great things that she had been involved in; I had no idea of the wonderful things," Senator Lovick said. "I tried to get her to engage into some of the things she had been involved in, and not a word. That's the kind of elected official; that's the kind of leadership we want in a community. Where a person isn't going around patting themselves on the back for everything that they do. She gives other people the credit for the great work that gets done."
Altamirano-Crosby organized and led the "Let's Talk About Safety" forum series in which Council President Sessions shared with attendees that the next event is scheduled for July 20 at the Lynnwood Library.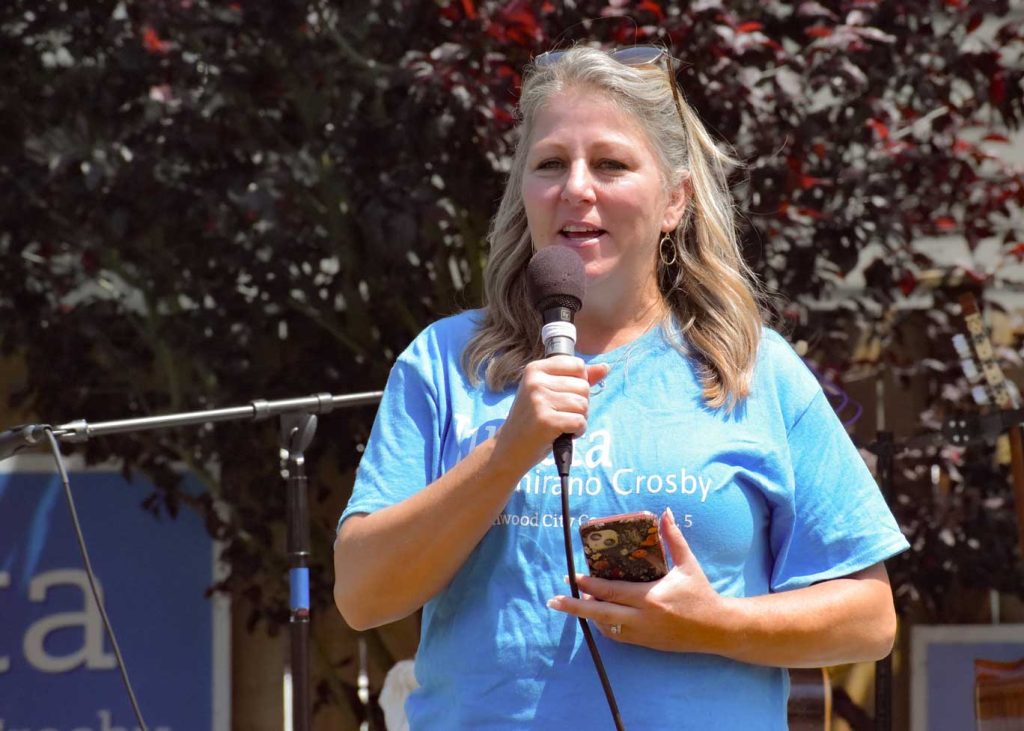 "We need her leadership, we need her compassion, we need her intelligence back on the City Council," Council President Sessions said.
Sessions shared the trust so many community members have for her fellow councilwoman and Council Vice President, Altamirano-Crosby, by not only receiving the endorsements of both the Lynnwood Police Guild and the Firefighters IAFF Local 1828, but also elected officials across the political spectrum.
"I want you to know how much she listens," said Sessions. "If she doesn't know something, she goes and finds out."
Altamirano-Crosby is endorsed by Rep. Lillian Ortiz-Self (D-Mukilteo), Rep. Cindy Ryu (D-Lynnwood), Rep. Julio Cortes (D-Everett), Sen. Marko Liias (D-Mukilteo), County Executive Dave Somers, County Councilman Jared Mead (D-Mill Creek), County Councilman Nate Nehring (R-Arlington), former Lynnwood Mayor Nicola Smith, Mountlake Terrace Mayor Kyoko Matsumoto Wright, Mukilteo Mayor Joe Marine, Sultan Mayor Russell Wiita, former Lynnwood City Councilman Benjamin Goodwin, Mountlake Terrace Councilman Steve Woodard, Edmonds Councilwoman Vivian Olson, Mukilteo Councilman Jason Moon, and the Master Builders Association of King and Snohomish Counties to name a few.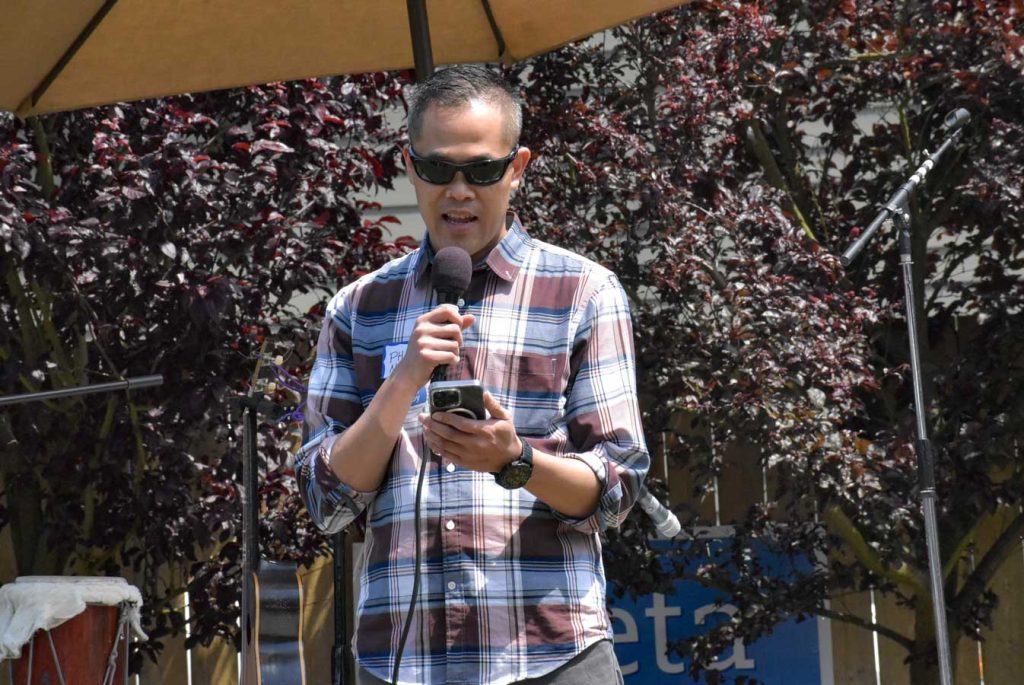 Councilmembers Jimmy Matta of Burien and Ruth Pérez of Renton drove over 20 miles to support the re-election of Lynnwood City Vice President Dr. Altamirano-Crosby. Mill Creek Councilwoman Melissa Duque accompanied Senator Lovick to the event. Lynnwood City Councilman Jim Smith, Edmonds School District Director Deborah Kilgore and Lynnwood City Council Position 7 candidate David Parshall also attended the kickoff.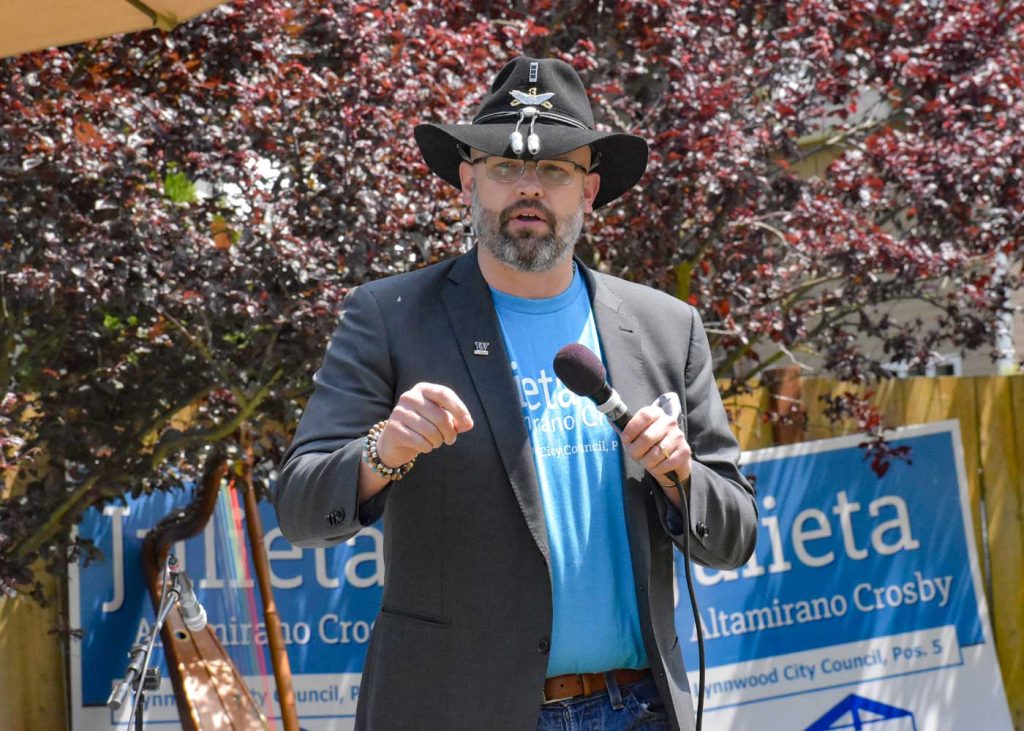 It was shared by various speakers including former combat veteran U.S. Army Platoon Sergeant and Apache pilot, Joseph Wankelman who emceed the event, the last four years of contributions to Lynnwood by Altamirano-Crosby which were: securing funding for road improvements, volunteerism at the Lynnwood Food Bank, supporting and securing funding for the upcoming Lynnwood Neighborhood Center, securing funding for the Scriber Lake Boardwalk project and Hero's Café.
"Julieta has great character," Snohomish County Councilman Nate Nehring said.
Councilman Nehring continued with a story of Dr. Altamirano-Crosby putting others first with her work during the Ukrainian refugee crisis in 2022. She was one of only three staff members at a legal clinic event with Van Dinh-Kuno helping hundreds of Ukrainian men, women and children with their paperwork needed to get jobs and social services.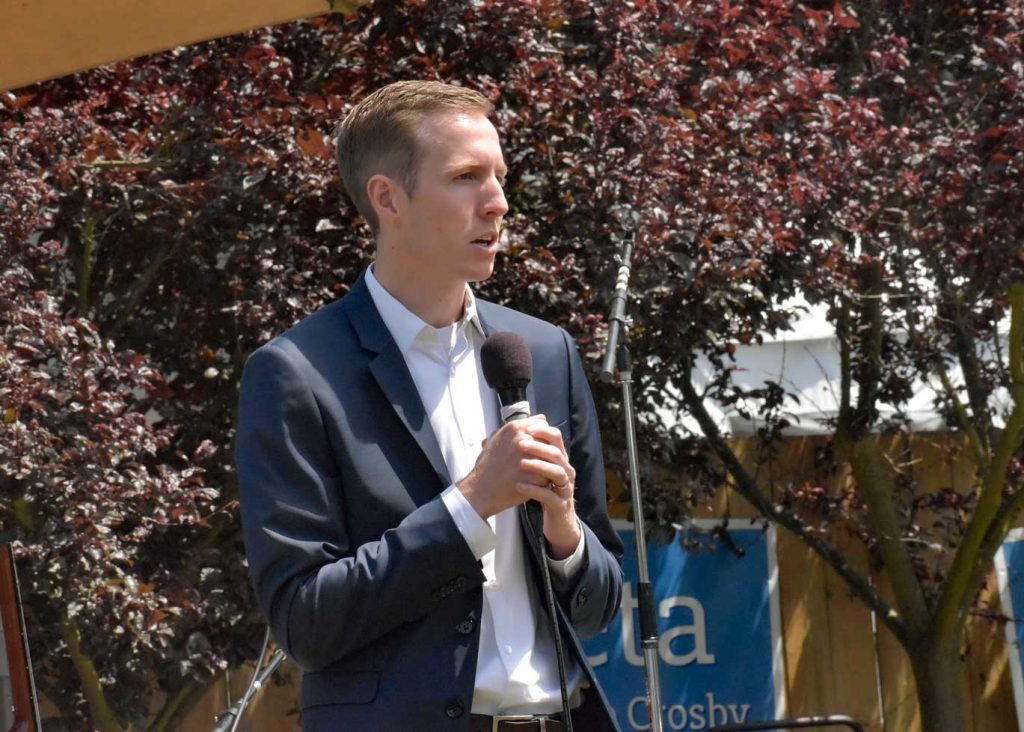 "The fact that she had taking her time and how dedicated she was to helping these people who were truly in need of it," Nehring said. "When you have people doing that outside of their political job that just shows how much they are willing to work in office as well. Julieta does a great job in working hard for each and every one on the Lynnwood City Council."
The food for the kickoff was donated by La Malquerida Mexican Gourmet and Mazatlán Mexican Restaurant and the music enjoyed by attendees was performed by Trío Guadalevín. To learn more or contribute to Julieta Altamirano-Crosby's campaign, visit Crosby4Council (crosby4community.com).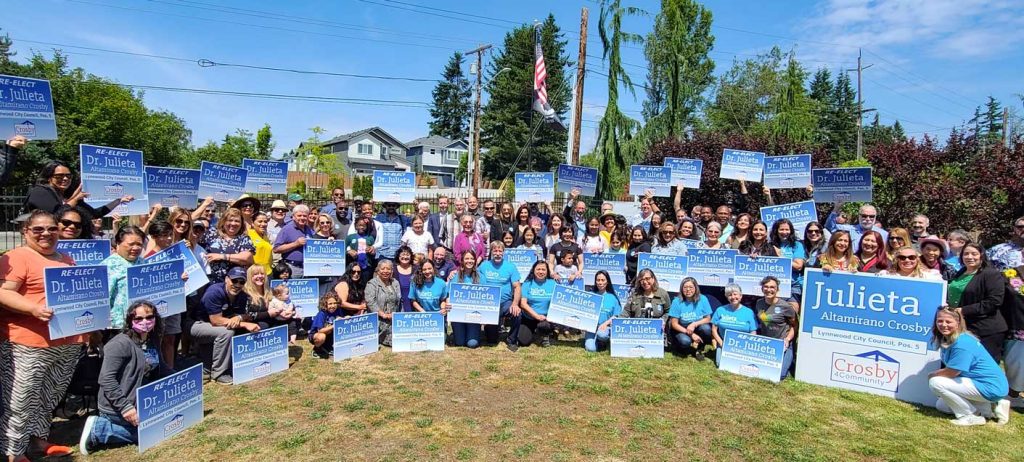 Pictures from Dr. Julieta Altamirano-Crosby 2023 Campaign Kickoff