Where to celebrate the Fourth of July in Snohomish County
SNOHOMISH COUNTY, Wash., June 29, 2023—Family, friends, beer, barbecues, and of course fireworks. These are things that come to mind when we think of the Fourth of July — the annual celebration commemorating the formal adoption of the Declaration of Independence from the monarch of Great Britain on July 4, 1776. Luckily, Snohomies won't have to travel far this year to celebrate; from Everett's iconic Thunder on the Bay Fireworks show to Edmonds Fourth of July Parade here is a list of events popping off this year at a city near you.
City of Edmonds
Since 1907 the Edmonds Chamber of Commerce has produced the Edmonds Fourth of July Parade yearly and 2023 is no exception. Beginning at noon on Tuesday, July 4, catch the parade at 6th Avenue South, across Walnut Street, up 5th Avenue South to Main Street, then ending at 4th Avenue North and Daley Street. A Children's Parade will also kick off 30 minutes before the main parade beginning on 5th Avenue South and Walnut and traveling up 5th Avenue South to Main Street.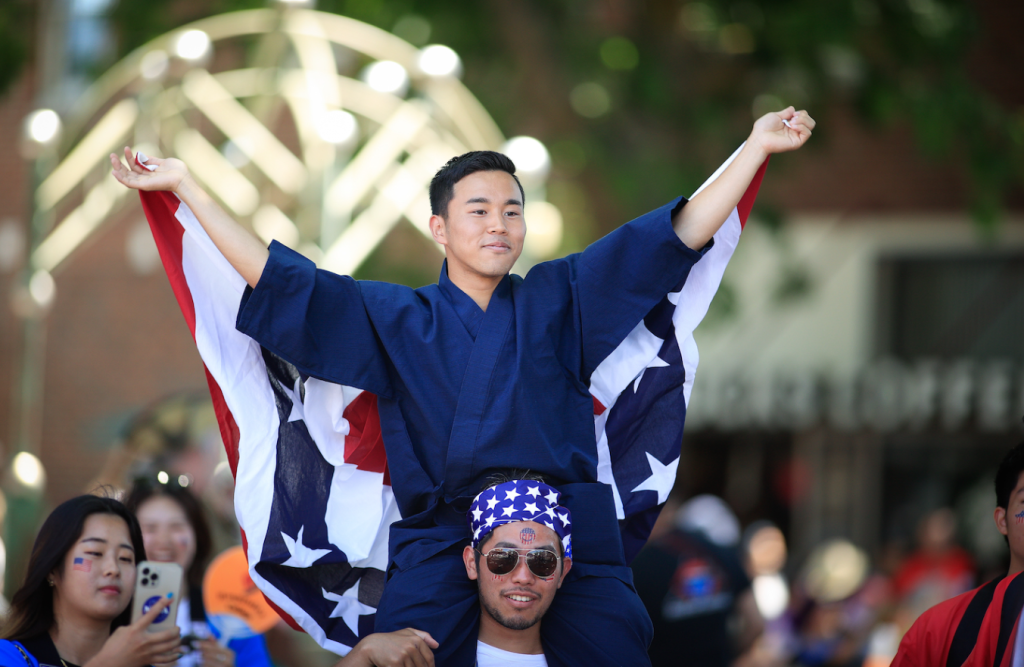 A Baby Brackett 1k and Beat Brackett 5k race will also commence at 8 a.m. from Edmonds City Park through the beautiful town of Woodway. offering an exciting, and athletic, start to a day of grubbing out on barbecue and apple pie.
Come hungry as several food trucks will be offering their delicious wares, and bring your peanut butter and jelly sandwich fixings for the Edmonds Food Bank PBJ Drive.
City of Everett
Everett's July Fourth festivities this year include live music, free putt putt gold and axe throwing, a beer garden, several kid-friendly activities, and of course its annual Thunder at the Bay fireworks show – the largest in Snohomish County – beginning at 10 p.m. at Legion Park. Don't fill up on hotdogs and potato salad before getting to the festival because you're going to want to save room for the dozen food truck options to satisfy your appetite.
Celebrate America's independence with Everett's biggest and most festive parade on July 4th, beginning at 11:00 a.m. The parade starts at 25th Street & Colby Avenue. Travels South to Wall Street turns left onto Wall Street to Wetmore Ave. Right on Wetmore Avenue and travels North to 25th Street.
Marysville
Marysville will be holding its 5th annual 4th of July Celebration at Ebey Waterfront Park beginning at 7 p.m. on July 4.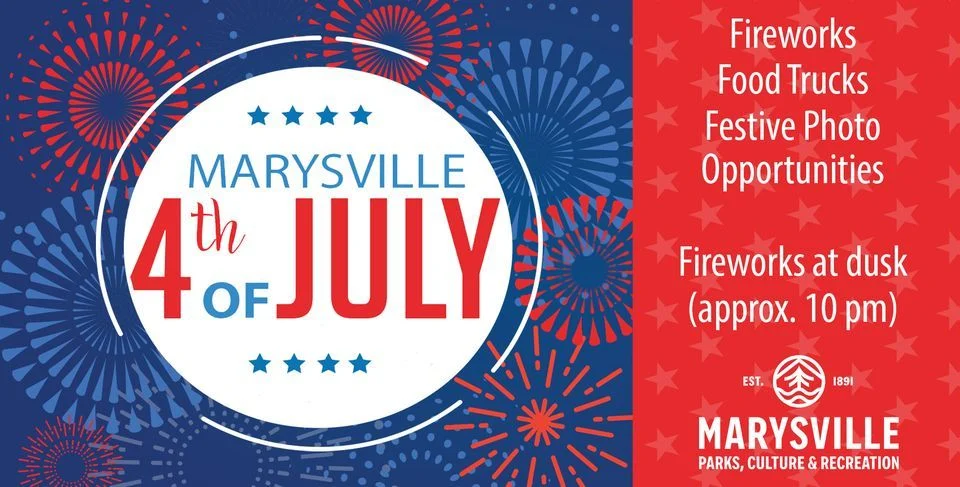 Food trucks and several photo opportunities will also be available at the park, and along first street, from 7-1o p.m. prior to the fireworks show.
Arlington, Washington
Arlington's Fourth of July celebration begins early this year with a pancake breakfast at Haller Park beginning at 7 a.m. After that peruse the wares of the Kiwanis silent auction at 8 a.m., get your blood pumping with the Peddle Paddle Puff Triathlon and the Freedom 5k Color Run at 9 a.m. and 10 a.m., respectively.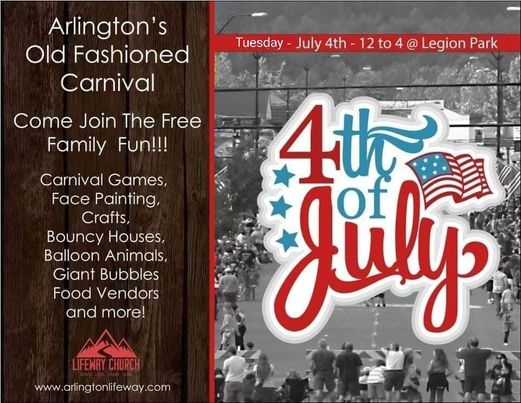 The Stilly Beer and Wine garden opens up at 2 p.m. and the Lifeway Hometown Carnival opens up at Legion Park at noon until 4 p.m. with games, balloons, face painting, and more.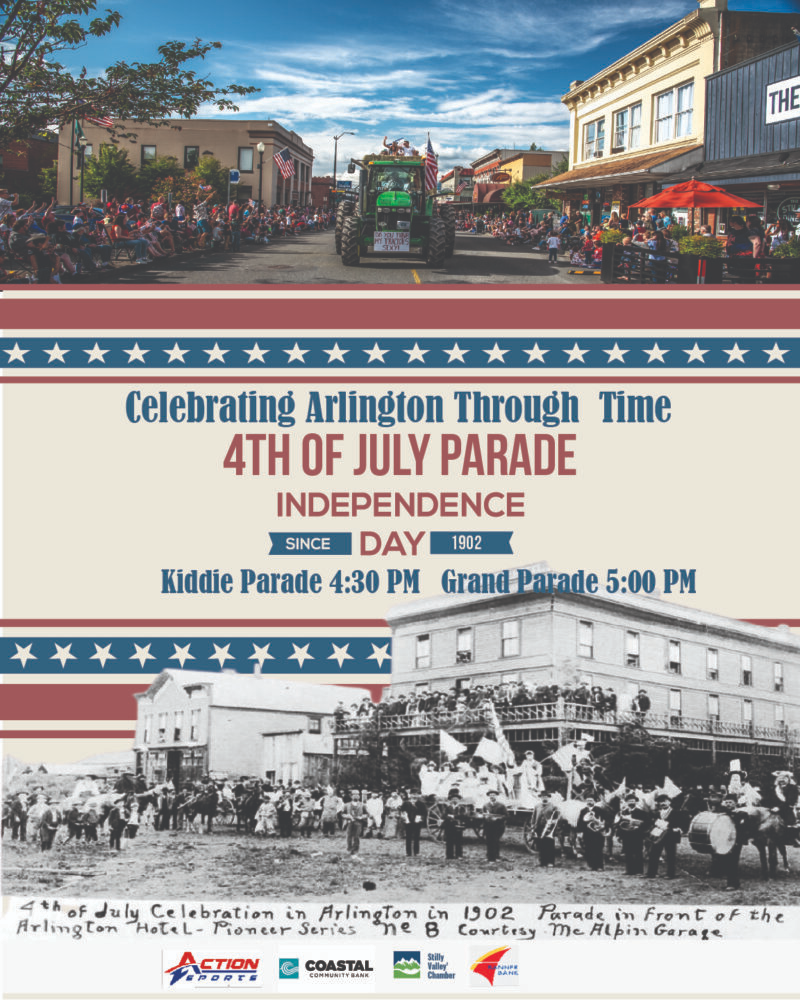 A Kiddies Parade will begin on Olympic Avenue at 4:30 p.m. with the Main Parade beginning at 5 p.m. Then, right before the grand fireworks display at Quake Park, a Great Stilly Duck Dash will be held at Haller Park at 7 p.m.
The evening's fireworks display begins at 10 p.m.
City of Snohomish
Franklin Farms in Snohomish is holding a Red, White, and Brews event with live entertainment, games, food trucks and a huge fireworks extravaganza. Local brews will also be served for the 21 and up crowd and several vendors will selling their unique crafts and collectibles.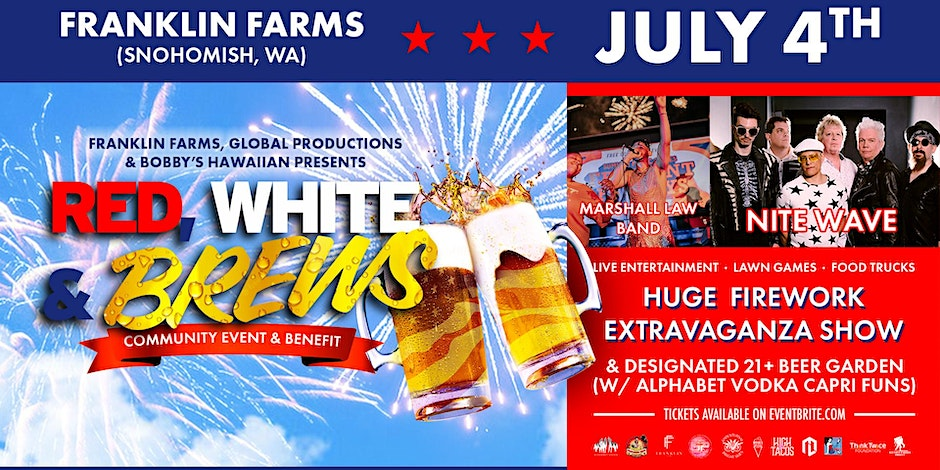 Tickets are $25 and go towards a fundraiser to support the Wounded Warrior Project. The even is from 5 p.m. until midnight. 
Where fireworks will be permitted
Despite the use of fireworks being prohibited in some parts of Snohomish County for Independence Day, check out our article on cities for which one may still partake in this July 4th tradition.