Mukilteo celebrates a pawsitively successful dog show at Lighthouse Park
MUKILTEO, Wash., July 25, 2023—Early Saturday morning on July 15, the Mukilteo Chamber of Commerce hosted its first ever Great Mukilteo Dog Show at Lighthouse Park. The event, which lasted approximately two hours from 11 a.m. to 1 p.m., drew crowds of enthusiastic dog lovers, showcasing over 50 dogs of all breeds and ages.
Organized by the Mukilteo Chamber of Commerce's Executive Director and dog owner Kandace Barnes, the collaboration between local business owners and community members made the event possible.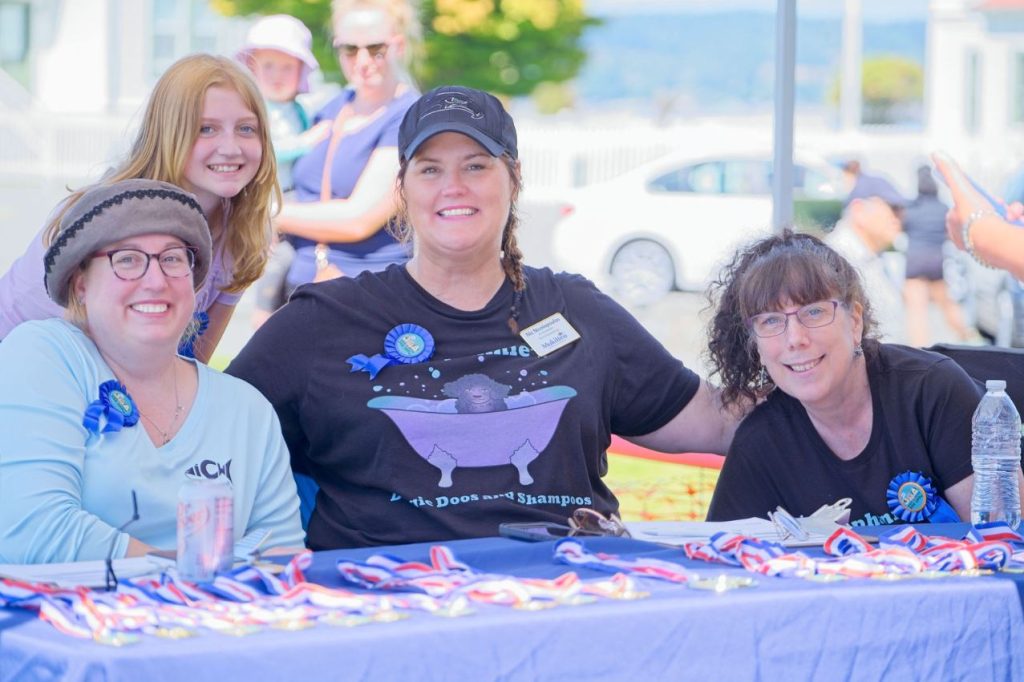 "We created this event as a community builder," Barnes said. "It's a fun time to gather with our neighbors and friends on the beautiful waterfront and enjoy our pups. It's been a great turnout for our first year, we've had some wonderful small businesses that have supported this, brought prizes and a mister station. Which really created a fun day for pet owners."
Barnes came up with the idea of a Dog Show after seeing a similar event a couple years back, and thinking it would be great to bring to Mukilteo. The Mukilteo Chamber of Commerce reached out to Mayor Joe Marine, asking if the city would partner to host the dog show, and he agreed.
"You can't be driving on the speedway and not see people walking their dogs. We've got so many great places for people to take their dogs out to walk in the trails, so we got to get a place for them to go show off their dogs," stated Joe Marine, Mayor of Mukilteo. "I love dogs, always had them growing up," he shared.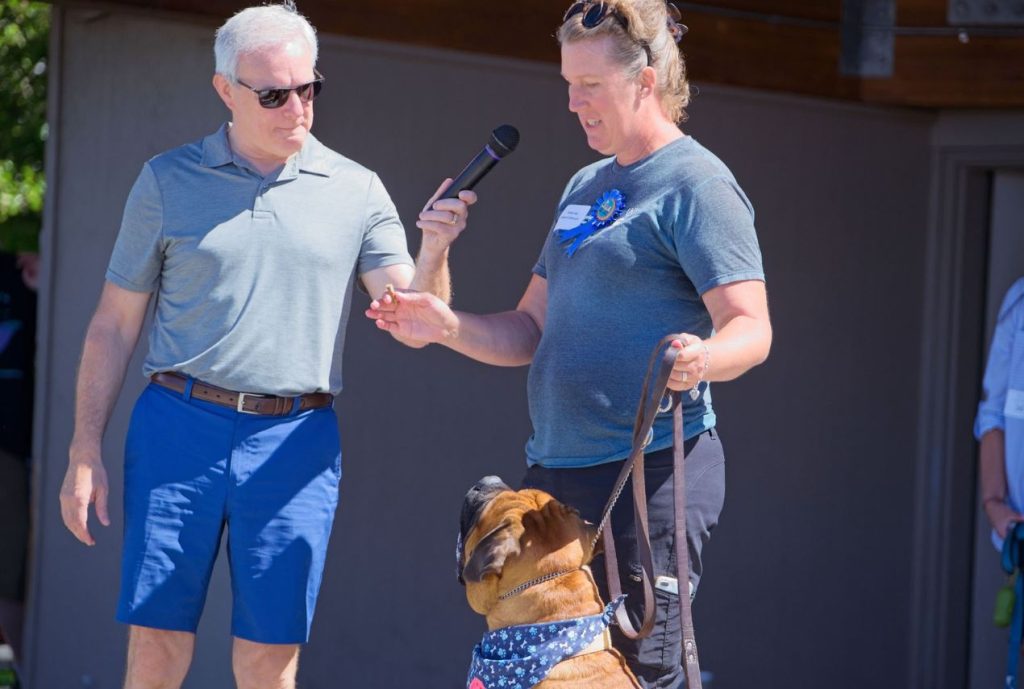 Dog owners could choose from 15 different competitions. Categories included: Best Smile, Best Bark, Cutest Puppy, Most Slobbery, Best Senior, Best Jump, Fluffiest, Best Look-alike, Best Mutt, Best trick, Best ears, Best haircut, Best Legs, Best Wiggles, and Best Outfit.
However, the highly coveted title of Best in Show Dog was ultimately claimed by a 12-year-old standard poodle named "Rango the Wonder Dog," who competed in the Best Hair category. Rango's owner, Kendra Oliver, revealed the grooming regimen dedicated to maintaining Rango's appearance could take up to three and a half hours.
"It kind of morphed. He had the typical poodle doo, he had the palms and the top knot, and then one day I just started growing it, the Samson and Delilah kind of thing, and I just kept growing it," Oliver told the Lynnwood Times. "I feel like it's his superpowers now."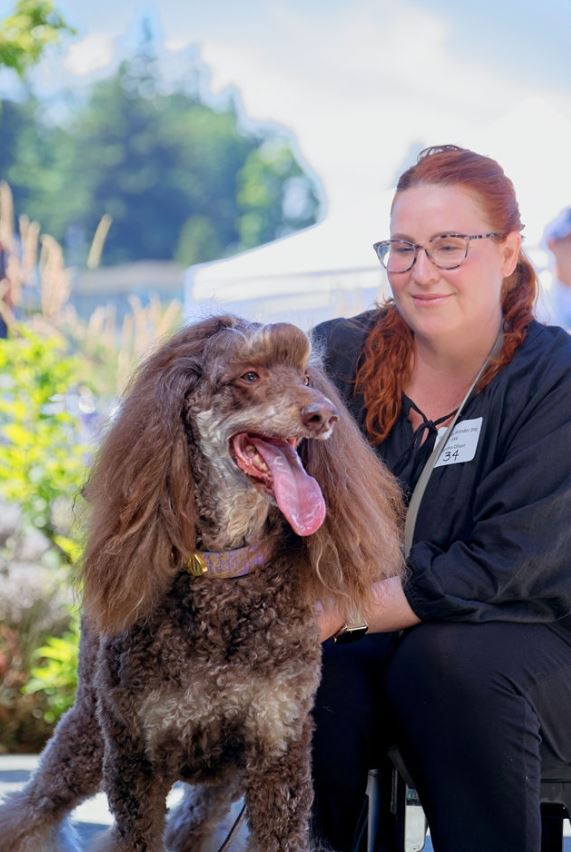 Rango arrived just in time for the Best Hair category, leaving just enough time for Rango to be the last dog judged.
"My alarm actually went off at noon, so I missed Best Tricks, and they told me I was about to miss Best Hair. I was like 'oh hell no.' So that me was going 'Wait! There's one more!'"
Winners of each category went home with a basket full of treats and other goodies, while Rango went home with two baskets and medals, as well as a "Best of Muk" Medal.
Other notable winners included "Guts," a one year old Corgi Australian Cattle mix, who also went home with two medals in Best Mutt and Best Trick. Guts was a "Craigslist puppy" that her owners adopted at 12 weeks.
Princess Leia, a 3 year old Doberman pinscher competed in best jump and best bark, and ultimately took home the medal for best bark.
"She can jump well over 6 feet high," Princess Leia's owner Jo Bogner said after the show. "But today she just wouldn't do it. She's very active, we walk between 3-5 miles a day, plus we play fetch. As long as she gets enough exercise, she is an incredible dog at home."
With this first year being a great success, the Chamber of Commerce and Mayor of Mukilteo intend to establish this as an annual event, bringing dog owners across Mukilteo together as a community.
Photos from Great Mukilteo Dog Show
Below are some of the many photos from the Great Mukilteo Dog Show courtesy of Watkins Photography.
---
| Category | Entry | Pet name | Breed |
| --- | --- | --- | --- |
| Best Smile | 29 | Nero | Pittie Mix |
| Best Bark | 51 | Princess Leia | Doberman Pincher |
| Cutest Puppy | 46 | Scottie Pippin | Golden Retriever |
| Most Slobbery | 41 | Ruben | Bullmastiff |
| Best Senior | 55 | Riley | Shep/Bassett Hound |
| Best Jump | 57 | Guts | Corgi/Australian Cattle |
| Fluffiest | 47 | Timo | German Shepherd |
| Best Lookalike | 15 | Enoki | Pembroke Welsh Corgi |
| Best Mutt | 5 | Bodie | Mixed Breed |
| Best Trick | 57 | Guts | Corgi/Australian Cattle |
| Best Ears | 37 | Timo | German Shepherd |
| Best Haircut | 34 | Rango the Wonder Dog | Standard Poodle |
| Best Legs | 44 | Sasha | Shiba |
| Best Wiggles | 20 | Jasper | Golden Retriever |
| Best Outfit | 24 | Lil Dog | Havanese |