Nine cars ablaze in early morning fire at Lynnwood apartment
LYNNWOOD, Wash., August 2, 2023—An early morning fire at Whispering Cedars Apartment Homes, located at 6501 208th Street Southwest in Lynnwood, set nine cars in the parking lot ablaze with damage costs reaching an estimated $200,000, South County Fire says.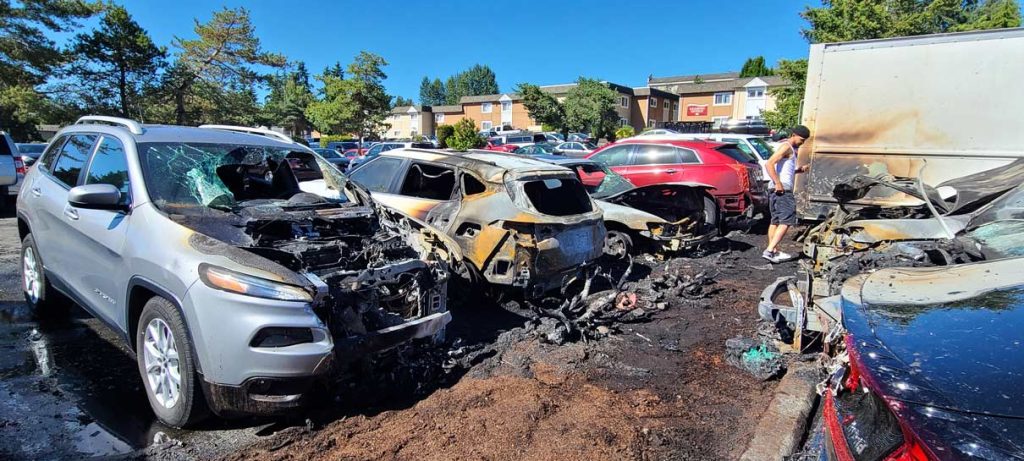 Firefighters working with South County Fire responded to a call a little after 6:00 a.m. Wednesday morning, August 2. The fire was under control within 10 minutes before it could reach the nearby residential apartment building, leaving six cars significantly damaged and three with minor damages. There were no injuries, the fire department said.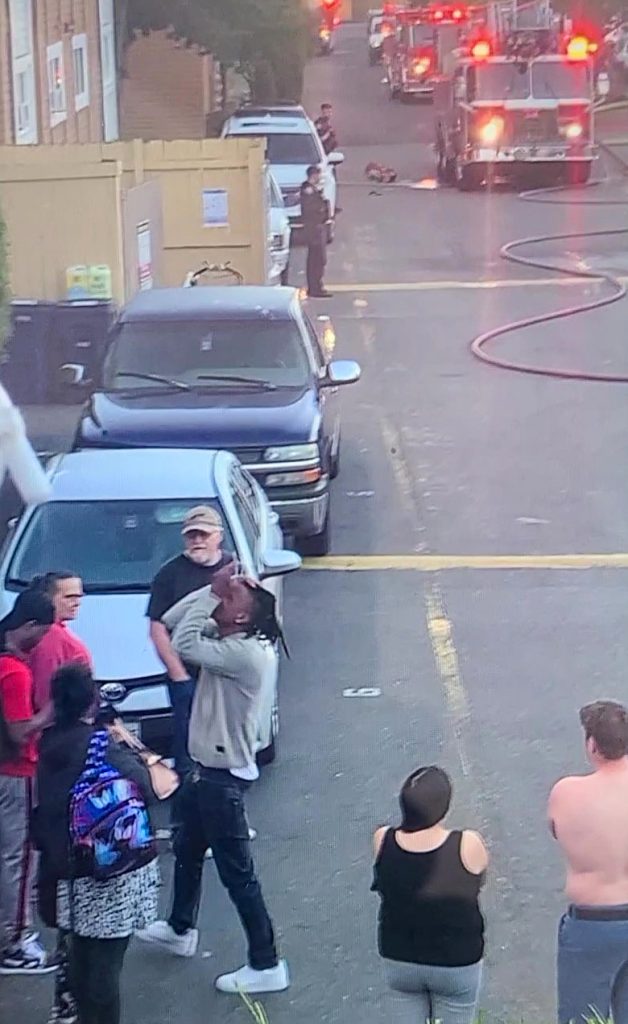 The cause of the fire is still under investigation, but it appears to be accidental. The South County Fire informed the Lynnwood Times there was nothing about the fire that seemed suspicious although they cannot completely rule out cigarettes as the possible cause.
A resident of the apartment complex, and owner of one of the damaged vehicles, informed Lynnwood Times reporters the fire originally started in one of the cars then caught nearby shrubs and trees on fire, spreading to other vehicles in the lot.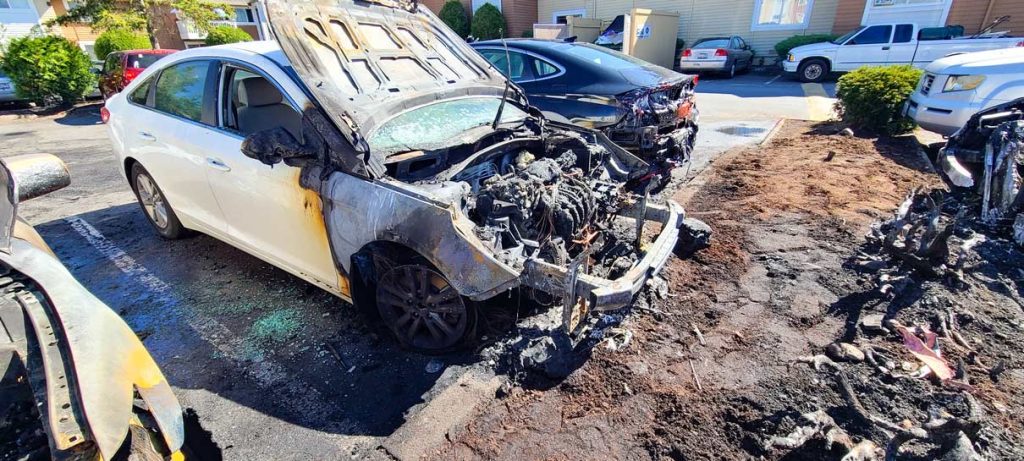 "I didn't think a car could burn that fast, that must have been a hot fire," the resident, who asked to remain anonymous said.
Kathryn Colpitts, another resident, who witnessed the fire from her patio and made the initial 911 call, told the Lynnwood Times she was awakened by her cat around 6:00 a.m. this morning, and heard "hissing, popping, and exploding sounds" outside. The Fire Marshall later informed her this was the sound of tires popping. When she looked outside, she noticed two cars "engulfed" and made the emergency call around 6:05 a.m. South County Fire arrived about four minutes later, she said.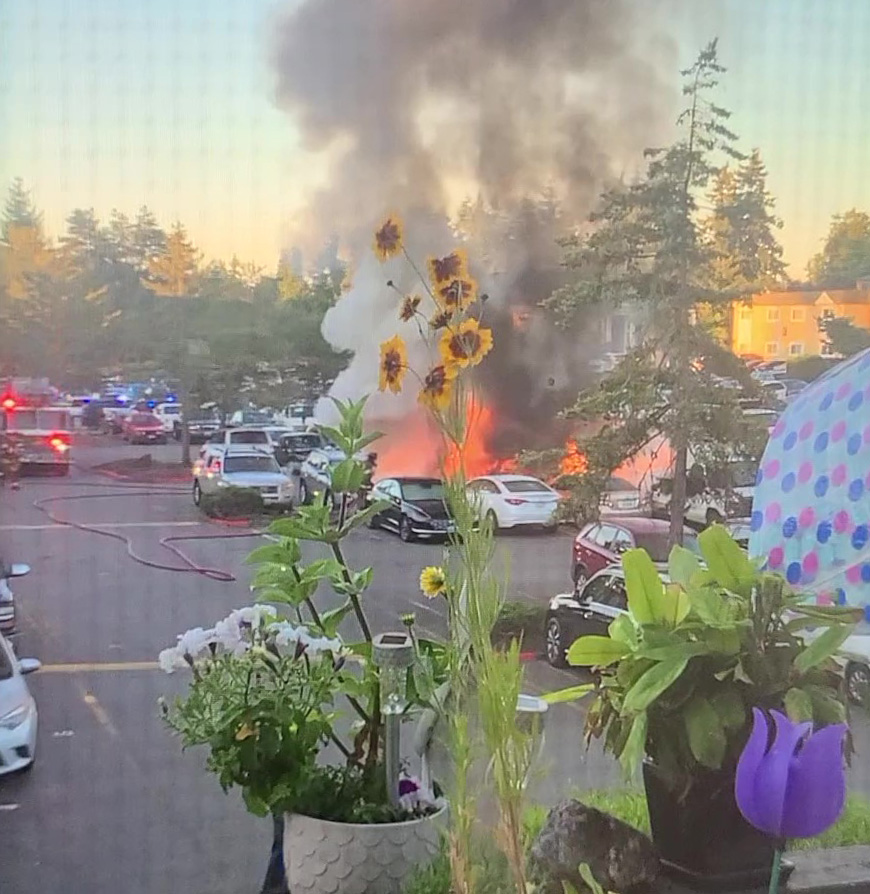 Colpitts shared a video she took from her phone of the fire, showing plumes of smoke wafting into the air from a massive fire spreading across multiple vehicles. Colpitts said that this is the second fire the apartment building's parking lot has had since she moved into her unit in September of 2021. The first fire was minor, she added, but did set the lot's bushes on fire.
"It's a very safe community by and large, it's really peaceful and much quieter than the last place I lived. The maintenance department is amazing, the management is amazing it's just a great place to live," said Colpitts. "Unfortunately, I do know that, because of the rules of the complex, people who smoke cigarettes have to go out 500 yards away from the building. I don't know if that is what caused it but I kind of suspect it was something along those lines."
🚨An early morning fire in Lynnwood, set nine cars ablaze and $200,000 in damages. Link to article: https://t.co/NGNyjYVpTA@SouthSnoFire @SnoCoScannerRep @ssnoccrimewatch @LynnwoodPD @sfargon @KING5Seattle @KIRO7Seattle @komonews @fox13seattle pic.twitter.com/J455wWlWbc

— Lynnwood Times (@LynnwoodTimes) August 2, 2023