Port of Everett Seaport hires Cara Craig as new Trade Development Director
EVERETT, WASH., August 31, 2023—The Port of Everett has welcomed Cara Craig as its new Trade Development Director to support continued growth of the Port of Everett's international seaport division, which represents nearly $30 billion in U.S. import and export value annually.
Craig officially joined the Port on Aug. 28 to provide a critical interface with the Port's international customers, explore new ways to serve existing customers, attract new business opportunities, and ensure the economic vitality of the Port and the region it serves.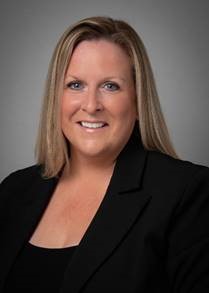 "I am passionate about the supply chain industry and how it makes the world go 'round," Craig said. "I'm very honored to be coming home to the West Coast to join the Port of Everett. I'm looking forward to collaborating with the team to drive opportunities that bring continued growth and success to the Port, the local community, and the beautiful state of Washington now, and for many more years to come."
Craig brings more than 25 years of business development, transportation and global supply chain management experience in both the U.S. and Canada, ranging from less-than-truckload freight shipments to some of the largest and most complex moves of breakbulk cargo throughout North America.
She comes to the Port from Omega Morgan, a specialized transportation company headquartered in Hillsboro, Oregon, where she has worked for the past 10 years, most recently as the Director of Sales. The Port's Seaport team has worked with Craig for many of those years, hauling over-dimensional cargoes to and from Everett.
"With more than $150 million invested into the modernization and expansion of our seaport facilities in recent years, we've seen a dramatic increase in cargo throughput and demand," said Carl Wollebek, Chief Operating Officer for the Port of Everett Seaport. "We want to continue to ensure our standard quality experience for existing customers, while we facilitate new business growth for the key industries we serve and diversify into new markets. Cara is familiar with our operations here in Everett, and she brings a wealth of experience, specifically in our niche of handling high value, heavy cargoes. We are excited to have her on the team."
Craig is also a member of the Railway Industrial Clearance Association of North America, which is dedicated to serving the heavy and dimensional transportation industry.
About the Port of Everett Seaport
The Port of Everett Seaport, located 25 miles north of Seattle, is a natural deep-water, self-operating seaport that supports nearly $21 billion worth of U.S. exports annually ($30B import/export value combined), ranking as the #2 export customs district in Washington state – #5 on the West Coast. The Port of Everett is the third largest container port in Washington state and is the region's premiere breakbulk cargo facility, handling high-value, conventional and over-dimensional cargoes in support of the aerospace, construction, manufacturing, military, agriculture, energy and forest products industries. Most notably, the Port of Everett serves as an extension of the aerospace manufacturing process, accommodating 100% of the oversized aerospace parts for the 747 (now retired), 767, 777, 777X and K-C Tanker programs.
The Port of Everett's was recently designated as a MARAD Strategic Commercial Seaport – one of only 18 nationwide – to support critical cargo movements for the Department of Defense. The Port's regional transportation network supports more than 40,000 jobs and $433 million in state and local tax revenues. With more than 60% of jobs tied to trade in Snohomish County, the Port of Everett continuously looks for ways to expand cargo handling capabilities and keep freight moving efficiently. Learn more at www.portofeverett.com/seaport.