Marysville seeks new members for Diversity Advisory Committee
LYNNWOOD, Wash., September 5, 2023—The City of Marysville's Diversity Advisory Committee is soliciting applications for new members. Established in 2010, the committee works to identify issues, prioritize support and ensure that our city's diverse population is represented in decision-making processes regarding diversity and inclusion. Deadline to apply is Sept. 30.
"Our Diversity Advisory Committee has been instrumental in fostering an inclusive and vibrant community, driving positive change through their dedication and insights," Mayor Jon Nehring said. "As we continue to build on their impactful work, I encourage committed individuals to join this committee and contribute towards promoting and maintaining an inclusive community where all are welcome and all can thrive."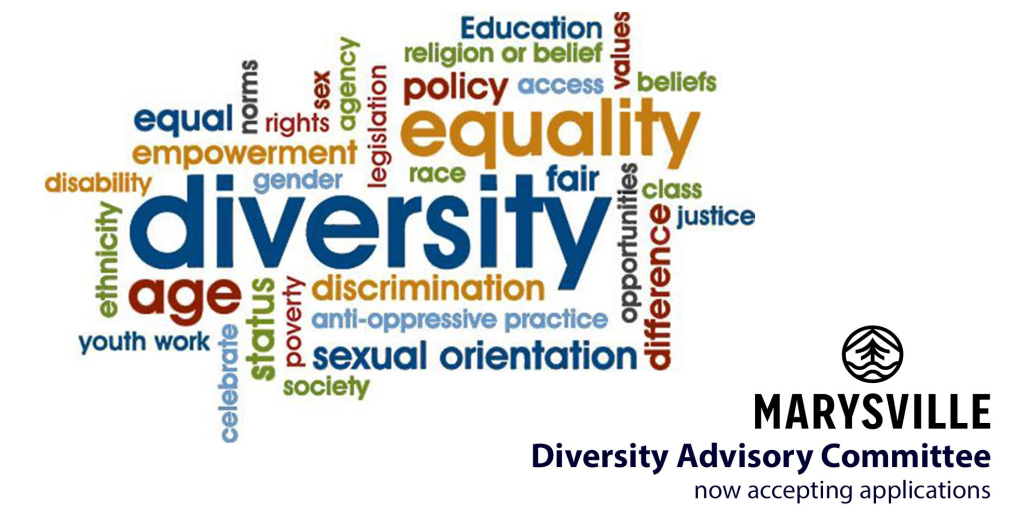 The mission of the Diversity Advisory Committee:
Advise the City on diversity, equity and inclusion strategies and policies that improve outcomes for marginalized communities;
Assist the City in strengthening the relationship with diverse community groups, including historically underrepresented communities and marginalized populations; and
Lead the community in thought-provoking discussions that support cultural understanding, mutual respect and inclusivity, and further the enhancement of our community as one where cultural and physical diversity is celebrated as an important asset.
Expectations of committee members:
Attend regular monthly meetings;
Work to help develop the committee's annual work plan;
Advise the City on outreach strategies to engage underrepresented communities; and
Serve as ambassadors for the Diversity Advisory Committee, promote the committee's work and collect feedback.
The committee is made up of 13 members serving one-year terms; initial appointments will be for a term ending in December 2024. We are seeking to include a variety of experiences that collectively represent the city as a whole.
Apply online by Saturday, Sept. 30, at https://www.marysvillewa.gov/1128/Diversity-Advisory-Committee.