Lynnwood City Council to discuss moving Meadowdale into Edmonds
LYNNWOOD, Wash., September 16, 2023—Lynnwood City Council will host a Work Session at 6 p.m., Monday, September 18, to discuss revising the Lynnwood Municipal Urban Growth Area (MUGA), an Essential Public Facilities Ordinance, and an update on ParksLove Project. The Lynnwood City Council Work Session will be held in-person and virtually by Zoom or Lynnwood, WA Video Archive (swagit.com).
To view the agenda in its entirety, click here.
Update: Essential Public Facilities & Outpatient Substance Abuse Facilities
A public hearing will be held at City Council on September 25 regarding the draft ordinance. In preparation for the hearing, Community Planning Manager Karl Almgren will present to the council an Essential Public Facilities Ordinance for Council's consideration and action. The draft ordinance complies with state law, addresses Planning Commission recommendations, and Council discussion.
Supporting Documentation:
Lynnwood Municipal Urban Growth Area – Meadowdale
Planning Manager Karl Almgren will brief the Lynnwood City Council on the revising the Lynnwood Municipal Urban Growth Area (MUGA) to move a portion of Meadowdale into the city of Edmonds MUGA.
On May 1st, City Council was briefed on annexation including the Meadowdale Neighborhood's intention to become incorporated into the City of Edmonds. On September 5, City of Edmonds adopted a resolution to initiate discussions with Snohomish County and City of Lynnwood regarding possible annexation of a neighborhood in the Lynnwood Municipal Urban Growth Area (MUGA).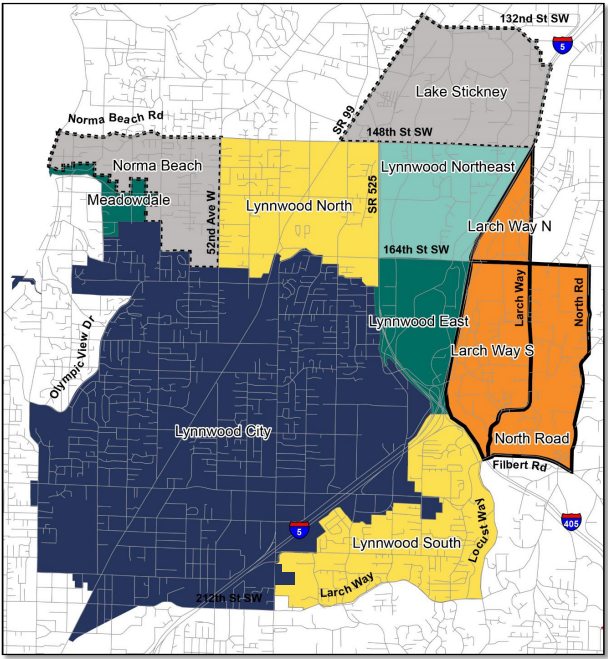 The Meadowdale neighborhood is a residential area including 47 homes from 161st Pl SW to the southern boundary of Meadowdale Beach Park and east of 68th Ave W. The neighborhood is addressed as Edmonds and the residents have requested that the City of Edmonds annex their properties. Edmonds is not able to annex the area until the MUGA boundary is revised.
To proceed with this request, Lynnwood City Council could adopt a resolution which would initiate conversations with the City of Edmonds and Snohomish County. Following discussions, an interlocal agreement (ILA) would then need to be negotiated and approved by Lynnwood and Edmonds to complete the steps for the MUGA transfer. This action would require the concurrence of Snohomish County.
Revising the boundary of the MUGA does not annex the property into Edmonds. Additional steps by City of Edmonds would be required at a later date to complete the annexation.
Supporting Documentation:
Briefing: ParksLove (3 of 5) Capital Project List
This briefing by Sarah Olson, Deputy Director, and Monica Thompson, Senior Park Planner, will focus on the preliminary results of the capital project list and priority projects for the ParksLove Park & Trail Capital Plan.
Supporting Documentation: