City council discusses new zoning code for smaller emergency medical facilities
LYNNWOOD, Wash., October 24, 2023—The Lynnwood City Council is considering updating the zoning code to recognize and allow for smaller emergency medical facilities that can receive ambulances. Lynnwood Parks, Recreation, & Cultural Arts Director, Lynn D. Sordel, announced his retirement. He has been with the city of Lynnwood for 17 years. His last day with the city is March 15, 2024.
Emergency Medical Department Ordinance Discussion
The council received a presentation from Community Planning Manager Karl Almgren during their business meeting on October 23 outlining what these emergency medical facilities are and where they could be built.
"What it is is a step up from an urgent care facility," Almgren said. "So, it is an emergency room facility, it does not have a trauma facility attached to it, it is not in a full-fledged hospital, but it does provide 24-7 care opportunities."
Calling them "off-campus emergency departments," city staff defines them as: "a building or portion of a building providing emergency services with or without ambulance service, including but not limited to observation beds (limited to less than 48 hours), a diagnostic lab, radiology services, and point-of-care pharmacy."
Almgren noted that these facilities can be public or private and can "help alleviate" the volume of patients at local hospital emergency rooms.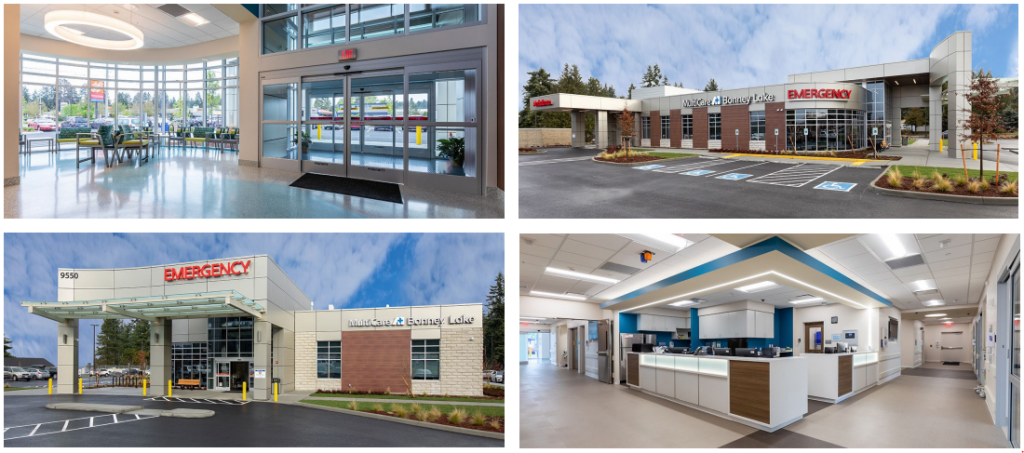 Such facilities are operating in the South Puget Sound area in cities like Tacoma, Puyallup and Bonney Lake, but Almgren stated they have not made their way north until this recent proposal in Lynnwood. This would be notably different from the MultiCare Urgent Care facilities in Mill Creek, Shoreline and Bothell.
According to city staff, the current "Lynnwood Municipal Code narrowly defines healthcare services which omit an emerging trend for emergency medical departments that are off-campus from a hospital."
"We're seeing this as a changing land use that we'd like to, instead of just leaving it kind of in the gray zone, let's define it," Almgren said. "Let's say where we as a community want to see it and then let's make sure that those regulations work for what we'd like to see." 
Staff selected commercial zones as potential areas for off-campus emergency departments, ultimately eliminating neighborhood commercial zones from consideration due to the 24-hour operations of these facilities.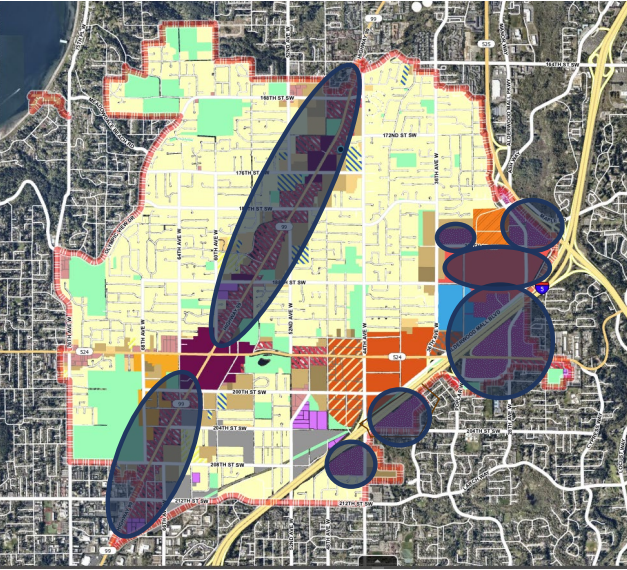 "It may work for a small dental office to have it near a residential area, but that may not fit well having a facility that is open late into the evenings," Almgren said.
The planning commission will be holding a public hearing on the proposed zoning amendment on October 26, with the city council's public hearing scheduled for November 13.
Use of City Attorney Discussion
Council President Shannon Sessions led a discussion regarding the city attorney, citing concerns over potential over or unnecessary usage of the attorney by the council and the subsequent 28% increase in costs compared to this time last year.
"Personally, I am very pleased with our city attorney and her approachability and availability to us, and so I don't want any of that changed," Sessions said. "The reason why I brought it up before was that I had started noticing that there's some duplication — council members reaching out after we've already received official information from the attorney… So, duplicating our city attorney's work and not paying attention to stuff that was already presented to us, whether in email or in a public meeting."
At the current rate of use, the city "will use over 60% of the budget in year one." Sessions did acknowledge that part of the cost increase was the result of having a different law firm representing the city last year but had recommendations to help reduce costs.
Sessions first recommended that council members utilize the Association of Washington Cities (AWC) and the Municipal Research and Services Center (MRSC) for legal advice, as they are free resources for city leadership. She stated that while these entities often recommend confirming with the city attorney, it isn't necessary for "basic" or "non-controversial" inquiries.
Sessions then suggested that council take advantage of the city attorney's office hours prior to council business meetings or having the council executive assistant keep previous legal answers from the attorney on file.
"I think that if we all just did a couple of these things to be a little bit more careful with our speaking to the city attorney, I think we'll be just fine," Sessions said. "We've had a lot… of controversial, high-liability issues going on this year, probably more than my entire eight years I've been here, and so it's understandable why we've all done that." 
The mayor and council proclamations
The first recognizes November 11 as Veterans Day. The mayor and the council "urge all people of Lynnwood to recognize the valor and sacrifice of our nation's veterans." 
The second declared October 28 as National First Responders Day to "honor our brave first responders and to pay tribute to those who have lost their lives in the line of duty."