Snohomish County commemorates opening of Index-Galena road
INDEX, Wash., November 7, 2023—Snohomish County employees, elected officials, and community members gathered together at the Index-Galena Road, between milepost 6 and 7, to commemorate its official opening after being closed for the last 17 years.
The Index-Galena, which follows the scenic North Fork of the Skykomish River, was washed out when flooding damaged significant portions of pavement, roadbed, and culverts back in November 2006 but due the project location, proposed relocation on United States Forest Service (USFS) land, the road's repairs required extensive interagency coordination with multiple federal, tribal, state and county government agencies.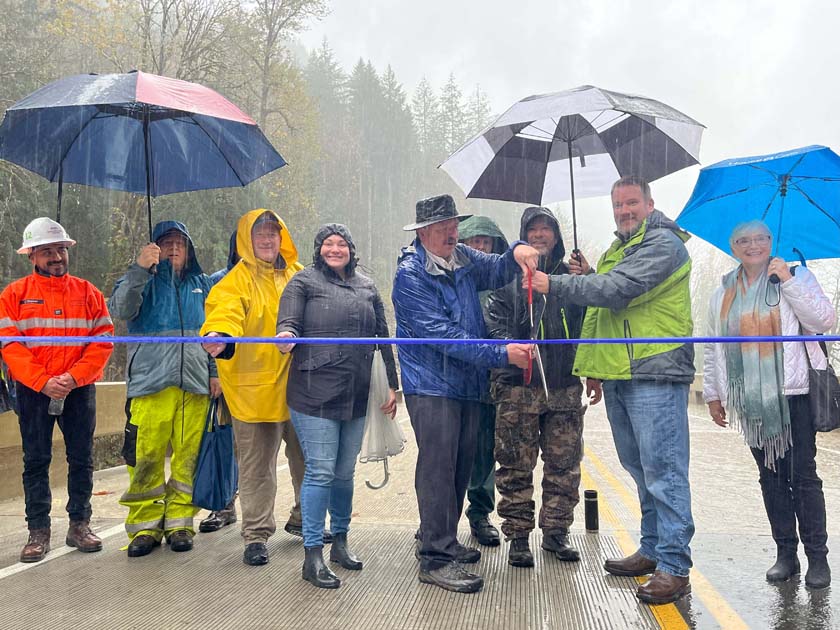 The road officially opened November 4 at 2 p.m., four hours after the ribbon cutting ceremony came to a close, providing local access and linking Snohomish County to the Wild Sky wilderness area.
"After 17 long years and the completion of a very complicated construction project, we are honored to announce that local and recreational access to this beautiful part of the county has been restored," said Snohomish County Executive Dave Somers. "Public Works and our partners minimized disruption to the Skykomish River and the many species who call it home. The new stretch of road is as beautiful as it is functional. Many thanks to everyone who helped complete this project and provide a lifeline for first responders and the local community."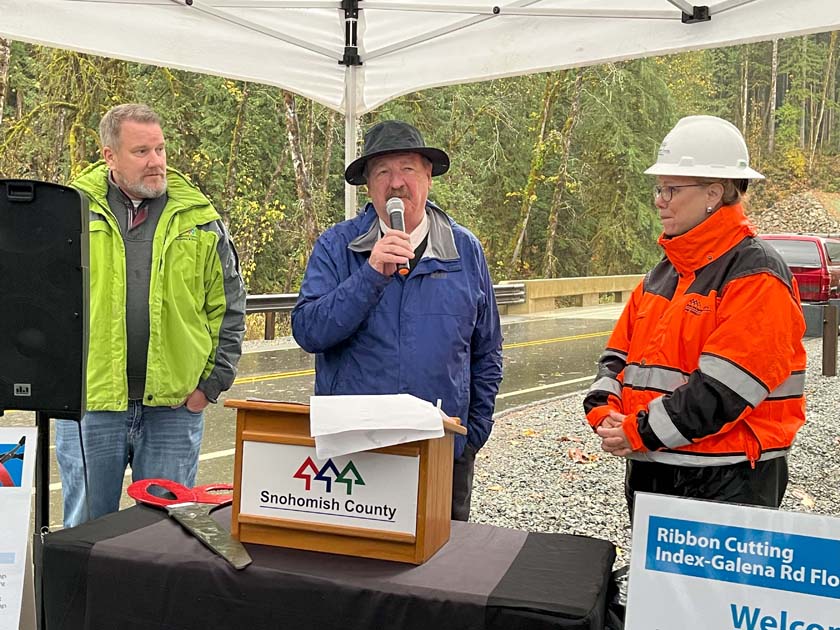 Construction on the road was conducted over a three-year period from 2021 through 2023. Given its seasonal and environmental limitations, construction crews worked through the months of April and November, removing asphalt and manmade debris, clearing trees and excavating earth and rock, erecting five geosynthetic slops with structural earth walls, installed an onsite mitigation features and engineered log jams, built 15 culverts and one armored concrete box culvert, stabilized and planted roadside slopes, and constructed a new 180-foot bridge with recreational access and clearance for wildlife passage.
"The decision was made to relocate the road out of the North Fork Skykomish River 100-year floodplain to help reduce the risk of future flooding," Snohomish County Public Works Director Kelly Snyder said. "Given the severity of past flood events, it was important to engineer a roadway that was resilient but also enhanced the river conditions for fish and other wildlife. Our teams worked closely with local tribes and environmental agencies to ensure the design and construction of this project minimized any environmental impacts and allowed for the opportunity to repurpose natural resources, including the harvesting of cedar bark."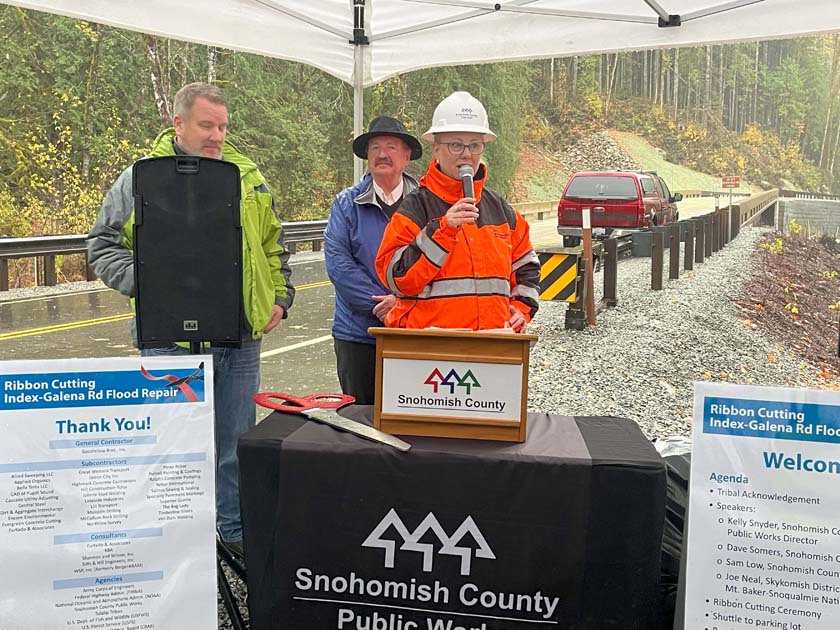 The total cost of the project was approximately $29 million, paid for from the Federal Highway Administration Emergency Relief funds ($16.5 million), Federal Highway Administration Federal Lands Access Program Funds ($5 million), Washington State County Road Administration Board (CRAB) Rural Arterial Program Funds ($1.2 million), and the Snohomish County Road Funds ($6.3 million).
"Since the road was washed out, residents, emergency services, and visitors have been using a 40-mile detour over Beckler River Road (Forest Rd 65) and Jack Pass," Public Works Deputy Director and County Engineer Doug McCormick said. "Not only is this detour closed seasonally but it diverts guest access away from the town of Index and its stunning views of the Cascade Mountains."
At Saturday's ceremony Snohomish County Public Works Director Kelly Snyder took the mic to share a few words about the project before passing the mic on to State Representative and County Councilman Sam Low, Snohomish County Executive Dave Somers, and Skykomish District Ranger at Mount Baker-Snoqualmie National Forest, Joe Neal.
Also in attendance was State Representative Carolyn Eslick (R-39), Index Mayor Norm Johnson, and a representative of Congresswoman Suzan DelBene's Office.
"After 17 years I'm thrilled that we have this road open so we have an alternate to Highway 2," Rep. Eslick told the Lynnwood Times. "Had this been available had this open during the Bolt Creek Fire it would have been very helpful for us to get people in and out a lot easier."
Rep. Sam Low, who represents the district where the road resides, shared with the Lynnwood Times one of the things he is looking forward to the most about the road opening is being able to have easier access to the Blanca Lake trail head. He added that the project took a lot of partnerships to make it happen and he is so thankful for all of the hard work that went in to making it happen.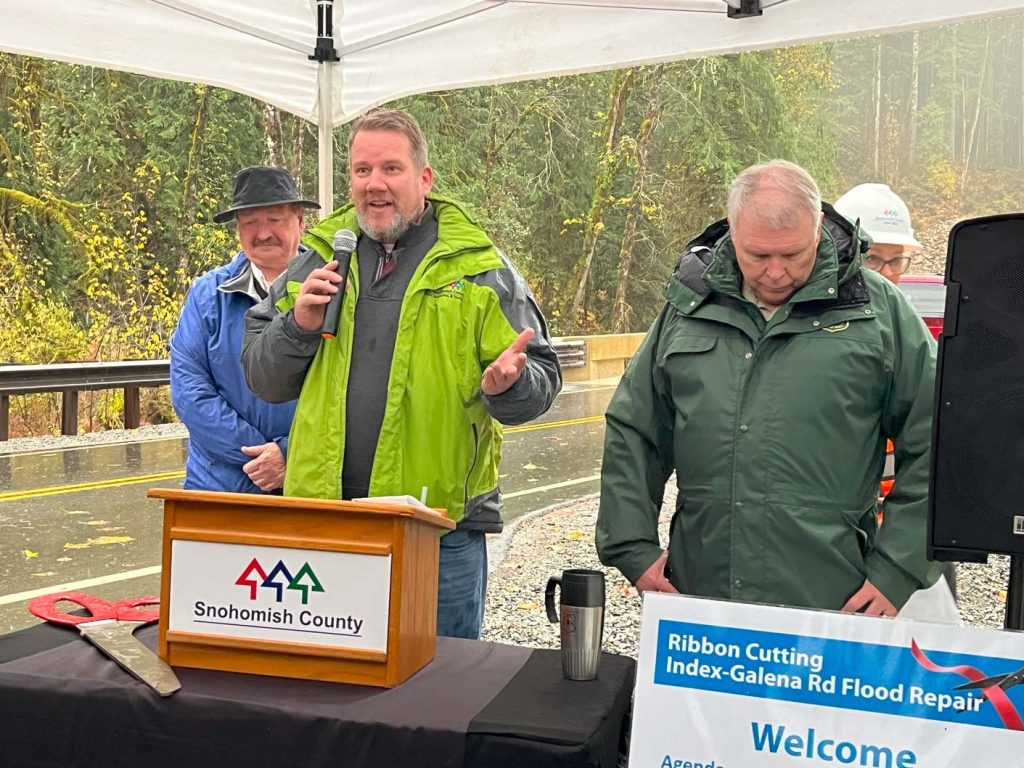 "This road is very significant to the town of Index, surrounding communities and emergency responders who depend upon it," said Low. "Securing the necessary funds to bring this project to fruition required considerable coordination between multiple agencies and tribes. I'm grateful for all the work invested in this important access point."
Blaire Corson, Owner of the Bush House Inn and Outdoor Adventures Center in Index, shared with the Lynnwood Times when the flood swept the road away in 2006 it tore through one of his campsites and friend's property.
He recalls kayaking the river just a week before the flood. He heard the news while on vacation in Hawaii with his family from an article on AOL news which showed a photo of a tavern he owned about to be swept away.
Corson added is looking forward to how the opening of the Index-Galena Road will attract more tourism to the area.
"I've been swimming this river since I was 10 years old – Boogie boarding it, kayaking it, and guiding it since I was 14. It was devastating when we lost this section of the river because we lost 5-miles of rafting that was part of the company that we've been running since 1995," Corson told the Lynnwood Times. "When the campgrounds were completely damaged, we also lost the ability to service those people but now that it's fixed the general store is going to do better, our adventuring company is going to be better, and we're going to be able to service the needs of the people."