Edmonds School Board Director apologizes for using profanity during meeting
LYNNWOOD, Wash., November 16, 2023—Edmonds School District Board Member Keith Smith apologized for using profane language during a, self-defined, "diatribe" last month where he defended student's rights to use school bathrooms regardless of gender.
The apology came at an Edmonds School Board Meeting in Lynnwood on Tuesday, November 14.
"I would just like to apologize to our community. I used profane language at our previous board meeting and that is a regrettable choice of language. It clearly shocked the conscious[ness] of our community and went against the community's standards for conduct," said Smith. "Moving forward I'm hoping we can get back to the business of the district, there's lots for us to do and I think it's best to focus on that moving forward."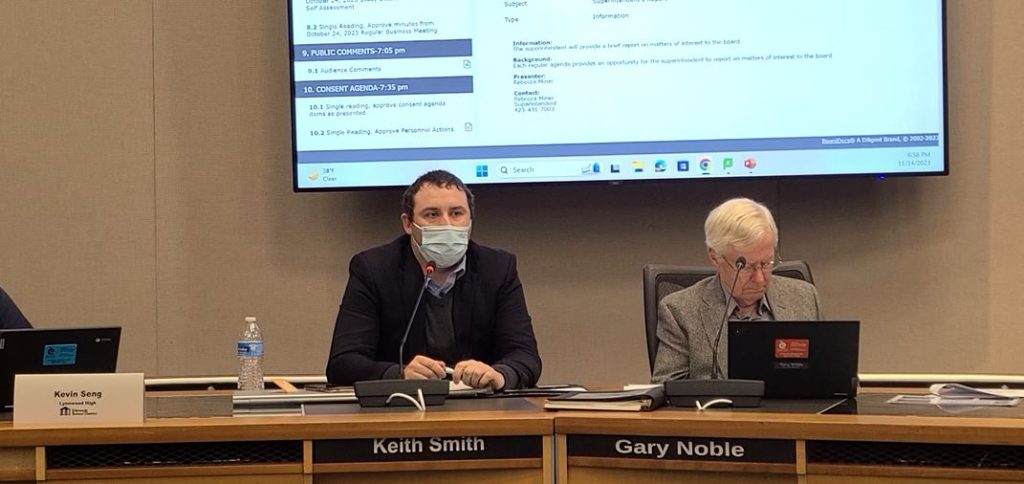 At the School Board's last meeting, held on October 24, Smith tuned in remotely to articulate his thoughts regarding an incident that was brought to his attention via email, in which he claims a community member was acting as an unofficial "bathroom monitor" at the Edmonds School District Stadium located on campus of Edmonds-Woodway High School. Allegedly a person was checking students' ID's before they entered the restrooms to verify their biological identity.
Consequently, Smith said a student felt discriminated against and belittled when they were refused entry to a bathroom that matched their gender identity.
The Edmonds Police have no record of the incident taking place nor did Keith go into specific detail, only that it was brought to his attention via email.
Still, Keith spoke passionately, to say the least, about the occurrence for nearly five minutes – calling for whomever did this to be banned from any and all school-related activities.
"I apologize in advance to my board colleagues. And if you have little ears out there, please close them. Who the f*ck does that person think they are?" Said Smith at last month's meeting. "We have gone now from just letting people come up to the podium and say things that are hurtful, that are offensive. They are discriminatory and derogatory. We have gone from that, now to actually taking action against our students. We have adults who are now actually taking realistic action because of this rhetoric."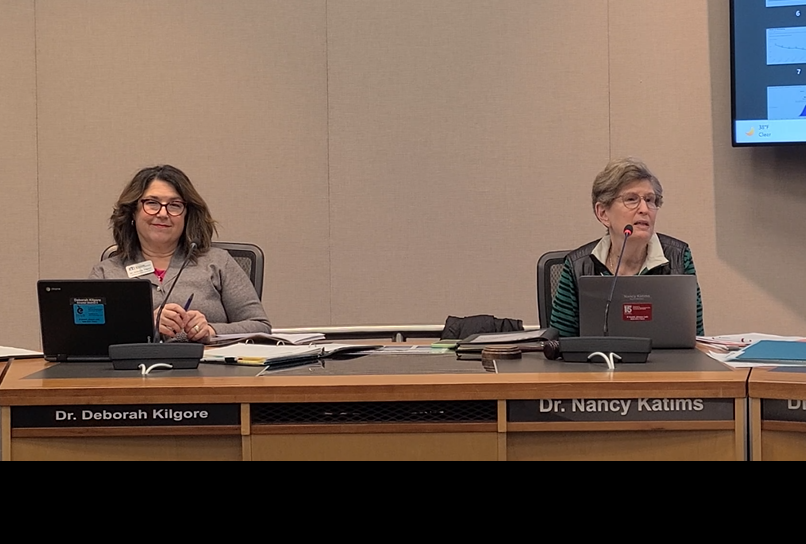 Smith also speculated that this "bathroom monitor" might have assaulted a student if they refused to enter the bathroom. He added that he wished to track whoever was responsible down and hold them accountable, all while condemning parents and community members for supporting gender exclusive bathrooms at Edmonds School District schools.
"What those people who come up and say it's for safety is, is they're saying they believe that our students, our elementary schools and middle school students are secret rapists and molesters waiting for their chance," said Smith. "That's what it is. Either that or they're arguing about the sanctity of a craphole."
Just last month a Virginia high school student's family filed a $30 million lawsuit against a Northern Virginia school system after they "failed to accurately investigate and attempted to cover up" a sexual assault that took place in a female bathroom by a male student, ABC News reported, adding fuel to the flame in the national debate regarding allowing transgender students the ability to enter gender specific restrooms that adhere to their gender identity.
According to Washington Human Rights Commission chapter 162-32-060, protected under state law RCW.60.120, regarding gender-segregated facilities, all covered entities "shall allow individuals the use of gender-segregated facilities, such as restrooms, locker rooms, dressing rooms, and homeless or emergency shelters, that are consistent with that individual's gender expression or gender identity," and "A covered entity shall not request or require an individual to use a gender-segregated facility that is inconsistent with that individual's gender expression or gender identity, or request or require an individual to use a separate or gender-neutral facility." 
At Tuesday meeting's public comment section, a handful of concerned parents and community members approached the podium to express their disdain for Director Smith's comments, particularly his use of profanity, while asking for his immediate resignation.
Steven Lynn, Mountlake Terrace resident, held the Board accountable for not holding the same standards of conduct for its Board Members than it does for the general public when speaking on the record, particularly relating to keeping comments civil, without disparaging or targeting comments against specific groups of people. He then went on to call Board Member Smith's comments "outrageous, vulgar, disparaging, and without a doubt premeditated" given his precursive "warning for little ears."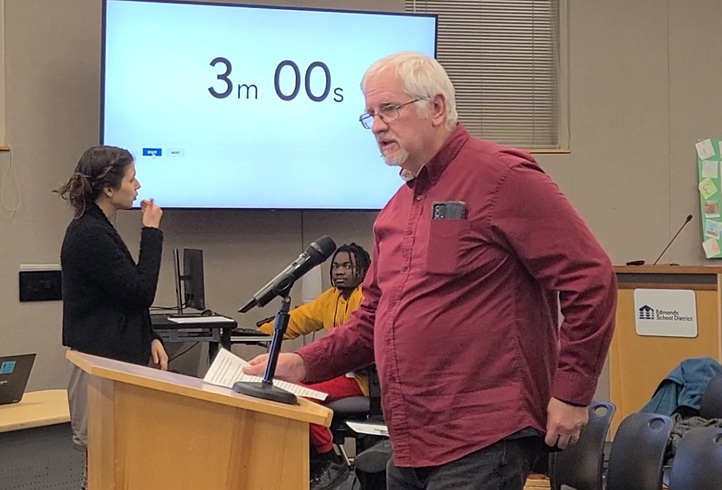 "This lack of self-control is unacceptable for someone who is supposed to be guiding the school district," Lynn continued. "He has also shown throughout his tenure that he has not given the respect for whom he serves. One should be able to listen to someone even if he disagrees with their point of view."
Lynn called for Smith's immediate resignation.
Another resident, Jason Moore, approached the podium with an A-frame sign reading "children cannot consent to puberty blockers" and began handing out printouts to the Board. He then referenced an email sent by Smith on October 24 in which Smith writes "I am being pressured to giving a public apology."
"It was a late night and I was kind of tired but when I heard his comments [last meeting] it was shocking to hear," Moore told the Lynnwood Times. "And it wasn't just that he used the F word, big deal, it was the parts about derogatory comments towards the public and false accusations against the public – those were the real shocking parts."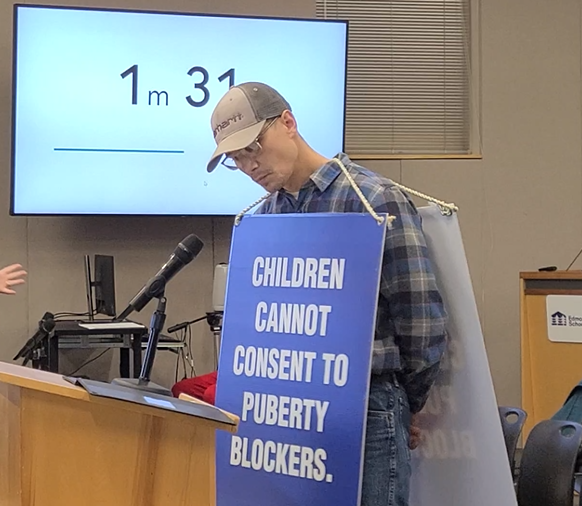 The email Moore mentioned Tuesday is in reference to an email Director Smith sent on October 25, a day after his comments, in which he wrote to a redacted recipient and used his official school board email:
"I find it incredibly outrageous that the members of the public who can't stand to hear the word f*ck are totally ok with hearing veiled hate speech every week."
The email was obtained through a public records request by Parents for Safe Schools, a coalition of parents and community members fighting against the "tyrannical leftist agenda," its website states.
The Lynnwood Times reached out to Smith to elaborate on what was meant by "veiled hate speech" and he replied that he has received several emails from families of transgender students who do not feel safe attending board meetings, feeling targeting and disenfranchised.
In another email acquired by the Lynnwood Times, also sent on October 25 to a redacted recipient, Smith noted he is "a firm believer in not accepting apologies."
Director Smith informed the Lynnwood Times he had no intention of revisiting the comments after the previous meeting because he believed that they spoke for themselves. However, he was happy to apologize for his use of profanity, understanding that many people felt that it was inappropriate.
"I stand by everything else I said. Any attempt to belittle, harass, or otherwise harm our students because of their sexual identity is 100% unacceptable. We had a student who was made to feel less than others and I cannot accept that in our district," Smith told the Lynnwood Times. "What I did not want, and am happy to project to all of our LGBTQ+ students, is for people to believe that an apology for a profane word meant that I did not completely stand behind our LGBTQ+ students as they learn who they are and how to express themselves in the world. My fear was that those students would feel betrayed by me and I wanted the specific parent that I emailed to know that wasn't the case. And I hope that all of our LGBTQ+ students know that I will always be their ally as long as I am on the board."
Karen Mossman, Mountlake Terrace resident, told the Board she was "utterly appalled" at Smith's comments at the October 24 Board Meeting. She believed his use of profanity was indicative of Smith's immaturity and unprofessionalism in his position and called for him to step down. Mossman then targeted Board President, Nancy Katims, for not immediately stopping Smith's comments once they got out of hand.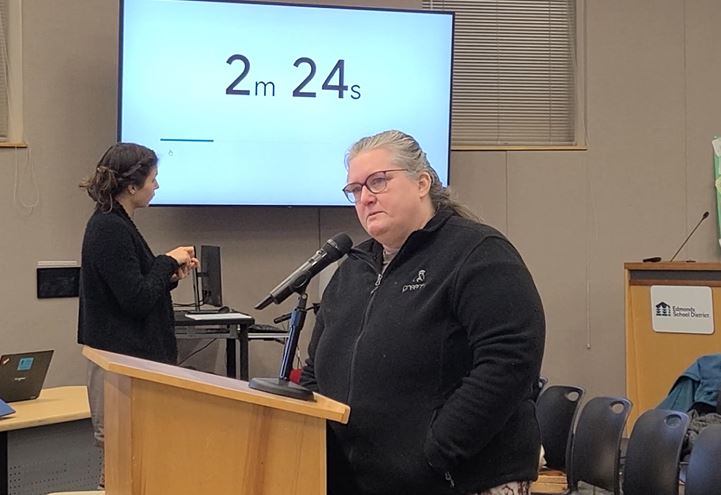 Sarah Dilling, a resident, had a different take. She thanked the School Board for being an accepting place that does not reflect "the hatred that is within our community" before specifically thanking Smith for "expressing rage [she] often has" at Board Meetings and "elsewhere in society."
Gays Against Groomers, a nonprofit organization who state they "oppose the recent trend of indoctrinating, sexualizing and medicalizing children under the guise of LGBTQIA+, took to X (formerly Twitter) to share they believed Smith's apology was ingenue, calling Director Smith a "fraud."
Mr. Keith Smith of the Edmonds School Board, is a fraud. His "apology" tonight will not be genuine. Here is the proof, emails received through a PRR: pic.twitter.com/iAgRO2XDBa

— Gays Against Groomers Washington (@GAG_Washington) November 14, 2023
Dr. Rebecca Miner, Superintendent at Edmonds School District, could not speak whether there would be any ramifications for Director Smith's outburst simply noting: "we have clear civility guidelines in our board materials and we try to honor those as we can."
---
Editor's Note: Article updated at 8:11 pm on November 16, 2023, to include Washington state law regarding gender identity and bathrooms.