Whidbey Art Market presents Thanksgiving weekend show
Immerse yourself in the vibrant and creative spirit of Whidbey Art Market's holiday-opener event! This Thanksgiving weekend, Friday and Saturday, November 24 & 25 from 11 a.m.-4 p.m., pack your friends and relatives into the car and enjoy Thanksgiving weekend access to six private artist studios from Clinton to Greenbank. 
In total, fifteen professional Whidbey Island artists will be featured, with two or three at each of the six studios on the tour. A wide range of fine art mediums are represented, including sculpture, clay, wood, photography, basketry, glass, illustration, paintings, mixed media, digital collage, jewelry and fiber. This very special show offers a curated selection of each artist's most recent and popular artwork. You'll have the opportunity to meet each artist, learn about how their work is created, all in a holiday celebration atmosphere!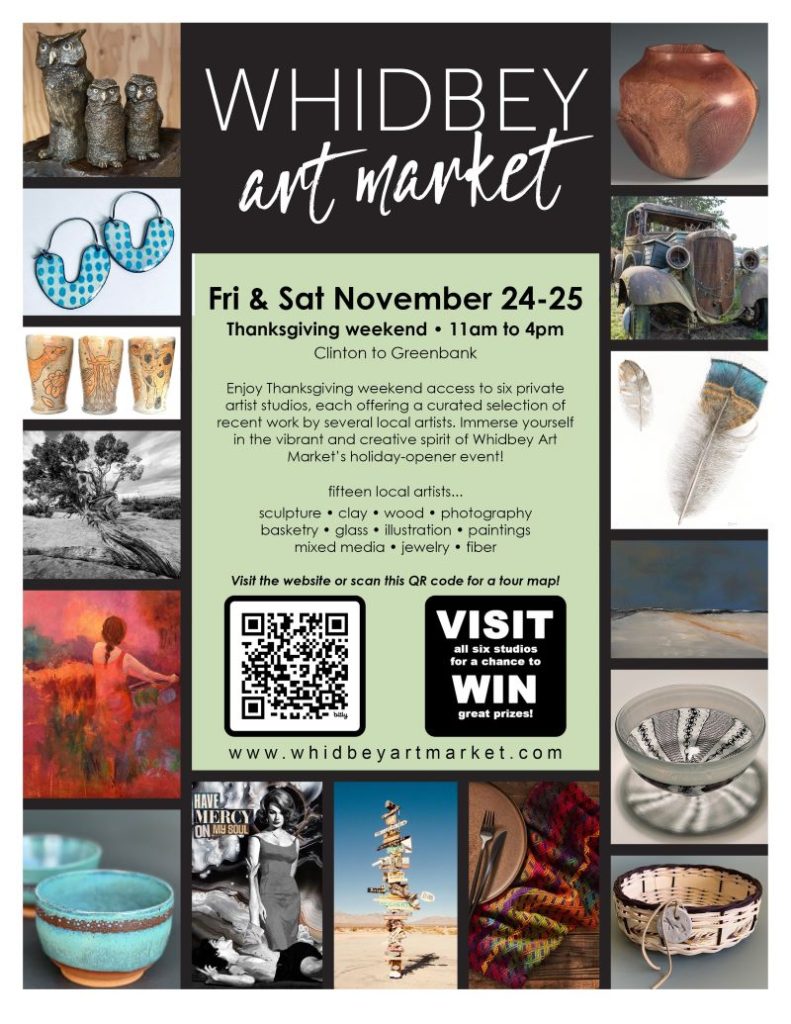 And if that weren't enough, guests who visit all six studios and have their "show passports" validated at each location will be eligible for over $1000 in special prizes! Passport/punch cards will be available at each studio, and can also be downloaded in advance from the organization's website. The grand prize is one night midweek at the Inn at Langley (a $500 value), first prize is dinner for two at Orchard Kitchen (a $350 value), and the runner-up will receive an artists' surprise gift basket containing many artist-made small gifts, for yourself or for your own gift-giving (invaluable)!
The Whidbey Art Market tour route with studio addresses and an interactive online map can be found at the organization's website www.whidbeyartmarket.com. The artists are looking forward to celebrating the season with you!
Whidbey Art Market  
Visit all six studios for a chance to win valuable prizes! Use our online interactive tour map at www.whidbeyartmarket.com or visit us at the following locations:
4311 Rollinghill Rd, Clinton
4683 Tompkins Rd, Langley
1804 Watkins Rd, Freeland
1461 Green Laurel Pl, Freeland
4721 Honeymoon Bay Rd, Freeland
3360 Old County Rd, Greenbank