Eggs-plore Artist Feature: Brandon Ringstad
By Luke Putvin luke.putvin@lynnwoodtimes.com
Ringstad is a marine biologist from Snohomish, and he titled his egg "EGG-citing Encounters."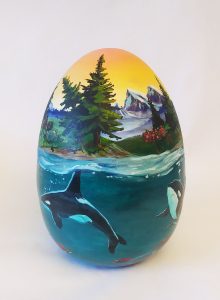 Getting into art as a kid, Ringstad took a few high school art classes and won several awards. Beyond that, he is self-taught. Ringstad has many family members who are artists, so it was only natural that he became interested, as well.
Outside of art, Ringstad is a marine biologist and a swim coach for the Snohomish Aquatic Center and Glacier Peak girls swim and dive team. He received his bachelor's degree in aquatics and fishery science with a minor in marine biology from the University of Washington. Ringstad also loves Star Wars, Pokémon, Marvel and DC.
His art focuses on wildlife, marine life and general water themes. In general, he enjoys using materials in his art that allow him to play with light such as glitter, glass beads and pearlescent paint.
Ringstad, in giving advice to artists, said, "I would tell someone to find what they love and create your own flair. Take the time to improve and stand by your brand. It takes time, so be patient, and keep on creating."
"Art is a wonderful way to be creative. I believe that we as people need to do things and make things, and I have found that the people who are the happiest are the creators and makers of a community. Whether it is wood-working, metal working, painting, sculpture, or anything that requires creative thinking, they seem the happiest," he said.
Finally, Ringstad spoke on the importance of art as a benefit to the community. "It is important to meet other creative people so you can broaden your world views, plus it is fun to meet other people. It brings us all together as a community," he said.