Fourth Annual Fairwinds-Brighton Court Classic Car Show
By MARIO LOTMORE
Fairwinds-Brighton Court hosted its fourth annual Classic Car Show on Saturday, July 20. The event raised $2,200 to benefit the Kiwanis Club of Edmonds. The categories and winners were: Best Date Car, Patrick and Judy Pace with their 1963 Ford Galaxie 500 Convertible, Best Restored Car, Dave and Bonnie Mercer with their 1930 Ford Model A Roadster, Resident Choice Car, Bob Darby with his 1938 2-Door Ford Grabber Blue, and Best in Show went to Dave Sittauer with his 1937 Nash LaFayette 400.
Fairwinds-Brighton Court is a senior living facility that offers independent and assisted living services. Sales and Marketing manager, Becky Tilbury, said besides contributing to the community, the event brings a car show to residents who otherwise would have difficulty making it to an offsite car show. Other annual events are the Luau and Casino Night. Brighton Court also facilitates monthly field trips such as Leavenworth and the Tulip Fields in Mount Vernon. Tilbury would like to give special thanks to the Kiwanis Club of Edmonds for all the good work they do for the community.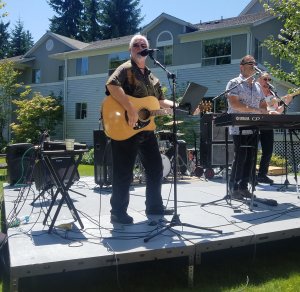 The band, GenRAShun, with lead vocalist and Lynnwood City Council candidate Jim Smith, entertained the crowd by playing classic hits from throughout the decades. The band plays at Fairwinds-Brighton Court five times a year and performs 175 shows annually. For booking information, visit their website at genrashun.com.
Dave Sittauer, a retired City of Edmonds Fleet Manager and winner of the Best in Show, learned to restore vehicles from his dad and four older brothers. Sittauer purchased the vehicle for $16,000 on Craigslist. "It was a rust bucket, and now it's completely restored," said Sittauer. He has put over 4,000 hours into the car.
His first restore was a 1968 Volkswagen. Over the years he has owned 25 cars. Sittauer emphasized that because this is an expensive hobby, a novice of any age must learn to perfect the trade.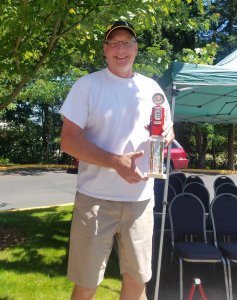 "Find a mentor willing to bring you into a garage and start with a beater so you can afford to learn how to repair things. One will then sell that car and use the proceeds to buy a more challenging vehicle."
Herb Baramian and his grandson Armauni Baramian showcased their 1931 Ford Model A Hotrod. Herb bought the car for $250 in 1954. He said in high school girls loved the car and wanted to cruise. Jokingly, Herb's grandson and current owner of the car, Armauni, conveyed he wanted to remain oblivious to the car's early history.
Fairwinds-Brighton Court is in the heart of Lynnwood at 6250 196th St. S.W. For more information about the community visit www.leisurecare.com/our-communities/fairwinds-brighton-court.