Winter Storm Watch for Jan. 14, 2020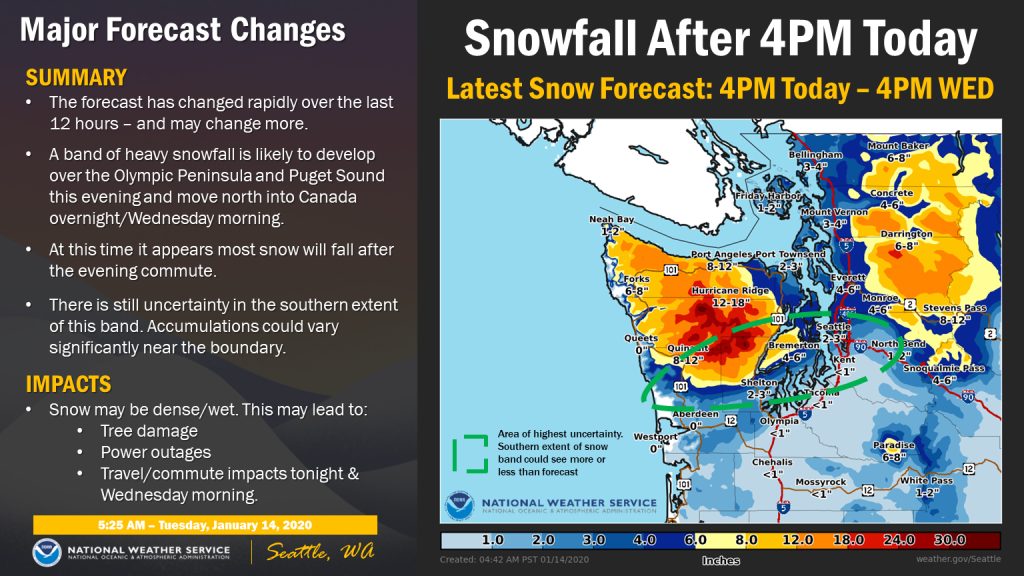 What's coming? The National Weather Service (https://www.weather.gov/) has updated its forecast and is now predicting heavy snowfall for Snohomish County, starting Tuesday evening. A winter storm watch is in effect from 6 p.m. Tuesday through 7 a.m. Wednesday. The weather service says it is likely there will be "significant travel impacts," not only this evening but also during the Wednesday morning commute.
How much snow is expected? The forecast calls for 4-6 inches across much of the county by Wednesday morning, with more accumulations out east. Additional damage to trees and power lines is possible. Another round of snow is forecast for late Wednesday through Thursday.
Expect more cold. Tuesday morning temperatures were in the mid 20s and afternoon highs are expected to be around freezing. Breezy conditions are forecast Wednesday, which could create wind chill temperatures into the single digits in East Snohomish County.
Prepare for icy commutes. Stay off of the roads if you can. If you must travel, check WSDOT's Traffic twitter account (https://twitter.com/wsdot_traffic) for current conditions on I-5, I-405 and our state highways. The Sheriff's Office will be posting local road closures to their twitter account as well (https://twitter.com/SnoCoSheriff).
Prepare to be without electricity. #TeamPUD crews will continue to restore power to customers as quickly as conditions allow. The PUD prioritizes outages from big to small, focusing on the higher-voltage transmission level that power substations with large customers like hospitals, schools and businesses. Next, are main circuits from substations that serve neighborhoods and businesses. Finally, smaller outages that serve a handful of homes are addressed. Don't call 911 if you lose power. Report outages to 425-783-1001 or outagemap.snopud.com.
Heat your home safely. Beware carbon monoxide. Never try to heat your home using a gas stove or charcoal grill. Run portable generators in a well-vented outside area. If your power is out, designate a warmer area in your home as a primary living area, preferably with fewer windows. Dress in layers and, if needed, with a scarf, gloves and hat.
Need a place to stay? With below-freezing temperatures forecast this week, we expect an increased demand for cold weather shelter. Multiple locations in Snohomish County provide overnight shelter when temperatures are below 32 degrees F. Coordinators and volunteers work hard to meet the need in the community, but space is limited. If you are in need of shelter, please call 211 or call ahead to a cold weather shelter. Additional information, including a list of local shelters indicating which are open, is available at www.snohd.org/cold.
Snohomish County road crews at work. Remember to give snowplows and deicers plenty of room this evening. Allow a minimum following distance of 200 feet from plows and deicers while they work. If you must pass, take extreme caution and beware of the displaced snow and ice, or sand spray.
Help each other. Keep an eye on your kids and pets if you are outside, especially near any ponds, lakes or rivers. Check on your elderly or home-bound neighbors.
Stay safe. If you must go out talk over your travel plans with others in your home, even if the trip is just a few miles. Be sure to wear extra layers of outerwear if you will be outside for any length of time (jackets, hats, gloves, extra socks, etc.)
*The Lynnwood Times will represent the character of our diverse and growing city. We are not just a newspaper; we are connecting neighborhoods. With both Lynnwood's City Center project kicking off this year and Sound Transit's transfer station now in development; the launching of the city's free community newspaper will only help bring neighborhoods together. Click Here To Learn More About Us.