Two homes damaged by fire in Mountlake Terrace
by South County Fire | Press release
Two homes damaged by fire in Mountlake Terrace
Damages estimated to be in excess of $600,000
Six residents displaced, no injuries
Mountlake Terrace, April 17, 2020 — No one was injured in a two-alarm fire that caused more than $600,000 damage to two homes in Mountlake Terrace early this morning.
Firefighters responded around 2:30 a.m. for a report of a tree on fire in the area of 228th Street SW and 48th Avenue W. A South County Fire engine company from Mountlake Terrace Station 19 arrived within minutes to find more than a tree on fire: Two neighboring houses in the 22900 block of 49th Pl. W were also in flames.
Residents safely exited both homes. Firefighters called for a second alarm. Engines from Bothell Fire and Shoreline responded to assist South County Fire crews. At the peak of the fire more than 40 firefighters were on scene. It took them about an hour to knockdown the fire. Firefighters rescued one cat.
The fire left both homes uninhabitable. Red Cross is assisting six adults – two residents from one house and four residents from the neighboring house.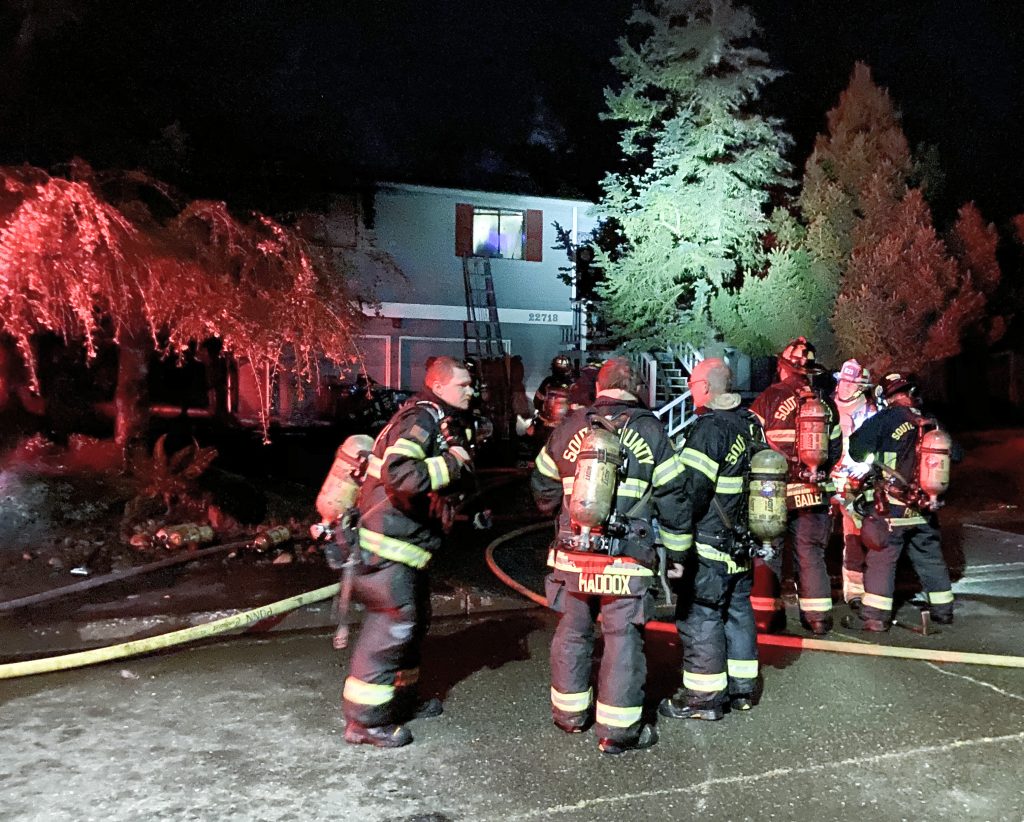 South County Fire investigators have determined this was an accidental fire started by spontaneous combustion of sawdust from wood that had recently been treated with an oil-based stain.
Oil-based finishes release heat as they dry. This isn't a hazard if the heat is released in the air. If heat becomes trapped, it can build up and ignite. Most commonly this occurs in a pile of oily rags. The National Fire Protection Association offers these tips for safe handling of rags wet with oil-based stains and paints:
Hang oily rags outside or spread them on the ground. Keep them away from buildings. Weigh the rags down so they do not blow away. Make sure they are not in a pile.
Put dried rags in a metal container. Make sure the cover is tight. Fill the container with a water and detergent solution. This will break down the oils.
Keep containers of oily rags in a cool place. Keep them out of direct sunlight. Keep them away from other heat sources. Check with your city or county for information on disposal.