By Mario Lotmore | Lynnwood Times Staff
Washington State Patrol estimated 2,500 demonstrators
Protesters were critical of Governor Inslee's lockdown policies and lack of a plan for reopening Washington
Legislative powers to extend the "Stay Home, Stay Healthy" order is only applicable to state statues in Subsection 2 of RCW 43.06.220
Proclamations not associated with state statue in the "Stay Home, Stay Healthy" order can solely be extended by the governor
On April 17, the Republican caucus released its "Safe Economic Restart Plan"
On April 21, the Governor released his COVID-19 recovery plan
Spokesman for the Governor stated in an email to the Lynnwood Times that some restrictions will be lifted by May 4, but many will not
Olympia, WA – On April 19, thousands protested for easing restrictions to Governor Jay Inslee's "Stay Home, Stay Healthy" order and advocate a return to work. According to the Washington State Patrol there were an estimated 2,500 demonstrators and no arrests were made. Protesters were critical of Governor Inslee's lockdown policies and lack of a plan for reopening Washington.
Demonstrators held signs that read "Tyranny is not the Cure," "Inslee is not my King" and "Set Us Free Before We Go Bankrupt." Some protesters wore masks, others waved American flags, "Don't Tread on Me" flags and a few waved Trump flags.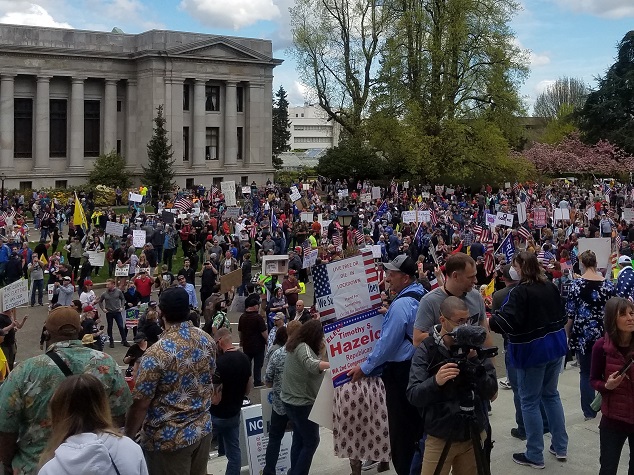 "[I] Believe taking away your right for whatever job you have is wrong. When you take away a person's way of life…you take away that what gives a person pride and self-respect," said Tracy an employee of Lowes who attended the rally from Covington, WA.
Katrina a flight attendant from Federal Way shared similar sentiments. She was also critical of Inslee's lack of communicating an end to the "Stay Home, Stay Healthy" order. "I believed [him] in the beginning but now he gives no hope. Every day is bad news. Why doesn't he give people hope to when it is going to be over? Every night I go to sleep thinking, I am going to hear something positive, but it is negative. My nephew hasn't been to school for months – come on!"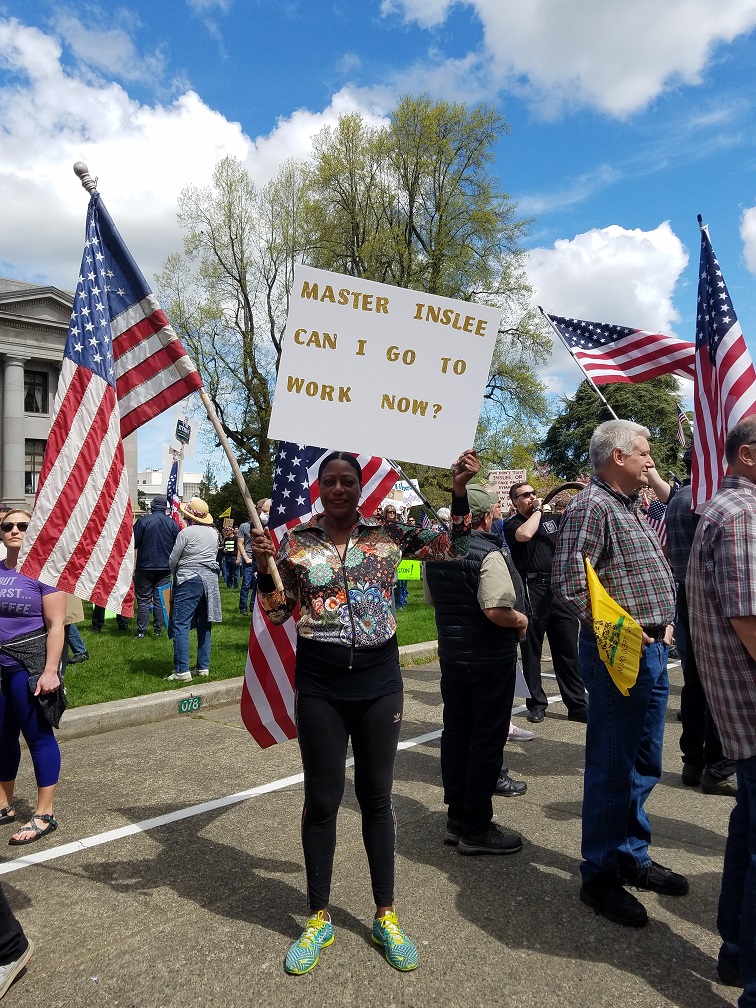 Restaurant owner and former Lynnwood City Councilwoman, Kerri Lonergan-Dreke, attended the rally with her husband Mark. She shared that unfortunately she had to layoff 80% of her staff and that some of those that were laid off still have not received their unemployment benefits.
"It is not that I disagree with the "Stay Home, Stay Healthy" order…I follow it and I supported it. But we are at a place to loosen it up but the governor refuses to do that. I have been watching the new case statistics for the last three weeks and they have been down for two consecutive weeks, but the bar continues to be raised."
Mark, Dreke's husband shared a similar concern of an ever-changing goal. "First it was flatten the curve…then it became every life is precious…now it is going to become no infections."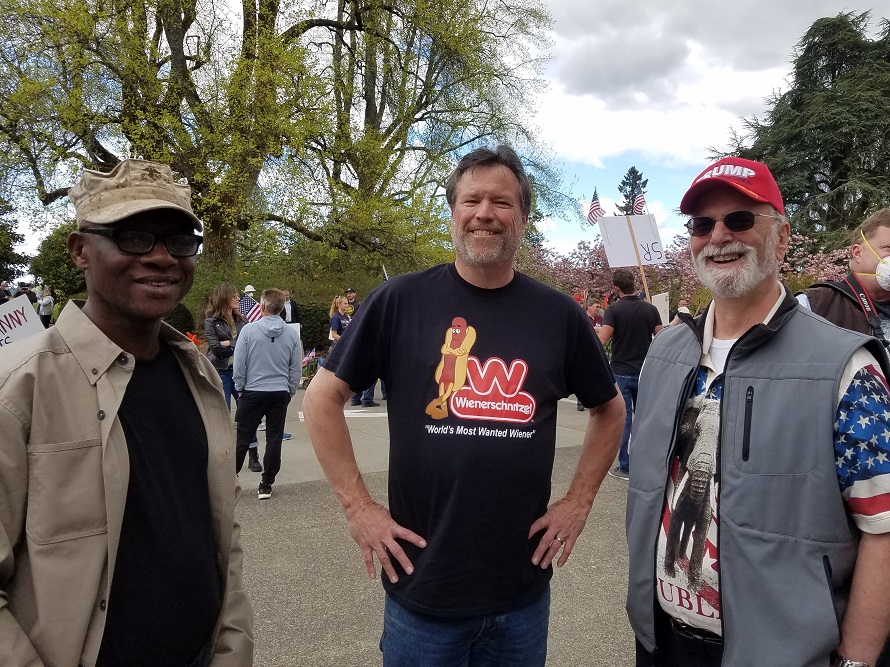 Current gubernatorial candidate, Senator Phil Fortunato, called for a special session to oversee the actions of the governor. "Just shutting down residential and commercial construction is millions in lost revenue to the state per day. We need to do something now. Also, on July 1, every state employee will be getting a 3% pay raise…we need to consider a 3% pay cut so everyone can feel the pain."
Charles, a software developer in Mukilteo, told us he attended the rally out of concern for business owners that are hemorrhaging money. He also shared Fortunato's concern that the governor maybe working in a vacuum. "By [Inslee] closing the construction industry proves he is out of touch with the working class," said Charles.
The Lynnwood Times spoke with a dozen attendees of which half identified as Republican, a third as Independent, and the remainder as Democrat. We asked each of them, "What would you say to those that criticize you being here assembling taking a risk of contracting or transmitting the coronavirus?" The most common answer was, "that's fine; we can disagree."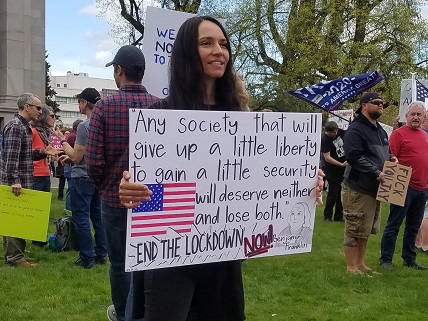 Kristi Berry an employee at Microsoft and Mill Creek resident comment reflected most everyone's response. "I would love to have a conversation and talk about it; we can disagree. That is what makes this country great," she said.
A few shared a more pointed view. "It is safer out here than shopping with 50 people in the line at Walmart," said Conner a resident of Enumclaw.
Many attendees questioned the constitutionality of the "Stay Home, Stay Healthy" order. Many thought the order could only stay in effect for 30 days then must be affirmed by the state legislature.
According to RCW 43.06.220 subsection 4 of the State of emergency—Powers of governor pursuant to proclamation, only those proclamations related to RCW 43.06.220 subsection 2 require an extension. Subsection 2 primarily deals with proclamations that alter state statues such as payment obligations, fees, permits, and family assistance programs.
In other words, the proclamations not associated with state statue in the "Stay Home, Stay Healthy" order can solely be extended by the governor.
On April 15, the majority and minority leaders of both the House and Senate extended the proclamations pertaining to subsection 2 until May 4.
The Lynnwood Times asked both majority and minority leaders of both the House and Senate if they were in favor of extending these proclamations again and their thoughts on the Governor extending the "Stay Home, Stay Healthy" order. We only received responses from House Majority Leader, Speaker Laurie Jinkins, Senate Majority Leader, Andy Billig, and House Minority Leader J.T. Wilcox.
Speaker Jinkins responded, "It depends on the data points." Both she and Senator Billig shared similar sentiments.
"As that happens, it is reasonable to expect a gradual re-opening of the economy, which began on Friday with the Governor allowing certain construction projects to re-start. I expect additional announcements that continue the re-opening of the economy in the coming days and weeks," said Billig.
Representative Wilcox stressed the importance of anti-body testing to allow those that can return to work, safely do so.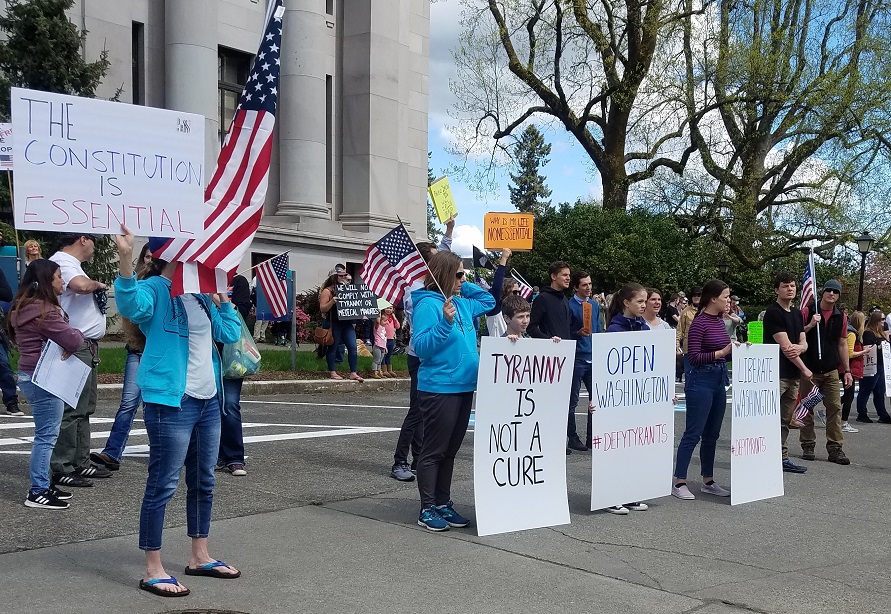 On April 17, the Republican caucus released its "Safe Economic Restart Plan." The plan calls for the convening of a "Restart Task Force" to allow various business sectors to resume operation, including auto dealers, car washes, hairdressers and barbers, flower shops, dentists and accountants.
The plan calls for massive anti-body testing and to work with employers to screen workers. It calls for a one-year exemption of sales and B&O taxes and a plan to aid those small businesses that do not qualify for federal emergency-assistance programs.
Last week Governor Inslee released his proposal for reopening the Washington state economy. The plan prioritizes health considerations over a rapid return to normalcy. The governor lists five requirements: (1) More testing; (2) Contact identification capabilities; (3) Personal protection for everyone who needs it; (4) Adequate capacity in the state's health care system; and (5) A vaccine.
The report goes on to say that the number one priority is preventing another outbreak by following social distance guidelines and the prohibition of most large gatherings.
When asked how much longer will the "Stay Home, Stay Healthy" order be in effect, Mike Faulk, Press Secretary for the governor, replied on Inslee's behalf in an email.
"We expect some restrictions will be lifted by May 4, but many will not. It's not clear how long they will be in place because we are going by data, not dates. The data will tell us when it may be safe to continue lifting or modifying restrictions. The governor has said this is like turning a dial rather than flipping a switch."
According to WA State Department of Health, as of April 27 there were 786 COVID-19 related deaths in the state out of 13,842 confirmed cases, which equates to a death rate of 5.7% of confirmed cases or 0.01% of the state's 7.615 million inhabitants. Of the confirmed COVID-19 related deaths, 53% were 80 years old or older and 91% were 60 years old or older.
Currently, Inslee's stay-home order is in effect through May 4, but from the aforementioned response, it looks like it could be extended beyond that.
Related Articles