By Alec Dietz | Lynnwood Times Staff
Following the Seattle City Council's approval of historic cuts to the Seattle police department's budget, Seattle Chief of Police Carmen Best has retired, effective Sept. 2, 2020.
In a letter sent to her officers and coworkers Monday night, Best said that she would "retire" from the Seattle Police Department (SPD) on Sept. 2. Seattle Mayor Jenny Durkan will appoint Deputy Chief Adrian Diaz to succeed Best as the interim Chief of Police.
"This has really been the job of a lifetime," Best said in a press conference formally announcing her retirement Tuesday morning. "I'm sad to leave in some ways, but you know, when it's time, it's time."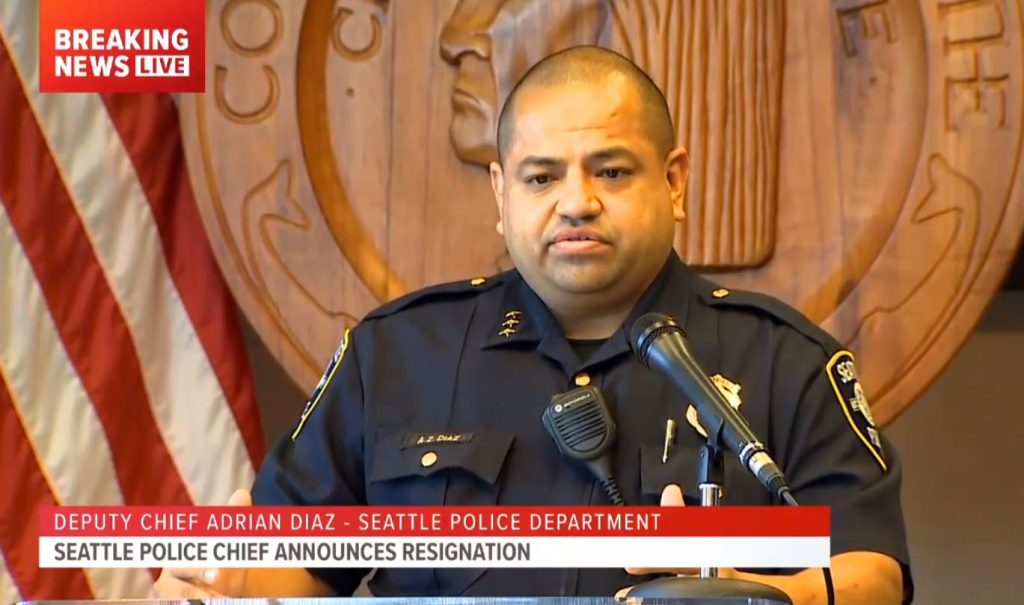 Diaz, who will take over at least temporarily in September, has spent over two decades in SPD, working as the Assistant Chief for the Collaborative Policing Bureau before being appointed as Deputy Chief of the Seattle Police Department. Mayor Durkan said that a national search would not start until the business with the Seattle City Council and the budget has been resolved.
Best's retirement came mere hours after the Seattle City Council voted to approve major cuts to SPD's budget, estimating that the police department reductions would represent roughly $3 million in 2020 savings. Best, Seattle Mayor Jenny Durkan, and prominent police unions have been outspoken against the proposed cuts, which originally were proposed as a 50% cut to the department.
Key aspects of the approved cuts include: A reduction in force of up to 100 sworn officer positions across different teams through layoffs and attrition beginning in November, capping command staff pay at $150,000, and ending the Navigation Team (which constitute 14 of the approved 100 officer position eliminations).
At the Tuesday presser, Best elaborated that the cuts did play a factor in her retirement, stating that she felt uncomfortable with the inevitable layoffs she would have to facilitate in the coming months.
"This is not about the money, and it's certainly not about the demonstrators," Best said. "It's about the overarching disrespect of the officers."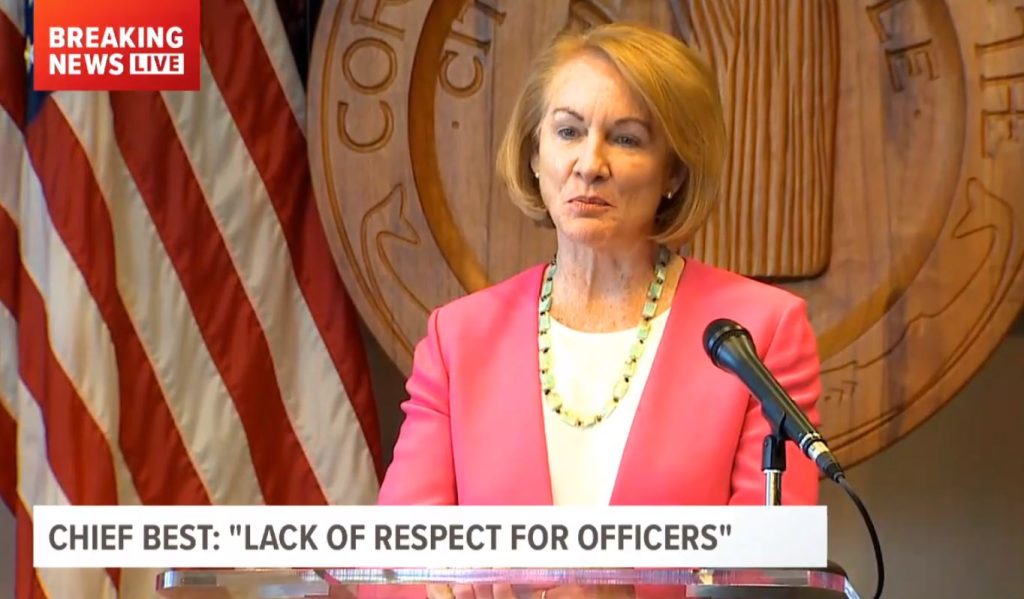 Durkan doubled down on Best's comments, stating the council's mistreatment of the Police Chief and avoiding dialogue with both the Mayor and Best showed a "complete lack of respect."
"To the residents and businesses, young people and City Council, I hope we can find a better path, a better path forward than the absolute breakdown of collaboration and civil dialogue we have seen in recent weeks," Durkan said.
Answering questions from the press, Best said that the "animus" toward her might have been hindering the communication and path forward for progress.
"I think we need to have fresh eyes, fresh leadership, and I'm very comfortable with that," she said.
Several Seattle City Council members and prominent community and organization leaders have released statements on Best's retirement, those can be read below.
Alex Pedersen (Seattle City Council, District 4)
"I am deeply saddened by the resignation of our Police Chief Carmen Best. Chief Best has served Seattle faithfully and honorably for decades and happens to be the first Black woman to serve as our City's police chief. While a majority of City Council voted on August 5 to cut Carmen Best's salary, it's important to note that Councilmembers Juarez, Lewis, and I did NOT vote to cut her salary.
"I did not support suddenly cutting the salary of the first Black police chief in Seattle's history and the diverse, experienced team that she picked. While I believe we should take a hard look at reducing excessive city government pay during budget deficits, I believe our entire City Council should be more thoughtful and methodical, so we avoid unintended consequences. 
"There are few leaders better equipped than Carmen Best to help lead the hard negotiations needed to fix the police contract — today's expensive and unreasonable police contract is among the biggest impediments to revamping and boosting public safety in all communities.  I will continue to work collaboratively with our Mayor and other colleagues to seek and implement solutions for Seattle, even though the road today is much more difficult. People deserve to see less sniping and more solutions."
Andrew J. Lewis (Seattle City Council, District 7)
"I want to start by expressing my deep gratitude to Chief Best for nearly thirty years of service to our community.
"While Chief Best and I had some policy disagreements, I am very grateful for the access and resources she granted to the Council during our summer budget deliberations. Budget Director Angela Socci and Dr. Christopher Fisher provided all information requested by the Council and made themselves available to answer questions during long committee hearings. The ability to assemble a strong team is key to the success of any department, and a testament to Chief Best's leadership.
"That in part is why I was never for cutting the pay of Chief Best and her executive team. Along with Councilmembers Pedersen and Juarez I voted against the pay cut that passed 6-3 on August 5th.  I further conveyed this strongly and forcefully on Monday August 10th by offering an amendment to reverse the cut entirely, but my colleagues chose differently.
"Cutting the salaries for people like Angela Socci and Dr. Christopher Fisher who provided the data-driven foundation of the Council's efforts to fundamentally change public safety does not sit well with me. Cutting the salary of the first black woman to serve as chief to a level below her white predecessor does not sit well with me either. It is clear from the public statements of Chief Best that these pay cuts to her and her team weighed heavily in her decision to leave public service, and it is a significant and sad loss.
 "I welcome Deputy Chief Adrian Diaz to his new role as Interim Chief. I look forward to working with Interim Chief Diaz in the coming budget session to collaboratively build on our work to right-size our first response and bring systemic change to our public safety system."
Black Lives Matter Seattle-King County
"Today's news of the retirement of Chief Carmen Best is a loss.
"It does nothing to further our fight for authentic police accountability and the safety of Black lives, that the first Black woman to hold the position of Chief of Police of the Seattle Police Department has been forced out of her job by the Seattle City Council.
"Racism is racism.
"We demand the Seattle City Council stop prioritizing performative action that solely suggests the appearance of change. We demand transparency and accountability for the series of actions and inactions that led to Chief Best's resignation. And we demand a successor that serves Black Lives."
Police Chief Carmen Best's message to officers announcing retirement
"To the Women and Men of the Seattle Police Department —
I wanted to notify you that I will be retiring from the Seattle Police Department, effective September 2nd, 2020. I wanted you to hear this from me, but some media have reached this conclusion on their own. 
This was a difficult decision for me, but when it's time, it's time. 
I want to thank Mayor Durkan for her continuous support through good times and tough times. 
I am confident the department will make it through these difficult times. You truly are the best police department in the country, and please trust me when I say, the vast majority of people in Seattle support you and appreciate you. 
I am impressed daily at your skill, your compassion, and your dedication. I am thankful my command team has agreed to continue serving the department, and that Mayor Durkan has appointed Deputy Chief Adrian Diaz as the interim Chief of Police. Chief Diaz shares my commitment to this department and has the trust of the community. 
I look forward to seeing how this department moves forward through the process of re-envisioning public safety. I relish the work that will be done by all of you. 
After more than 28 years, I am so thankful for the time I spent at SPD. You are my family. You will always be in my heart. We have had tough times before and come out better on the other side. I am glad I pushed through each of those tough times with you. I am grateful for the opportunity to have served as your Chief. 
Remember to take care of one another. 
Thank you
Carmen Best
Chief of Police"