Lake Stevens, Wash. – In the days leading up to the resolution of former Minneapolis police officer Derek Chauvin's conviction, a Lake Stevens memorial, honoring the life and service of fallen trooper Sean O'Connell, was defaced with an anti-police message.
In May, 2013, motorcycle state trooper Sean O'Connell, 38, was killed on duty during the Skagit River I-5 bridge collapse after serving with the Washington State Patrol for 15 years. Two weeks later, then Lake Stevens Councilman Sam Low proposed a memorial honoring O'Connell at 83rd and 20th Street SE, the last turn in Lake Stevens O'Connell would make before heading to work. After some code changes by the city, a memorial was enacted on the one-year anniversary of O'Connell's passing.
Over 2,000 attended O'Connell's memorial service at Everett's Comcast Arena back in 2013. He was described by his friends and family as "everybody's best friend," according to the Herald.
In July 2013, Skagit Bridge was renamed to Trooper Sean M. McConnell Jr. Memorial Bridge.
"Sean was very enthusiastic, jokester, a loving, caring father. Just a great, all-over individual with a heart of gold," Lt. Jeff Beazizo, who supervised O'Connell in the state patrol, said of him.
Beazizo worked closely with O'Connell as his sergeant, then continued to oversee him after his promotion to Lieutenant in the motor unit. He was close to his family, having kids of the same age.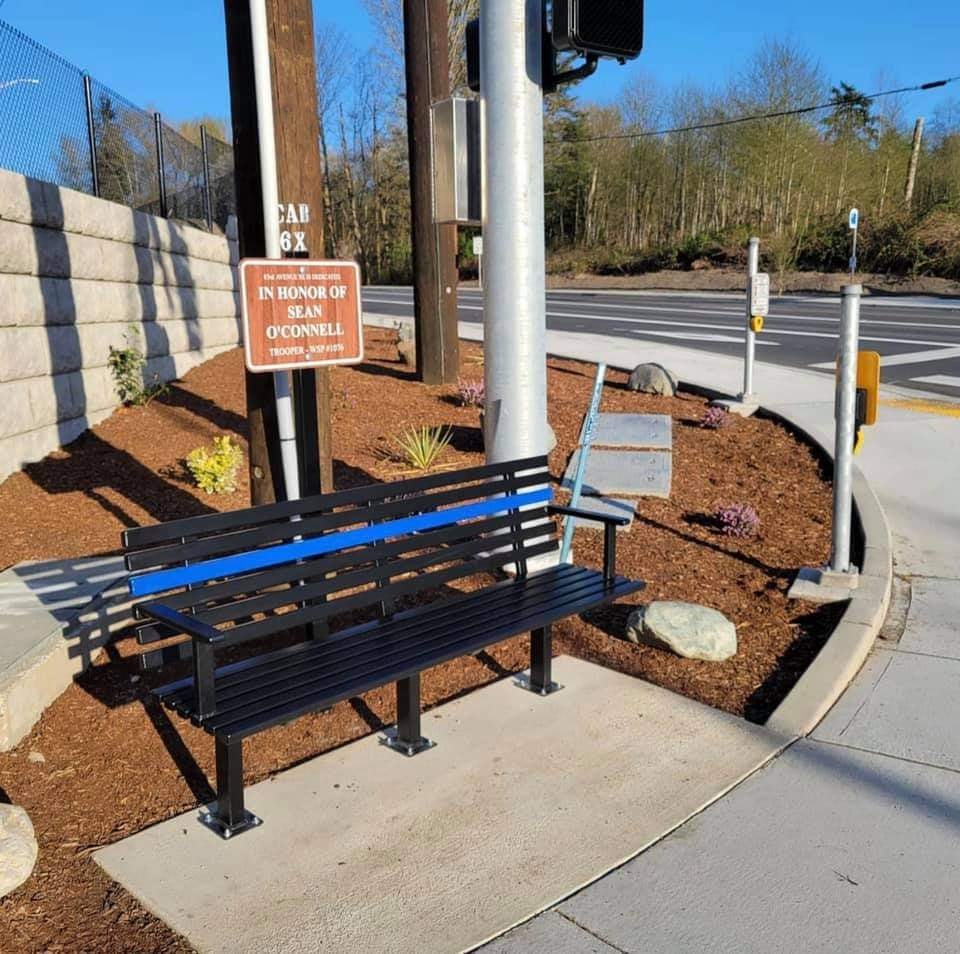 On Friday, April 16, 2021, a bench was added to the memorial. During the widening of 20th Street SE, Mayor Brett Gailey thought the bench would add a nice rest stop for people taking a walk, where they could sit and remember O'Connell's service. One day later it was graffitied with "ACAB."
"It was sad because it was a dedication to Sean and what he gave back to the community, and unfortunately, somebody took it upon themselves to take away something so special – especially for Alissa and the kids and to memorialize Sean. That's upsetting. Especially since it's a great community and to do something like that, which is so precious to everybody," Beazizo said.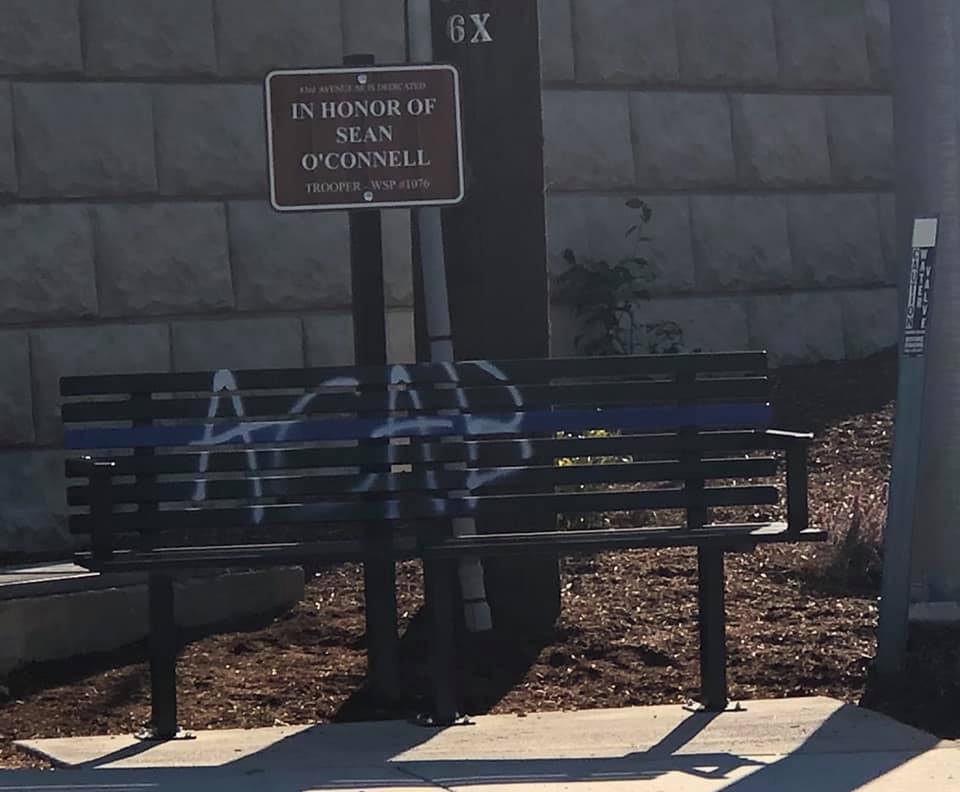 ACAB is an acronym for "All Cops are Bastards" which originated in England during the 1920's and became a symbol of anti-establishment, especially within the punk and skinhead subcultures, around the 1980's. Following the murder of George Floyd it has made a recent resurgence as a political message for police reform. Despite its political connotations, Lt. Beazizo says it's difficult to surmise whether the defacement had political backings.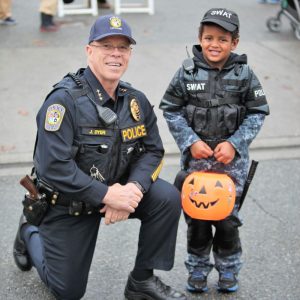 "I was extremely disappointed someone would do the cowardly act like defacing the memorial of a local trooper who was a citizen of our community and paid the ultimate sacrifice in serving this community," Mayor Gailey said.
Mayor Gailey saw the defacement around 8:30 a.m. Sunday morning and reached out to Chief of Police John Dyer to have it removed.
"It's a memorial of a fallen law enforcement officer, and a defacement of that, and really any defacement of someone who has passed away is a scar on the community," Chief of Police Dyer said.
A memorial service was held for Sean O'Connell the Friday his memorial bench was added, where his wife, Alissa, two kids, and Lake Stevens PD joined together to honor his memory. Due to COVID restrictions the city decided to keep the service fairly small for a select group of individuals who were close to O'Connell.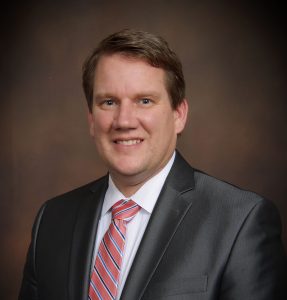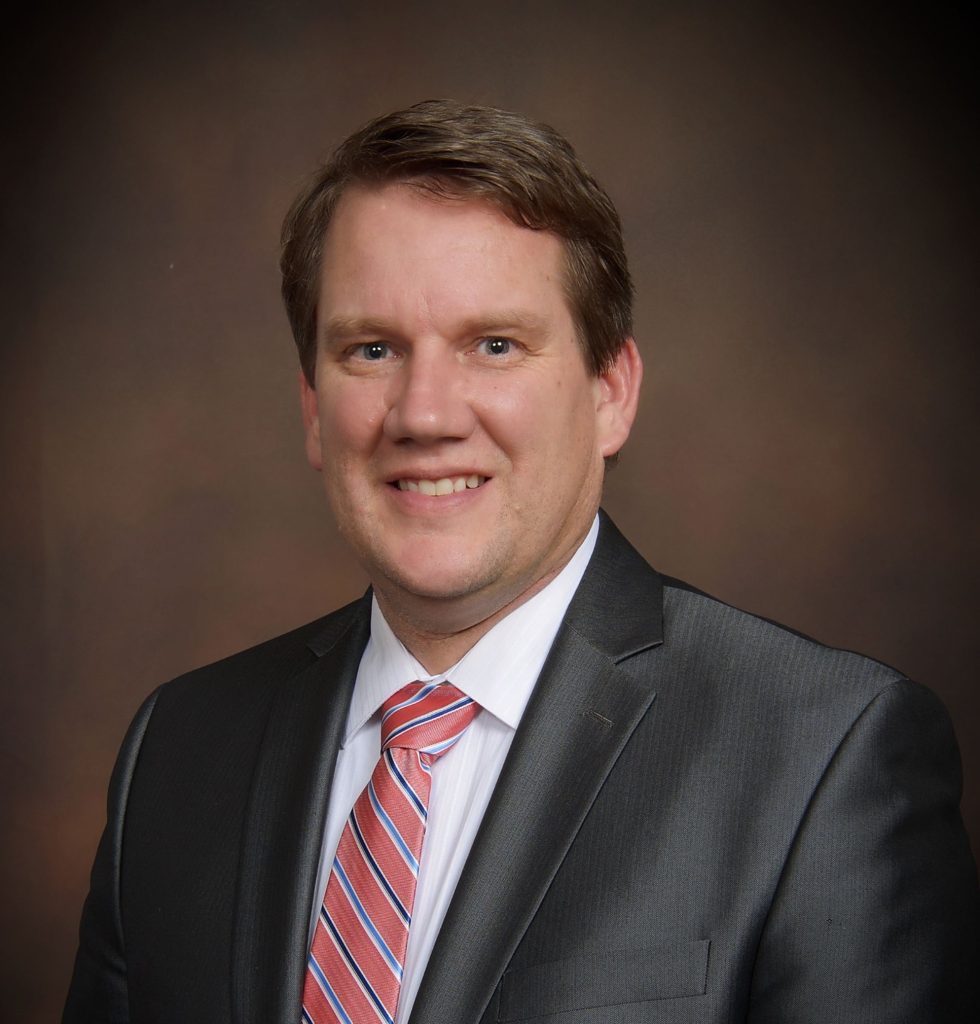 "I want to thank Mayor Gailey and the city for placing a new sign and adding a bench in [O'Conell's] honor last week," Sam Low, who was a friend and neighbor of O'Connell, said.
Low made an appearance at O'Connell's memorial service Friday and rode in the motorcade with Washington State Patrol. On the 5-year mark of his passing, at Low's request the Lake Stevens Rotary Club granted a $1,000 scholarship for a graduating high school senior in O'Connell's honor.
Many people flooded the community forums on social media Sunday to share their disgust of the defacement of the Lake Stevens memorial for trooper O'Connell's. Many posts from residents were offering to take it upon themselves to paint over or clean it. The defacement was cleaned off within hours of Mayor Gailey's call to Chief Dyer.
Currently, despite some social media rumors, there are no suspects and no one has been apprehended. Two security cameras at 79th & 20th were unable to catch any suspects.
According to Mayor Gailey, what was misinterpreted as suspect apprehension by witnesses was a blue blanket over the bench, which was unraveled by O'Connell's kids. The LSP officers surrounding the unraveling were there to honor Sean during his memorial, not to apprehend suspects, according to Gailey.
"We'll continue to keep that memorial there because it's the right thing to do and it's important that our community shows support for those who protect us and that's a great way to do it," Mayor Gailey said.