The Federal Communications Commission is looking to require a texting option for the soon-to-be National Suicide Prevention Lifeline number of 988. Last summer, the FCC voted to require phone companies to route calls made to 988 to the Lifeline by July 2022. The current number of 1-800-273-TALK (8255) will still be active during and after the deadline. 
The push for 988 began after a joint report between several agencies in August 2019 recommended the use of a simpler 3-digit phone number—similar to 911 for emergencies. The Lifeline's crisis counselors began responding to texts last August, as the agency has noted the need to accommodate those with speech and/or hearing impairments as well as increase ease of access for America's youth.
"While a voice hotline has its benefits, traditional telephone calls are no longer native communications for many young people. Texting is where they turn first," said Acting FCC Chair Jessica Rosenworcel in a statement to ABC News. "So it's time to make the suicide prevention hotline text accessible with 988."
In an FCC fact sheet, the agency states the need is critical, as "since 2008, suicide has ranked as the tenth leading cause of death in the United States. Suicide claimed the lives of more than 48,000 Americans in 2018, resulting in about one death every 11 minutes."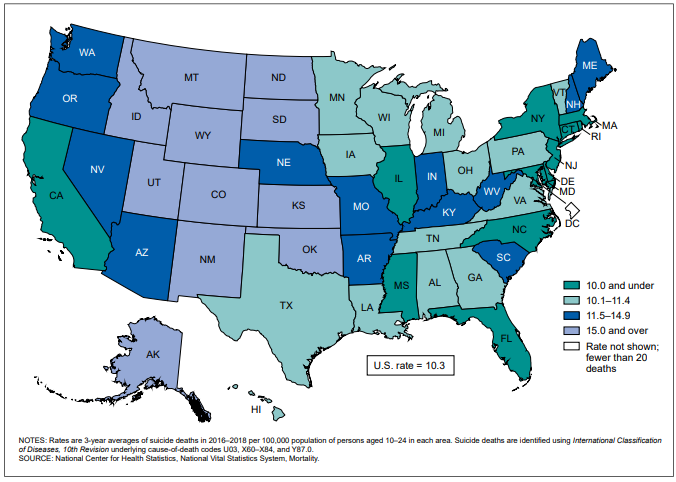 The rise of this public health crisis has especially impacted adolescents, young adults, and the LGBTQ community. The Centers for Disease Control reported last year that the US saw an overall increase of 47.1% of suicide deaths in their study conducted during two three-year periods: 2007-2009 and 2016-2018. Washington was above the national average at 67.1%, with only 6 other states experiencing higher percentage increases. The CDC also reported that LGBTQ youth are almost 5 times as likely to attempt suicide compared to their straight peers.
This holds true for Snohomish County as well. According to a representative of Snohomish Health District, "In 2020, in Snohomish County, suicide was the #1 cause of death for youth ages 10-17, and the #2 cause of death for 15-24 year-olds." 
While we are finally seeing the beginning of the end to the current health crisis of COVID-19, it is important to remember that mental health and suicide impacts all age groups and all demographics. Like any other public health issue, some groups are more at risk, but help and treatment is available.
If you are having thoughts of suicide, please contact any of the resources below: 
The National Suicide Prevention Lifeline at 1-800-273-TALK (8255) or online at suicidepreventionlifeline.org/chat/. The Lifeline provides 24/7, free and confidential support for people in distress, prevention and crisis resources for you or your loved ones, and best practices for professionals.
Crisis Text Line is a texting service for emotional crisis support. To speak with a trained listener, text HELLO to 741741. It is free, available 24/7, and confidential.
Veterans and service members may reach the Veterans Crisis Line at 1-800-273-8255 and pressing 1 after dialing, by texting 838255, or online at veteranscrisisline.net.
The Trevor Project is the leading national organization providing crisis intervention and suicide prevention services to lesbian, gay, bisexual, transgender, queer & questioning (LGBTQ) young people under 25. Call the TrevorLifeline now at 1-866-488-7386, text START to 678-678, or online at https://www.thetrevorproject.org/get-help-now/
For more valuable resources, visit: https://www.speakingofsuicide.com/resources