$6M ARPA uses discussed during Mukilteo CC meeting
MUKILTEO, Wash. – Mukilteo City Council revisited how to use their America Rescue Plan Act (ARPA) funding award of almost $6 million during the meeting on August 16.
As part of the American Rescue Plan Act, the city was awarded $5,985,212, which can be used over the next few years to offer relief to residents and businesses suffering losses from the COVID-19 outbreak.
Council previously discussed this topic in the council's June 5 retreat and July 19 business meeting, but since then, City Administrator Steve Powers, along with other executives, have considered council's previous feedback and consolidated options.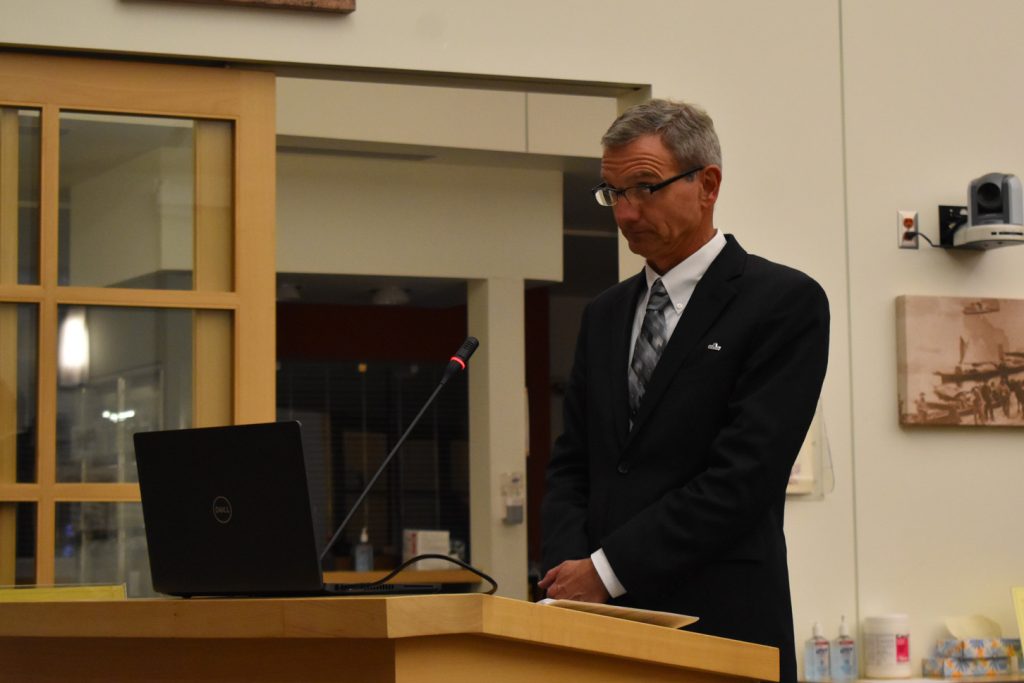 The ARP funding concepts are as follows:
Embedded Social Worker: Contracted with the Snohomish County Human Services Department; a total line-item cost of $160,000.
Body Cameras and IT Support: 33 cameras plus accessories with the first year funded by State Criminal Justice Reform funds; a total line-item cost of $50,000 plus $100,000 for a Network Engineer.
Expanded City Communications: Additional outreach materials (digital/print media) with a total line-item cost of $60,000.
City IT Infrastructure: Hardware, software, website revamps, translation services, and more with a total line-item cost of $1,120,000.
Rehire Rosehill Staff: Return to pre-pandemic levels of service for Rosehill; a total line-item cost of $61,000.
Community Outreach: Funds consultant assistance to help determine resident's and businesses' needs; a total line-item cost of $20,000.
Business Grants or Programs: Various business grants/programs. Specifics will be determined after focused outreach to the business community; a total line-item cost of $1 million.
Nonprofit Grant Program: Potential support for a food bank, seniors, youth programming; a total line-item cost of $200,000.
Resource COVID Navigator FTE: Assistance to residents and businesses to access ARPA resources; a total line-item cost of $100,000.
Lodging Tax Funding: Replace lost LTA revenue: keep existing programs whole in 2022 and 2023; a total line-item cost of $140,506 and $400,000 to support new events.
Local Currency: Muk Bucks: Fund the launch of a local tradable currency; a total line-item cost of $25,000.
Direct Community Stimulus: Fund direct assistance to community households; a total line-item cost of $250,000.
Utility Assistance: Assist residents and businesses with past-due water, sewer, and stormwater bills; a line-item item of $110,000.
These ARPA funding concepts for Mukilteo total $3,896,506 allocated funds, leaving $2,088,706 unallocated for future years and programs. City staff asked council to consider authorizing some of these programs as soon as September 7.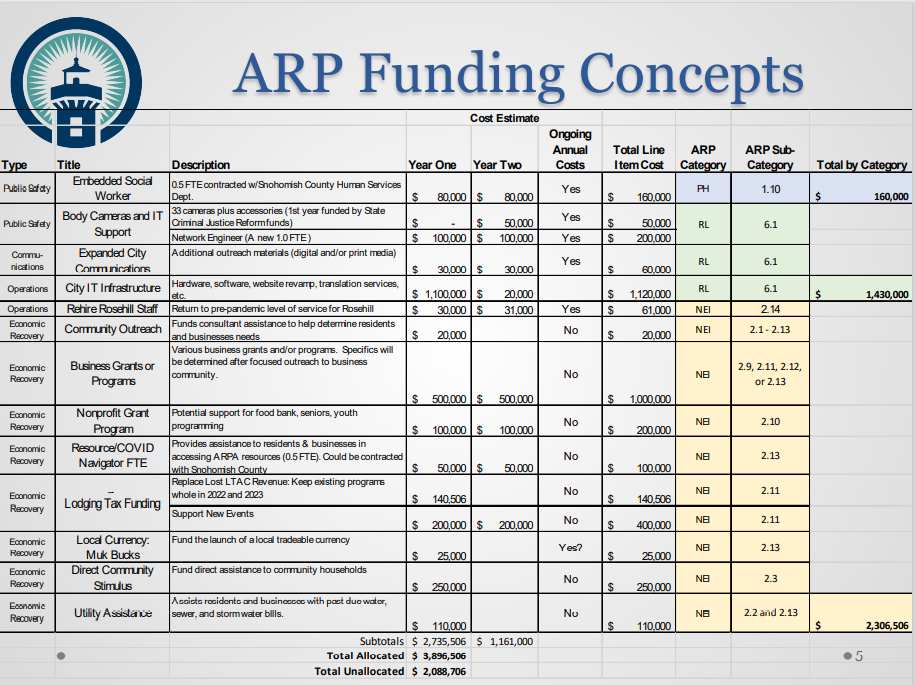 "I'm very pleased that we've included the moneys to help those in need that are unable to pay their bills – I think that's essential because that's fundamentally what this money is initially laid out for," Council Vice President Bob Champion said about the utility assistance, a mandatory line item in his opinion.
Councilwoman Sarah Kneller also believed the utility assistance is a necessity and wished to see the funds cover more core utilities such as heating and electricity, particularly leading into winter months.
One shared belief amongst the council was involving the community to discuss how these funds would be allocated, although there was some disagreement as to how, exactly, council would ensure such community involvement.
Bob Champion shared that when he had conversations with local business owners about how they were doing, not one knew what the city was planning in regards to these relief funds. As an advocate for community involvement, he introduced the idea of gathering leaders of churches, businesses, and community outreach together to discuss and establish a plan for how these funds would be allocated.
"This money is a godsend, and we really need to put it in the hands of the people who it's meant for as quickly as possible," Champion said.
Marine added to the idea of community outreach, believing the city should mail businesses and individuals to include them in the decision-making process and ensure the funds are being spent in ways that benefit the public as best as possible.
"I just want to make sure that our dollars are going to the businesses and the individuals in the city as much as we can and not spend a bunch of money trying to spend it," Joe Marine said.
City Administrator Steve Powers, who was leading the presentation on these options to council, assured Marine that is the staff's goal as well.
Council President Sarah Kneller had reservations about mailing out to the public because most of the millennial generation are paperless, and she believed the mail would go unchecked by these demographics. Councilwoman Elizabeth Crawford also expressed reservations believing that this is not being sensitive to non-English speaking businesses who may not be able to understand what the city is offering. Councilman Louis Harris also added that many people may distrust the government and be hesitant to consider these offers in this format. 
While the council debated how they would go about community outreach, they agreed that involving the community in some way before making a decision was the most appropriate option.
City Administrator Powers agreed to develop ways that would be feasibly presented at the council's September 7 meeting, asking them to be prepared to move forward with at least some of the options available.