LYNNWOOD, Wash., December 20, 2021 – The December 14 Edmonds School District meeting took an emotional turn as students and parents spoke out about their negative experiences with the district's COVID policies. The board also unanimously approved the Ground Lease & Surplus with Housing Hope resolution.
Highlights from the district's previous meeting can be found here.
Ground Lease & Surplus with Housing Hope
Two community members addressed the board regarding the Ground Lease & Surplus with Housing Hope, including Fred Safstrom, CEO of Housing Hope. "This is an absolutely wonderful collaboration," he told the board. "I want to remind you that the purpose of this surplus determination and lease agreement is not simply to provide housing for homeless students and their families in your district, but it is primarily to improve your students' academic performance."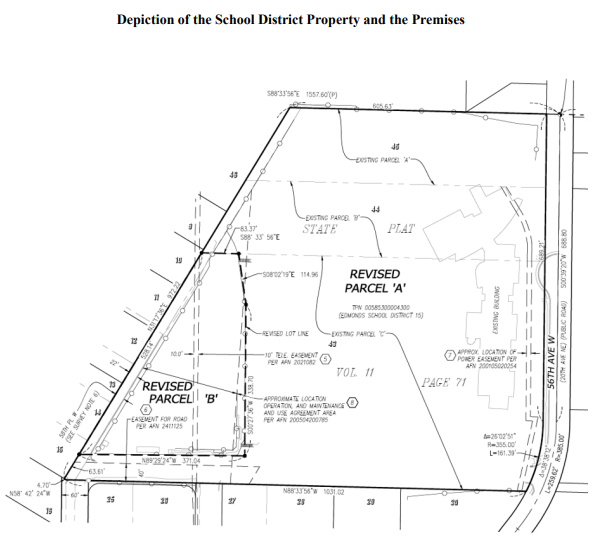 While Safstrom was enthusiastic about the partnership, one community member expressed concerns that there is no written documentation regarding who can reside in the housing development. "These fifty or sixty units should go to Edmonds students that are homeless or their families, and upon graduation, there should be documentation that cites how long they can stay there before new students be served," he said. 
Director Gary Nobel motioned to approve the resolution, seconded by Director Carin Chase. All directors voted in favor to declare the 2.2 acres of Cedar Valley Ballfield as surplus property to build housing for homeless Edmonds students and their families. The property is located at 19200 56th Avenue West in Lynnwood, WA. 
"Housing instability has to be one of the most stressful situations any child could face, and this stress spills out to the classroom," Board President Deborah Kilgore told the Lynnwood Times. "I believe that this collaboration between the Edmonds School District, City of Lynnwood, Housing Hope and others will benefit not only those children and families who gain access to stable housing, but also their classmates, their schools and our larger community. I look forward to this and other affordable housing options becoming available in the region. It's good for schools!"
Public Comments on School District COVID Policies
One community member Heather Quintans spoke out regarding the mandatory quarantine process for close-contact unvaccinated students. As the policy currently stands, unvaccinated close-contact students cannot come back early from quarantine with a negative test while vaccinated students can.
"There is a safer and healthier alternative that exists, and these are affecting our children's basic educational rights," Quintans said during public comment. "If you're a close contact that's unvaccinated, you're forced home up until eight days. Plain and simple, if you're not in school, you're not learning." 
Quintans suggested the district adopt a "test to stay" policy, rather than the mandatory, full-length quarantine for close-contact students, vaccinated or unvaccinated. 
Two students addressed the board to discuss the unfair treatment they have experienced as unvaccinated students. 
A senior at Edmonds-Woodway explained that he has been out of school for nearly three weeks throughout this semester after being identified as a close contact twice, despite taking numerous COVID tests that all came back negative.
"It's stressful, it's discouraging, and it's really isolating. While I'm quarantining, it's incredibly difficult to effectively communicate with my teachers, and I'm a student who needs extra support – I have a learning disability," he told the board. 
"As an athlete, I get tested three times a week while my vaccinated peers aren't whatsoever…. It seems unfair, as I've seen many of my peers who are vaccinated contract [COVID 19] and there's no obligation for vaccinated people to get tested. It would be more effective to catch the virus if we all were tested fairly…. I find it very hard to understand, just logically, how that helps me or helps anyone stay safer if I don't have COVID."
A freshman at Mountlake Terrace High also expressed frustration regarding the close-contact policy after he was sent home to quarantine on multiple occasions. "I got behind in all my classes and worked really hard to get caught back up, and now I'm in the same situation. I do not do well with online schooling. I struggled last year with online school and failed classes because not being in-person is hard for me," he explained. 
"I've had to sit out for three weeks because I'm being treated differently than other kids. Why? Why do kids that are vaccinated not have to get tested before returning to school? They obviously can get and spread COVID like any other student. But only me–the unvaccinated kids—is singled out and has to miss out not only on school but also sports. I love sports! I tried football for the first time in the fall but was forced to miss out on two weeks of that season.
"Just tonight, I forgot to get a COVID test after school. I couldn't play in the game. I rode the bus with the whole team on the way to Seacrest, and I couldn't even sit on the bench with my team. I'm getting comments from other kids about not being vaccinated, and everybody knows because I'm the kid being tested twice a week. It's at the point I don't even want to go to school anymore. I'm the most social kid I know. I love people and being on a team, but there are so many barriers, I don't even know if it's worth it anymore. A kid like me not wanting to go to school – you know something is not right."
Individualized Education Plan Concerns
Another Edmonds-Woodway parent expressed frustration regarding his attempts to work with the school to create and implement an Individualized Education Plan (IEP) for his son, who is on the autism spectrum. "It took almost until the end of the semester to have it implemented," the father said while accusing his school's staff of misleading him in the process.
"I tried to reach out all the way to the board, and I reached out to the board director directly. I requested, please to have assistance to my son, please, he is autistic and needs a lot of help, and my communication with her was totally ignored."
At that time, Dr. Kilgore interrupted the speaker to remind him to "please keep comments not personally directed."
He added, "one of my family members was moved to another district because she was bullied because of her speech incapacities she had. . . . It is a problem that needs to be addressed and not just ignored."
First Reading of the Proposed New Flag Policy
The board also discussed a new proposed policy that would limit the types of flags flown from the district's flagpoles. The only flags permitted would be the United States flag, the state flag, and the National League of Families' POW-MIA flag.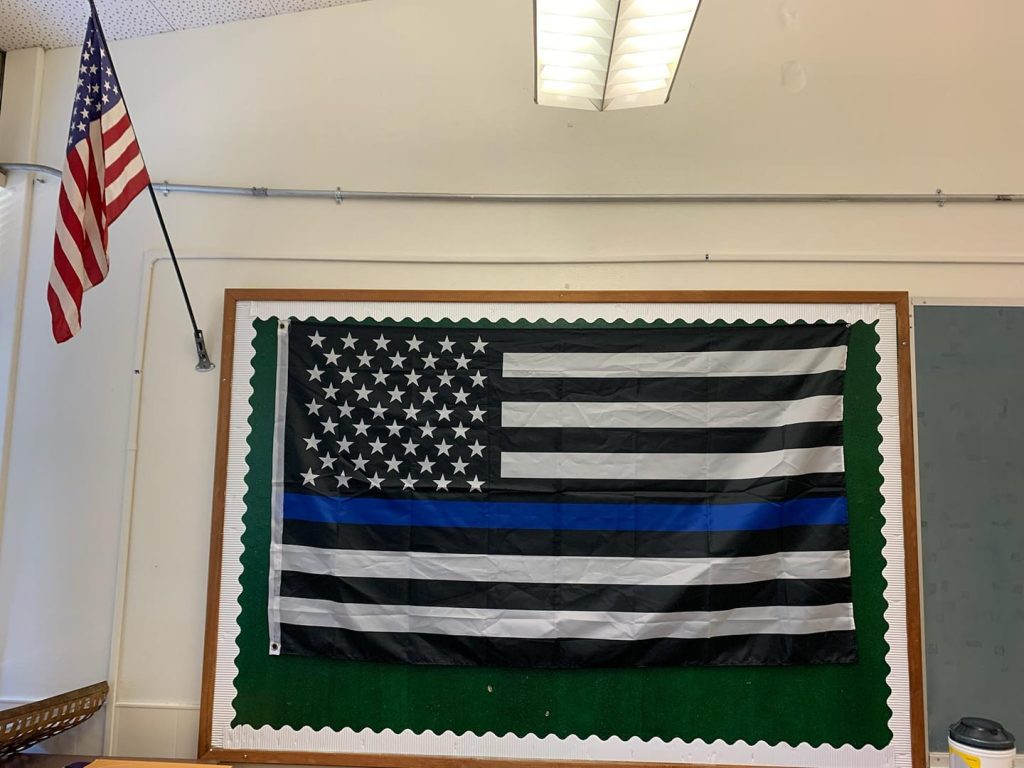 Controversy regarding flags in schools has arisen recently as Marysville School District made national news after requiring a teacher to remove her Thin Blue Line flag while simultaneously permitting Black Lives Matter flags and pride flags. 
The Edmonds School District's proposed policy, however, as Superintendent Gustavo Balderas reminded, would not extend to flags hung in classrooms but would be confined to those flying from the flagpoles.