Mayor Jon Nehring reveals what he is doing to address drug related crime in Marysville, and Everett resident Jon Williams, who is actively living in recovery, shares his thoughts on the mayor's policy.
Before our main story with Mayor Nehring, here's what you missed last week!
2022 February Special Election Results
As of February 10th, results for the 2022 Special Election show residents of Darrington, Edmonds, Everett, Index, Lake Stevens, Mukilteo, Northshore and Snohomish school districts approved $2.17 billion in bonds and levies over the next four years.  Voters in Granite Falls, Marysville, Monroe, Stanwood-Camano Island, and Sultan rejected replacement levies for their school districts.
Lynnwood Convention Center gets new operator
Oak View Group Facilities began operations February 1st as the new operator for the Lynnwood Convention Center. Oak View Group will deliver new event content and programming opportunities to the Convention Center.
Lynnwood man arrested for child rape and molestation
Snohomish Sheriff's Office Special Investigations Detectives arrest a 21-year-old Lynnwood man for first-degree rape and first-degree molestation of a child.
The suspect, Evan Root, was actively employed at various daycare and behavioral learning centers for autism in Edmonds, Lynnwood, Mountlake Terrace, and Seattle.
If you suspect your child may have come in contact with an Evan Root, please contact the Snohomish County Sheriff's Office at 425-388-3393.
Teen attacked at Alderwood Mall
The Lynnwood Police would like to thank the public for their tips that lead to the identification of all five suspects involved in a brutal assault last Sunday at the Alderwood mall that left a 17-year-old Snohomish teen in critical condition. The teen is now recovering and charges against the suspects are pending.
Inslee announces end to outdoor mask mandate Feb. 18
Gov. Jay Inslee joins a growing list of governors who recently announced lifting pandemic restrictions for their states. Last Wednesday, Gov. Inslee announced the lifting of the state's outdoor mask mandate beginning February 18.
Also on Wednesday, Chris Reykdal, the State's Superintendent of Public Schools, called on the Dept. of Health and the governor to transition from a pandemic response to an endemic system stating, "it is safe and timely to eliminate the statewide masking requirement for students and allow for a decision by local health officials."
Cascade Warbirds aviation scholarship program given extended deadline
And finally, the Cascade Warbirds has teamed up with several flight schools in the area to provide aviation scholarships to youth interested in learning how to fly aircraft. The Cascade Warbirds 2022 scholarship application period is open until March 31st. For those interested visit www.cascadewarbirds.org….that is www.cascadewarbirds.org.
Here's what to look for this upcoming this week…
Meet the artist behind the I Love Lynnwood sculpture, BK Choi, on Monday, February 14 at 11 a.m. for the outdoor public art ribbon cutting at the Lynnwood Convention Center.
Valentine's Day date ideas around Snohomish County
Also, February 14th is Valentine's Day.  Love is in the air as the nation's celebration of love and romance approaches this Valentine's Day. And although chocolates and flowers make great gifts any day of the year, Skydiving, a romantic balloon ride, or enjoy an evening of bowling together. Check out these and other exciting ideas to change things up this Valentine's Day here.
Edmonds Comedy Night with Kermet Apio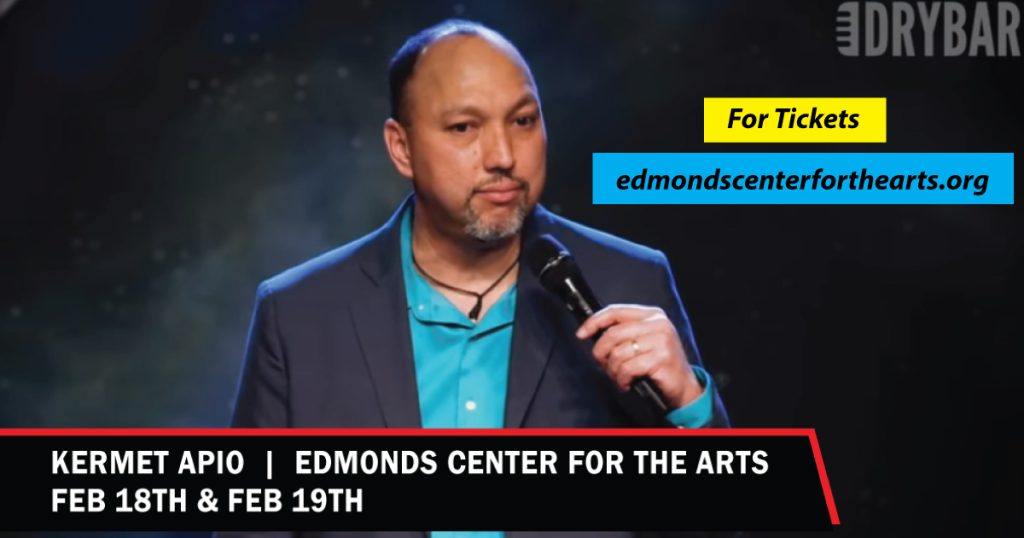 Edmonds Comedy Night returns for its 14th year, bringing national comedians together to raise funds to help kids. This year's Edmonds Comedy Night feature's Hawaiian-born comedian Kermet Apio, who has performed on Comedy Central and NBC.
Apio's prefers sarcasm and satire and refrains from refrains from off-color humor.
Edmonds Comedy Night will be this Friday and Saturday at the Edmonds Center for the Arts. Visit www.edmondscenterforthearts.org for tickets.
Snohomish County's Human Services Department Call for Proposals
Snohomish County's Human Services Department is currently accepting proposals from organizations to support the finalization of the Business Plan for use of the recently passed 0.1% countywide sales and use tax for affordable housing and behavioral health.
Applications are due no later than 4:00 p.m., Monday, February 21, 2022. Questions may be submitted in writing to Wendy Roullier at wendy.roullier@snoco.org by 4:00 p.m., Thursday, February 17, 2022.
View the Business Plan Finalization Request for Proposal (PDF).
Public Hearing: Edmonds Representative Strom Peterson's bill SHB 1074
On February 15 at 8 am there will be a public hearing on Edmonds Representative Strom Peterson's bill SHB 1074 to allow local health departments to establish overdose and suicide fatality review teams to review overdose or suicide deaths and develop strategies to prevent future overdose and suicide deaths.
To participate in the remote testimony, visit www.tvw.org.