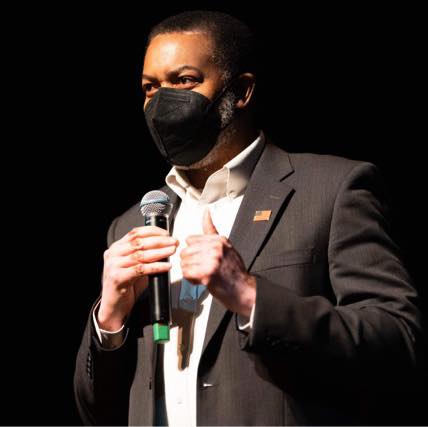 MOUNTLAKE TERRACE, Wash., March 1, 2022 – The only thing Dr. Steve Woodard's biography on LinkedIn says is "service is my calling," a mantra that resonates through both his personal and professional life through politics, volunteerism, and education.
Last month, Dr. Woodard was appointed as the new Vice President of Community Engagement for Volunteers of America Western Washington, a non-profit organization that offers hundreds of human service programs from housing and healthcare to rehabilitation and assisting the elderly, veterans, and people with disabilities.
If Dr. Woodard had to be put in a box, it would be, first and foremost, an "educator," serving in the profession for over 30 years at the University of Washington as vice president within the Minority Affairs and Diversity Office and most recently as dean of Edmonds College.
While Dr. Woodard noted that education has been a "humbling experience," his scope for how he wished to serve his community ultimately led him to volunteerism through Volunteers of America, where he believes the reach of services far exceeds the limitations of education.
"It was such an amazing experience at Edmonds; I can't speak highly [enough] of the work they continue to do. . . . But at the end of it, we could only do so much," Dr. Woodard said. "We were fulfilling the educational side, but there's still the medical, there's still the financial stability, there's still a number of things that make you feel whole and successful."
He met the Volunteers of America the way he hopes most people get to know them – through volunteering. Through his volunteer work, he was invited to join the board and was eventually appointed to his vice president position.
Volunteers of America Western Washington CEO Steve Corsi shared with the Lynnwood Times the value Dr. Woodard's is bringing not only to VOA but to Lynnwood.
"We are excited to have Dr. Steve Woodard at VOA Western Washington as the new Vice President of Community Engagement! His history of service speaks for itself," said Corsi.
"Before coming on staff, Dr. Woodard served as a volunteer for our programs numerous times and in numerous capacities. Additionally, Dr. Woodard served on our Board of Directors for over a year. His energy, enthusiasm, and passion for helping others is exactly what we need in the VOA Neighborhood Center we're constructing in Lynwood."
What attracted Dr. Woodard most to Volunteers of America is their ability to assist in any component of life, and where they can't assist, they find a partner who can.
In addition to his new role, Dr. Woodard also sits on the Mountlake Terrace City Council, a position he has held for the last three years.
Dr. Woodard got involved with politics as a resident, father of Edmonds School District students, husband to a high school educator, and someone with social justice on the top of his mind. To him, it was a way of "getting involved in any way" he could.
Mountlake Terrace, being only four square miles, was very easy to get into volunteer work, said Dr. Woodard.
"I think it was the background that I was bringing to the council, what I was doing in the area, that ended up being a good match, and then when it came down to the election, the residents agreed," Dr. Woodard said.
Some top priorities of Dr. Woodard at a council level is preparing Mountlake Terrace and the county for growth, and the new Diversity Equity and Inclusion Commission, which goes hand-in-hand with growth, according to Dr. Woodard.
"As you have this growth coming, it's very easy to focus on those who know how to access the system and get their concerns heard . . . where there are a lot of voices out there that won't have the same privilege and access, so we need to be looking out for those voices in particular," Dr. Woodard said. "When I think about population growth, it's looking at how we welcome new people in without displacing and not minimizing those who have already been there."
Dr. Woodard has sat on a number of boards including Equity of Opportunity at Edmonds College, Sno-Isle Library System, Commissioner at RPAC, Teachers of Color Foundation, LEVL, Washington State Family and Community Engagement Trust.
He has spread his skill sets through other countries, including Spain, working with students but mostly on the West Coast, where he has called home most of his life. Through his work in Snohomish County he has honed in to residents who have felt "disenfranchised."
Dr. Woodard holds a doctorate in multicultural education and feminist theory. He has used his degrees to focus on "voices that had been erased or minimized" historically, which is the lens he looks through in his work, always looking for who is being served but also who is not being served and what the implications are.
"At the end of it all, what I want to be for someone, everyone quite frankly, is a beacon of hope. I felt that's what higher ed. is, but from that, and seeing the larger problems, I started to think in terms of how I don't have to be a beacon of hope alone, so [VOA] asked me to take up that mantle with them too, not only to be a beacon of hope but to be a part of the solutions."
Through his new position, he plans to expand VOA's scope and reach. One of the latest partnerships will be with Blood Works NW, which coincides with the March Against Hunger next month, previously covered by Snohomish County and now operated through Volunteers of America. 

"What I think formal education can structurally do is dream bigger. Education is important to get you out of your own story so you know why you're sacrificing. It sets you up so that you can be a better person," Dr. Woodard said. "I'm in the job of finding people who have dreams and bringing more people who have dreams to show them their commonality, so we can operationalize those dreams to meet needs."