Evergreen Goodwill celebrates 100 years of building community
EVERETT, Wash., August 2, 2023—Evergreen Goodwill celebrated its 100th anniversary this year with five celebrations across five counties.
Evergreen Goodwill is a non-profit organization founded in 1923. It currently operates five Job Training Centers, 24 retail stores, and 30 donation sites in King, Snohomish, Skagit, Whatcom, and Kitsap Counties, employing over 1,500 people.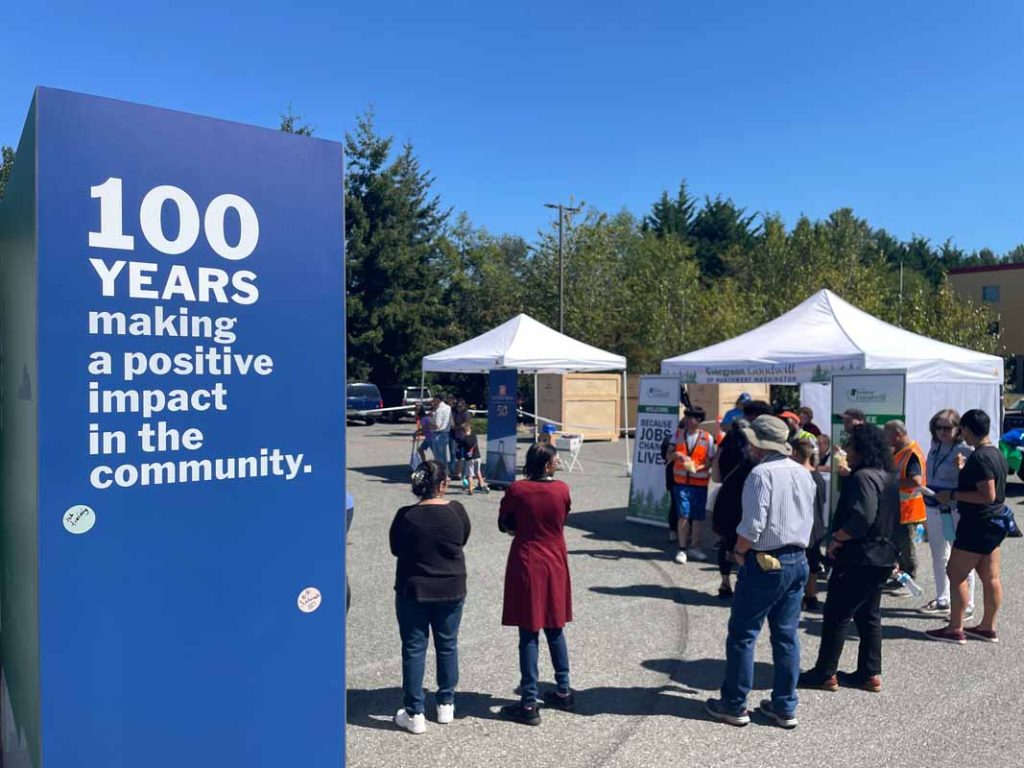 Evergreen Goodwill also offers programs to ensure youths have the skills and training they need to successfully make the transition to adulthood and careers. These programs include Youth at Work, Youth Aerospace, Youth Maritime, and Youth STEM. In the last year Goodwill has served approximately 1,702 students in Snohomish County alone.
Just some of the top employers that hire Evergreen Goodwill students in Snohomish County include Tulalip Tribes, Walmart, Tulalip Resort Casino, People Ready, and Safeway.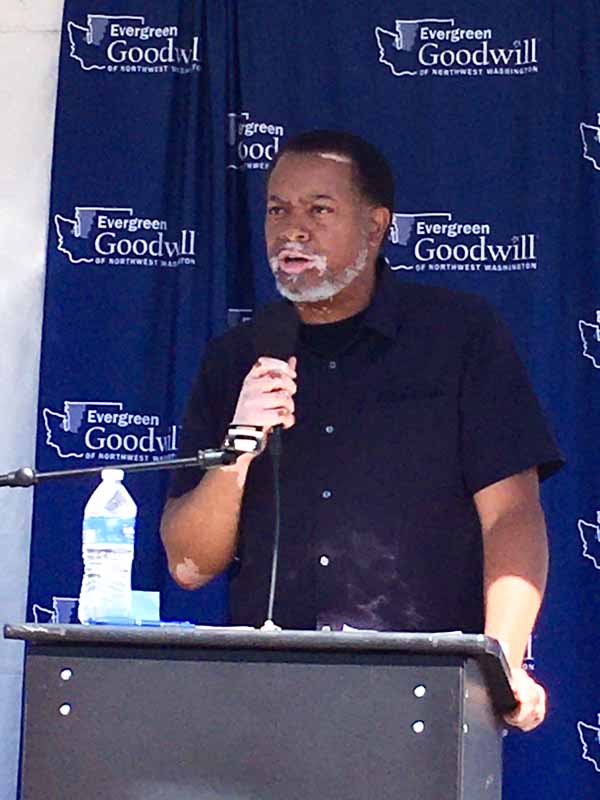 Snohomish County's Goodwill celebration took place at the Evergreen Goodwill, located at 228 SW Everett Mall Way, on Friday, July 28, from 3 p.m. until 6 p.m. featuring members of Mountlake Terrace City Council, Dr. Steve Woodard of Volunteers of America, Evergreen Goodwill CEO Daryl Campbell, and several Goodwill employees.
The free event offered an opportunity to reflect on Evergreen Goodwill's history of providing free education and job training to the community funded through their well-known thrift stores.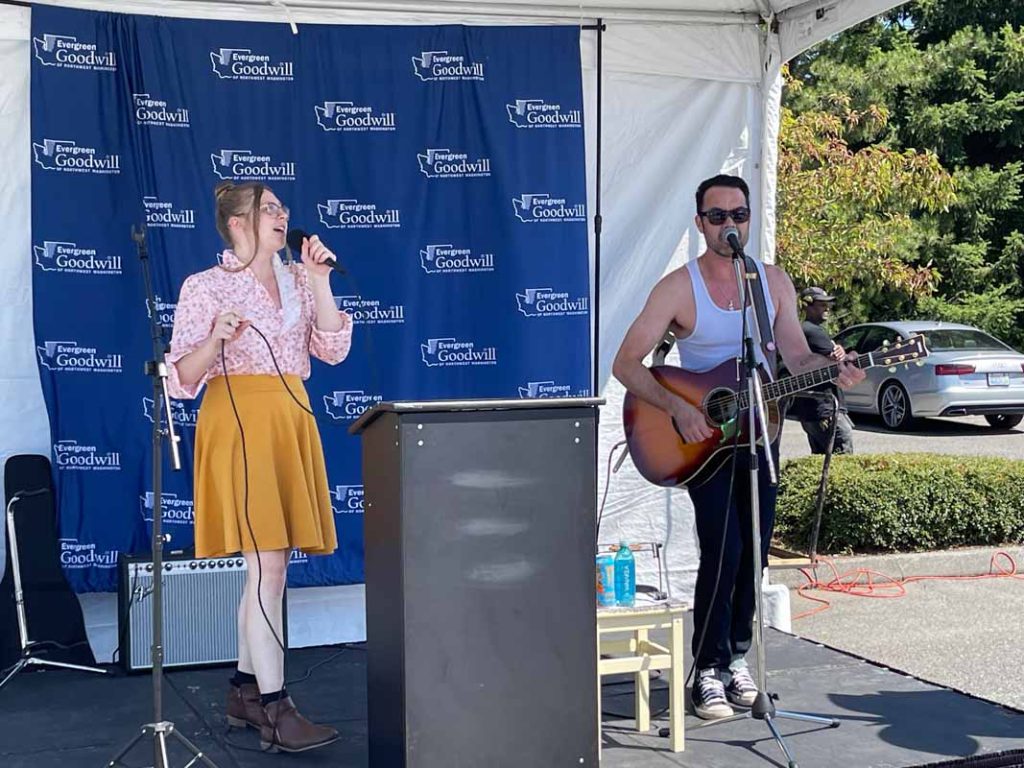 In addition to these keynote speakers, live musical entertainment was provided by local singer-songwriter Anthony Brock, free kettle corn and water was provided, and nearly 200 attendees had the opportunity to visit several partner booths including one dedicated to Goodwill's Job Training and Education Outreach where they could spin a wheel for swag.
Students of Goodwill's youth program were also given the spotlight. Many of these students are students of color and the first in their family to graduate. In addition to this Goodwill is especially proud of its numbers with 95-98% of its students graduating on time to pursue higher education or securing a job.
"I really have to give credit to our team," said Eileen Aparis, Senior Vice President of Mission. "They really wrap around our students so well and, almost every day, make sure they stay on the right track."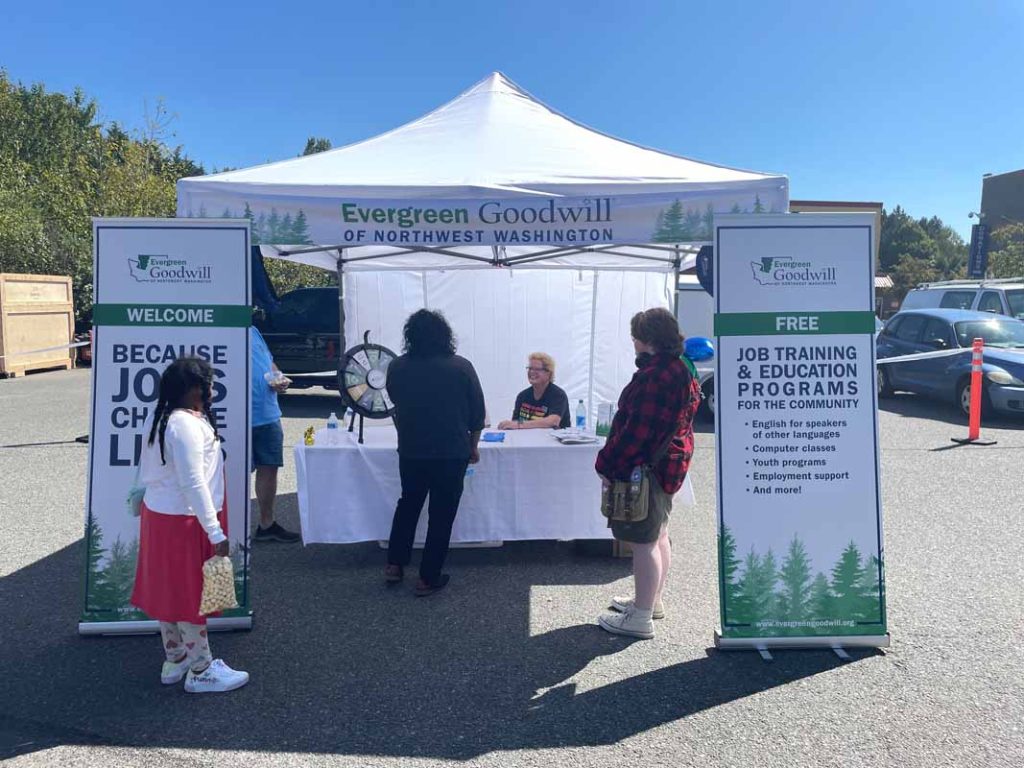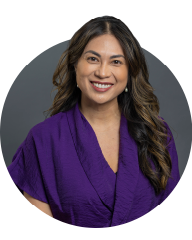 Aparis has been Senior Vice President of Mission for the last three years. She comes from a background in human services working in both public and private sectors as well as non-profits working in workforce development and housing security.
"Employment is really the key to making sure that a person can change the lives of one selves, their families, and ultimately the community," Aparis told the Lynnwood Times. "This was really a great fit to look at ways to create sustainability, dignity, and ensuring we can impact the lives of so many community members not just in one county but across five counties.
There have been a lot of pivots and shifts in the organization since Aparis, who joined the team just two months before COVID hit, began her career at Goodwill Mission. After the pandemic she, and her team, had to completely transform its mission delivery services, she said, by offering remote services for its students and employees much like many organizations had to do at the time.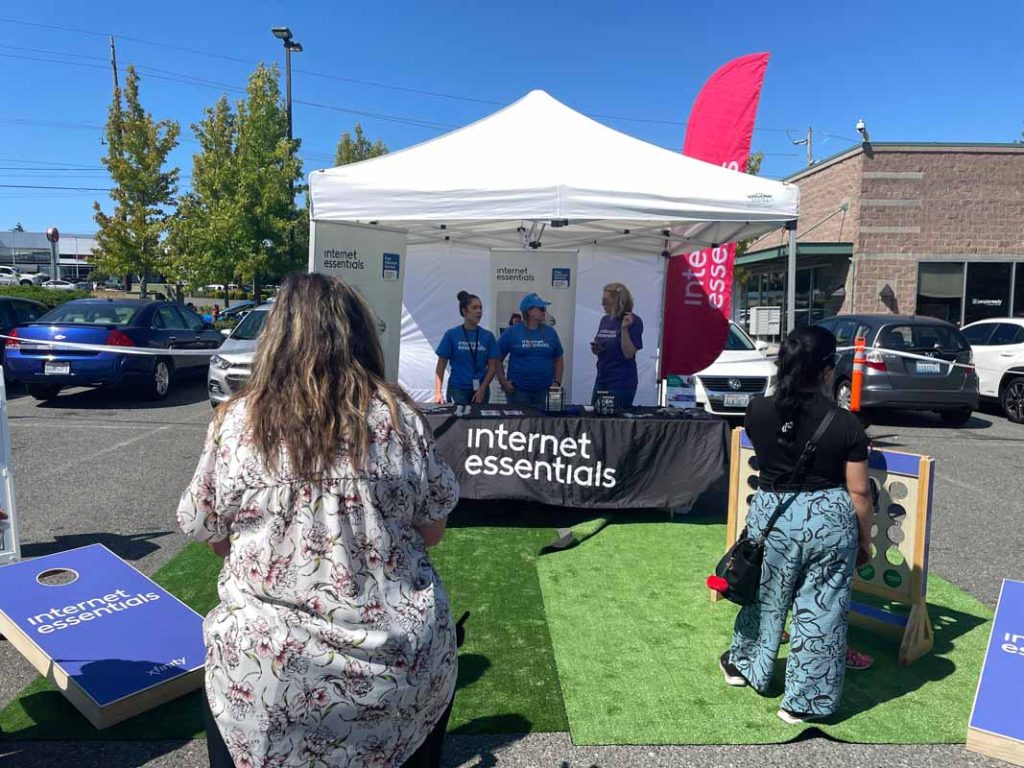 One of the positives to come out of this, however, is the introduction of its Digital Equity Bus (DEB) – Goodwill's first ever mobile classroom in Washington State. This mobile classroom is fully loaded with laptops, a digital smart board, and connectivity, to hold a 12-13 student classroom as well as an instructor. During nice weather, the bus opens to serve up to 25 students. This does not include the additional students it can serve through remote access.
"It's a classroom on wheels, we go up to rural areas and sovereign nations and pop up in farm fields," said Aparis.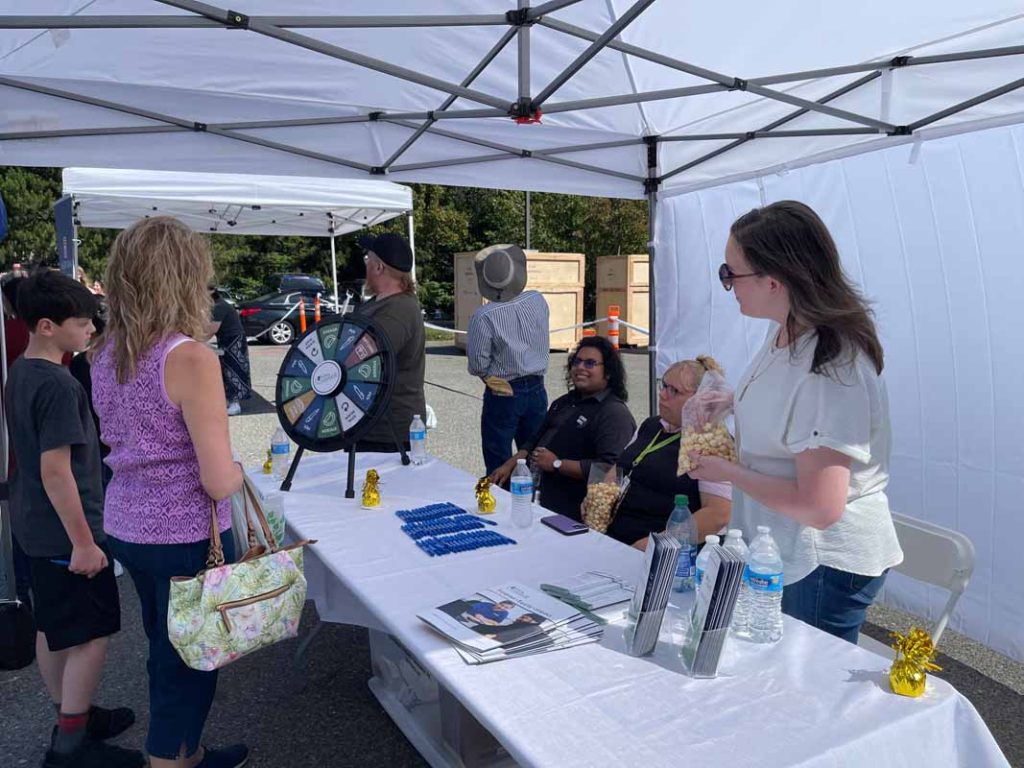 The bus route is determined through a community needs assessment to locate where students are in need the most. The idea stemmed from Aparis' personal experiences working on Native land, noticing a vast number of reservations were underserved, and historically underserved.
Aparis, who immigrated to the United States as a refugee from the Philippines during the Marcos Regime, said she drew on personal experience when coming up with the idea. Ferdinand Marcos was the Philippines President from 1965 through 1986, branding constitutional authoritarianism under martial law.
"I really didn't have a lot of those resources, and didn't know English whatsoever, and didn't know how to navigate anything around a new community, or a new language," said Aparis. "It's understanding the lack of communication services and resources out there. It would have been great if somebody came out to where I was, or the community where I lived. It would have made it easier for so many people such as myself."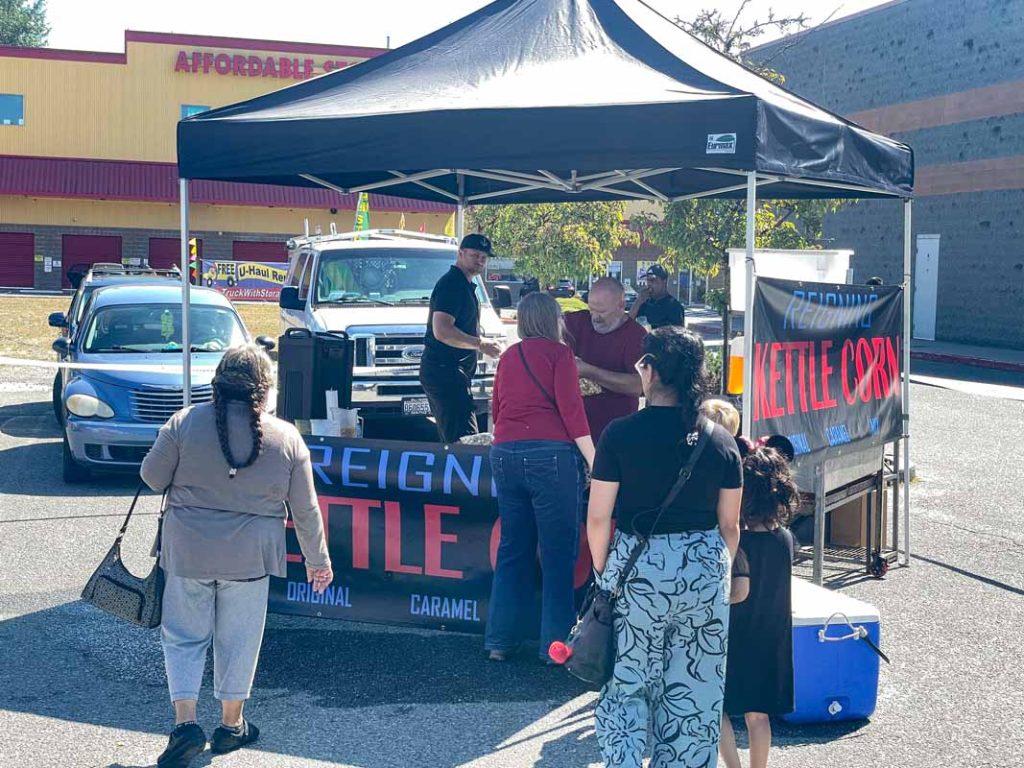 Evergreen Goodwill just launched DEB 2.0, its second bus, a couple weeks ago which is looking to serve rural areas of Snohomish County such as Gold Bar.
Evergreen Goodwill hasn't opened a new location in over 10 years, but they are proud to announce a new brick and mortar is coming to Sedro-Woolley in the next year in order to better serve rural Skagit County. The location will also feature a community center which will provide more job training and education.
"We are so much more than a thrift store. Really the core of what we do is workforce development, it's job training and education. It's why we exist, and we exist for the community," said Aparis.