Lynnwood unveils new sign honoring veterans
LYNNWOOD, Wash., March 8, 2022 – City officials and proud veterans gathered near the upcoming Lynnwood Transit Center, Monday, March 7, to witness the unveiling of Lynnwood's newest sign honoring veterans.
The sign stands near the intersection of 200th and 44th Avenue West and is the first of many soon to be honoring veterans that will be erected along the city's thoroughfares.
"This is really a symbol that we honor our veterans who have served…I feel proud," Mayor Christine Frizzell told the Lynnwood Times.
Lynnwood city councilmembers Shannon Sessions, Julieta Altamirano-Crosby, Council Vice President Jim Smith, Council President George Hurst, and former Mayor Nicola Smith were among those who attended the ceremony.
"We are really grateful she could come back," Councilwoman Sessions said of former Mayor Smith's attendance. "Really all of this started because of her."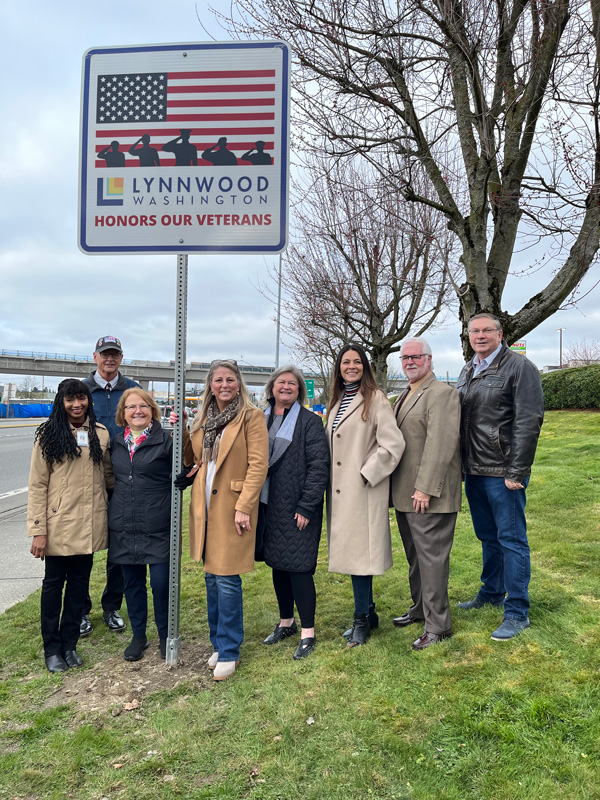 The former mayor created a Veterans Round Table, almost a decade ago, with veteran service providers around the area. Their efforts resulted in a wide variety of resources and programs for veterans and their families in Lynnwood and throughout South Snohomish County.
The city's latest sign is part of that broader initiative. No taxpayer dollars were needed for this effort. The funds were provided by Heroes' Café, American Legion Post 37, and the Veterans of Foreign Wars (VFW) Post 1040 and erected by the Lynnwood's Public Works Department.
Gary Walderman, Director for the Heroes' Café, first got the idea from driving around the country and seeing signs honoring veterans in certain cities. He then contacted Councilwoman Sessions, who was part of the original Veterans Round Table and still serves as the Veteran Liaison to the City Council. Sessions, an Air Force veteran herself, loved the idea and worked closely with Heroes' Café and the VFW to make it happen.
"These signs are a visual pronouncement to those who see them, that Lynnwood, indeed, cares about its veterans and we put them as a priority when considering programs and resources in our community," Sessions told the Lynnwood Times.
According to Census data there are almost 2,000 veteran's living here in the city of Lynnwood.
Public Works Director Bill Franz worked with the Mayor's office and Traffic Engineers to find a location that could be seen without posing as a distraction to drivers. Franz and his team are currently scouting locations for the other 10 to 12 signs that will be erected later this year.
Although locations for future signs have not been set in stone, Gary Walderman told the Lynnwood Times he hopes to see one at the entrance to Veteran's Memorial Park and the NW Veteran's Museum.
The Heroes Café
The Heroes' Café is a monthly gathering of Veterans and their families. Heroes' Café meets on the fourth Tuesday of each month, open house style, from 9 am to 1 pm at the New Life Church, 6519 18th ST SW in Lynnwood.
Along with endless coffee and camaraderie, a lite breakfast and lunch are provided to local Veterans and their families. There is also access there to a Veterans Service Officer to answer questions and give resources to all Veterans.