LYNNWOOD, Wash., March 23, 2022 – The Lynnwood City Council furthered their conversation on American Rescue Plan Act funds and Councilman Jim Smith's Community Fair concept at its Work Session held Monday, March 21. All councilmembers but Councilman Joshua Binda was present for the meeting.
Lynnwood ARPA fund uses
The city of Lynnwood has been awarded a $10.9 million grant as part of the Federal Government's American Rescue Plan Act. This Federal legislation offers many eligible uses, such as: financial assistance to struggling households or businesses; making critical improvements to roads, sidewalks, or other infrastructure; emergency and affordable housing; and providing support services for people facing eviction.
Cities have until December 31, 2024, to obligate funds and until December 31, 2026 to spend them.
Council began their two-hour long conversation concerning ARPA fund uses by revolving around the table, allowing each council member to share their top three priorities for its uses. Many council members struggled to choose just three options however.
Beginning with Council Vice President Smith who made the point he wanted to wait on "what to pass right now" noting that the city does not have to spend the money right away. He added he would like to allocate funds toward public safety to address the rise in crime and about $20,000, in expenditures, toward a city festival idea.
Continuing around the table, Councilwoman Altamirano-Crosby wished to see the funds go toward city streets, education, mental health services, and financial assistance for musical instruments. Councilwoman Sessions prioritized streets, veteran's assistance, and Edmonds college, and Councilman Decker's top three priorities were VOA rapid housing, purple heart program, and single-family group home for vets.
Council President Hurst added that he wished to prioritize the community resource center, childcare assistance program, and a guaranteed income program. Councilwoman Sessions chose YWCA, human services, and parks and recreation.
The council member's selections were drawn from a long list of potential uses for their ARPA grant which are divided into the following nine categories:
Housing (Housing Hope, financial assistance with rent, VOAWW, Hand in Hand: rental assistance, Purple Heart Home Program, Hand Up, Force of Hope, tiny houses or motels for homeless, revolving loan program for construction of affordable housing)
Public Health (School based mental health counseling, fund mental health services/address mental health therapist shortage)
Human and Social Services (VOAA, domestic violence services, community resource center, grants to local nonprofit providers, support to Hero's Cafe, broadband infrastructure, social service navigator)
Financial Assistance to Households (Financial assistance with City Utilities, scholarship passes to Recreation Center, financial assistance to adult education, financial assistance to musical instruments for low income kids)
Assistance to Businesses (Support to small businesses, rental recovery for landlords, street fair for local businesses, and Chamber of Commerce)
Transportation (Repair local streets, ADA improvements throughout city)
Parks and Trails (Maple Avenue mini park, Scriber Lake Park Boardwalk, Town Square Park Acquisition, Meadowdale playground)
Public Services, Infrastructure and Facilities (Upgrade courtroom, Create Veterans Hub, Sewer lift stations)
Environment (environmental enhancements such as stormwater treatment)
The Lynnwood City Council began their ARPA use conversations back in July 2021 and considered proposals presented by City Engineer David Mach, again, on February, 2022.
On March 11, 2022, council scored the ARPA use proposals on a grade of 1-10. These previous discussions eventually filtered down the proposed uses to those listed above.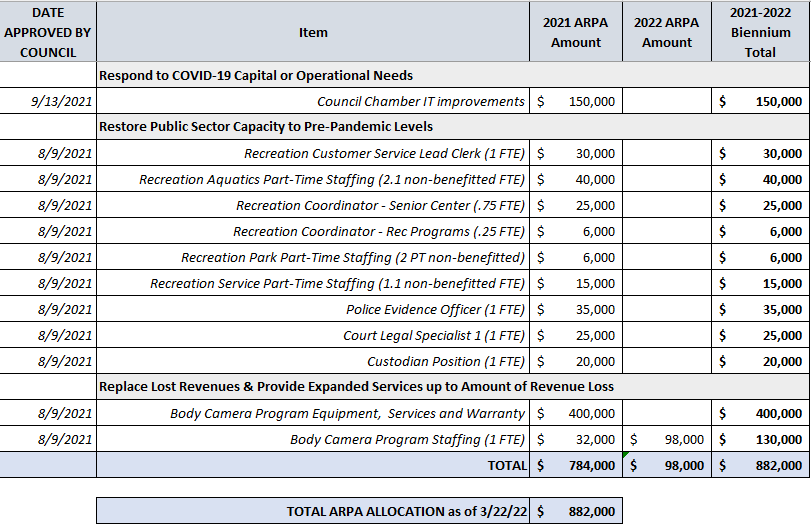 To date Council has only allocated $882,000, out of their $10.9 million, to fill city staff vacancies, fund technology upgrades to stream public meetings online and purchase police-worn body cameras. Additionally, this year, council approved the use of ARPA funds to purchase at home COVID test kits for employees, however these will eventually be reimbursed by FEMA.
The ARPA programs discussed yesterday did not arrive at a decision and will be discussed in further detail at council's April 4 meeting.
Community Fair
Council Vice President Jim Smith presented an idea for a community fair project last Business Meeting that continued into council's meeting Monday.
The concept of the fair would offer booths, live music, games, K9 units, fire trucks, and more in an effort to both celebrate the reopening of the city and support local businesses.
Smith hopes to utilize $20,000 of ARPA funds to recognize this idea, which falls under the "Assistance to Business" category listed above, striving for a July 30-31 date.
While many council members agreed that Smith's vision would be a great outing for Lynnwood residents, Councilwoman Shannon Sessions questioned whether the project was moving too fast, requiring much more time for permits, budgeting, and planning to get right.
Council President George Hurst echoed many of the concerns Sessions brought to the table, adding that he would like to gauge the amount of volunteer support the event could get before voting in favor of it.
Ultimately the council decided to discuss the idea in further detail at a later date.