Mukilteo and Snohomish students among Annual High School Art Show winners
OLYMPIA, Wash., May 27, 2022 — Over the past year, high school artists across Washington state have channeled their emotions into their art, and today, the Office of Superintendent of Public Instruction (OSPI) honored some of their work at the 49th Annual Superintendent's High School Art Show.
"Congratulations to all of the artists who were recognized today," said Superintendent Reykdal. "It is always so powerful to see our students express themselves in this way, and their thoughtful approaches remind us of art's power to grow our students' creativity, collaboration, communication, and critical thinking skills."
Mount Vernon High School's music program provided two mariachi performances, and Port Angeles High School contributed a student's video feature on a local restaurant.
The show, hosted by Superintendent of Public Instruction Chris Reykdal and streamed on social media by OSPI, celebrated the work of young artists from Quilcene to Mead, and all points in between. Kamiak High School student Toko Kameda for her piece "Escapism," and Glacier Peak High School student Samantha Kotulak for her piece "Genderfluid," were among 17 other winners across Washington state.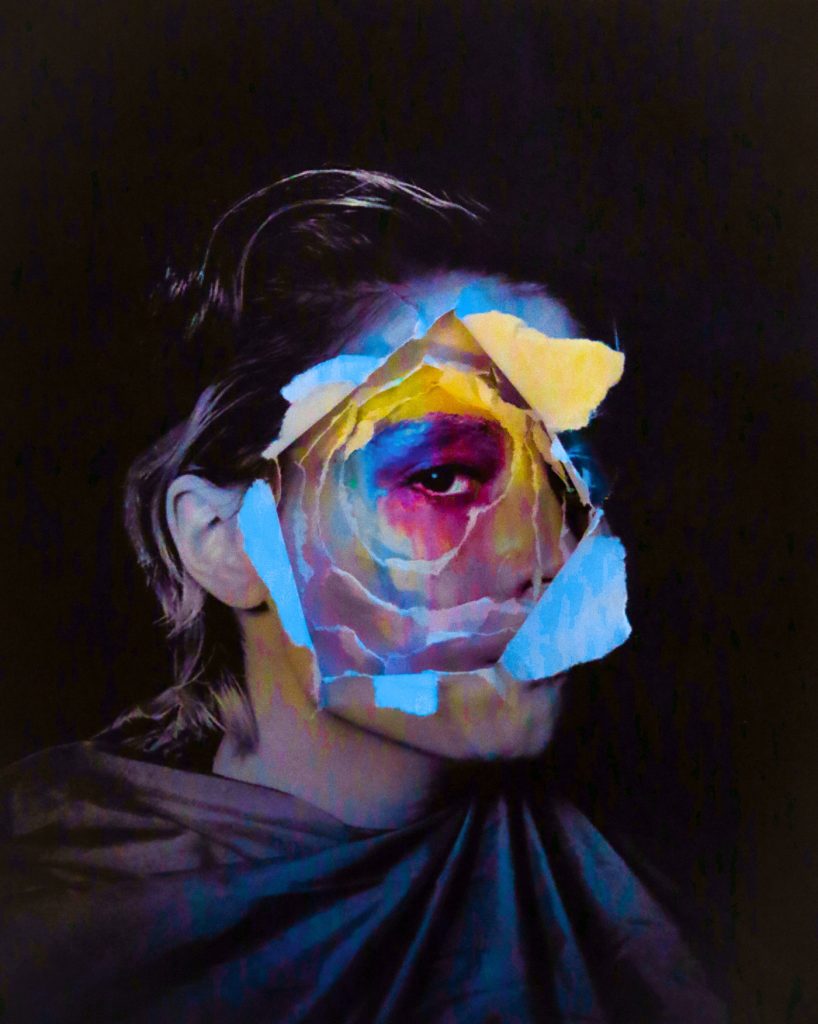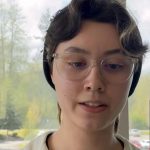 "It is a representation of my experiences as a member of the LGBTQ+ community. I am no stranger to the harsh treatment we face from those who do not support the LGBTQ+ community, student artist Kotulak said in her video statement for the Superintendent's 49th Annual Art Show. "I wanted to reflect on the pain that comes from mistreatment through the use of the tears and dark background shown in the photograph.
"While the life of an LGBTQ+ person is difficult, I want to also show the beauty that comes with living as your true self through the vibrant colors present in the picture."
Kameda, who was recently announced as the Second District winner of the 2022 Congressional Art Competition with her piece, "Double-layered," shared that her new piece, "Escapism," conveys the complex difficulties in expressing one's facial emotion during the pandemic.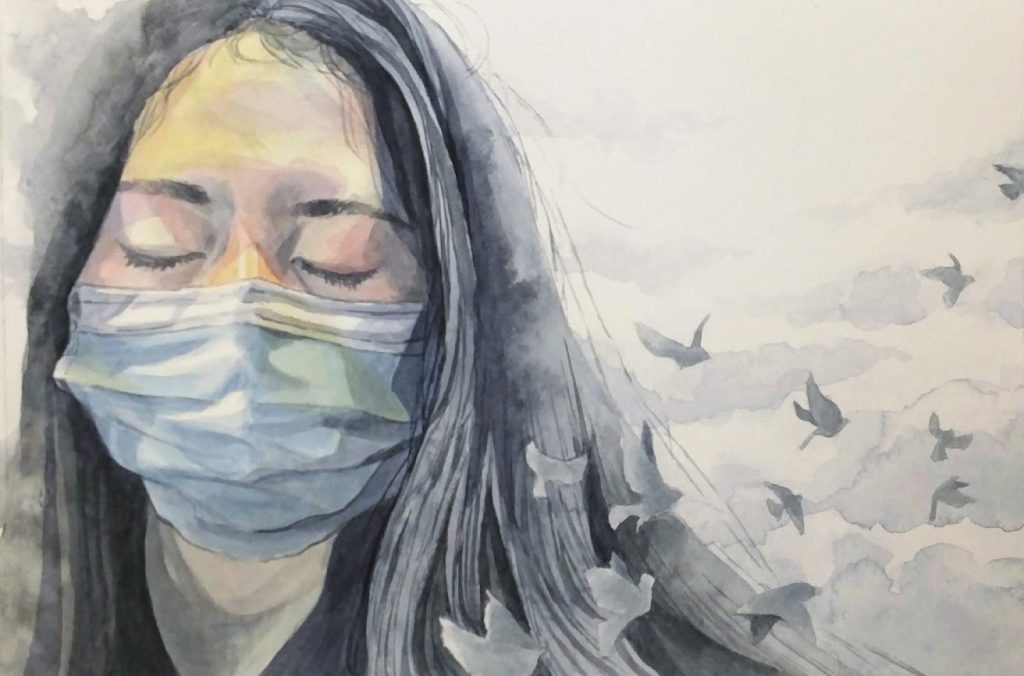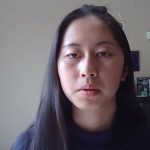 "My art piece is everything about trying to express my emotions," Kameda shared. "I am a quiet person and don't show much facial expressions when I am around people. So, the pandemic and the face coverings, I think, made it extra harder for other people to get a sense of what I'm thinking each day."
The Superintendent's High School Art Show is the final stop in a process that begins in classrooms across the state. Artwork is sent to the regional educational service district (ESD) level for regional judging and awarding before being sent forward to the state level.
Each award recipient will receive $200 along with a special glass trophy designed and made by students with Hilltop Artists in Tacoma and the Rochester High School Career & Technical Education program.
This past fall, high school students were invited to attend a workshop on branding produced by OSPI and the Washington Art Education Association. There, students learned about branding and logos and then developed concepts for a new brand to be unveiled during the 50th Annual Superintendent's High School Art Show in Spring 2023.
Their concepts were adapted to three new brand identities for the show and are now being put to the public to select from. Take a look at the three brand identities and vote for your favorite. The winner will be unveiled later this fall.
Art Show Award Winners
Jacob Reeves "Old Capitol" | Superintendent's Award
Olympia High School (Teacher: Joshua Everson), Olympia SD, ESD 113
Margot Massey, "Georgia on My Mind" | Governor's Choice Award
Kamiakin High School (Teacher: Corrine Lechelt), Kamiakin SD, ESD 123
Isabelle Ehlis, "Botanical Refuge" | OSPI Staff Award
A.C. Davis High School (Teacher: Carole Huls), Yakima SD, ESD 105
Adelyn Krone, "The Track to Ukraine" | Jurors' Choice Award
Avanti High School (Teacher: Cecily Schmidt), Olympia SD, ESD 113
Erewyn Limric, "Immigrant Stereotypes" | Jurors' Choice Award
Puyallup High School (Teacher: Dorrie Coleman), Puyallup SD, ESD 121
Toko Kameda, "Escapism" | Jurors' Choice Award
Kamiak High School (Teacher: Emily Palmitere), Mukilteo SD, ESD 189
Rachel Peterson, "Innocent Rumination" | Jurors' Choice Award
On Track Academy (Teacher: Erin Bangle), Spokane Public Schools, ESD 101
Patricia Catacutan, "The Real Me that You See" | Jurors' Choice Award
Ridgefield High School (Teacher: Tamara Hoodenpyl), Ridgefield SD, ESD 112
Teagen Bushman, "Brown Eyes" | AWSP Award
Chiawana High School (Teacher: Felicia Jones), Pasco SD, ESD 123
Annaka Hansen, "Girl in the Lupine Field" | ArtsEd Washington Award
West Valley High School (Teacher: Rose Honey), West Valley SD, ESD 101
Samantha Kotulak, "Genderfluid" | InspireWA Award
Glacier Peak High School (Teacher: Christa Mallory), Snohomish SD, ESD 189
Leila Chavez, "Mt. Tahoma" | PESB Award
Olympia High School (Teacher: Joshua Everson), Olympia SD, ESD 113
Sidney Phelps, "Anxiety" | SBE Award
South Kitsap High School (Teacher: Donald Sandmann), South Kitsap SD, ESD 114
Audrey Stenger, "Star Balloons" | WAEA Award
Vancouver School of Arts and Academics (Teacher: Crystal Zeller), Vancouver SD, ESD 112
Anessa Hanson, "Sunflower Meadow" | WASA Award
Wenatchee High School (Teacher: Reed Carlson), Wenatchee SD, ESD 171
Moriah Von Behren, "Pride & Unity" | WEA Award
Mt. Spokane High School (Teacher: Angelika Wilson-Kipp), Mead SD, ESD 101
Ella Sherin, "Traditional and Contemporary Hand Drum" | WSSDA Award
Olympia High School (Teacher: Joshua Everson), Olympia SD, ESD 113
Isabelle Ehlis, "Botanical Refuge" | CWU Scholars Award
A.C. Davis High School (Teacher: Carole Huls), Yakima SD, ESD 105
Claira Tuning, "Call for Help" | CWU Scholars Award
Goldendale High School (Teacher: Scott Gray), Goldendale SD, ESD 105
Art Show Honorable Mention Award Recipients
Sophia Rusk, "Myna Birds" | Honorable Mention Award
Innovation High School (Teacher: Rebecca Silva Clinard), Pride Schools, ESD 101
Ryan Sanchez, "Carrion" | Honorable Mention Award
Oak Harbor High School (Teacher: Kit Christopherson), Oak Harbor SD, ESD 189
Fiona Whitaker, "Jewel Chest with Drawer" | Honorable Mention Award
Olympia High School (Teacher: Katie Jahner), Olympia SD, ESD 113
Malia Ohira, "Solid to the Touch" | Honorable Mention Award
Auburn Riverside High School (Teacher: Kyle Rees), Auburn SD, ESD 121