SNOHOMISH COUNTY, Wash., June 13, 2022 — Snohomish County deputies are investigating a shooting that took place in the parking lot of Mariner High School in the Mukilteo School District that occurred this afternoon.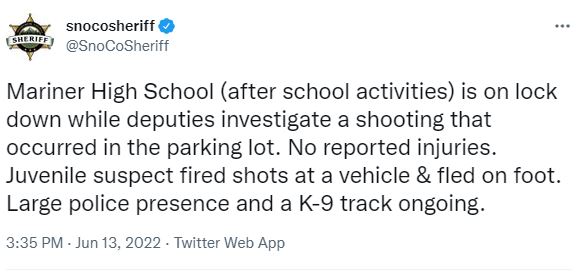 According to the Snohomish County Sheriff's Office, an alleged juvenile fired shots at a vehicle. No injuries were reported, and the suspect fled on foot.
Multiple officers and a K-9 deputy crew searched for the suspect as the school was in lockdown. The lockdown was lifted by 4 p.m. and the suspect is still at large.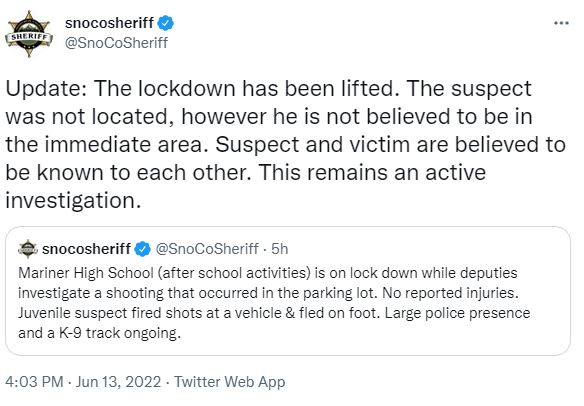 This incident is just days after Mariner High School's Commencement Ceremony that took place at Angel of the Winds Arena on Friday, June 10, 2022.
On Sunday, a Juanita High School student was arrested for allegedly posting threats directed at his classmates. The Kirkland school was closed Monday as a precaution.
On June 6, Edmonds Police officers arrested a 16-year-old Edmonds -Woodway High School student for credible threats of violence against the high school. That suspect was booked into juvenile jail for Felony Harassment. 
---
Photo Credit: Mariner High School, Everett, WA – File:Mariner High School, Everett, WA.jpg – Wikimedia Commons