Meadowdale class of 2022 enters the next of life's chapters
EDMONDS, Wash., June 22, 2022 – The weather was in the favor of the 261 Meadowdale students who received their High School diplomas at Edmonds Stadium on Monday, June 20.
Distinguished guests included Superintendent Dr. Gustavo Balderas, School board members Dr. Nancy Katims, Keith Smith, and Carin Chase, Assistant Principles Deann Anguiano and Kim Dreier, and Valedictorian speech coordinator Michele Ruth Frindell.
Greg Schwab, Assistant Superintendent, took the stand to initiative the evening in Principle David Shockley's stead, who was unable to attend the ceremony. After caps were removed while the Meadowdale band, led by the direction of Robbie Rutherford, played the National Anthem, the land was acknowledged as originally belonging to the Coast Salish tribes.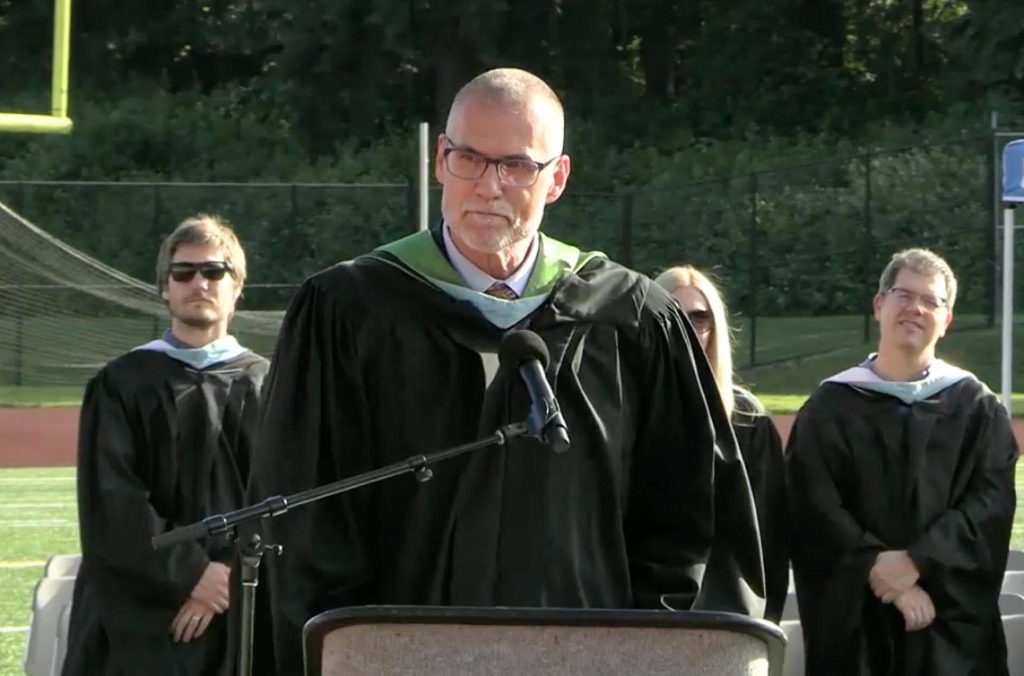 Schwab began by recognizing six staff members who would also be "graduating" this year adding up to a total of 160 years of service, cumulatively, committed to Meadowdale High School. These retiring staff members include Greg Wirtz, P.E., Cari Saint-Denis, World Language, Carol Doane, Counseling Secretary, Bob Youngken, Science, Paul Graham, Social Studies, and Beth Marriot, ASB Coordinator, Leadership, and Athletic Director.
This year Marriott was also inducted into the Washington Activities Coordinator Association (WACA) Hall of Fame.
Schwab then introduced the nine student speakers, including the eight class Valedictorians, who, one-by-one, took the stand to offer words of inspiration to their fellow classmates.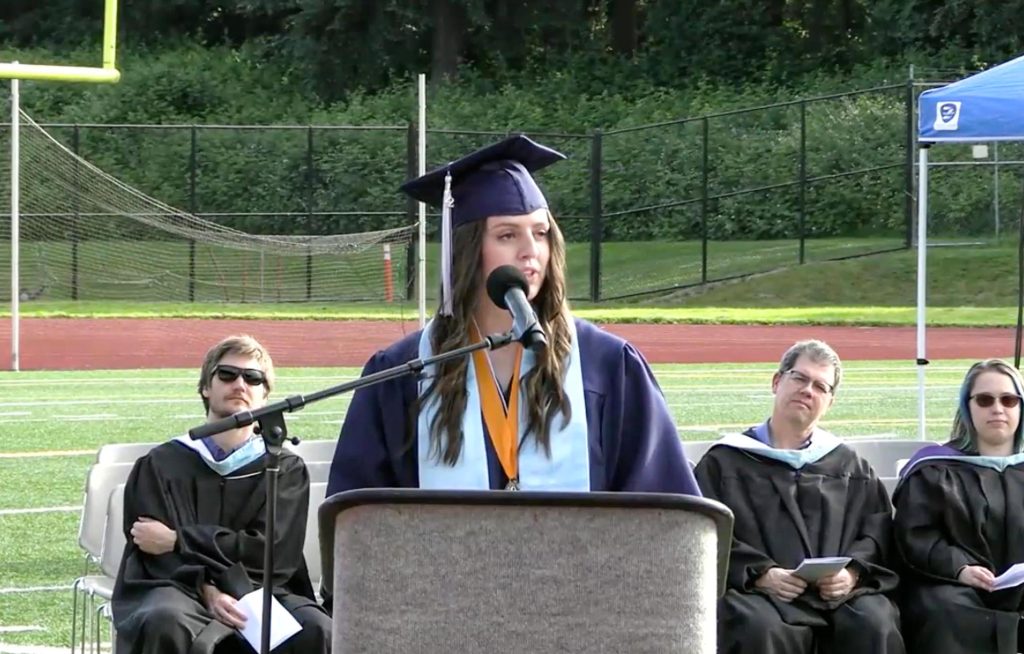 "As we graduate coaches, teachers, underclassmen, employers will all be able to tell stories about us. Whether those stories be good or bad they will live on. Stories will teach morals, inspire others, and most importantly help grow younger generations. So, I implore you graduates, as we start to follow and create our own path be the reason that someone tells a story. Be someone that people want to tell stories about," Austen Seals, student and ASB Co-president, said.
Hazel Warner, ASB Co-President, followed Seales by sharing that the most important lesson she has learned, through her time at Meadowdale, is to have a positive impact on her community and those around you.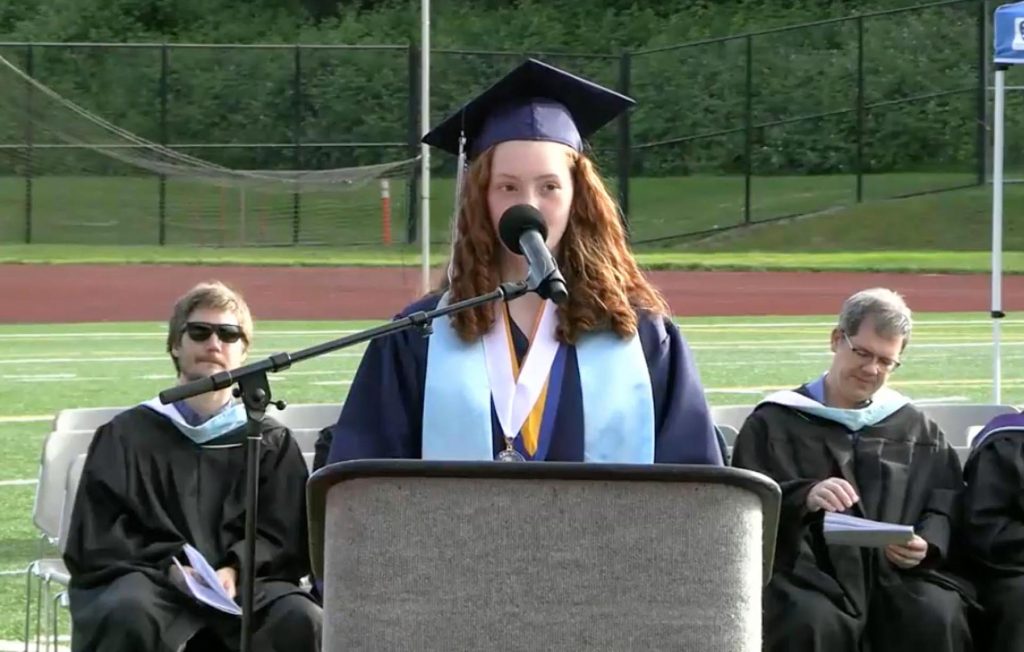 Sarah Reitz kicked off the eight Valedictorian speakers by sharing a quote by C.S. Lewis, reflecting on one of the most defining characteristics of the class of 2022 being its ability to accept and adapt to change. Through online school, a global pandemic, and learning how to reconnect with classmates, Reitz noted the willingness to adapt to change is what the class of 2022 will bring with them to face the future's challenges head on.
The next Valedictorian speaker, Rachel Krueger, who will be attended Western Washington University this Fall, replaced Reitz to share a few words about how it's important to have a plan in life, even when things don't go according to it.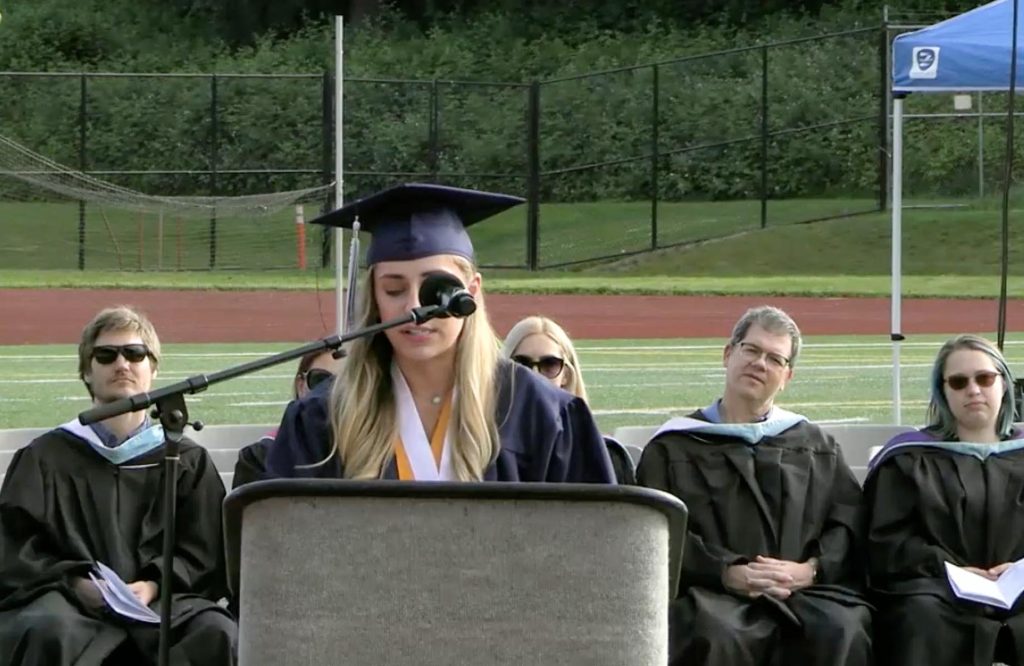 "Things do not usually or ever go the way you envision but that is just life and that is how you grow. All you can do is accept things as they come and react to them to the best of your ability. No matter how you react is a risk and that risk will bring change, that change will help you grow. My advice for fellow graduates is if you are unsure what path you'd like to take in life have gratitude that no matter what you choose there will be change," Krueger said.
Next up was Valedictorian Ethan Wright, who began by sharing some wise words from his grandfather: "determination is better than brilliance."
"We are all here today because we were determined enough to see things to the end. To pursue something worth our efforts. What I hope all of you take away from this high school experience is that academic intelligence alone does not guarantee success – you need grit and a dedication to your dreams. Whatever you choose to do with the next few years of your life make it count and let your passions drive you," Wright said.
Before continuing with the remaining student speakers, the combined Meadowdale Band, Choir, and Orchestra performed a heavenly rendition of Lovely Day by Bill Withers.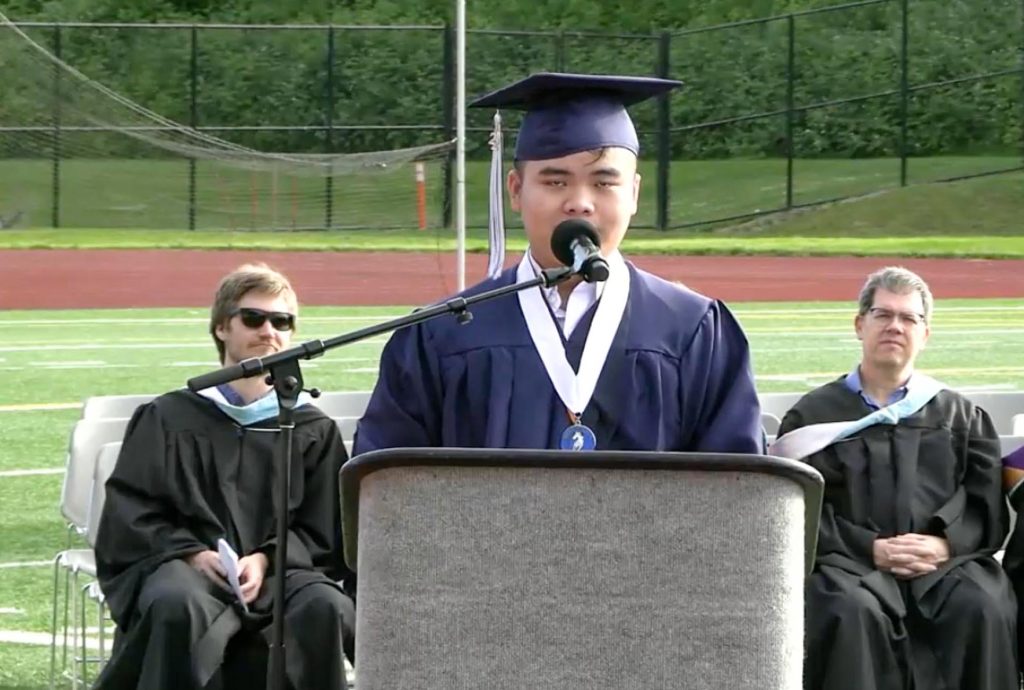 After the applause, Valedictorian Alexander Phan took the stand to continue with some student wisdom.
"Valor means to have great courage in the face of danger, especially in battle. High School can be a battle with the trials and tribulations it throws our way. We've all had our struggles throughout school, whether it be stressing over an assignment or something more serious such as mental health…Don't let yourselves put metaphorical smokes down making you only see the negative aspects of life, if you focus on the bad times we'll never be able to appreciate the good ones," Pham shared.
Valedictorian Tina Nguyen followed Pham by sharing some of the risks she took, over her High School years, which included signing up for STEM classes. She encouraged her fellow graduates to taking similar risks before playfully taking a selfie of herself on the podium.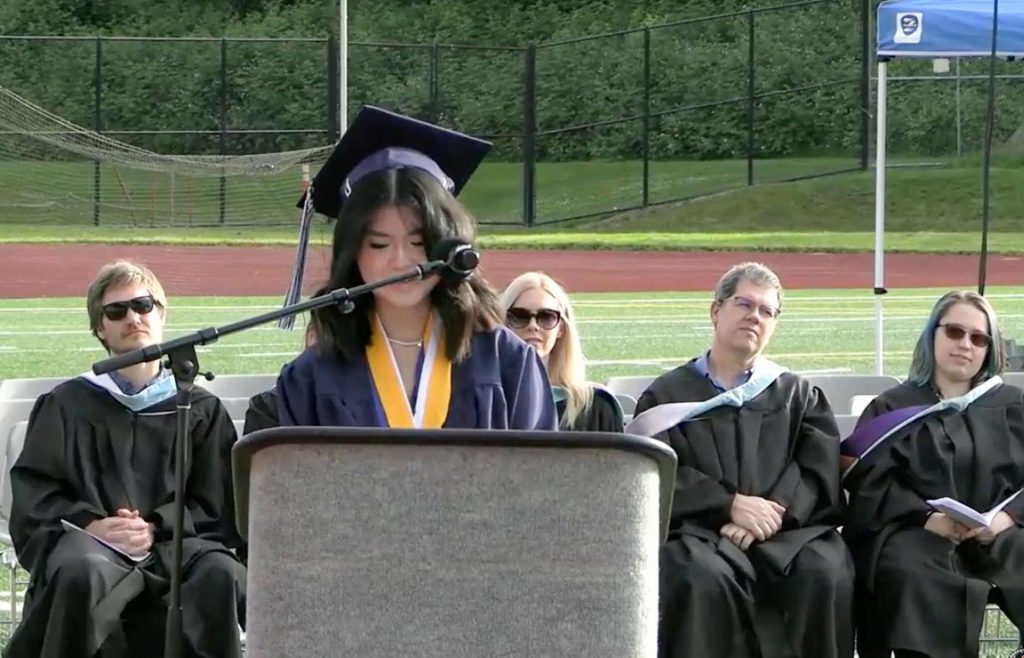 "The world we live in can be difficult and the paths we take may be scary but when you look forward to the possibilities it turns out to be beautiful. As we move to the next chapter of our lives I hope everyone knows that perfection is not possible without challenging yourselves to improve. Don't let the question of what if loom over you and plague your mind," Nguyen said.
Rachel Lee, Valedictorian, followed Nguyen to share her experience growing up as the youngest child, constantly living in the shadow of successes from her brother.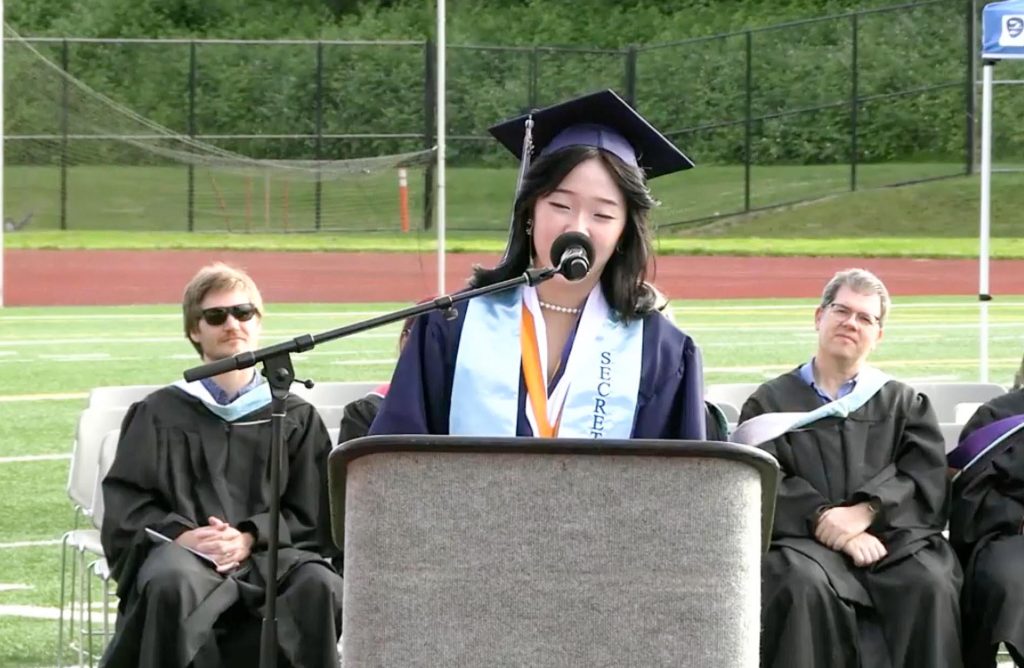 "During this long year there was a period of time when I grew closer to my classmates. That happiness I felt with them for those couple of weeks was greater than the happiness I felt spending four years on my GPA. My grades won't last forever but the happiness I feel with those I care about will. I encourage us all to make time for what makes us happy, and I wish us all happiness for the future," Lee said.
Sydney Wright, the final Valedictorian speaker, closed out the student speeches by sharing some quotes from Meadowdale staff when asked what they would tell their 18-year-old selves when they considered their futures. She ended by urging others to not be afraid to seek guidance because "help is always there for those who ask."
Following the student speakers, each graduate of 2022 was called one-by-one to accept their diplomas, shake hands with staff, and take a professional photo. Once every student was awarded their diploma, Hazel Warner returned to the podium and instructed her fellow graduates to move their tassels to the left side of their cap.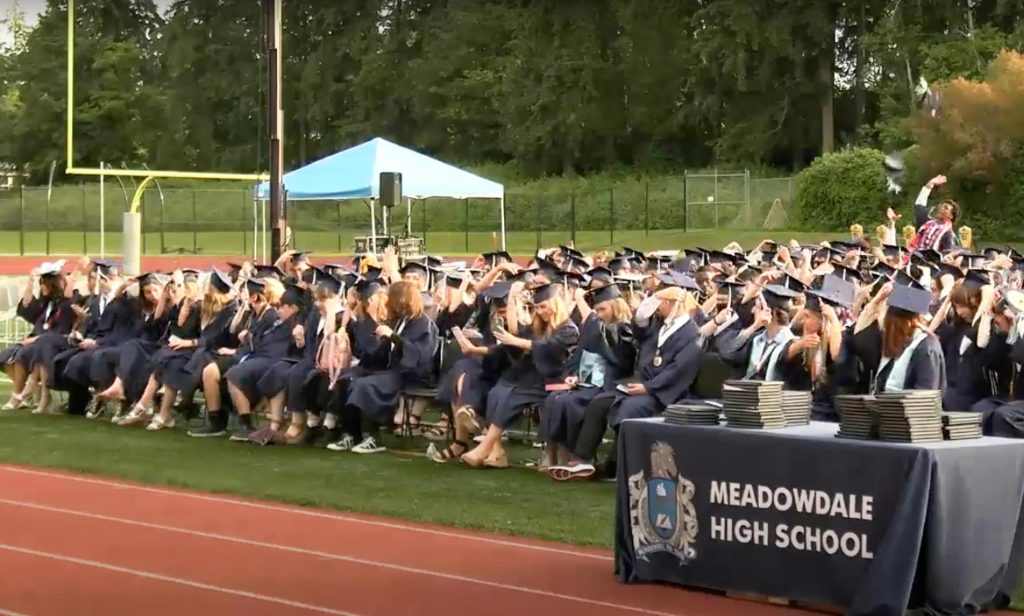 On the count of three, the students moved their tassels, threw their caps in the air, and the stands erupted in applause while the pep band played ushering in the new chapter of life these 261 graduates are entering.