Local Eats Spotlight: Brooklyn Bros Pizzeria
New York City is over 2,500 miles away, but if you're passing by one of Brooklyn Bros Pizzerias and think you smell the aroma of a classic New York slice, your nose isn't deceiving you. Brooklyn Bro's New York-style pies are the real deal. 
The first Brooklyn Bros Pizzeria opened in Everett in 2006, when the owners, Don and Vicky Evola, set out to bring a slice of the NYC to the PNW. Sixteen years later, the pizzeria has opened three other locations in Mukilteo, Mill Creek, and Camano Island.
"I remember walking down to the Everett location after high school with a couple of buddies and just totally falling in love with the place," says Jonny Elia, Brooklyn Bros Director of Operations.
With Jonny's family being Italian and his Dad having grown up on the East Coast, they were elated when Brooklyn Bros first opened shop. "It was just the coolest spot with the writing on the walls and the Italian decor that I was used to seeing growing up," says Jonny. "It just felt like home."
Jonny was stoked to the join the team at Brooklyn Bros as a dishwasher in 2007. Since then, he has been a general manager, helped open new locations, and is now the company's Director of Operations. "As the business grew, I grew with them."
With more than a decade of pizza-making experience, Jonny is well familiar with the anatomy of a New York-style slice. "The perfect New York slice is going to have a crisp outside, sort of a crunchy exterior. But on the inside, it's going to be soft and airy and have a lot of life in it," he explains.
Brooklyn Bros' dough recipe took Don and Vicky Evola about eight years to crack. Most other ingredients, including their cheese and tomatoes for their sauce, are imported from top-tier quality sources. (No joke, the tomatoes they use are grown near Mount Vesuvius in Italy).
To ensure consistent quality among its four locations, Brooklyn Brothers has a commissary kitchen in Downtown Everett where they mix all of their dough and make all their sauces. The ingredients are then delivered to each location via Brooklyn Bros' iconic "Dough Mobile." Needless to say, this Pizzeria is serious about its pies.
Jonny's "Pizza Go's or No-Go's"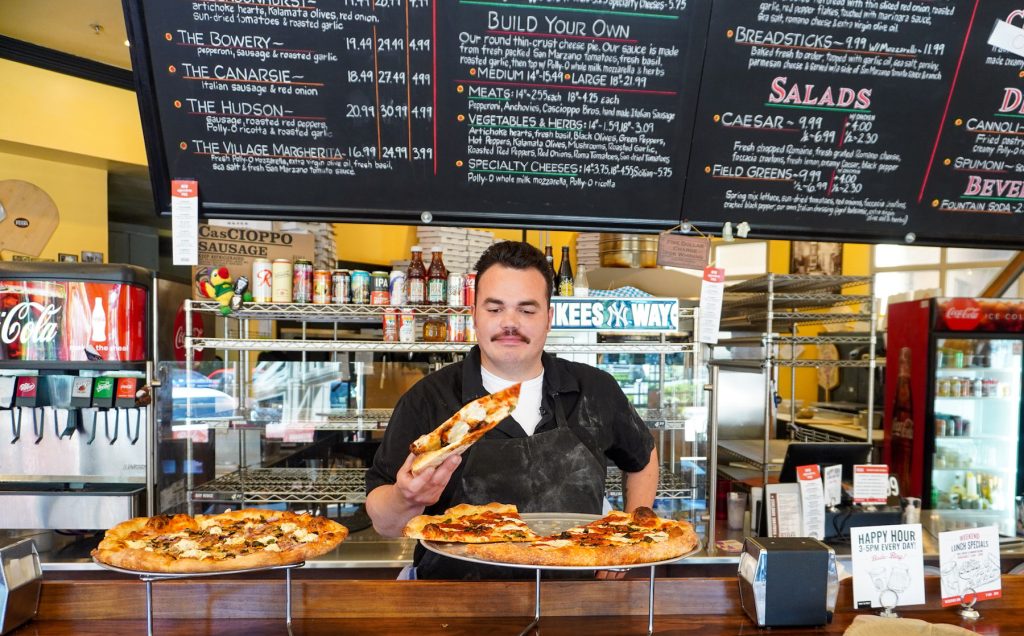 Jonny is pretty serious about pizza, too, at least when it comes to this list of certain controversial pizza practices.
Is there any right or wrong way to eat a pizza?
"It kind of depends on the kind of pizza you're eating. New York pizza, you gotta fold it. It's gotta be that big slice that stands up on its own. You can do the 'Saturday Night Fever,' where you throw both of them on top of each other and go in that way. I think the only time it's acceptable to use silverware with a pizza is when it's the deep-dish Chicago style if you're in Chicago."
Pineapple on pizza?
"Definitely no pineapple. Definitely no pineapple."
Ranch with pizza?
"Ranch with pizza is acceptable…I guess. It depends on the pizza. You cannot put ranch dressing on a Margherita pizza or any other sort of traditional pizza. If it's got some spicy sausage or pepperoni on it, sure."
Artichoke on pizza?
"Artichoke's a big YES."
Anchovies on pizza?
"Anchovies are a yes for me. Sausage, mushroom, anchovies is one of my favorite pizzas in the world."
BBQ Sauce?
"BBQ Sauce is a huge NO. Yeah, you can't. That's all I have to say. No."
Shrimp
"Shrimp on a pizza?…I don't see it."
THE FOOD
The Margherita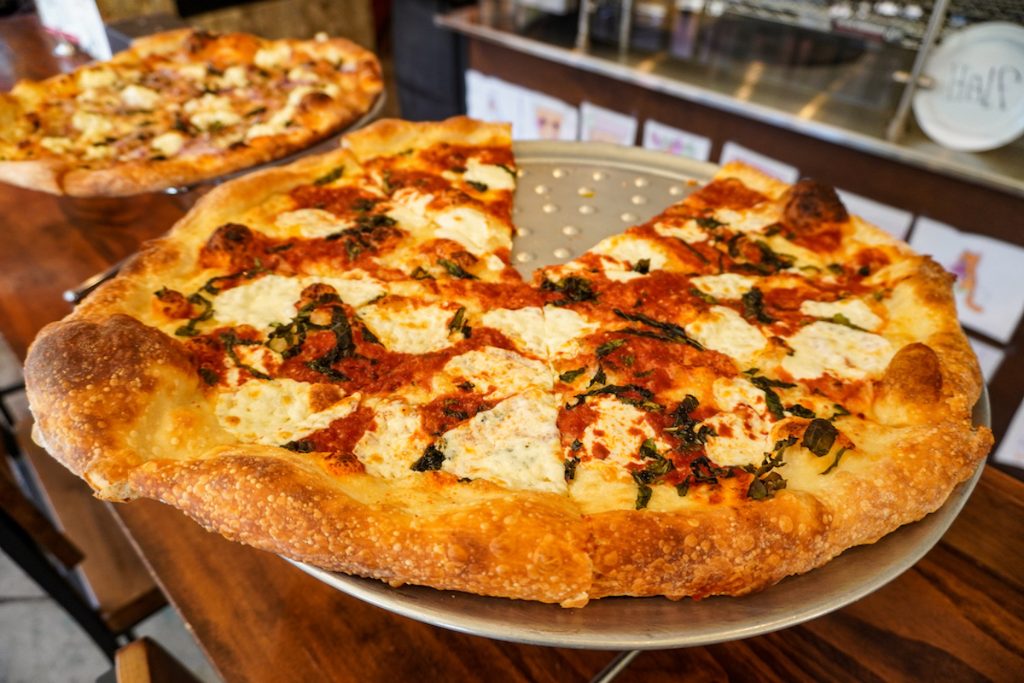 The Margherita is a classic and traditional-style pie with simple ingredients, including tomatoes, basil, and Mozzarella cheese. Jonny insisted on making this pie for me, and I think it was to demonstrate how even the most basic kind of pizza becomes ambrosia when it's done right. And let me tell you, this Margherita was done right. The slice was perfectly thin, crispy, and chewy—the perfect New York Slice according to Jonny's definition.
The Williamsburg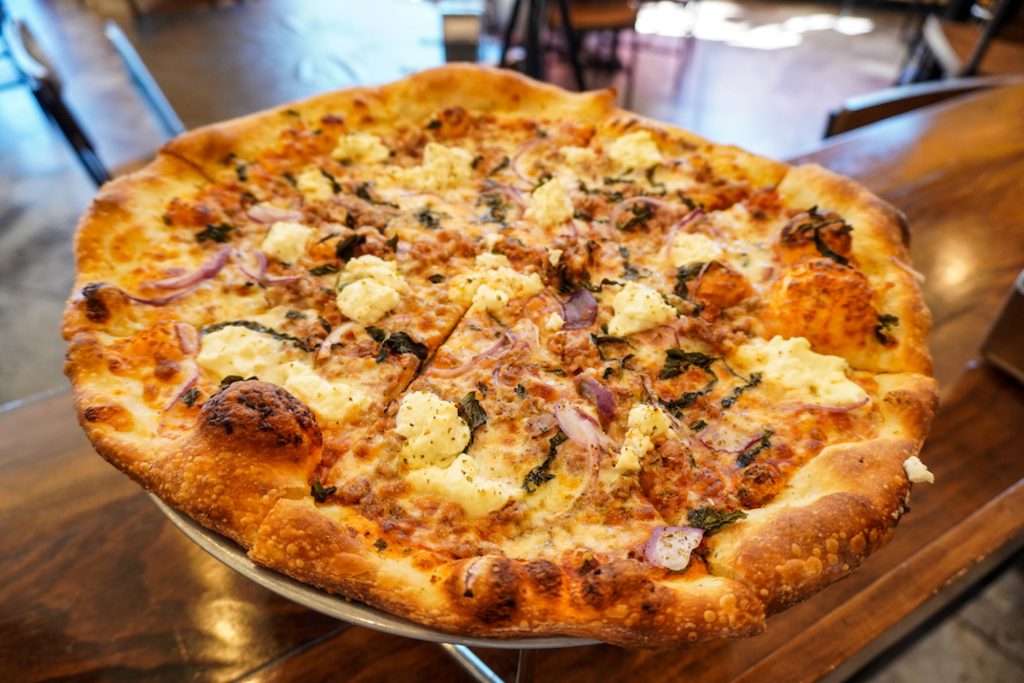 The Williamsburg is one of the newest menu items at Brooklyn Bros. Jonny came up with the recipe as it's one he's been making for himself for years. This pizza comes with Polly-O Ricotta, red onion, basil, and roasted garlic. Jonny decided to add some of their custom Cascioppo Brothers sausage blend today, too. The Williamsburg blew my mind and captured my heart. As a life-long fan of the New York slice, this pizza checked every box for me. Bold flavors, perfect texture, and let me tell you, that Polly-O Ricotta cheese they use is so smooth, I was in disbelief at first.
THE RATING
Overall, my experience at Brooklyn Bros in Mill Creek exceeded my expectations. If you're a fan of the New York slice and you live in the area, you'd fall in love with this pizza. I was also a fan of the shop's atmosphere, with all the writing on the walls, the selling pies by the slice—all things emblematic of a classic NYC shop you can find on the East Coast. My least favorite part about this whole thing is the lingering suspicion that I'm going to be disappointed with every non-Brooklyn Bros pizza I try in the PNW from here on out. I hereby present Brooklyn Bros Pizzeria with the "REAL DEAL: New York Slice" award.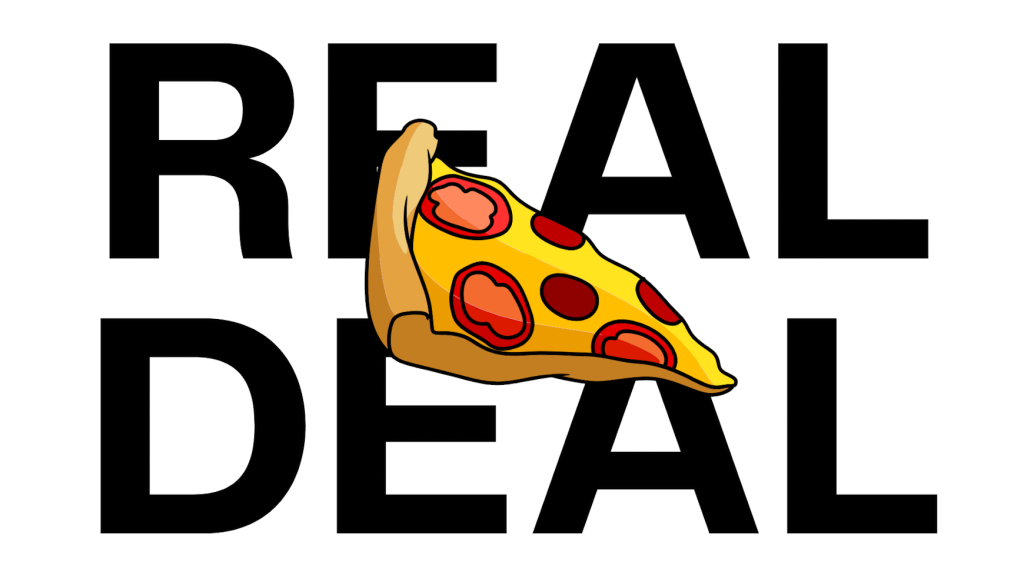 Brooklyn Bros Pizzeria in Mill Creek is located at 15121 Main St, Mill Creek, WA 98012. Click here to see the addresses of their Mukilteo, Everett, and Camano Island locations. You can also follow Brooklyn Bros on Instagram (@brooklynbrospizzeria) and Facebook (@BrooklynBrosPizzeria). Humongous shout out to Jonny Elia and the Brooklyn Bro Pizzeria crew at the Everett location for sharing your story and making pizzas for me! Click here to see more Local Eats Spotlights.
Related Articles