Murders in Washington at all-time-high as available officers at record lows
LACEY, Wash., July 20, 2022 – Violent crime in Washington State increased 12.3% in 2021, according to a report released today by the Washington Association of Sheriffs and Police Chiefs (WASPC), while the number of commissioned officers able to respond decreased 4.4% (a 495 net loss statewide). Washington State retains its ranking as the lowest in the nation for commissioned officers per thousand residents.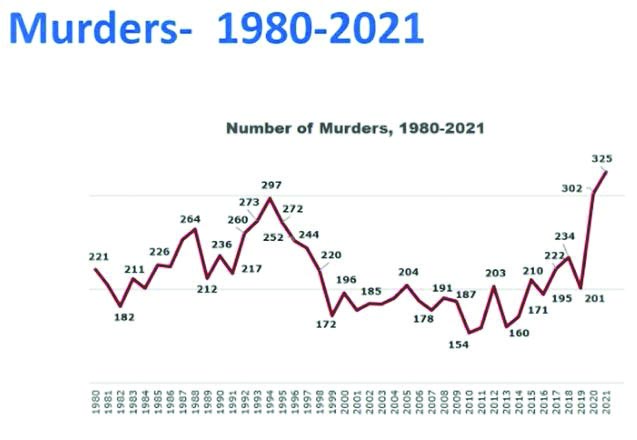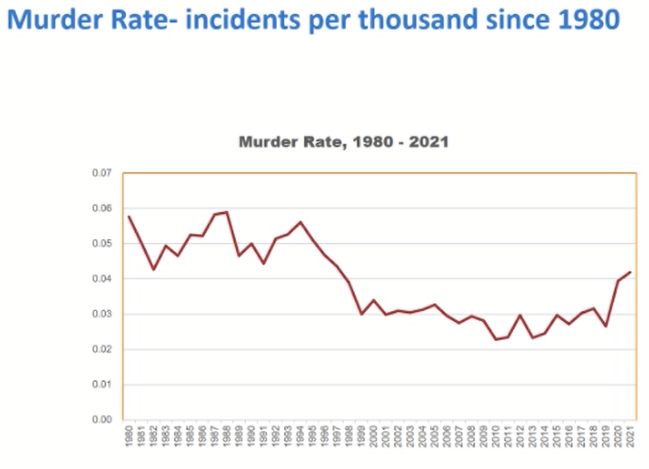 Murders continued to increase jumping from 302, in 2020, to 324, in 2021, the highest ever recorded since the WASPC began recording crime data back in 1980. However, taking into consideration population increases the highest recorded murder rate (per capita) was still in 1994 at 297. The difference between 1994 and 2021, on the other hand, is that officers available to respond to murder incidents, per capita, were much higher in 1994 at a rate of 1.62 compared to 1.38. At that rate, with current population, there would be 12,591 sworn officers which is 1,855 more than current staffing. While the amount of the reported murders in 2021 was the highest on record, the amount of sworn officers available to respond to them, and other crimes, is also the lowest on record since WASCP began conducting their annual report.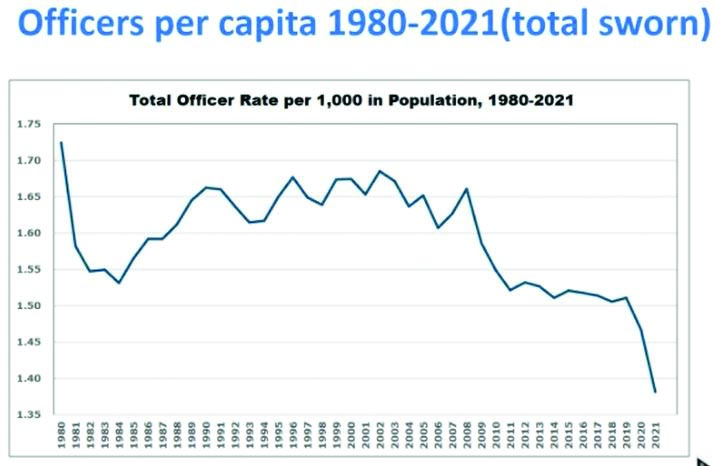 During a public safety town hall last month Snohomish County Sheriff Adam Fortney acknowledged that police shortages is "a real problem," noting that 30 deputies have left the Snohomish County Sheriff's department over the last six months which he believes is a natural consequence of recent years.
When you spend two and half years demeaning one profession—that's law enforcement—on a state-wide level, that is going to have an impact on that profession. It doesn't matter to me if it's law enforcement or another profession," he said.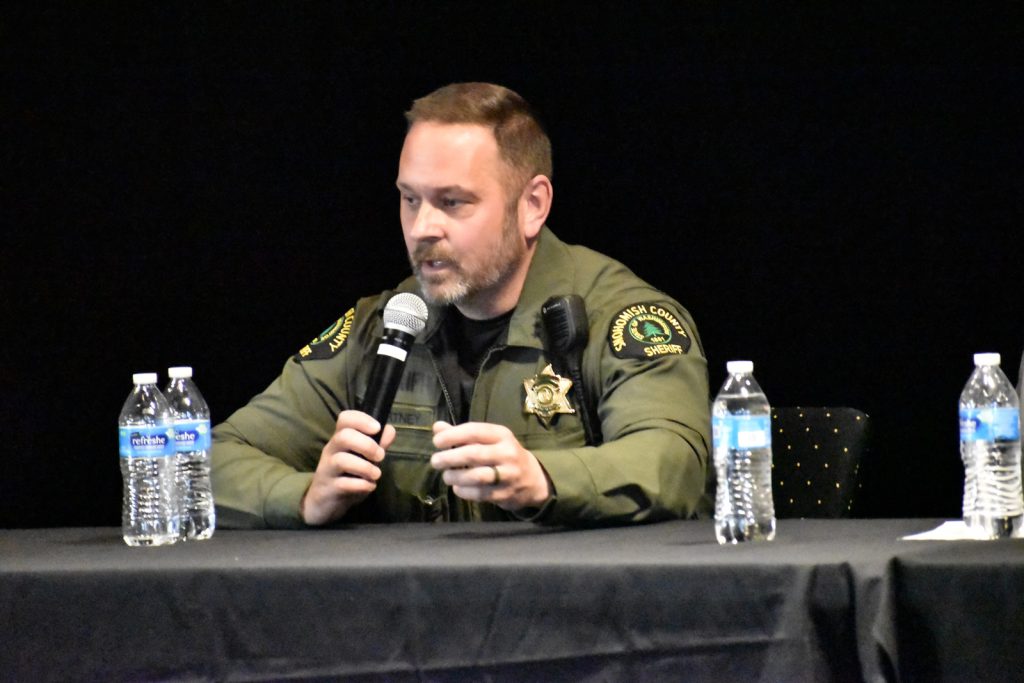 "People are leaving in droves [from] many of the offices in Snohomish County," he continued. According to Fortney, officers are leaving to different states where they feel supported and can financially support their families.
In the city of Seattle over 400 officers have left the department over the past couple years through retirement or resignation leaving the number of deployable officers, in 2022, at 954 – the lowest in over 30 years.
Overall crime statistically decreased, from 2020 to 2021, due to a 78.8% decrease in identity theft and fraud and a 60.9% decrease in drug offenses. The reduction of crime data in these two areas are significantly related to pandemic-driven fraudulent unemployment claims and the Blake decision changes, which influenced how Police Officers can handle simple possession of narcotics, Steven Strachan, Executive Director for WASPC, explained during a press conference Wednesday, July 20.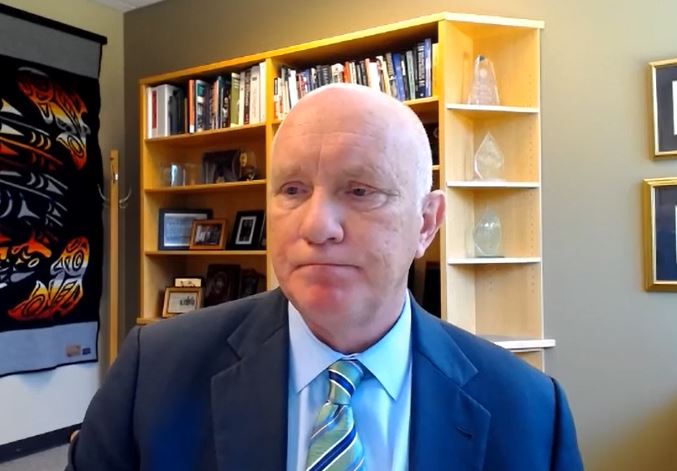 Strachan was confident the decrease in commissioned officers had no effect on the reported crime data, stating that WASPC has one of the highest reporting rates in the nation at nearly 100%. However, he continued that there is no data on how the lack of available officers affected resident's willingness to report crimes given their lack of confidence an officer would respond.
Strachan informed the Lynnwood Times that in months to come the Association will be communicating with legislature and the public on what sort of changes to police reform laws could look like in the 2023 legislative session, based on feedback police agencies express on the revisions that went into effect this past session.
Also on the rise were incidents of hate crime with 592 incidents in 2021, a 26.5% increase from 2020 with the most frequent being intimidation (273 incidents), destruction of property (164 incidents), simple assault (146 incidents) and aggravated assault (91 incidents). The WASPC defines a hate crime as a criminal defense committed against a person or property which is motivated in whole, or in part, by the offender's bias against a race, religion, sexual orientation, disability, gender or ethnicity.
Crimes against persons (which includes murder, rape, and assault among others), in total, rose from 99,602 in 2020 to 104,618 in 2021. Rape and assault cases remained somewhat the same with rapes increasing from 2,376 in 2020 to 2,572 in 2021 and assaults (both simple and aggravated) increasing from 61,522 in 2020 to 64,417 in 2021.
While crimes against persons (violent crimes) were up and crimes against society (which includes drug related offenses) were down, by almost 50%, crimes against property remained relatively the same at 365,122, total, in 2021 compared to 367,955, total, in 2020.
"With the reduction in staffing some agencies have been forced to move to an online reporting mechanism because there simply is not the staff to respond sometimes to 911 calls and sometimes the lack of consequences, and the lack of response, has somewhat contributed to some of those property crime incidents," Strachan told the Lynnwood Times.
Strachan was clear to elaborate that his explanation of what may be contributing factors to property crime incidents was anecdotal, based on discussions he's had with law enforcement agencies, and was not driven by data.
Other facts at a glance from 2021 Washington Crime Report
There were a total of 1,968 assaults on law enforcement officers and one officer killed in the line of duty last year – Detective Jeremy Brown, 46, who served 15 years on the force before being shot in the line-of-duty where he served in Clark County
Full-time law enforcement employees totaled 15,607; of these 10,736 were commissioned officers
There were 2,163 arrests for Drug/Narcotic Violations; of that number 5.5% were persons under the age of 18. 4.6% of these arrests involved marijuana and 10.4% of these involved heroin.
The weapon type of "Personal Weapons" (hands, fists, or feet) was reported in 52,303 incidents; firearms were reported in 11,377 incidents
There were 6,064 sexual assault (forcible and non-forcible) incidents reported in 2021. There was a total of 6,064 victims in these incidents with a total of 4,671 offenders
There was a total of 60,808 domestic violence incidents reported: 14,487 of those incidents were Violations of Protection or No Contact Orders
About the WASPC annual crime report
Although the collection of nationwide crime information dates back to the 1890's, no ongoing program was initiated until the International Association of Chiefs of Police (IACP) established a committee on uniform crime records (UCR) in 1917.
The Washington State UCR program went into effect in October 1979 and collection of monthly Summary Reporting System (SRS) data from contributing agencies began in January 1980.
Today, the Washington State UCR Program offers on-line data entry or batch file upload and proves various reports necessary for statistical purposes in the criminal justice system. Data for Crime in Washington 2021 were compiled from monthly NIBRS submissions by individual law enforcement agencies throughout the State of Washington.
About the WASPC
WASPC was founded in 1963 and consists of executive and top management personnel from law enforcement agencies statewide. With more than 900 members it includes the 39 elected county sheriffs, and 240 police chiefs, as well as the Washington State Patrol, the Washington Department of Corrections, and representatives from local, state, tribal, and federal law enforcement into a single body, working toward a common goal. WASPC's function is to provide specific materials and services to all law enforcement agencies in the state, members, and non-members alike.
Related articles on Washington state crime