Exclusive interview with Marysville Police Chief Erik Scairpon
MARYVSILLE, Wash. – In our ongoing podcast series on public safety, Lynnwood Times contributor Bo Brusco interviews Chief Erik Scairpon of the Marysville Police Department about staffing shortages and the importance of prioritizing officer wellness.
With 80 commissioned positions, the Marysville Police Department (MPD) is the third-largest law enforcement agency in Snohomish County. Today, the department that services a city of over 70,000 people is 15 authorized officers short. On top of that, there are five officers still in training and another five on long-term medical leave.
"It's not a numbers game," says Chief Scairpon. "We just don't have the people to put into those spots."
Not dissimilar to how Sheriff Adam Fortney recently dissolved some special units to offset attrition, Chief Scairpon consolidated his NITE Team unit and recalled a detective from a regional task force to adequately staff his patrol units in Summer 2021.
One of the shortage's most significant impacts, according to Chief Scairpon, is officer burnout. "I'm worried about my officers in that I think they're going to burn out if I'm not able to rebuild that staffing quickly enough," he explains.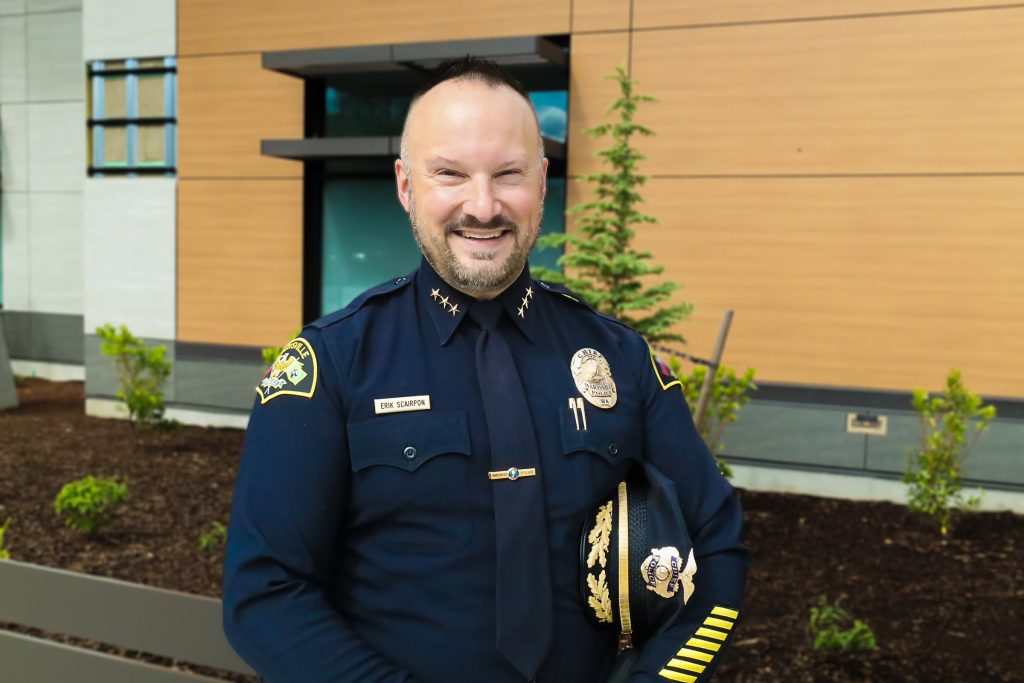 The chief says his department is focusing "full force" on officer wellness by revamping its peer support group and bringing in a psychologist on a quarterly basis. MPD officers can meet with the psychologist anonymously, and the department covers the expenses.
"Those appointments are booked up right now for our next engagement," says Chief Scairpon. "I take that as a positive, though, because that means that my people are taking advantage of that. They're talking about things as they go because we see a lot of bad things in our jobs."
Another reason for the increased focus on officer wellness is that mental health issues have contributed to the MPD's staffing shortage. According to Chief Scairpon, cumulative Post Traumatic Stress Disorder (PTSD) has led to officers leaving the force.
"I have seen people that, unfortunately, have gone out and retired, long-term medical, for cumulative PTSD diagnosis," he explains before giving instances where officers have had to witness horrific scenes. "If you don't deal with it appropriately over the course of a career, it can take a toll."
Law enforcement reforms in conjunction with the Great Resignation of 2021 were also noted as having contributed to the MPD's staffing challenge by Chief Scairpon, who recalls how many people were "rethinking what they want[ed] to do professionally" last year.
Last year's mass resignation is reflected in MPD's employment record. In 2020, the department saw six officers resign, for a variety of reasons, and hired eight. But while the MPD hired nine officers in 2021, it lost 16. So far this year, the department has lost seven and gained five. "We're doing okay right now but just barely treading water," says Chief Scairpon.
In addition to its emphasis on officer wellness, the MPD is also utilizing Community Service Officers (CSO) to address the staffing shortage. CSOs are civilian staff that responds to issues involving junk, abandoned vehicles, parking issues, animal control, and other misdemeanor-related offenses that do not have suspect information.
Unlike authorized officers, whose training can take up to a year to complete, CSOs don't have to go through the police academy and usually only require about five weeks of training with the MPD.
"When I have civilian staff who don't have to go through the police academy and can be out there handling some of those less severe calls for service," Scairpon explains, "that then helps free up my patrol officers to handle those other more significant calls."
Today, the MPD only has one CSO, but on June 13, the Marysville City Council approved $480,000 to fund training, equipment, and compensation for three more Community Resource Officer positions—and the MPD has wasted no time in advertising for people to apply! Chief Scairpon says he is also looking to hire six more custody officers as the department just recently moved into Marysville's new Civic Center, which has a 20,000 square foot jail compared to its former jail of 5,000 square foot.
Hopeful for the future, Chief Erik Scairpon is determined to have Marysville PD fully staffed. "I want our officers to know that there's a light at the end of the tunnel. We will fill these vacancies, and we will rebuild our specialty units."