LYNNWOOD, Wash., November 29, 2022—Ten Lynnwood Police Department Officers received a Letter of Commendation, November 1, for action or performance above their normal duties.
Sgt. Chris Breault told the Lynnwood Times the Letter of Commendation was a system the Department used to offer but has since fizzled out. Chief Jim Nelson, at the awards ceremony noted that it is a recognition serve he wants to revitalize moving forward. The selection process involves a panel of people who review certain actions brought to the command staff, determining whether the actions are deemed above-and-beyond an officer's expected duties.
Officers were first sent an email notifying them they would be recognized for their actions at an award ceremony held in Lynnwood Council Chambers Tuesday, November 1, where they were then brought up in front of other Department Officers to be recognized with a quick introduction and explanation as to why they were being honored.
Sgt. Breault, one of the awardees, was one of the supervisors who responded to a domestic violence call where a male had thrown a television out of the window and his significant other had locked herself inside of their bathroom to avoid assault. In his team, responding to the call, were Sergeant Jacob Shorthil, Officer Tyler Gaskin, Officer A.J. Burke, Officer Charles Thayer, Officer Curtis Kojima, and Officer Robert Nichols who were also awarded the Letter of Commendation.
The male in this case barricaded her inside the bathroom with various furniture and began pouring a flammable substance around, demonstrating he had intention of igniting the apartment complex on fire with this significant other trapped inside. The Lynnwood PD responded to the call, at an apartment on the 3600 block of 196th Street, across from the Lynnwood Convention Center, and successfully deescalated the situation upon breaching the door. The male suspect was taken into custody, without incident, Sgt. Breault said.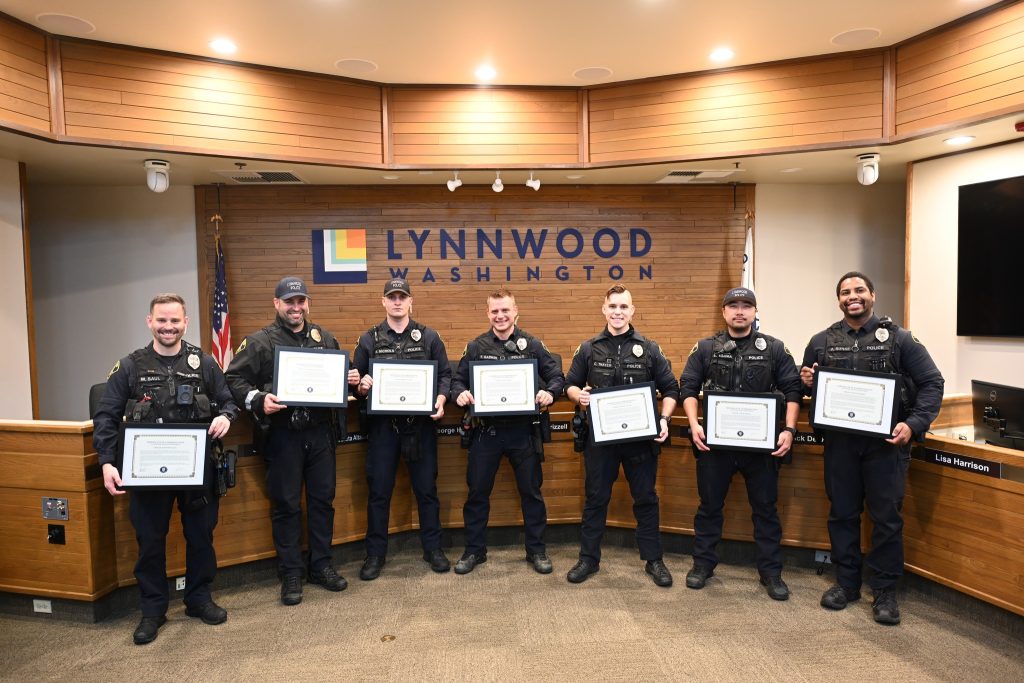 "When we went into the apartment everything was kind of wet and there was this weird chemical odor. You could tell something had been sprayed all around and there was a lighter on the counter. It was clear that what the female had said on the 911 was lining up," Sgt. Breault told the Lynnwood Times.
Sgt. Breault and his team removed all of the furniture and convinced the female to exit the bathroom to make sure she was unharmed and safe.
"Unfortunately, these calls are frequent in every jurisdiction," Sgt. Breault said. "[They're] one of the most dangerous calls we go to for the mere fact that we don't know what we're walking into, the information that we've been provided can vary wildly. We're walking into someone's home and often times emotions are high and substances have some sort of play. They're very chaotic."
To Sgt. Breault, as supervisor, a lot runs through his head when responding to calls like these ensuring his team is safe. He told the Lynnwood Times he was thoroughly impressed with what his team was able to do, remaining calm and coming up with a clear, concise plan, and taking action without question to ensure no one was harmed.
"That apartment complex was very large so if you would have had a fire in that unit you now have a whole other element to deal with," Sgt. Breault said. "We go to a lot of these types of calls, so we look at it as just doing what we do but it was nice to be appreciated especially recognized by your peers that we work alongside with. To be provided with an award is truly gratifying."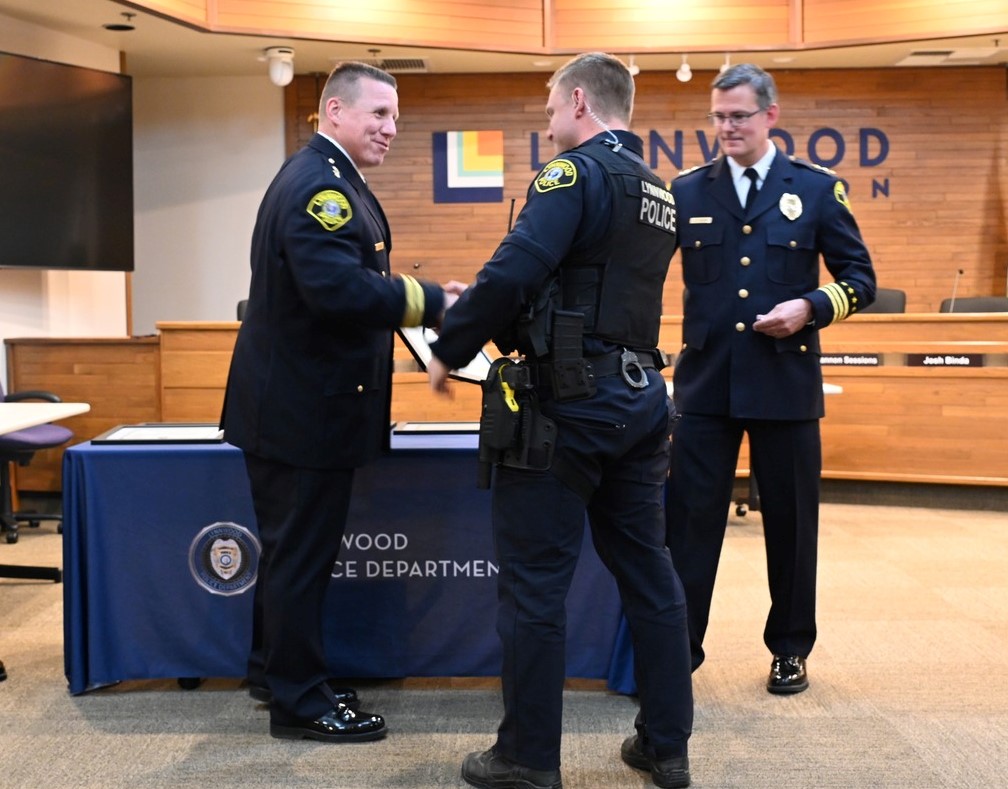 Sgt. Breault has been with the Lynnwood Police Department for 15 years, starting in Patrol where he was promoted to Sergeant. From there he moved to the ProAct Team, which is an extension of every Department undergoing long term investigations like drugs, guns, and gangs while also facilitating in fugitive apprehension, surveillance, and other things.
"It's a catch all group that when things need to be done that's the group you send to handle it," Sgt. Breault.
Sgt. Breault has recently moved to traffic enforcement and supplementing patrol because of the Department's current staffing levels however he informed the Lynnwood Times the Department is getting back to ideal staffing levels soon.
Other Officers awarded the Letter of Commendation, November 1, were Sergeant Jamey Blakely and Officer Jordan Correa for saving a male from jumping from a 4-story parking garage, and Officer Matt Saul for ensuring the evacuation of residents from an apartment building that was on fire.
"In each of these incidents, the officers and sergeants took action at risk to their own safety in order to ensure the safety of others," The Lynnwood Police Department said in a Facebook post November 2. "By their actions, they demonstrated our core values of Professionalism, Vigilance, and Community."