Annual Stuff-A-Bus charity drive returns to Fred Meyer in Everett
EVERETT, Wash., December 4, 2022—The Silver Lake area Fred Meyer store hosted its annual Stuff-A-Bus Food and Toy drive on Saturday, December 3, in partnership with Everett Transit, Amalgamated Transit Union Local 883 (ATU 883), and Volunteers of America Western Washington (VOA).
"We have a lot of drivers with really good hearts," Steve Oss, President of ATU 883, told the Lynnwood Times. "It's really special watching the kids faces when they get something [for Christmas] when they weren't expecting anything and then seeing their parent's faces when they see their kid's faces."
Representative Rick Larsen was one of the many volunteers to attend Saturday food and toy drive.
"I am glad to be back helping to communicate to the folks that there are others in need," Rep. Larsen told the Lynnwood Times. "I just want to help out where I can."
For over 30 years, ATU 833 has hosted an annual Stuff-A-Bus charity drive on the three Saturdays after Thanksgiving Day. Residents are encouraged to donate items at next Saturday's drive from 10 a.m. to 4 p.m. at the Fred Meyer store located at 12906 Everett Bothell Highway in Everett. For those who can't make it during that time, a drop-off bin is in the store.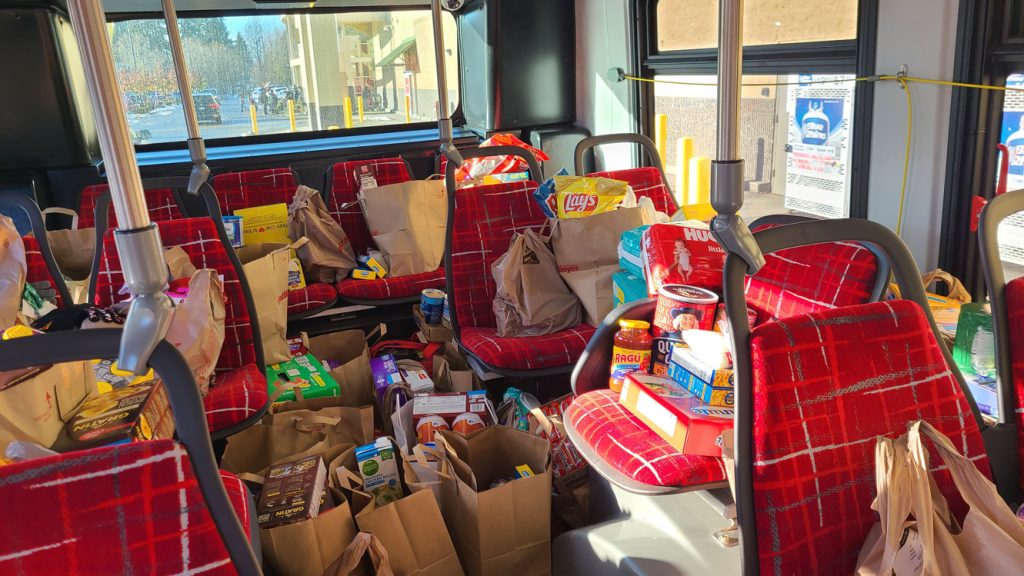 The goal of the event is to completely fill an electric Everett Transit bus with donated items to be sorted at VOA into 5-ft x 5-ft x 5-ft bins which will then be packaged and given to local families in need.
"VOA keeps it local," Oss said. "Our hearts are into helping our community out. As long as there are people, we want to help them out."
Last weekend, the Stuff-A-Bus Food and Toy drive collected 100 cubic feet of donations according to Oss, who has been with Everett Transit for 26 years.
"I love working for Everett Transit," Kara McKiearnan a seven-year employee with the transit agency and an executive board member with ATU 833. "We feel supported by the City of Everett, especially during COVID."
She shared that public transit really helps those who can't afford a vehicle "to get from point A to point B."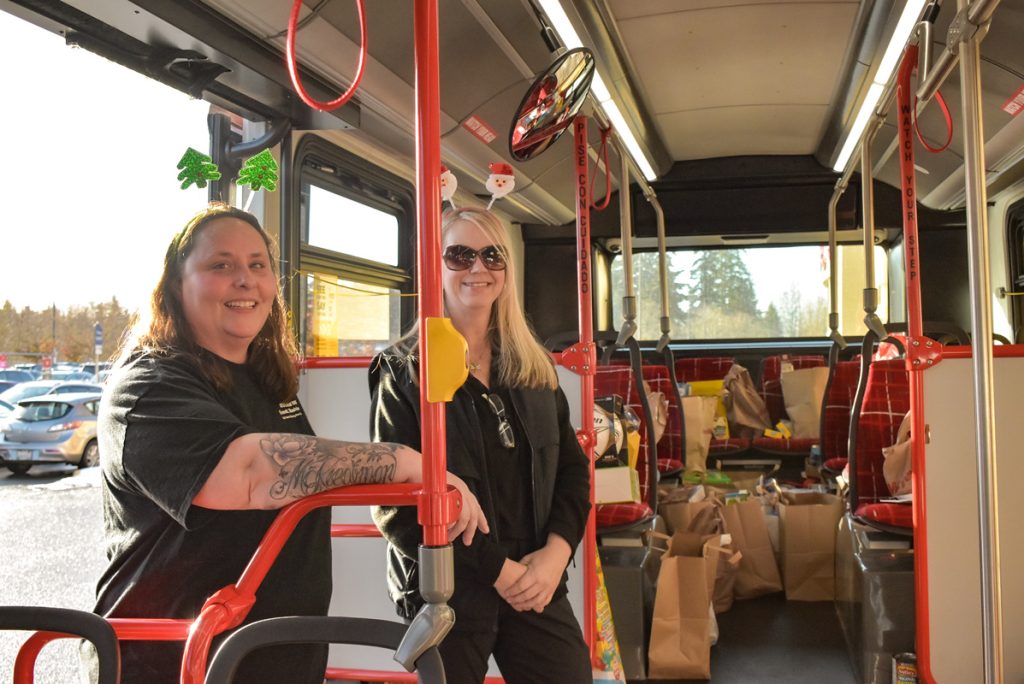 In 2018 Everett Transit began electrifying its fleet to reduce the agency's carbon footprint. According to its website, the ongoing transition to an electric fleet has avoided producing 2,295,000 pounds of CO2 emissions in Everett.
Melissa a nine-year Coastal Community Bank employee told us that she volunteers for causes that give back to the community, which Stuff-A-Bus Food and Toy drive does.
Dr. Steve Woodard, Vice President of Community Engagement with Volunteers of America and Mountlake Terrace Councilman, would like to thank everyone who donated and volunteered making this year's charity drive a success.
"This is wonderful opportunity to get involved," Dr. Woodard said.
Stuff-A-Bus Food and Toy drive will host its last event for the year next Saturday, December 10, from 10 a.m. to 4 p.m. at the Fred Meyer located at 12906 Everett Bothell Highway in Everett. Items accepted are non-perishable food, toys, personal hygiene, diapers, etc.