Paine Field employees gain esteemed AAAE certifications
EVERETT, December 10, 2022—Three Paine Field Airport employees have received esteemed certifications from the American Association of Airport Executives (AAAE) within recent months including Joshua Marcy, Deputy Airport Director, who earned his Accredited Airport Executive (AAE) – one of the AAAE's highest, and most difficult, certifications to acquire. The airport now has 18 employees who have received certifications and designations from the AAAE.
"Our leadership team are really encouraging all of our staff to obtain these certifications," Kristin Banfield, Public Information Specialist for Paine Field, told the Lynnwood Times. "Our operations team has a goal to have all of operations specialists certified. It gives our operations team a broader understanding of not what just they do as operations, but how all of those parts and pieces at the airport really fit together."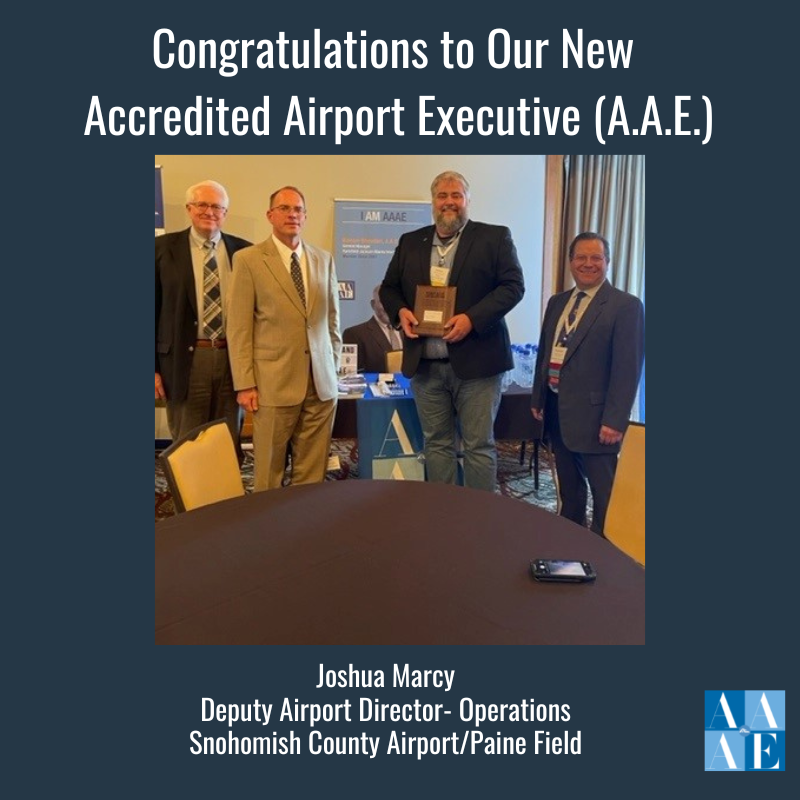 The AAE is the world's largest professional organization for airport executives, representing thousands of airport management personnel at public use commercial and general aviation airports. Founded in 1928, the AAAE's members represent nearly 875 airports and authorities as well as hundreds of companies and organizations that support them – including Boeing. The AAAE represents its members in Washington, D.C., delivering a wide range of industry services and professional development opportunities including training, meetings and conferences, and a highly respected accreditation program.
Within this program, there are four main certification opportunities which begin with the Airport Certified Employee (ACE), designed to establish a general knowledge base for airport professionals through a variety of fields including airfield lighting maintenance, airport operations, finance, security, communications center operations, law enforcement, credentialing, safety management systems, and Planning and Environmental Compliance.
Paine Field's certified ACE include Acting Operations Superintendent Brad Widrig, Fire Chief Joshua Cole, Operations Specialist Paul Anderson, Operations Specialist Nicholas Calhoun, Operations Specialist Lou Ramos.
The AAAE also offers a two- low Aircraft Rescue and Fire Fighting (ARFF) Professional Designation Program designed to enhance the knowledge and career ambitions of Aircraft Rescue Fighters regardless of rank. These designation programs, known as the Airport Master Firefighter (A.M.F.) and Airport Fire Officer (A.F.O.), are programs structured to provide ARFF personnel with an enhanced knowledge of ARFF operations as well as airport operations and administration. Fire Chief Joshua Cole is the airport's only certified AMF.
From there is the Certified Member (CM) program that signifies an employee has a diverse knowledge of the primary functions of how an airport operates and can provide the opportunity to progress up the ranks in a close knit community. To become a C.M., a member must successfully complete a 180-question, multiple-choice examination on a variety of topics including Finance and Administration, planning, Construction & Environmental, Airport Operations, Security & Maintenance, and Communications & Community Relations.
Paine Field's Certified Members include Director Arif Ghouse, Deputy Director Joshua Marcy, Acting Operations Superintendent Brad Widgrig, Operations Supervisor Christian Galicia, Operations Specialist Paul Anderson, Operations Specialist William Hagerty, Operations Specialist Lou Ramos, Environmental & Wildlife Program Manager Andrew Rardin, Administrative Assistant Christy Cheever, Business Manager Nickolis Landgraff, Maintenance Supervisor II Robert Greer.
Finally, at the top of the certifications, lies the Accredited Airport Executive (AAE) program, granted by the AAAE since 1954 to those who have demonstrated their ability to handle the responsibilities of airport management. To obtain the AAE designation, a candidate must successfully pass a 180-question, multiple-choice examination, a management research paper, case study, proctored essay examination, or proof of an advanced degree (at least a Master's degree from an accredited university) , and a final interview with a panel of A.A.E.s. There are only about 500 AAE's in the entire country.
Paine Field's Deputy Director, Joshua Marcy, is the airport's only certified AAE member who completed his certification last September. Marcy informed the Lynnwood Times studying for the certification was intensive, working closely with a mentor for three months who would drill him weekly on modules and questions to prepare him for the final test. After studying and working with a mentor for three months, and studying over 600 pages of material, Marcy met with a board of directors who conducted a three hour-long interview. After the interview Marcy was asked to step outside for a few minutes while the board discussed their decision. He was then invited back into the room, handed a plaque and was told congratulations – he was certified.
"My first, initial, response was I'm glad that's over," Marcy told the Lynnwood Times. "My second thought was wow this is going to be really great for my career…It brought me a great sense of accomplishment."
Marcy grew up working in the field of aviation, from working as a janitor in a maintenance hanger at the age of 15, to climbing the ranks to Deputy Director at Paine Field in 2021. Since taking the title he always had his eye on the AAE program believing if he was going to be active Deputy Director, he should have the credentials to go with it. Before entering the ranks at Paine Field he worked at SeaTac Airport, The difference between working at the two airports, he said, was "chaos level."
If you include his Bachelor's degree, Master's degree, and Certified Member designation, Marcy has been effectively studying for his AAE for the last ten years. On top of the obvious knowledge benefits, these certifications can also open many doors for airport employees in terms of career growth, not just with Paine Field but at any airport. The next step in Marcy's career is to become an Airport Director,
"I don't like to use the term steppingstone because my goal isn't to use this place to move up but at the same time I want to contribute to my airport and make it a better place before I leave so that the next generation of airport leaders are in a good position," Marcy said.