GOLD BAR, Wash., January 11, 2023—An armed naked man took a hostage and held up a Gold Bar supermarket last night, Tuesday, January 11. After three hours of negotiations with SWAT present the suspect surrendered and is currently in custody at Snohomish County Jail. No harm was done to his hostage.
Police responded to an assault with a deadly weapon call at approximately 6:21 p.m. Tuesday, at Family Grocer located at 1111 Croft Avenue, and requested a negotiator and SWAT shortly after. At that time Snohomish County Sheriff's Office confirmed that the suspect had taken a hostage in the Gold Bar store and was armed. The suspect was described as a 55-year-old male.
NOW: Police are trying to resolve a hostage situation at a grocery store in Gold Bar. https://t.co/Uc5TRFxGBR @komonews pic.twitter.com/MklOAbAdLR

— Jeremy Harris (@JeremyHarrisTV) January 11, 2023
State Route 2, between the west side of 10th street and the east side of 12th street, was closed due to police activity and State Troopers urged the public to avoid the area.
At approximately 10 p.m. negotiations were successful and the suspect surrendered without harm to his hostage. He was evaluated by medical and transported to Snohomish County Jail for booking.
Snohomish County Sheriff's Office can not determine if the suspect was under the influence of drugs but did inform the Lynnwood Times that he was exhibiting some "behavioral health issues" prior to the incident.
An individual by the name of Charles Franklin Randall was booked in Snohomish County Jail around the same time with charges of indecent exposure and Kidnap 1. The charge of Kidnap 1 is a Class A felony which is punishable by up to life in prison and up to $50,000 in fines.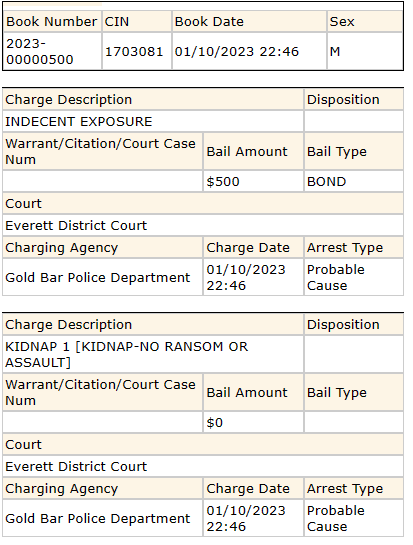 Please check back for updates as this is a developing story.
Pictures from the incident courtesy of KOMO News