LYNNWOOD, Wash., January 11, 2022—Councilman George Hurst has confirmed that on December 19, 2022, Acadia Healthcare was issued a Certificate of Occupancy by the Lynnwood Development and Business Services Department, and now has a license to operate an opioid treatment center within city limits. Despite a Public Hearing on December 29, 2022, a "Transparency" work session open to the public on January 3, 2023, and two public meetings on January 9, the city administration never disclosed this information to the public.
Because this bombshell was revealed to the Lynnwood Times on Tuesday evening, we are awaiting a response from the mayor's office as to why this vital information was concealed from the public and if it is considering disciplinary action against city employees.
The contentious Acadia Opioid Treatment Program (OTP) dominated discussion during the Lynnwood City Council meeting on January 9. Plans to open the facility recently came to public attention, with many concerned about the location — just 443 feet from the Alderwood Boys & Girls Club — and the lack of transparency from the Washington State Department of Health and Acadia Healthcare.
"It is the state department of health that held this public hearing on the 29th at 4:30, at a time when few people even knew about it and those who knew about it: some were on vacation, we had council members that were on break," Council President George Hurst said during the meeting. "I wouldn't want to say it was a deliberate — but maybe I will — it was a deliberate attempt to clamp down public comments."
Hurst went on to criticize the given response time of two weeks by the DOH to comments or questions about the project, as Acadia plans to open the facility on January 23. Two weeks from the hearing on December 29, 2022, would be January 12. Assuming the same time frame applies to a reply to the DOH, the facility would already be open by the time the second response was given.
"What kind of responsibility is the state department of health forcing onto our city?" Hurst said.
Councilman Hurst played a key role in coordinating and bringing together representatives of Acadia Healthcare, Alderwood Boys & Girls Club, Washington State Department of Health, and State Representative Lauren Davis to the January 3 discussion of the then-proposed opioid treatment center.
#BREAKING: This evening tensions flare inside+outside #Lynnwood council meeting. Residents confronting Acadia Healthcare rep telling him not to open controversial OPIOID CLINIC near Alderwood Boys & Girls Club. @WADeptHealth+state leaders also being called out. Wild! @GovInslee pic.twitter.com/8Qnsiu0xFI

— Jonathan Choe Journalist (Seattle) (@choeshow) January 10, 2023
At Monday's meeting, Lynnwood Council members expressed frustration over the process involving the opioid treatment center.
"This has been going on since March, but it was only at the end of December that we even knew about this happening," Council Vice President Jim Smith said. "Something this important should have been brought to the council."
"The community said in specific words that they feel insulted," Councilmember Patrick Decker said directly addressing Acadia. "You have tried to tell us you just want to be a member of this community and yet you come to this community, and you insult us, and you have insulted us, and are insulting in the way you have approached this.
"As a council, we will continue to seek legal and other options to address what we can do on this," Decker continued. "We are not ready to say this is a done deal by any means."
Discussion of the Acadia facility was originally slated as the sixth and final item for the special work session on Monday, but the public presence for the topic prompted Councilmember Julieta Altamirano-Crosby to move to discuss it immediately. The council voted unanimously to do so and took public comments from those physically present and via Zoom.
HAPPENING TONIGHT: #Lynnwood council meeting at 6pm. Update on controversial OPIOID clinic. Pretty much everyone agrees treatment is vital for addicts. But debate is over LOCATION, LOCATION, LOCATION. More fiery public comment expected and biz owners now showing up. @WADeptHealth pic.twitter.com/FDTOKvYs5w

— Jonathan Choe Journalist (Seattle) (@choeshow) January 10, 2023
A large majority of those speaking during public comments were opposed to the facility, with many echoing sentiments the Lynnwood Times previously reported on: the proximity to the Boys and Girls Club, the general safety of the community, and Acadia Healthcare's reputation.
"This will attract addicts and crime to the community — there is no doubt," community member Julie Anderson said. "What I wonder is if this business did their due diligence in picking this location? I can't believe, as a huge corporation, that they didn't. I can't believe they were so neglectful that they didn't figure out that this is an inappropriate place."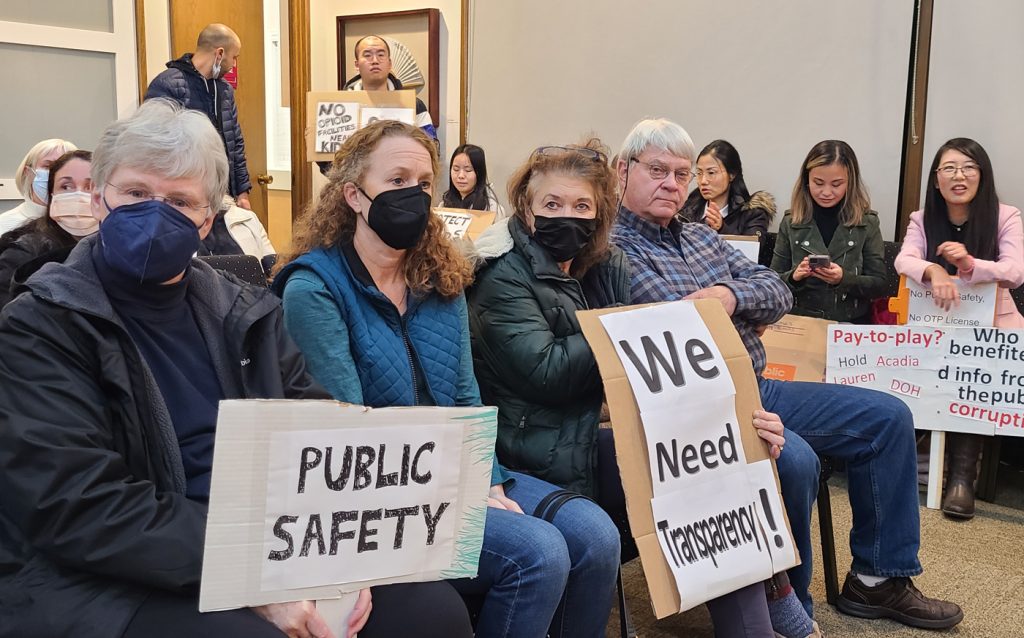 Not all were opposed to the treatment center, however. Some spoke for the need to have the center, but also argued the proposed location is unreasonable. Others in favor compared the proposed facility to any other medical treatment. One member argued that the community wouldn't be opposed to a cancer treatment facility and that the opioid treatment center would be no different.
One who voiced support for the program, Carrie Pilger, said she works primarily with crisis patients as a mental health therapist, but also had experience dealing with substance abuse with a family member.
"I can come at this from multiple angles. Those who are concerned about — I'm going to try to quote here — 'seeing overdoses and addicts in the neighborhood,' what is really important to remember is that these are all members of our community that are already your neighbors, your friends, and very likely your family members," Pilger said. "Providing treatment doesn't attract or bring anyone else into a community. It supports those members of our community who need it."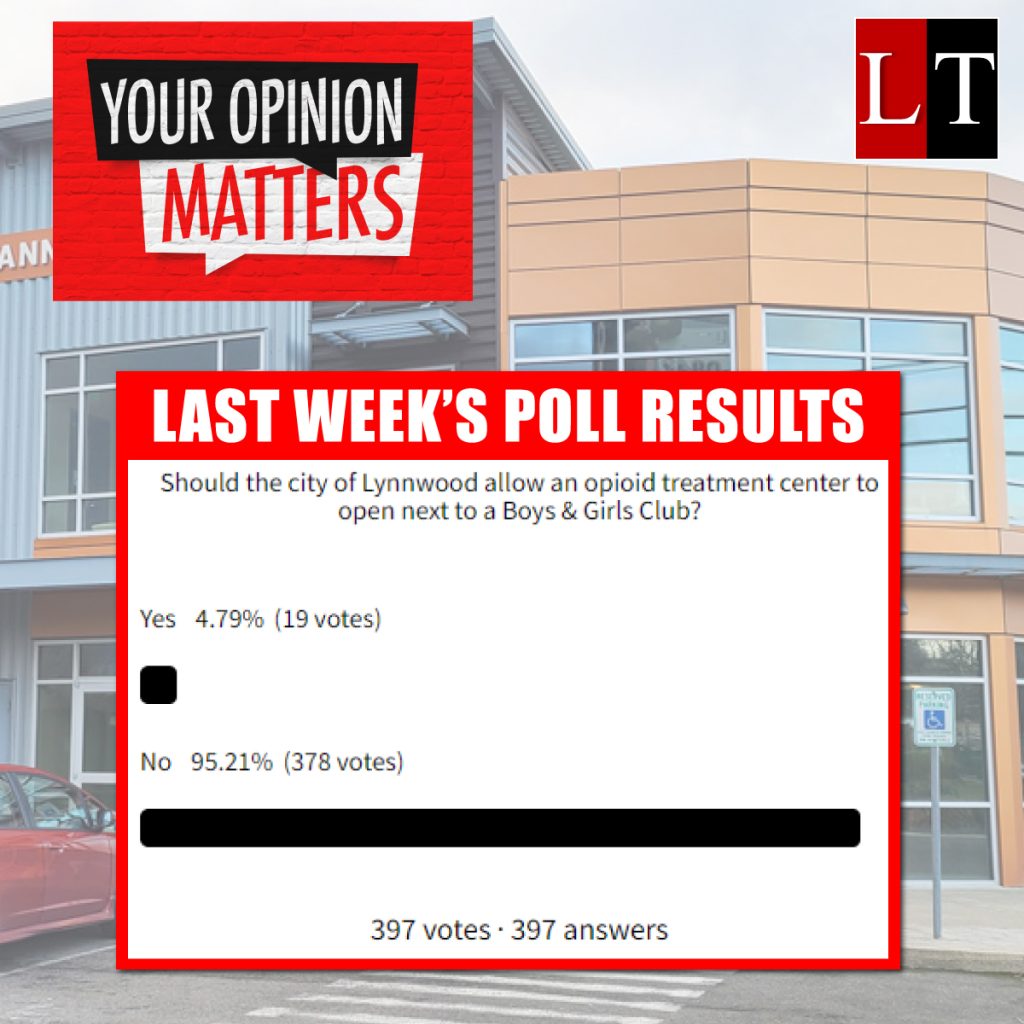 Rep. Lauren Davis (D-Shoreline), who is advocating for the OTP shared with the Lynnwood Times that she "wholeheartedly understand[s] the frustration of community members" and that this "acrimonious situation could've been prevented or lessened by improved communication."
"I believe Acadia could have and should have done a much better job regarding outreach to neighbors, community organizations, law enforcement, and city electeds," Davis told the Lynnwood Times. "Acadia has a significant amount of making up to do and I have shared this feedback with them directly."
She strongly affirmed her committed to the program's success and to finding solutions to concerns residents have regarding the proximity of the opioid treatment center to the Alderwood Boys & Girls Club.
"The central fallacy of the opposition to the OTP's proximity to the Boys & Girls Club is the belief that the patient population served there would be dangerous to children—that children need to be protected from individuals who are seeking voluntary, lifesaving treatment for a brain disease," Davis said. "I find this line of reasoning to be not only deeply flawed, but also deeply hurtful.
"Individuals in recovery are, bar none, the most incredible people I know. It takes an unbelievable amount of strength, courage, and dedication to overcome addiction. OTP patients should be applauded, not feared. These individuals wake up every morning and choose recovery.
"They choose to receive a dose of methadone instead of using illicit narcotics. They go to extraordinary lengths to keep their disease in remission. They are mothers, fathers, sons, and daughters and they are valuable members of our community.
"I am committed to helping this facility be successful and that certainly includes listening to and finding solutions to address neighbors' concerns."
Davis confirmed with the Lynnwood Times that she was not involved in relocating the Acadia Healthcare treatment center from Bothell to Lynnwood and was unaware of the facility's opening until Councilman Hurst informed her in late December.
Other than a meeting a year earlier in December of 2021 regarding Medicaid rates for opioid treatment programs, she had no interaction with Acadia Healthcare, Davis shared.
Davis also confirmed that she has never engaged with Dr. Tien-Dat Nguyen, the owner of the Ryann building, who is leasing the space of the OTP to Acadia Healthcare.
🚨|Lynnwood Times on @KVIJohnCarlson talk radio today discussing the Lynnwood Comprehensive Treatment Center kerfuffle between local residents and a $7.5 billion for profit provider. @safeLynnwood @choeshow @komonews @KVIseattle @sfargon @lynnwood @LynnwoodPD @alderwoodbgc pic.twitter.com/TN4uCjIakQ

— Lynnwood Times (@LynnwoodTimes) January 11, 2023
Public Protest Planned for Saturday, January 14
Safe Lynnwood, a growing community group of at least 100 neighbors voicing concerns of an opioid treatment center opening next to the Alderwood Little League and the Alderwood Boys & Girls Club, has scheduled a community protest at 1 p.m. on Saturday, January 14. The group is inviting the public to meet at the site of the proposed opioid treatment center located at 2223 196th St SW in Lynnwood. After speeches by several speakers, including elected officials, organizers plan a short walk to Boys & Girls Club and other nearby businesses.
For more information, contact Vivian Dong at safeLynnwood@gmail.com.
Other Business Items
Later Monday evening, Councilmember Shannon Sessions won the seat of council president in a 4-3 vote against Hurst.
"Thank you to my fellow council members for trusting me to do this this year," Sessions said. "I look forward to this year. I feel like there is a lot to get done still and this is a really important year."
Councilmember Altamirano-Crosby won the council vice president seat with the same 4-3 vote, also against Hurst.
"I really appreciate the council giving me the opportunity to start this year as vice president," Altamirano-Crosby said. "I'm going to make sure, like the comments Councilmember Jim Smith mentioned, as working for the council, not for our priorities and not for the personal intentions that we have.
---
Editor's Note: This article was written by George Ftikas, Jr. with additions from publisher Mario Lotmore — a statement from Rep. Lauren Davis and the reveal of certificate of occupancy by George Hurst.