Crime, Homelessness and affordable housing key topics of discussion at Mayor's Coffee Klatch
MARYSVILLE, Wash., April 20, 2023—Homelessness so often coupled with drug and mental health issues, and home ownership becoming more challenging due to a lack of affordable housing were much on the minds of residents at a recent Coffee Klatch hosted by Mayor Jon Nehring with special guest Congresswoman Suzan DelBene (WA-01).
"Homelessness, and drugs and mental health – and a lot of times they all go together – is the single biggest issue facing local, state and frankly, federal government across the nation right now," said Mayor Jon Nehring at a special Coffee Klatch April 10 joined by U.S. Congresswoman Suzan DelBene, representing the redrawn 1st District.
While the session gave attendees an opportunity to ask questions face-to-face with the political leaders on a variety of topics, homelessness, crime, and a housing market thin on affordable housing drew the most discussion.  
Nehring said local governments, City Councils, staff and law enforcement wrestle daily with the impacts of drug abuse, mental health and homelessness on their communities, particularly acute along the I-5 corridor.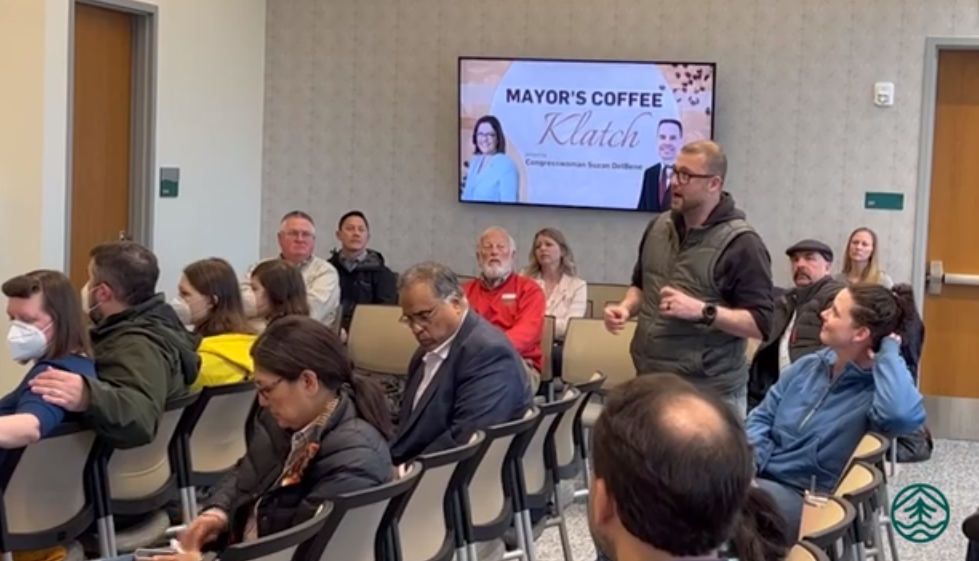 He and Everett Mayor Cassie Franklin have been co-leading a bipartisan group of 16 mayors in Snohomish County to work with the state Legislature, county prosecutors and the local social services network to try and come up with solutions.
"If there was a magic solution, we would all be implementing it right now and this would be taken care of," Nehring said.
That hasn't stopped Marysville from getting creative, with some success.
The city's Embedded Social Worker Team continues to reach out to the homeless out on the streets and in encampments, offering treatment options to people, most of whom have a mental health or drug problem or both.
They need more than a roof over their head. "They need some form of assistance to get them into a situation where they can adequately care for themselves, get back into a job or get back with loved ones," Nehring said.
Over the past three years, the team has put over 150 people through treatment programs; however, those efforts have been hindered by well-intentioned laws that the Legislature passed in 2021. In a nutshell, if you were someone committing crimes to feed a drug habit – homeless or otherwise – and confronted by police, you would need to turn down the opportunity for treatment on three separate occasions before you were susceptible to prosecution. Legislation is being pursued to create a workaround to this change that resulted in significantly fewer treatment referrals.
To help the homeless transition out of a down-and-out lifestyle, the city has been buying homes around Marysville and converting them to MESH houses, or micro-emergency shelter homes.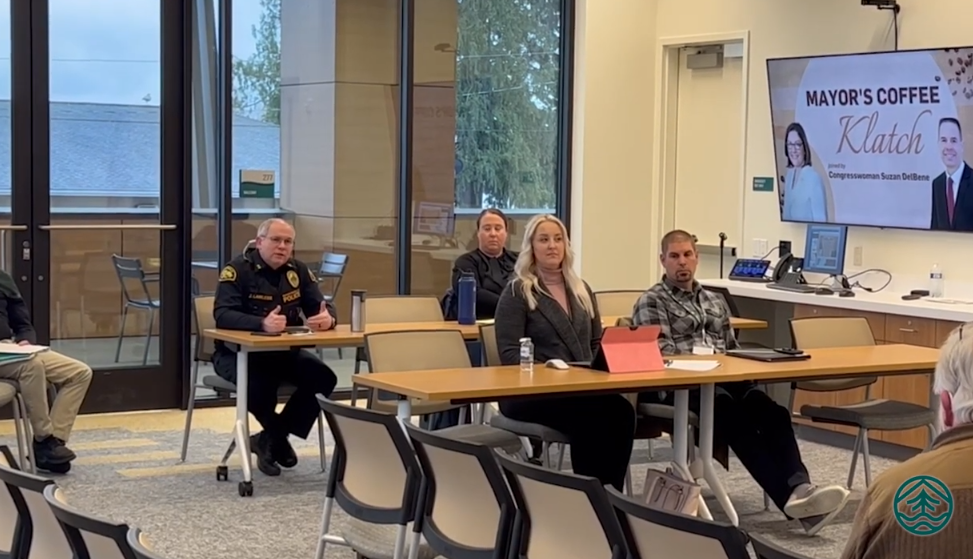 Nehring said the approach has avoided the pushback that has come from neighbors in other communities who try to buy large buildings or build bigger shelters in neighborhoods.
The mayor is mum about where the city-owned MESH houses are located, but they are scattered around all corners of the community, and added that he hasn't had anybody complain about them.
City has a hotel voucher program run through LINC NW, a nonprofit that runs the Marysville Family Resource Center, Hope Mentoring, a mentoring program, and rental and utilities assistance. Marysville also has an arrangement with the Everett Gospel Mission. "We take people out of the mission into a MESH house, where they can be ready to get into a little more stable housing."
Other programs in Marysville such as Maud's House, a transitional shelter for women and children experiencing homelessness and recovering from trauma, and Housing Hope, are doing their share as well.
With all the talk about housing for the homeless, there are plenty of other individuals, low- and moderate-income families and first-time homebuyers who are losing faith in achieving the American dream, or hanging on to the piece they already have.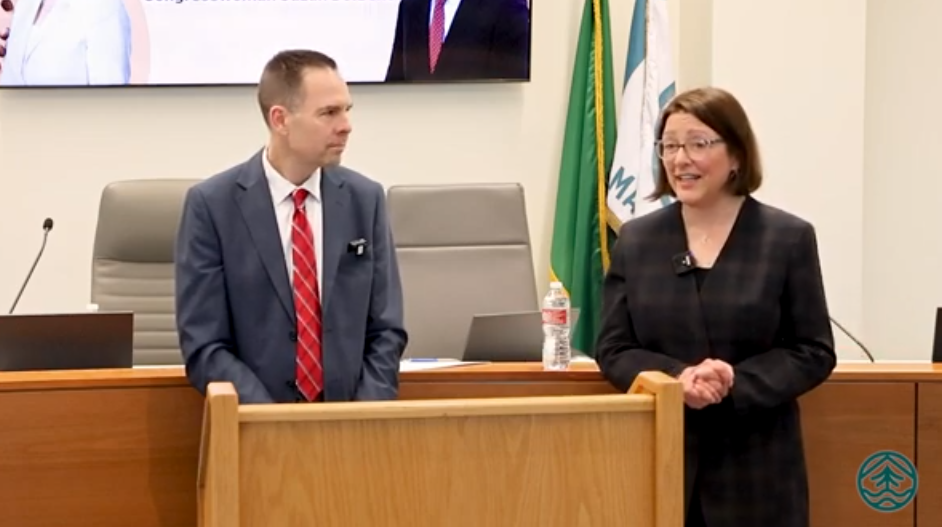 DelBene said she has been leading the effort in the House on a low-income housing tax credit designed to help finance affordable housing and lower housing cost to fight inflation.
"That will actually help finance affordable housing," DelBene said of the tax credit.
She cited the second phase of the Twin Lakes Housing Development that was built with the low-income housing tax credit, which helped provide the financing.
"If we can expand that, we can get two million more affordable homes build across the country," DelBene said of the bipartisan legislation.
She pointed out that she is further trying to expand the housing tax credit more broadly so it can apply not just for building new, but refurbishing existing housing as well.
Another group being impacted by the supply and demand housing market is seniors, particularly those living in mobile home parks and manufactured homes, already priced out by skyrocketing housing prices.
Resident Jack Blackwell cautioned city leaders to be aware of multinational companies and other groups that are buying up mobile home parks like Glenwood Mobile Estates. In one instance, the new estate owners were reportedly doubling the fee to homeowners for the land beneath them, from $600 to $1,200.
---
Featured Photo Source: Congresswoman Suzan DelBene's twitter account.