Local Chinese seniors named Homage table tennis tournament champions
After four weeks of match-ups, eight Snohomish County Chinese seniors are taking home titles and trophies earned at the Chinese Seniors Group Table Tennis Tournament recently held at Homage, the largest provider of services for older adults and people with disabilities in Snohomish County.
Each Tuesday from March 21 through April 11, 2023, 16 Chinese seniors participated in the tournament at Homage's Multicultural Center for Healthy Living. The Closing Ceremonies for the tournament were held on Tuesday, April 18, 2023.
"Table tennis is very popular among Chinese people; seniors play it for fun and to help them to stay active and healthy. Several folks from the Chinese Seniors group play table tennis each week here at Homage," said Homage's Aging and Disability Resource Network Specialist and Chinese Elder Advocate Lu Yang. "The members wanted to hold the tournament to entice others to join their group."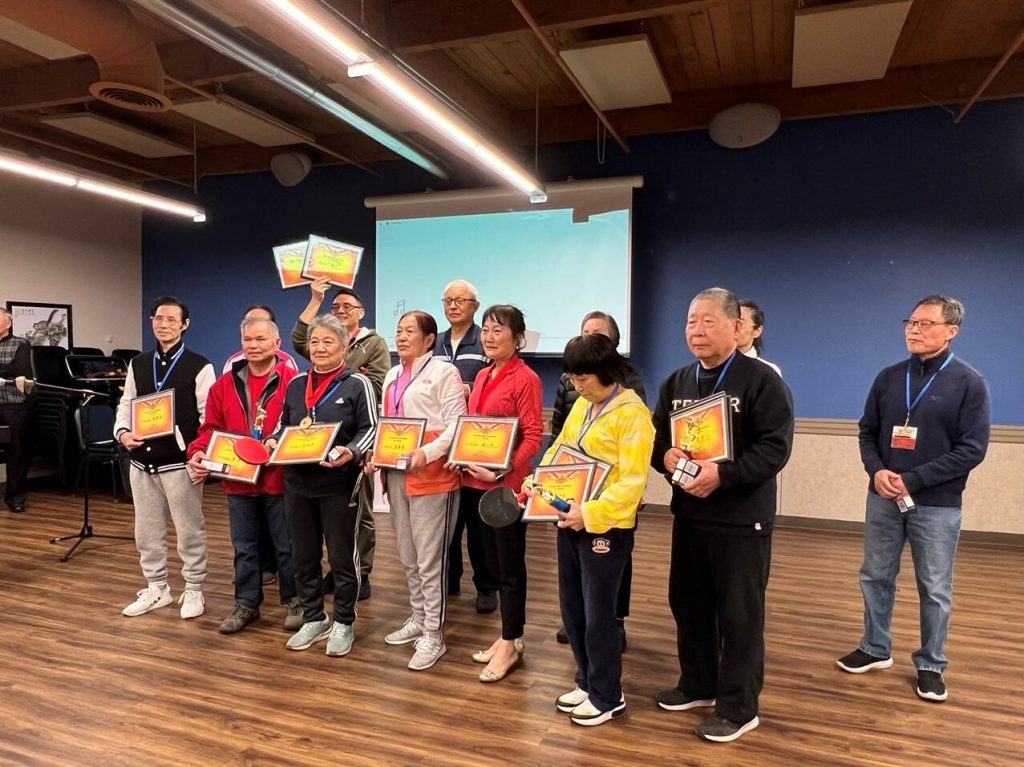 Homage provides multicultural programming throughout the year to adults aged 60+ providing them with nutritious hot meals and a place to participate in educational presentations, programming activities, cultural celebrations, and socialization.
"Snohomish County Chinese seniors are invited to come to our Center for Healthy Living each Tuesday to socialize with group members and to play a game or two of table tennis if they'd like," said Homage CEO Keith Bell. "We have seniors from many multicultural groups fill our space each weekday, and they are all true testaments to how we should live in community with one another. Group members' ongoing interactions help them stay engaged, and the rich cultural connections are proven to stave off the loneliness that plagues so many older adults."
Table Tennis Tournament Champions
Men's Singles Champion: Sang Cho, 70, resides in Bothell.
"I have always enjoyed playing table tennis; now I have more time to play with other friends since I retired. It is great exercise to keep me active," said Sang Cho.
Men's Singles 2nd Place: Min Zhou, 62, resides in Edmonds
"I started to play tennis as a child at primary school," said Min Zhou. "I had not played for a long time until I came to Homage and joined the Chinese Seniors Group. We have many seniors to play the games with here."
Women's Singles Champion: Yuping Wang Wilson, 69, resides in Bothell
"When I first came to Homage Chinese Seniors Group and started to learn to play table tennis here, we only had a few members to play with," said Yuping Wang Wilson. "Now, we have over 20 table tennis players in our group, and we enjoy playing games with each other. Through this tournament, we will encourage more people to participate in our games, and the small table tennis ball will attract us to come together to have fun."
Women's Singles 2nd Place: Xiao Lan Xu, 62, resides in Mukilteo
Mixed Doubles Champion: Yuping Wang Wilson and Qing Mo, Qing Mo, 66, resides in Lynnwood
Mixed Doubles 2nd Place: Min Zhou and Chun Rong Liu, Chun Rong Liu, 75, resides in Lynnwood
"I learned how to play table tennis here at Homage from other Chinese seniors several years ago. Now I come to Homage every Tuesday to play. It is great exercise to enjoy with friends," said Chun Rong Liu.
---
FEATURED PHOTO COURTESY OF: Dannie Mullene of Homage.