Officer Dan Rocha and 555 others, gone, but never forgotten
WASHINGTON, D.C., May 14, 2023—Everett Police Officer Dan Rocha, along with 555 other fallen officers, were honored during the 35th Annual Candlelight Vigil held on Saturday, May 13, on the National Mall in Washington, D.C.
Officer Daniel Rocha, along with the names of Thomas Wray and Jordan Jackson of Bellevue PD, Daryl Shuey and Dominique Calata of the Pierce County Sheriff's Office, Donald Sahota of Vancouver PD, and Darryl Goodrich, Jr. of the Department of Corrections, were read for the State of Washington.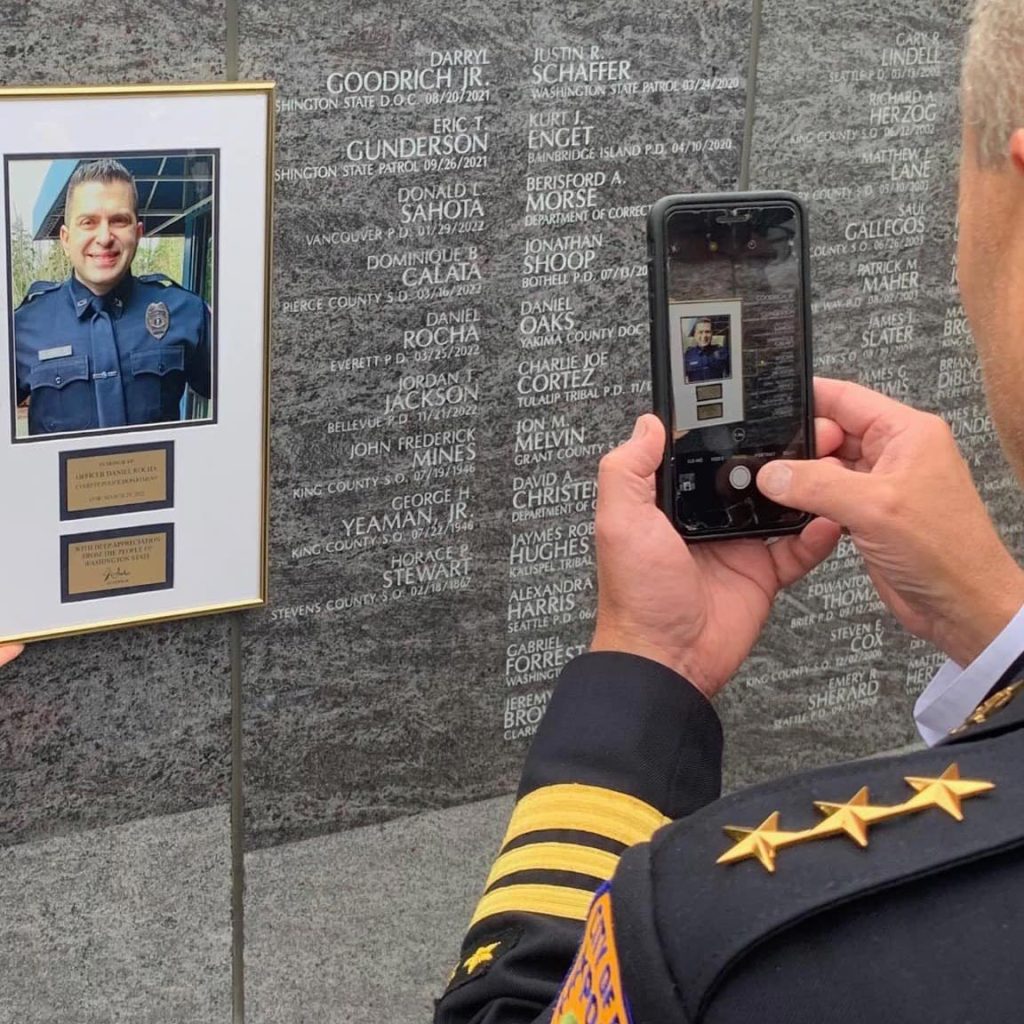 Each year, hundreds of names of officers killed in the line of duty are engraved on the walls of the National Law Enforcement Officers Memorial in Washington, D.C. These names are then read aloud during the annual Candlelight Vigil to memorialize those who made the ultimate sacrifice. There are currently 23,785 names engraved on the Memorial.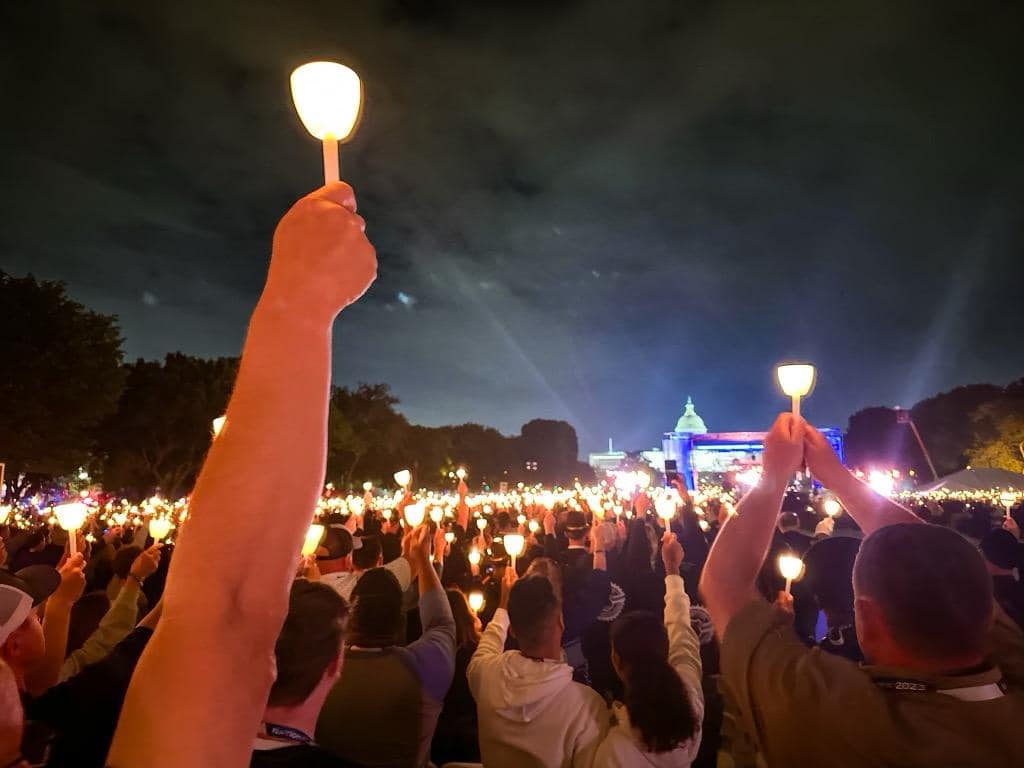 The 556 officers' names read during the annual Candlelight Vigil on Saturday include 224 officers who were killed during 2022, the remaining 332 officers died in previous years. The National Peace Officers' Memorial Service is sponsored by the National Fraternal Order of Police and the Grand Lodge Fraternal Order of Police Auxiliary.
In 1962, President John F Kennedy proclaimed May 15 as National Peace Officers Memorial Day and the calendar week in which May 15 falls, as National Police Week. Currently, National Police Week draws 25,000 to 40,000 attendees from departments throughout the United States as well as from agencies throughout the world.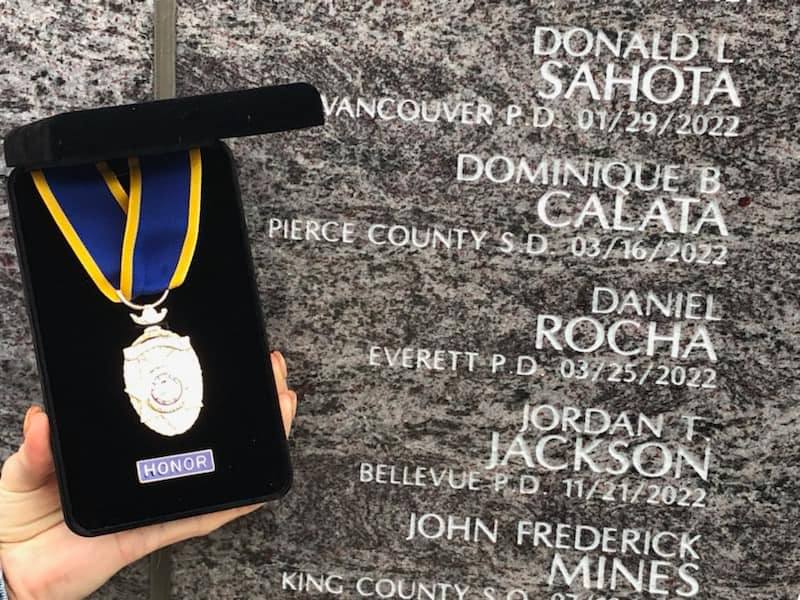 Officer Dan Rocha, 41, was shot and killed by Rotter on March 25, 2022, following gunfire in a Starbucks parking lot across the street from the Everett Community College campus. Rotter was found guilty of aggregated first degree murder on Monday, April 3, and sentenced to life in prison without the possibility of parole.
Thousands attended Rocha's memorial, which was held at Everett's Angel of the Winds Arena on April, 5, 2022, and a memorial, honoring his legacy, was placed at Everett's North Precinct at 3002 Wetmore Avenue.
"Everett is grieving. This tragedy has shaken our community to its core, and I have been trying to find the words to articulate the pain that we're all experiencing…and I'm failing," Everett Mayor Cassie Franklin said during Officer Rocha's memorial service.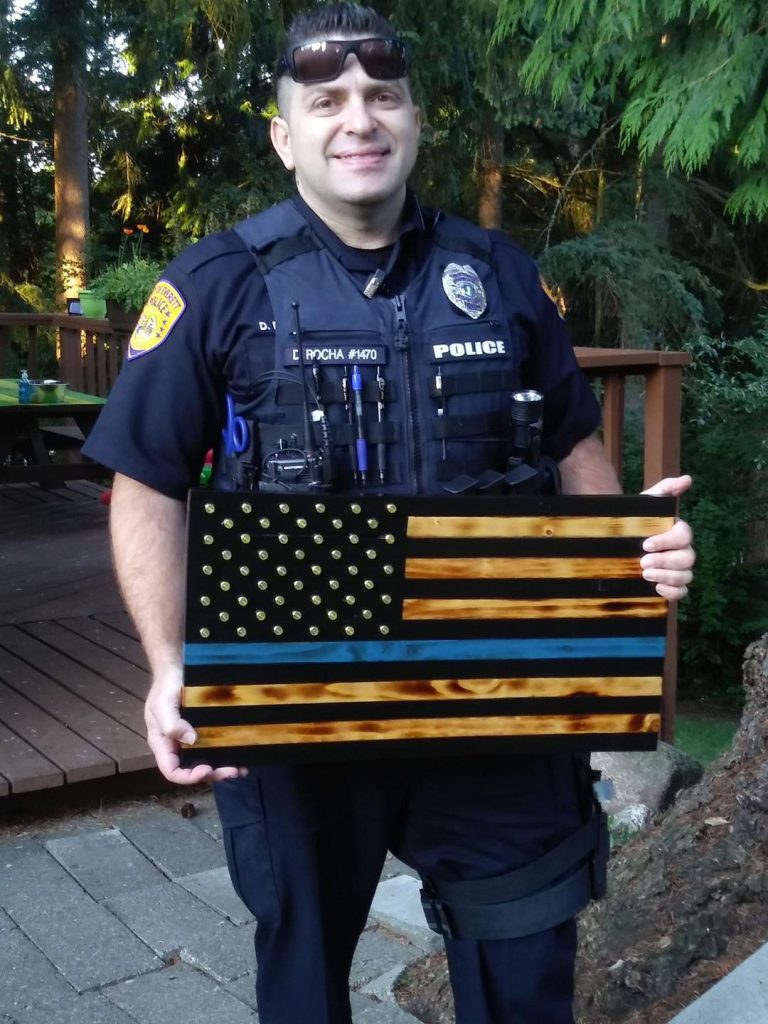 Preceding Officer Rocha's memorial service was a procession of officers who marched from the Everett Mall toward the downtown venue as public onlookers lining Everett Mall Way waved both U.S. and thin blue line flags. The hurst carrying Officer Rocha's body drove under a giant garrison flag suspended by two fire truck ladders at Rockefeller and Hewett avenues.
On April 11, 2022, The Snohomish County Council unanimously passed a resolution honoring Rocha's life and service.
In November of that year, the City of Stanwood designated two streets in Officer Rocha's memory. His wife, Kelli, worked with the City's Adopt-A-Street Litter Control Program to honor him and the ultimate sacrifice he made protecting and serving the citizens of Everett.
The two streets in Stanwood dedicated to the memory of Officer Rocha are:
At the corner of 270th St NW & 271st St NW, next to the Stanwood Café, and
On 102nd Ave NW facing north, just north of Stanwood Elementary School.
Officer Rocha left behind his wife Kelli, sons Thomas and Harrison, fathers Charlie Rocha and Mike Lee, sisters Morgen Henry and Rae Ann Hismiogullari, sister-in-law Maggy Palos and brother-in-law Matt Nicholas.
This week, I had the opportunity to honor @EverettPolice Officer Dan Rocha before @TransportDems @TransportGOP approved a bipartisan resolution that authorizes the use of Capitol grounds for the annual @GLFOP National Peace Officers Memorial Service. pic.twitter.com/JdUpINhDCZ

— Rep. Rick Larsen (@RepRickLarsen) March 2, 2023