SCBHC Youth Initiative students are off to Nation's capital to tour colleges
EVERETT, Wash., June 10, 2023—This August, the Snohomish County Black Heritage Committee's (SCBHC) Youth Initiative Program is headed to Washington D.C. to tour two historically Black colleges.
From August 2 through August 8, 16 students, ranging in age from 11 to 22, and four chaperones will arrive in our Nation's Capital, visit its many historical sites, and hopefully tour the White House and meet with elected officials before touring Howard University and Hampton University.
Touring historically Black colleges (HBC) is just one of several activities the SCBHC offers students through its Youth Initiative Program, which also holds seminars, workshops, mentorship, and hosts guest speakers throughout the year to build its students up as future leaders. The program's motto is "reclaiming our history and shaping our future" and its core values are esteem, education, expression, encouragement, empowerment, and engagement.
"It's a support group," DanVo'nique Reed, President of the SCBHC, told the Lynnwood Times. "Where they can come in and talk about different things they're going through as a student, or just in their community as a young African American youth in this county, so we help troubleshoot and provide encouragement to help them go out and be positive citizens here."
The trip to D.C. was originally scheduled for 2020 but pushed back a few years due to the pandemic. Now some of the attendees have already been enrolled in colleges including Jemyah, DanVonique's daughter, who will be headed out to Texas Southern University, in Houston, after she returns from the trip.
"We're still really excited to take our young people on this trip," said Reed. "When [students] are exposed to opportunities like that it will hopefully inspire, that purpose inside of them will be sparked and it will encourage them to pursue whatever their goals are."
When Reed's daughter Jemyah opened her acceptance letter from Texas Southern, she was excited, happy, and ready for change. Jemyah plans to study Finance and will enter her college's ROTC program. After graduating, she plans to enlist in the Air Force and pursue a career in Financial Advising.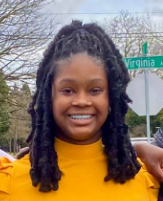 "I wanted to go to Texas Southern because I wanted to go to a historically Black college or University and we don't have any in Washington," Jemyah told the Lynnwood Times. "But I do have family in Texas and I did want to stay close to a home."
Jemyah graduated from Everett High School with her Associate's degree from Everett Community College, through her school's Running Start program. While taking college and high school classes alike, she still managed to play softball, was a member of the debate club, the International Student Organization, the National Honor's Society, and was a Sophomore Senator. Outside of academics, Jemyah enjoys playing the piano for church.
As a member of the SCBHC's Youth Initiative Program, Jemyah said her favorite part of the program was building relationships. Her favorite activity was the car wash fundraiser to raise money for the trip to D.C.
"In the program we become family so it's always fun to have events and get together and see each other again because we live in a predominately White area so getting to come together is nice," Jemyah said. "I've had a great experience and building those bonds that will hopefully last forever has been nice."
When Jemyah visits D.C. this August, it will be her first time on the East Coast. She's looking forward to seeing all the different museums the National Mall has to offer, touring Howard University, and seeing all of Washington, D.C.'s sites.
The SCBHC recently honored its "roots, stems, roses, and budding youth" at its Red and White Banquet award ceremony on April 29, at Mill Creek Foursquare Church. At that event several high school-aged students, including Jemyah, were honored.
The Snohomish County Black Heritage Committee is a 501(c)(3) nonprofit organization whose purpose is to celebrate and educate Snohomish County residents about the cultural roots and contributions of African Americans. The organization believes that anytime people of ethnic and cultural diversity can come together in the spirit of understanding and mutual enjoyment, the community as a whole will benefit, according to its website.