Volunteer for Snohomish County Children's Organization wins prestigious national award
SNOHOMISH COUNTY, Wash., June 13, 2023 – A volunteer for Snohomish County Office of the CASA, a local program that works with children who have experienced abuse or neglect, has been named volunteer Advocate of the Year by the National Court Appointed Special Advocate/Guardian Ad Litem (CASA/GAL) Association for Children. Christi Osburn is one of more than 97,000 volunteers from CASA/GAL programs, serving a total of a quarter of a million children and youth nationwide.
CASA volunteers advocate in court for the best interests of children who have experienced abuse or neglect. The G.F. Bettineski Child Advocate of the Year Award recognizes a volunteer who has made significant contributions to promoting the best interests of these children, and who supports the CASA/GAL program in their community.
Christi Osburn was nominated by the Snohomish County CASA program for her years of service and outstanding advocacy in areas of family preservation, inclusion, respect, and collaboration. Christi began her journey with CASA in 2007 and has served as a volunteer with Snohomish County for 16 years. Christi has advocated for 37 children to-date, impacting a total of 16 families.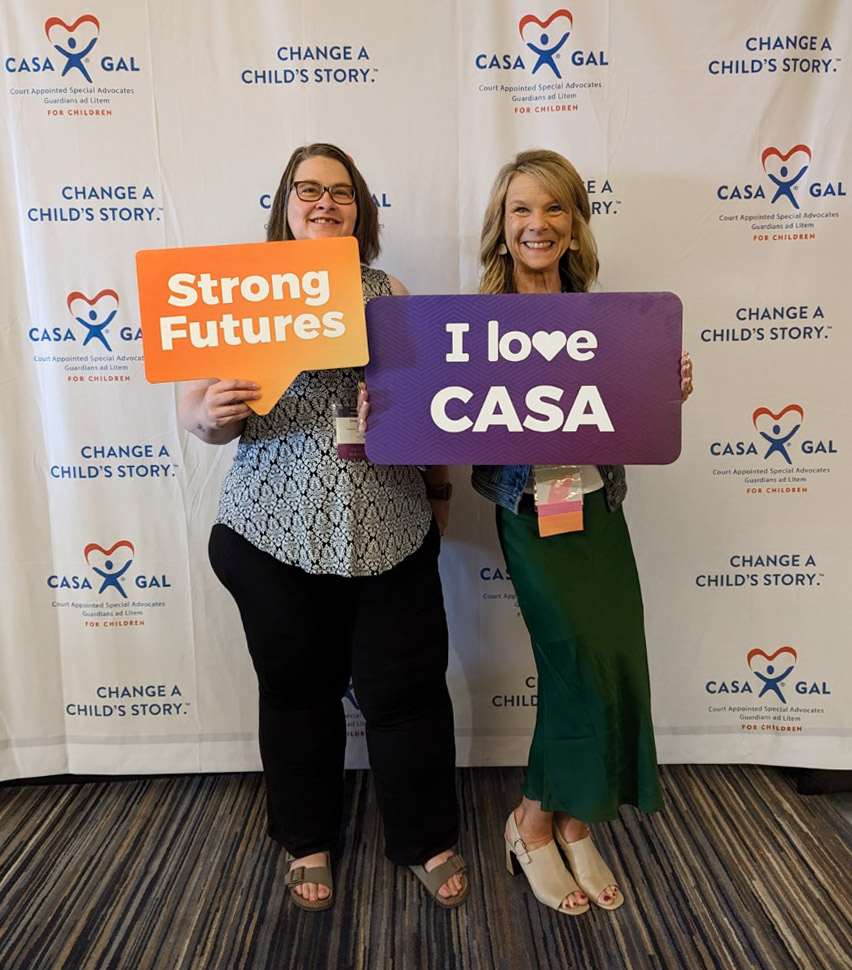 "During this time, Christi has earned a well-respected reputation among all our stakeholders for leading with our guiding principles set forth by National CASA and stepping forward as a leader committed to invoking change throughout the child welfare system with courage, respect, and bravery," said Joelle Kelly, Snohomish County CASA Division Manager. "To be an effective CASA volunteer, it is essential to be well-respected among stakeholders, to have family-first values, and unquestionable integrity. Christi is often requested by stakeholders in the dependency arena to be appointed to cases based not only on these characteristics, but her skills as a collaborator, a problem-solver with a solutions-oriented approach, a keen sense for relationship building, and conflict management."
Christi demonstrates a strong commitment to National CASA/GAL's guiding principle that children should remain with their family of origin whenever safely possible. Over 50 percent of Christi's cases have resulted in family reunification. She has a sharp focus on permanency for all the children for whom she has advocated and works through the permanency planning and court processes to see that children are safe, have a permanent home, and the opportunity to thrive.
Christi was selected in 2022 as a task force member for the implementation of H.B. 1227 in Washington state, otherwise known as the Keeping Families Together Act. She is also a member of the statewide Enhance Safety Framework & Pre-Dependency Consultation workgroup, a member of the National CASA Volunteer Advisory list, a recipient of the President's Volunteer Service silver award in 2022 and the bronze award in 2021, as well as Volunteer of the Year for the Snohomish County CASA program in 2014.
In addition to all of this, Christi has managed to work full-time at PEMCO Insurance while raising her children and staying active in their extracurricular activities and school events.
"Over the years, I have learned and acknowledged the privilege I am granted as a CASA and the power our voices carry in the child dependency process," says Christi.
"The juvenile dependency court system can be a contentious arena when parental rights are at stake. I strive to be a change-maker seeking collaboration whenever possible to find ways of turning roadblocks into opportunities using a strengths-based, child-focused, best-interest approach. There are multiple ways CASAs create impact including educational outcomes, placement changes, and their transitions, addressing cultural and community, and many, many more," explained Christi. "There is still much to be done to improve the child welfare system making it more equitable and inclusive. I am passionate about being part of the change and hope that all of us who share in this work also share in this passion."
The G.F. Bettineski Child Advocate of the Year Award was presented to Christi by Honorable Judge David Katz, President of the National Council of Juvenile and Family Court Judges. The award was named for a highly regarded social worker from Seattle who was the husband of Carmen Ray Bettineski, the founding director of both the first CASA program and the National CASA/GAL Association.
RELATED ARTICLE
---
SOURCE: Snohomish County Office of the CASA