A Lynnwood Celebration: Community partners came out in full force for Juneteenth
LYNNWOOD, Wash., June 19, 2023—To commemorate the day the last remaining people in the United States were freed from the evil of slavery and servitude, hundreds of people of all colors celebrated Juneteenth at Cedar Valley Community School in Lynnwood today.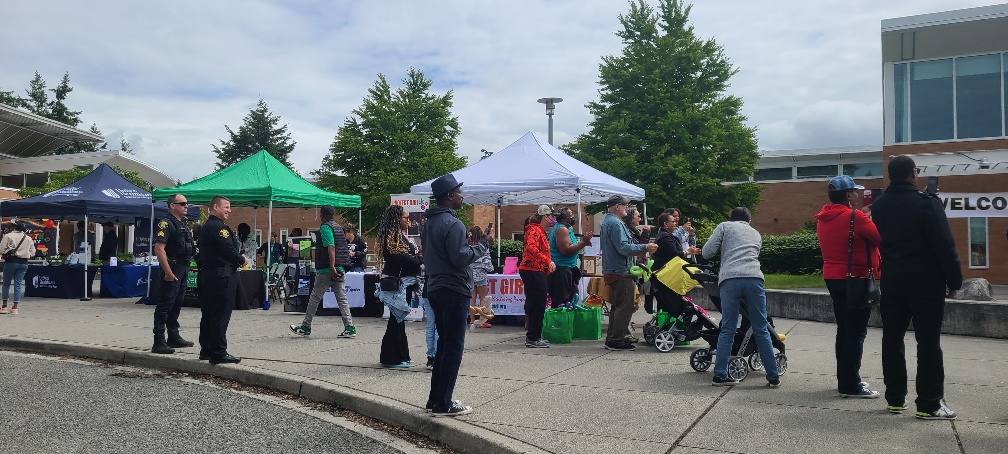 "It is beautiful to see the community come out," Olympia Edwards, Founder of Project Girl Mentoring Program, Lynnwood Times' 2022 Person of the Year, and host for Monday's Juneteenth event told the Lynnwood Times. "Events like this really show the girls [in Project Girl] and their families see this is what it means to do community in the area. It gives them a dream and hope for when they want to do something, they reflect that if Olympia can do events like this, then I know I can do something, no matter what."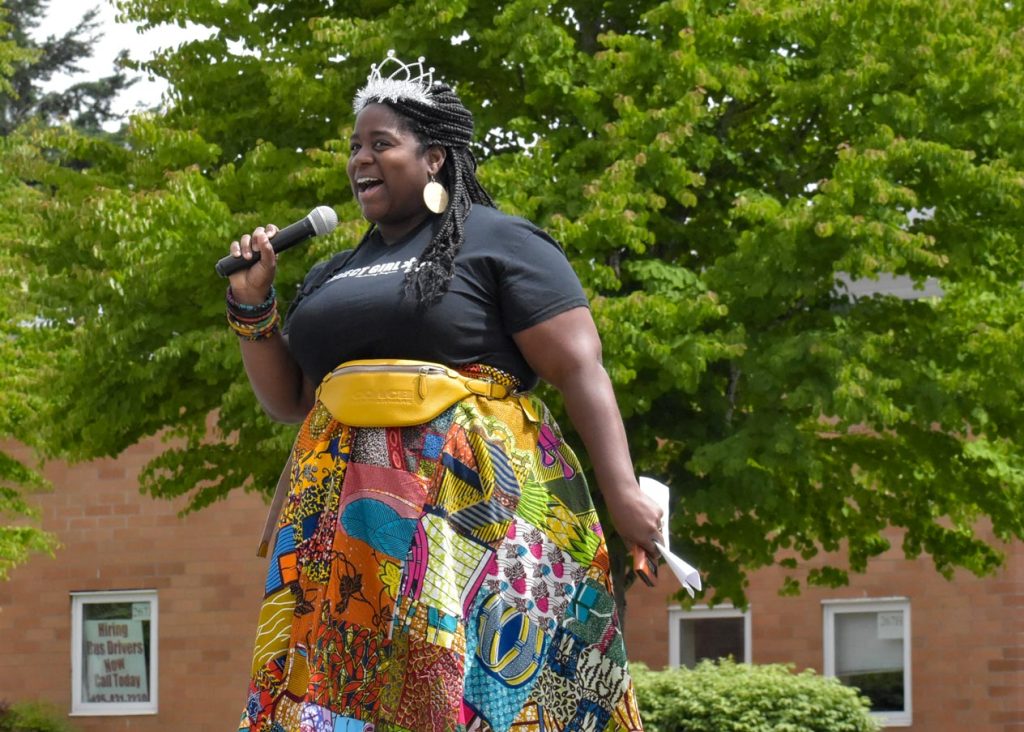 Edwards shared with the Lynnwood Times that after Juneteenth she is gearing up for Project Girls' Immersion Lab where 50 to 60 young women of color will take hikes, go on tours, and immerse themselves in confidence building and health habits for the summer. She continues her heroic efforts in passing to the next generation of young woman of color how they can be seen, loved, and supported by the community.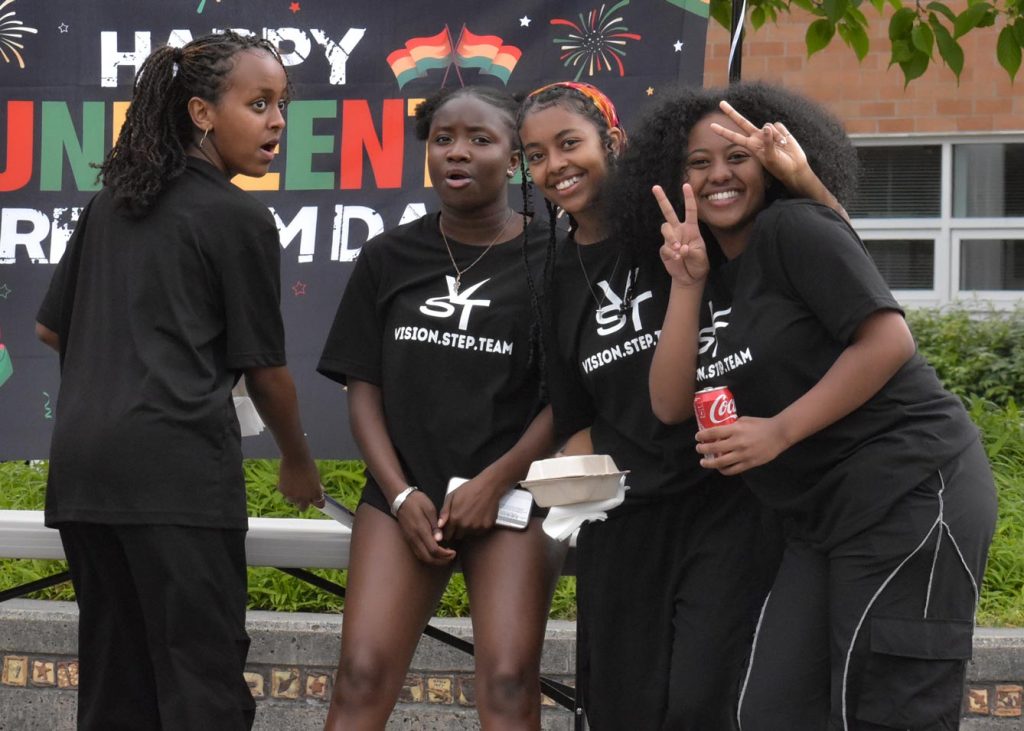 Speaking at the Juneteenth event were Lynnwood Mayor Christine Frizzell, Edmonds School District Superintendent Rebecca Miner, Dr. Yvonne Terrell-Powell, Edmonds College, and Lisa Edwards, Chief Executive of the Verdant Health Commission who also co-sponsored the event. Lynnwood Councilman George Hurst attended the event but did not speak.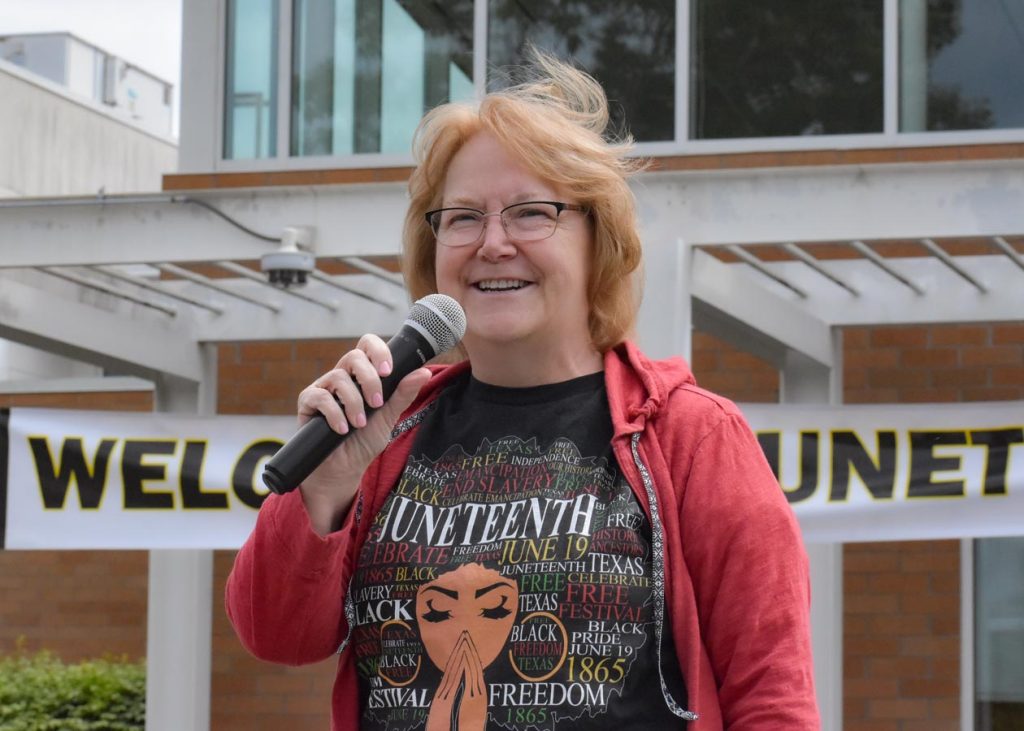 Mayor Frizzell read the Juneteenth Proclamation passed by the city council and signed by her on June 12. It was accepted by Kirk Mathis of Verdant Health Commission; Olympia Edwards of Project Girl and some of her mentees; Councilmembers Shirley Sutton and Josh Binda; and several City of Lynnwood employees.
Lisa Edwards, CEO of Verdant, shared her and the organization's appreciation to co-sponsor the event and the honor of celebrating Black Heritage.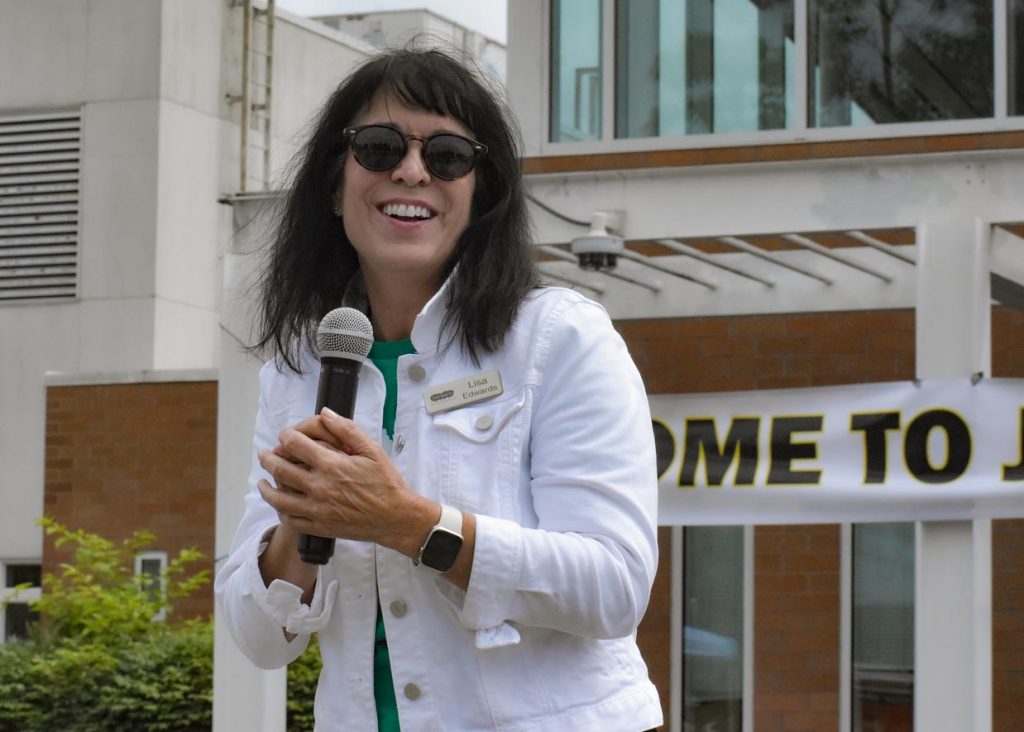 "While we are here to celebrate that initial freedom and emancipation, we know there are other freedoms that we need to continue to fight for," Edwards said. "We will continue at the Verdant Health Commission to ensure all of our residents have access to quality healthcare and food security and the services they need to have a vibrant life."
Edmonds School District Superintendent Rebecca Miner, committed to helping students learn about the true and accurate history of the United States.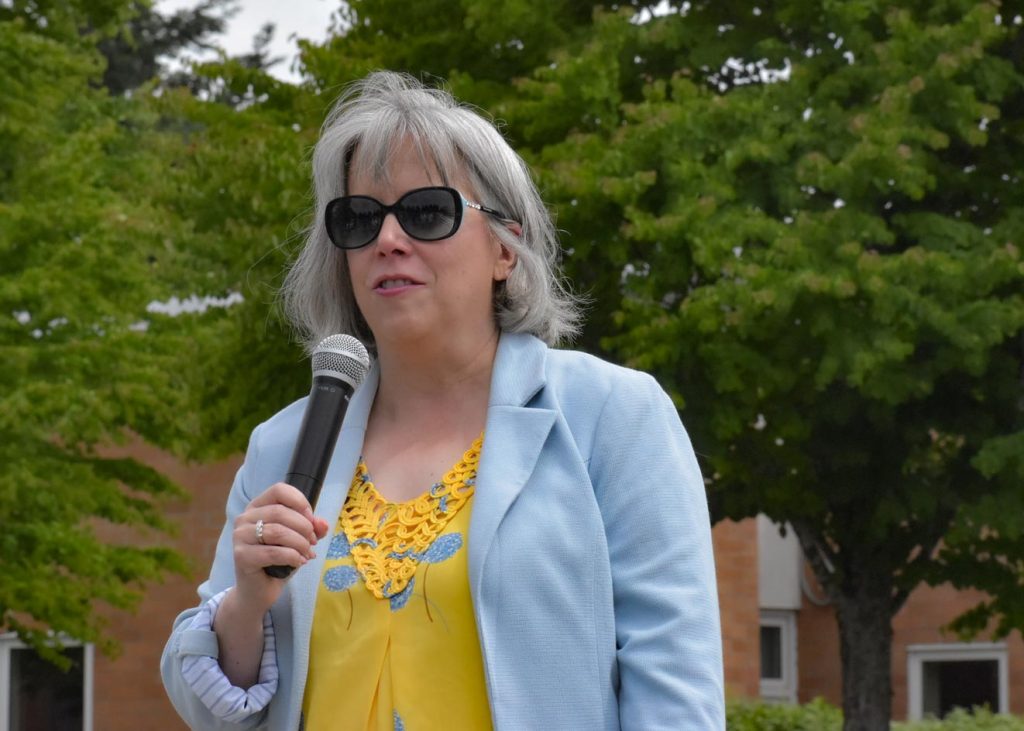 "I got a really poignant email recently from a student who said, 'Our students are graduating from this system always hearing about the same leaders, always hearing about the same things but you need to help us go beyond Rosa Parks, beyond Martin Luther King Jr.' I commit today that we are committed to doing that."
Dr. Yvonne Terrell-Powell of Edmonds College shared with the Lynnwood Times that she hopes another the takeaway from today's event is the importance of building community.
"Ida B Wells said that eternal vigilance is something that is a price for liberty," Dr. Terrell-Powell told the Lynnwood Times. "So, we must remember that we must continue to be vigilant if we want to continue to have freedom for all."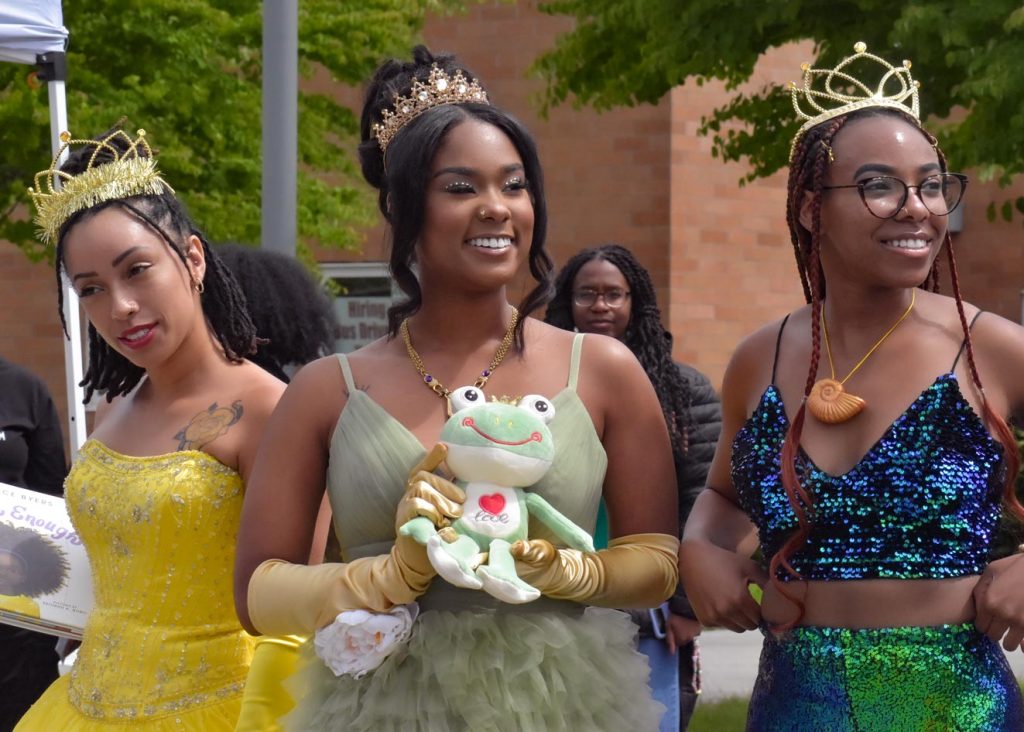 Councilman Hurst, who attended the event with his wife, shared with the Times the significant importance Juneteenth.
"To celebrate that this was the end of a horrible institution we had in our country that we are still rebuilding from that. I hope every year we can build more and more unity," said Hurst.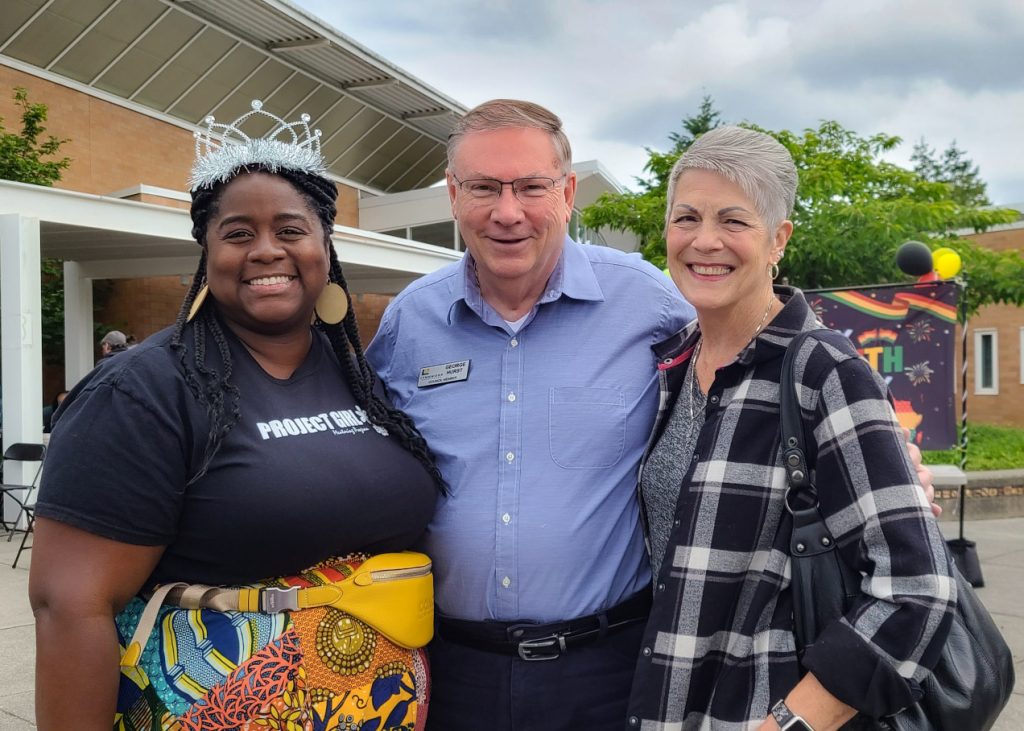 He added, "We still need to emphasize voter registration in the BIPOC community and engagement. We need to be able to say that our council represents the diversity in our city. In some ways I think it does and in others, I think, there are things we can do better to celebrate our BIPOC population."
Sponsors for Lynnwood's Juneteenth celebration were Verdant Health Commission, United Healthcare, Project Girl Mentoring Program, Edmonds School District, and the City of Lynnwood.
Attendees enjoyed a Mini Health Fair, access to mental health on-site advocates, food, games, a marching band, a drum circle, and dances by Daughter of Royalty Marching Team, Vision Step team from Meadowdale High School and a Rwandan traditional dance by Umunezero.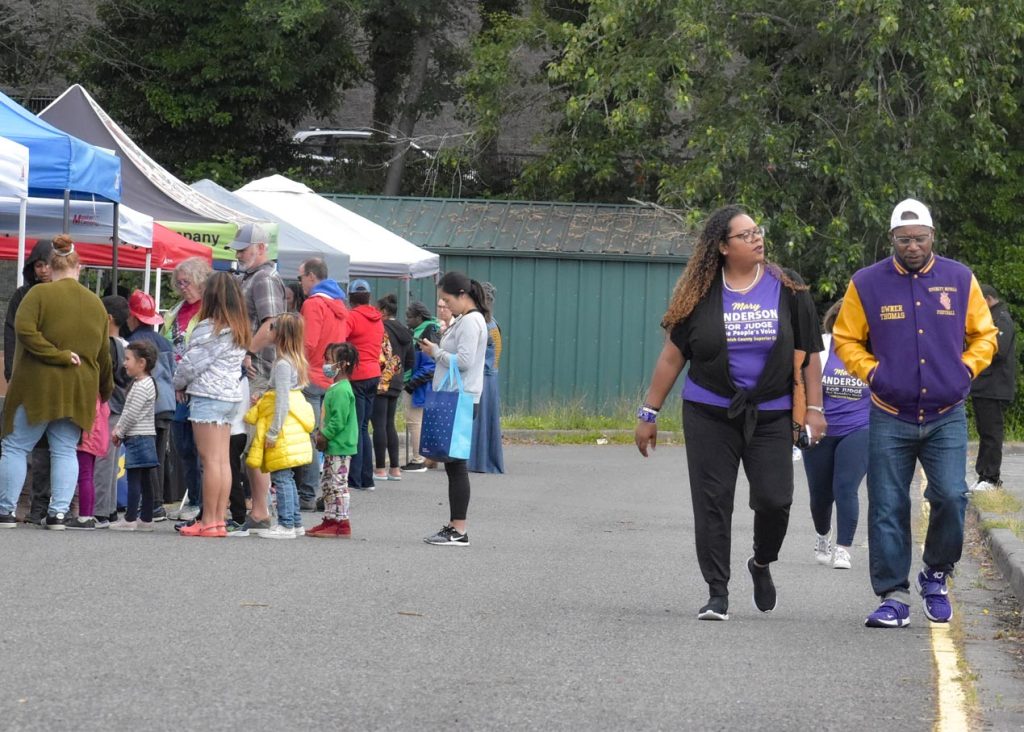 Why celebrate Juneteenth
Juneteenth dates back to 1865 when, on June 19, Union soldiers led by Major General Gordon Granger arrived at Galveston, Texas with news of the end of the Civil War and that the slaves were free known as General Order Number 3. This news was two-and-a-half years after the Emancipation Proclamation of January 1, 1863, which didn't impact Texas since there were very few Union soldiers to enforce the proclamation.
General Order Number 3, reads as follows:
"The people of Texas are informed that, in accordance with a proclamation from the Executive of the United States, all slaves are free. This involves an absolute equality of personal rights and rights of property, between former masters and slaves and the connection heretofore existing between them, becomes that between employer and hired labor. The Freedmen are advised to remain at their present homes and work for wages. They are informed that they will not be allowed to collect at military posts; and they will not be supported in idleness either there or elsewhere."
The surrender of General Lee in April of 1865 coupled with the arrival of Granger and his regiment finally provided the influence necessary to enforce the Emancipation Proclamation.
Juneteenth became a federal holiday on June 17, 2021, and the first known official movement to make Juneteenth a federal holiday began in 1994. All 50 U.S. states and the District of Columbia recognize Juneteenth either as a state holiday, a ceremonial holiday, or a day of observance. At least 28 states and the District of Columbia will legally recognize Juneteenth as a public holiday this year – meaning state government offices are closed and state workers have a paid day off, according to Pew Research Center.
Juneteenth Proclamation by the City of Lynnwood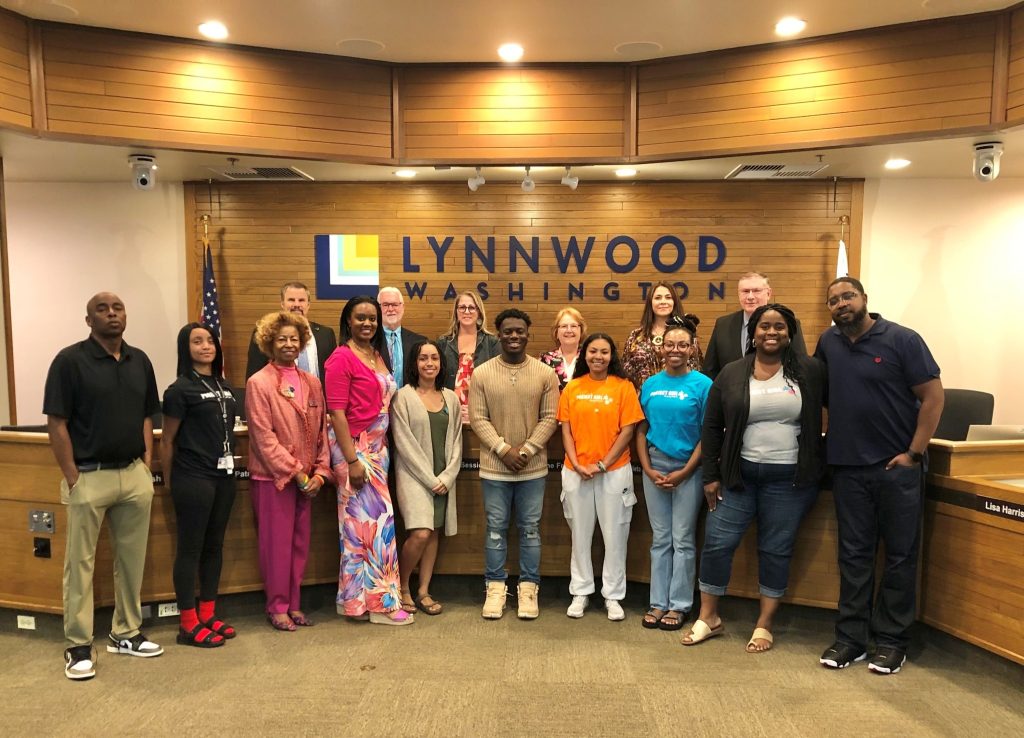 WHEREAS, in 1619, twenty captured Africans were brought to Virginia as enslaved people, ushering in 246 years of slavery in America; and
WHEREAS, by 1680 as the number of indentured laborers of European descent declined, the enslavement of Africans was widely accepted, and the buying and selling of these human souls became highly profitable in the southern United States; and
WHEREAS, the Emancipation Proclamation of 1863 issued by President Abraham Lincoln freed enslaved people in the 11 Confederate states at war against the Union; however, it wasn't until December of 1865 when Congress required the Confederate states to ratify the 13th Amendment, thereby abolishing chattel slavery and involuntary servitude; and
WHEREAS, slavery remained relatively unaffected in Texas until June 19th, 1865 when Union troops arrived in Galveston, Texas to take control of the state and freed all enslaved people; and
WHEREAS, Juneteenth is a commemoration of June 19th, 1865, and is now celebrated in many communities in the United States with cookouts, parades, prayer services, and poetry readings; and
WHEREAS, Juneteenth is a time to reflect on the injustice endured by the men, women, and children of African descent brought to this nation against their will, but whose legacy of determination to live free paved the way for our continued fight for justice; and
WHEREAS, on June 19th the City of Lynnwood will honor the legacy of Black and African American ancestors by continuing our commitment to cultivate a community where all have a sense of belonging and feel included, valued and welcome; and
NOW, THEREFORE BE IT RESOLVED, that I, Mayor Christine Frizzell, and the Lynnwood City Council, hereby proclaim Monday, June 19, 2023 as Juneteenth in the City of Lynnwood, and we encourage everyone to celebrate Juneteenth by strengthening our resolve to dismantle systemic racism, denounce hatred and bigotry and renew our pledge to eradicate racial inequity and social injustice in our communities and throughout the world. And acknowledging and recognizing the contributions of enslaved Africans including culture, economic growth, and development.