String of dog killings sparks investigation by Sultan-based animal shelter
YAKIMA, Wash., June 22, 2023—Pasado's Safe Haven, a Sultan-based animal sanctuary and rescue organization, is teaming up with People for the Ethical Treatment of Animals (PETA) to offer a $10,000 award for information leading to the arrest of those responsible for a string of dog killings in the Yakima Valley area.
Since March of 2023, a total of five deceased dogs have been found by law enforcement working with the Yakima County Sheriff's Office, all of which exhibited signs consistent with abuse and neglect. Pasado's brought each of these dogs in for necropsies to determine the type and level of abuse these animals suffered in hopes of finding new leads.
"Beyond our recovery efforts associated with these killings, we are seeing a disturbing rise in the number of dog abuse, abandonment, and neglect cases in Yakima County overall," said Cynthia Wang, Executive Director of Pasado's Safe Haven. "We are doing what we can to respond quickly and save the animals, but our sanctuary is at capacity. We're stretching ourselves to make space for the increase in dogs needing homes."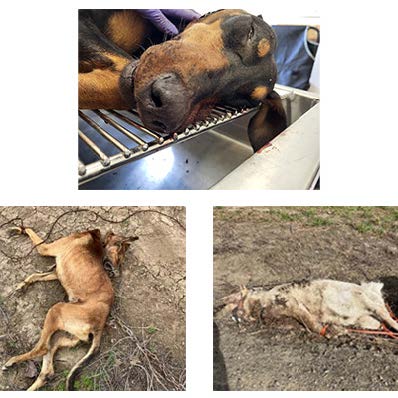 Pasado's Safe Haven investigates animal cruelty crimes and provides rehabilitation and sanctuary to those who have suffered from abuse or neglect. The organization advocates for better laws to protect animals and educate the public about how we can end animal suffering together.
The organization is named after a donkey, "Pasado", that was killed in Bellevue in 1992, by three boys. At that time no felony charge existed for animal cruelty in Washington but Pasado's Safe Haven, in one of its first major achievements, helped pass a law that would make First Degree animal cruelty a felony offense. That law has since become known as the "Pasado Law."
A private investigator for Pasado's working on the dog abuse cases, who asked to remain anonymous because she often works undercover, told the Lynnwood Times that Yakima County has had a history of dog killings, and animal neglect, for years. She suspects it is because local law enforcement have not taken animal abuse cases seriously in the past. Research proves animal violence can be linked to human violence and even terrorism. With the addition of a new Animal Control Officer at the Department things have started to change for the better.
"Having seen similar situations in Yakima for so long I'm hoping this case will shine awareness to the whole problem there," said the investigator. "It's very widespread and this kind of thing is happening a lot in Yakima County and has for a long time…I think what it is about Yakima is, in my opinion, people know they can get away with it any no one seems to care."
The investigator added there is a lot of dog fighting that takes place in Yakima, but some of the dogs found did not indicate signs of blood sport. While some might have been used in dog fighting as "bait" — to rile up a blood sport dog for battle then discarded after use — other causes of death ranged from being bound and dragged by a car to being tortured and shot in the head.
The Washington State Gambling Commission has been great in working with suspected blood sport rings in the past, but investigations typically take years, the investigator said.
The deceased dogs found are mainly larger breeds such as Pit Bulls, Dobermans, Golden Retrievers, and Rottweilers, none of which are believed to have died from natural causes — exhibiting signs of gruesome abuse and neglect. They also do not appear to be street dogs, these are dogs that were "owned, cared for, then brutally killed."
"Really, really, horrible, intentional, premeditated [killings]; someone did this knowing what they were doing it's not something that just happened," said the investigator. "I hope that that [this investigation] leads to a reduction, if not a stop, to the horror that has happened over the last number of years there,"
So far Pasado's has received some great tips but no substantial leads. The investigator did inform the Lynnwood Times she does not suspect the killings were by a single person. The dog killings are spread throughout Yakima Valley.
To aid the Yakima Sheriff's Office with this ongoing effort, Pasado's has offered to do everything from holding the deceased to performing necropsies, to building a case with attorneys and prosecutor's; the problem, however, is many of the dogs found are not recovered in a timely fashion, hindering Pasado's ability to determine cause of death.
Pasado's needs the public's help to find who is responsible for this pattern of gruesome deaths. Anyone with specific details relevant to the current incidents should call 1-800-222-TIPS and reference Case #23C03867, or submit a tip on Yakima County Crime Stopper's website: http://www.crimestoppersyakco.org.
In addition, those with information can download the P3 Tips app (for Apple or Android devices) and submit a tip digitally. Pasado's encourages the public to be vigilant when providing information about these incidents and share specific details relevant to the current case. All reports will remain anonymous.
To donate to Pasado's and help investigators continue to pursue these terrible cases of abuse and protect animals, visit pasadosafehaven.org/yakimareward.
Follow Pasado's on Twitter, Facebook or Instagram for daily updates, or visit the over 200 animals at its Pacific Northwest sanctuary in Sultan. Learn more at https://www.pasadosafehaven.org/