Lynnwood Mayor awards Finance Director for exceptional performance
LYNNWOOD, Wash., July 3, 2023—Lynnwood Finance Director Michelle Meyer was awarded ten Administrative Leave days on April 7, 2023, by Mayor Christine Frizzell for "exceptional work efforts over the past year."
"You have spent endless hours and weekends restructuring the Finance Department, dealt with multiple staffing challenges, worked through the 2023-2024 budget process and brought it to a positive end with Council acceptance, I am happy to award you ten (10) Administrative Leave days," Mayor Frizzell wrote in a letter to Meyers rewarding her for her hard work.
Lynnwood Municipal Code 2.54.170 grants the mayor the privileged authority to award department heads and other senior staff benefits in the form of administrative leave "for performance of responsibilities and duties beyond an employee's typical responsibilities and duties as specified in their city job description and which clearly benefits the city."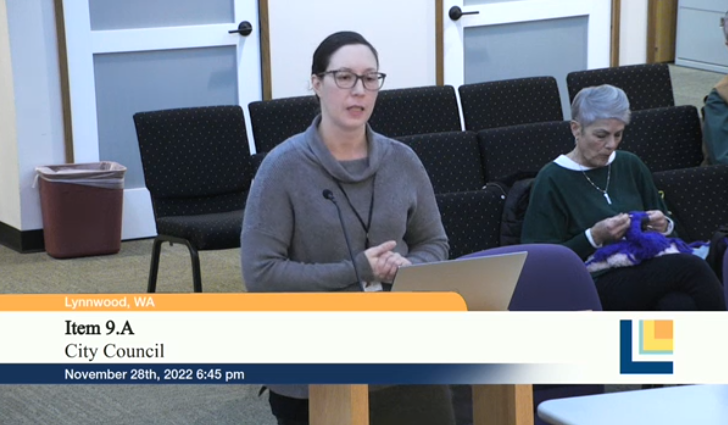 Mayor Frizzell also thanked Meyers in her award notification letter for successfully implementing budgetary, operational, and organizational efforts in the Finance Department. She notified Human Resources Manager Lori Charles on March 27, of her proposal for Meyers.
On Monday, February 22, 2021, the Lynnwood City Council unanimously approved then-Mayor Nicola Smith's appointment of Michelle Meyer to serve as the City's Finance Director. She has spent her career in public service with over twenty years of experience in local government agencies including the last twelve in municipal Finance Director roles. She has extensive experience in debt management, economic development, and operational and capital budgeting for full-service cities.
Meyer holds a Master of Public Administration and a Graduate Certificate in City/County Management from Wichita State University. Lynnwood's previous Finance Director, Sonja Springer, retired in December of 2020 after 33 years in municipal finance, and the last five years as the City of Lynnwood's Finance Director.