Do parents have a say over education?
While many concerned parents are storming school boards to debate Critical Race Theory (CRT), sex education, and mask mandates in their public schools, some have begun to ask a broader question: do parents have a say over education at all?
Virginians say "yes"
The recent Virginia gubernatorial race addressed this question. Democrat candidate Terry McAuliffe admitted plainly, "I don't think parents should be telling schools what they should teach," while his Republican opponent Glenn Younkin said the opposite: "I believe parents should be in charge of their kids' education."
Terry McAuliffe: "I don't think parents should be telling schools what they should teach." pic.twitter.com/7S15pTv1gY

— Greg Price (@greg_price11) September 28, 2021
Republican Governor Younkin ultimately gained the victory, partially because of this answer, in the same state that helped secure President Biden's victory by 10 points earlier this year.
While the people of Virginia have shown their answer through the election process, the question of whether parents have a say in education remains a debate across much of the nation. School boards have become a battleground, and in some cases, board members feel threatened by those in their district speaking out against their curriculum or mandates.
National School Board Association says "no"
On September 29, the National School Board Association (NSBA) released a letter to President Joe Biden, which it recently removed and apologized for, requesting "federal law enforcement and other assistance to deal with the growing number of threats of violence and acts of intimidation occurring across the nation," likening concerned parents who disagree with their school district's practices to domestic terrorists.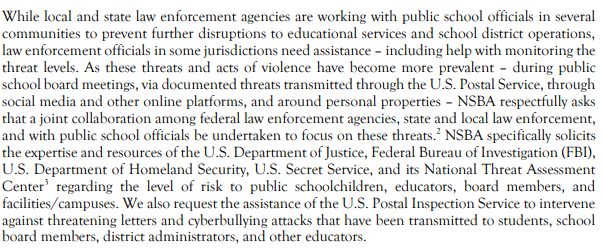 To read the NSBA letter sent to President Biden, click here.
The letter also claimed that "violence" in school boards (though they did not cite examples or define their terms) stems from the "propaganda" surrounding CRT, further claiming that "critical race theory is not taught in public schools and remains a complex law school and graduate school subject well beyond the scope of a K-12 class."
In response to the NSBA's letter, Attorney General Merrick Garland released his memorandum for the FBI on October 4 which detailed the "disturbing spike in harassment, intimidation, and threats of violence against school administrators, board members, teachers, and staff," and called for the FBI to convene meetings to "facilitate the discussion of strategies for addressing threats against school administrators, board members, teachers, and staff, and will open dedicated lines of communication for threat reporting, assessment, and response."
The memorandum, like the NSBA's letter, did not define the terms "harassment," "intimidation," or "threats," nor did it cite examples. It also did not explicitly exclude civil dissent as a form of harassment.
Questions have arisen whether the Department of Justice ever investigated the claims of the NSBA before issuing the memorandum, which AG Garland admitted, under oath, was the basis of his letter. So far, no proof of any investigation into the NSBA's claims has been provided.
It seems as though the Department of Justice was hasty to accuse concerned parents of terrorism, indicating their answer to the overarching question at hand.
The federal government says "no"
Furthermore, leaked emails indicate that the NSBA colluded with the White House before penning the letter, raising questions about whether the White House ordered Garland and the FBI to investigate parent activity in school boards.
It was also found that the FBI's Counterterrorism and Criminal Division created a "threat tag" named "EDUOFFICIALS" to track potential investigations into parents they deem as threats, according to an FBI whistleblower. Again, parents who voice concerns through civil dissent are not explicitly excluded.
To view the FBI's Counterterrorism Division's email notifying agents of the creation of an "EDUOFFICALS" threat tag, click here.
FROM THE WHISTLEBLOWER: pic.twitter.com/4IfJRPVKMk

— House Judiciary GOP (@JudiciaryGOP) November 16, 2021
The actions of the NSBA, the attorney general, and the White House indicate that those in the highest authority believe parents should not have a say over education. The NSBA letter and the AG's memorandum seem to lump all parent concerns together as domestic terrorism, never clarifying that civil dissent be encouraged or even permissible.
What do local school districts say?
While the federal authorities have shown they believe parents have no say in public education, many local school boards are fearful to take a stand.
The Lynnwood Times contacted nine local school districts, including Mukilteo, Edmonds, Everett, Lake Stevens, Snohomish, Marysville, Arlington, Northshore, and Monroe school districts to ask if they agree with the sentiments discussed in the NSBA letter, which at the time was still upheld by the association.
Each district was asked the following questions:
Does the district agree with the letter's substance and tone? If not, have you contacted the NSBA to let them know?
Can you please tell us how, going forward, your organization defines "intimidation," harassment," and "threat"?
Finally, do you plan to report individuals in your state to the U.S. Department of Justice – or do you believe that concerns can be adequately managed by local and state law enforcement?
Eight of the nine school boards did not respond. Lake Stevens School District, the only district to respond even after follow-up, did not answer the questions directly but left the following message, attributed to their Superintendent Dr. Ken Collins and the Board President, Mari Taylor:
"The Lake Stevens School District and our Board of Directors welcomes and encourages engagement in school board meetings. Civil discourse is an integral part of public education, and our Board has appreciated hearing the different perspectives of our students, families and residents. We have had to remind participants about the procedures related to the public comment portion of our board meetings and required protocols for public health and safety—and the overwhelming majority of attendees have been courteous and respectful. We take seriously our responsibility to ensure that students and their families are heard and respected. Running safe and civil meetings is key to our democratic process.
"We have a strong partnership with the Lake Stevens Police Department, and have had an officer present at several board meetings to provide assistance as needed. While we are aware of situations at school board meetings that have gotten out of control locally and nationally, we do not anticipate needing to take any additional precautions in Lake Stevens."
When it comes to topics that matter greatly to parents, such as sex education, CRT, and mandates, parents need to know whether their school district will value their voices, or if their district will consider them a threat, worthy of an FBI investigation.