Housing Hope south Edmonds project to begin construction this year
EDMONDS, Wash., March 23, 2022 – Construction for Everett-based Housing Hope's new 52-unit low-income housing project in South Edmonds begins later this year through a partnership with Edmonds Lutheran Church.
Located at 236th Street SW, near Highway 99, the new building will hold six one-bedroom, 34 two-bedroom, and 12 three-bedroom low-income units to address the region's affordable housing crises.
The introduction to Edmonds Lutheran Church came from Duane Leonard, Executive Director of HASCO, who Housing Hope CEO Fred Safstrom said he is "indebted to" for the introduction.
This introduction led to a memorandum with the church in November 2020 allowing Housing Hope acquisition land for its housing project.
Currently, 22% of Snohomish County's rental households are paying more than 50% of their income for rent and utilities and one third of Snohomish County residents are renters, Safstrom included.
"Affordable housing is complicated. It cannot be done by private industry. It takes a very specialized ability to access the funding and to provide the services for affordable housing and in particular to households who have experienced homelessness, and we have a long and successful history doing that," Safstrom said.
In addition to working with churches with "excessive land," Housing Hope "collaborates extensively" with Volunteers of America, to complement the services VOA offers to the community.
Housing Hope is currently discussing with Verdant Health Commission in adding a health center room to their Edmonds location to provide basic health care services for residents and their children, as well as with Community Health Center.
Housing Hope and South County
Housing Hope owns and operates 541 affordable units at 23 locations throughout Snohomish County and has helped 301 households attain home ownership through their sweat equity Team HomeBuilding program.
"We have been very intentional about helping various communities in the county to address their own issues of homelessness and affordable housing," Safstrom told the Lynnwood Times. "We have regional boards, in north county, east county, and now in south county, that keep us well connected with those communities."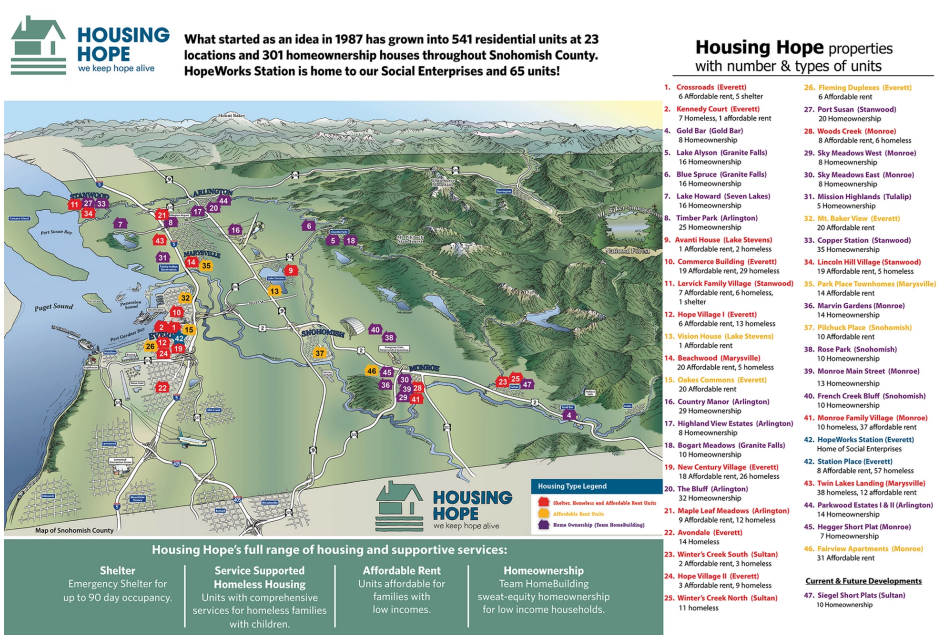 In Housing Hope's first decade, their focus was in and around Everett. In its second and third decades, the focused shifted to north and east counties, and now, in its fourth decade, the strategic focus has been in south county led by President Louise Stanton-Masten.
After completing their current project in Edmonds, Housing Hope's next project will be in Lynnwood at Scriber Field. Later this year they will begin gathering finances and hopefully break ground by late 2023 or early 2024.
According to Safstrom, each region differs in the needs of their residents. South county, for example, has a much larger population of non-native English speakers due to its higher rate of international immigrants.
About a third of the population that benefit from Housing Hope are single adults without children, Safstrom told the Lynnwood Times. In Edmonds, for example, 50% of those helped have experienced homelessness and 50% have an area median income of 50% or less – certainly "cost burdened in our high marketplace," Safstrom stated, but have not experienced homelessness.
"We're pretty new to south county, but we're listening carefully to residents down there in understanding what their needs and desires are," Safstrom told the Lynnwood Times. "We view ourselves as a tool communities can use to address those issues that they can't do on their own."
Housing Hope CEO Fred Safstrom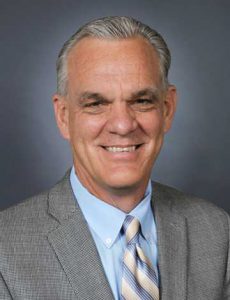 Fred Safstrom, who has been a part of the staff for 15 years and on the board nine years prior, got involved with Housing Hope through his career in banking. As a community banker known for community involvement, Safstrom selected Housing Hope as an agency which he wanted to volunteer.
Born-and-raised in Everett, Safstrom became Executive Director of the Everett Public Facilities District after his 24 years in banking. Completing his work with the Everett Public Facilities, he became a staff member of Housing Hope, and was impressed by its leadership and the organization's commitment to the community.
"I think the households we serve, seeing the transformations that take place when they have a stable place to live, and they're able to go on and get job training and get livable wage paying jobs, to see there is nothing greater that we can do to break the cycle of poverty and homelessness than that; that is enormously rewarding," Safstrom shared.
Safstrom believes there are a lot of factors to increasing residential rental rates in Snohomish County.
For one, he notes Snohomish County's appealing economic stability, moderate climate and sound employment base, all of which create a demand for housing. Although the county is attractive to many, it has "not kept up" with the increase population growth he told The Times.
Safstrom also shared that the influence of "for-profit housing developers" targeting higher wealth groups also contribute to an unbalanced housing market.
"More and more of our residents are literally, the proverbial one paycheck away from homelessness," Safstrom said. "There are often barriers people face that prevent them from earning enough income to afford housing. It could be a lack of secondary education, it could be history of mental illness or substance addictions, it could be post traumatic conditions from domestic violence, it could their upbringing, or a physical disability.
"There are a lot of different barriers that people face in earning adequate income to afford housing and what our service's program does is [that] it helps our residents recognize those barriers and take steps to remove them."