County to receive up to $25.4M to save lives ravaged by the opioid crisis
SNOHOMISH COUNTY, Wash., November 1, 2022—Snohomish County is set to receive up to $25.4 million from a resolution with the three largest distributors of prescription opioids. Attorney General Bob Ferguson brought McKesson Corp., Cardinal Health Inc., and AmerisourceBergen Drug Corp. in 2021 after rejecting a national settlement. In Ferguson's announcement, Washington state will receive a maximum of $518 million — $46 million more than the state would have received in the settlement — with the initial funds being distributed on Dec. 1. 
"This is a major milestone — one of the largest resolutions in Washington state history — but we're not done fighting back against the opioid epidemic," Ferguson said. "This represents significant accountability for the opioid distributors that helped fuel the epidemic, as well as urgently needed resources to fight it. The crisis is far from over. Our fight to hold these mega-corporations accountable will continue."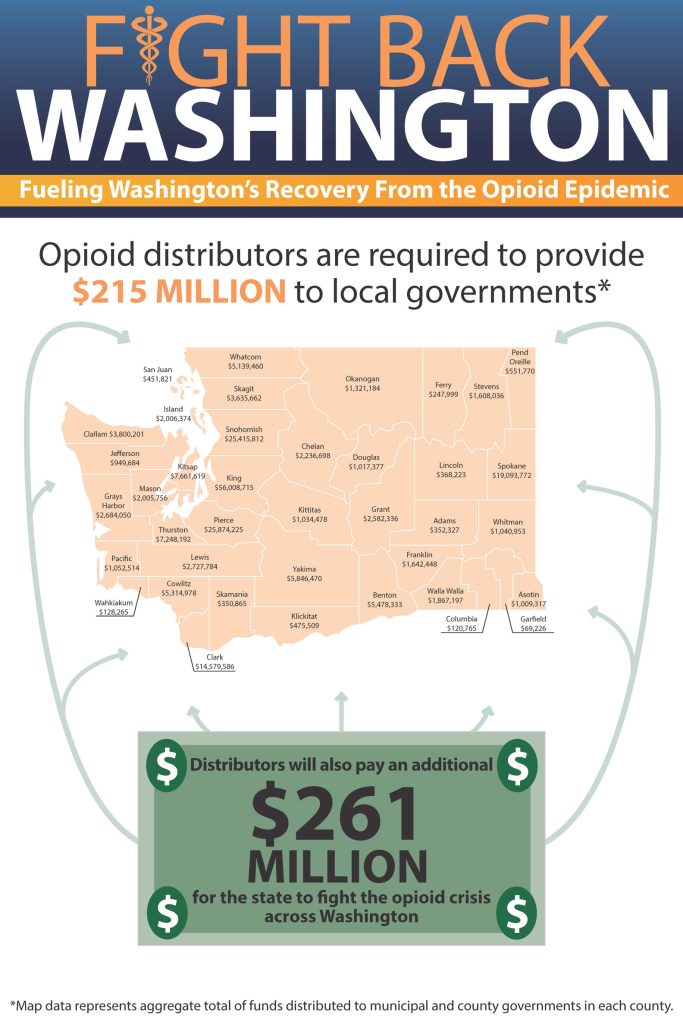 In 2019, the Snohomish County Council under the leadership of Chair Terry Ryan (D), Vice Chair Nate Nehring (R), and councilmembers Brian Sullivan (D), Stephanie Wright (D), Sam Low (R) unanimously voted to file a civil lawsuit against manufacturers and distributors of OxyContin. 
This latest announcement is another recent reminder of the ongoing opioid crisis. As was previously reported at the end of August, Snohomish County saw a spike in overdoses over a two-week period. Fentanyl was the most common drug, being present in 58% of the blood toxicity reports. Originally developed for pain management of cancer patients, fentanyl is 50-100 times more potent than morphine. Methamphetamine was the second most prevalent in the toxicity reports.
Snohomish Regional Drug Task Force Lt. David Hayes stated there was no new information about these overdoses from July 26 to Aug. 8. In the initial press release, Lt. Hayes stated that: "The presence of the dangerous drug fentanyl, in our community, continues to grow and threatens lives and public safety across our county and state. Members of the public should be aware of the prolific supply of fentanyl and methamphetamine in our community and take measures to protect themselves, friends, and loved ones."
This spike in overdoses in Snohomish County was around the same time the Pierce County Sheriff's Office reported that "rainbow fentanyl" was now in the Pacific Northwest.
More recently, a 46-year-old man was arrested by the Snohomish Regional Drug Task Force, with authorities seizing roughly 150 M30 fentanyl pills, $524,000 in cash, drug packaging supplies and suspected stolen property. The arrest was part of a months-long investigation into those moving and selling fentanyl, involving over 360 arrests and 150 citations as well as the seizure of firearms, drugs and vehicles.
"While the data will show many arrests over the past several months, our goal continues to be implementing strategies that will lead to long term positive change in this area, "Everett Police Chief Dan Templeman said. "This requires more than just law enforcement intervention, but also the support of our community, social service organizations and other stakeholders willing to partner with us to improve the conditions for those suffering from behavioral health issues as well as those who own and frequent businesses in the area."
This arrest is on the heels of the sentencing of Snohomish County drug trafficker, "Mac Wayne" as well as drug distribution leader Rodrigo Alvarez-Quinonez. Sentenced to 10 years in prison, Alvarez-Quinone was one of 12 arrested for trafficking fentanyl, heroin, meth and cocaine in August 2020, being convicted by a Seattle jury in June 2022. Law enforcement seized 7,500 pills "likely tainted with fentanyl," roughly six pounds of meth, 8 pounds of heroin, over $100,000 in cash, four firearms, and several vehicles used for smuggling.
Snohomish Health District recently updated their online dashboard on opioid overdoses.
"With the increasing severity of the opioid crisis, it's incredibly important to have this kind of data at our fingertips to help guide decision-making," Sara Lidstrom, the epidemiologist who led the dashboard project, said.
The data for Snohomish shows that overall opioid deaths drastically increased over the last five years, with fentanyl being the most common substance. The reported number of deaths almost doubled from 100 deaths in 2017 to 198 in 2021. Providence Regional Medical Center Everett reported treating 844 opioid overdoses from 2020-21 in the emergency department. This is up from 535 in 2017-18.
The treatment naloxone, or Narcan, is largely credited with saving lives. More than 75% of overdose patients had already been treated with naloxone prior to arrival at an emergency room. Most of these were administered by emergency medical services, but 18% of cases were administered by a family member, a friend or a bystander.
Naloxone is easy to use, with online forms available at www.snohomishoverdoseprevention.com to request training.
Resources are available for addiction and behavioral health treatment at https://www.snohomishcountywa.gov/5442/Crisis-Resources. One may also learn more and leave tips regarding drug trafficking via the Opioid Crisis page on the Snohomish County Sheriff's Office website at https://www.snohomishcountywa.gov/3948/The-Opioid-Crisis.