2022 Midterm Election results mixed across the country
SNOHOMISH COUNTY, Wash., November 9, 2022 – With 68 percent of Americans saying the country is in the wrong direction according to aggregate RealClearPolitics polling, a 38 percent job approval rating for President Joe Biden, a 40-year record inflation, rising crime and increasing geopolitical tensions, initial midterm election results show little change in the balance of power across the country and in Washington state.
According to analysis by John Woolley, historical data from 1936 to 2018 would indicate a Democratic Party loss of power in both houses of Congress.
"From 1936-2018, near the midterms, six presidents have had approval ratings in the range of 40-45%–like Biden," wrote Woolley. "Those cases involved wide variation in seat loss or gain. The range of outcomes in the Senate was between -9 and +2 seats. The average was a loss of 4. In the House, presidents with approval between 40-45%, saw their party lose between 63 and 13 seats, with an average loss of 36 seats. There have been no instances of House seat gains for Presidents with approval as low as Biden's."
Below is a summary of the balance of power across the country based on 2022 midterm election results as of 6 a.m. on November 9:
U.S. Senate (51 needed for majority): 48 Democrat (+1 gain), 47 Republican
U.S. House of Representatives (218 needed for majority): 173 Democrat (flipped 3), 199 Republican (flipped 9)
Governors (26 needed for majority): 21 Democrat (+2 gain), 24 Republican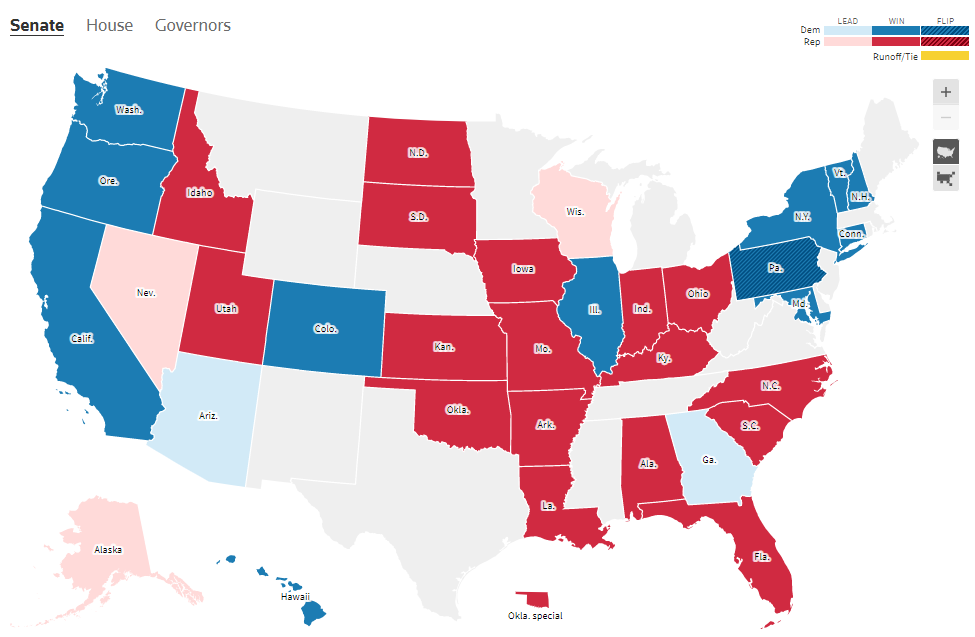 Polling across the country appears out-of-step in the Senate races of Arizona and Pennsylvania, and the Gubernatorial races of Arizona, Kansas, Michigan, and Wisconsin. Besides the fiasco In the Arizona elections where up to 20% of Maricopa County's 223 voting centers experienced tabulation malfunctions, overall, it initially appears that midterm elections went smoothly across the country.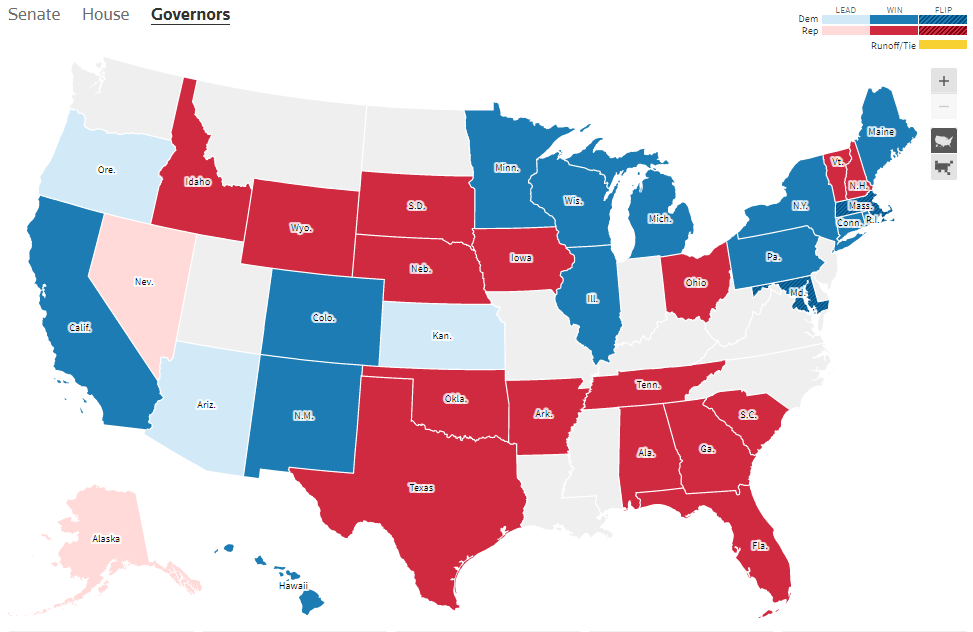 Here in Washington state, ballot return statistics as of Election Day morning were down 5.56 points when compared to the 2018 midterm election on the same day according to the Secretary of State's Election Division. In counties such as Grays Harbor and King it was as high as 11.98 points and 8.31 points respectively. In the high-stakes Clark County elections, the ballot returns were down 5.39 points.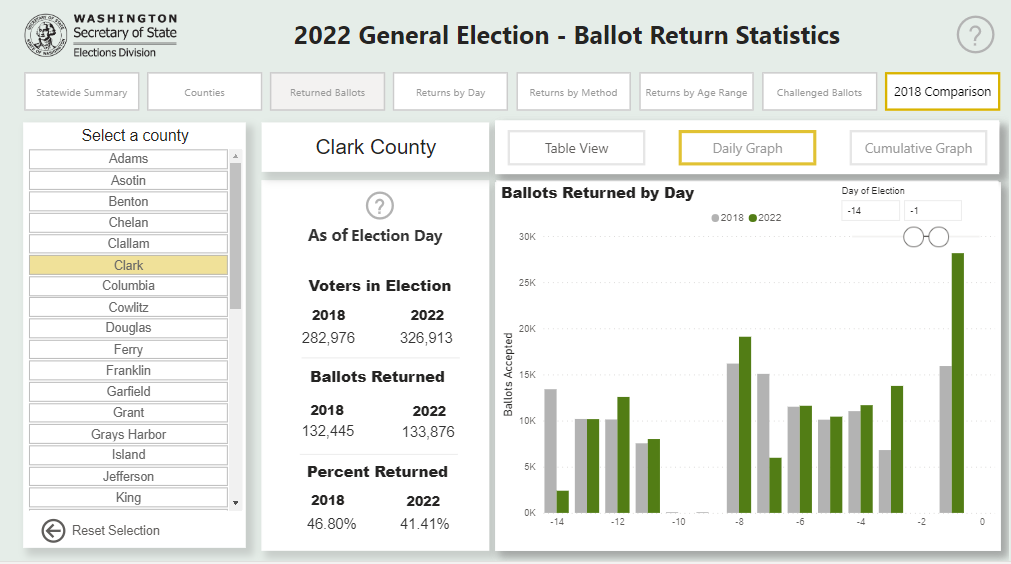 One possible reason for the lower-than-expected early voting ballot returns could be the strategy of Republican activists who believe the 2020 election was stolen from former President Donald J Trump advocating to voters to hold onto their ballots until Election Day. If this is the case, Republican candidates across the state could be seeing a surge over the next few days.
The races of Congressional District 3 between Joe Kent (R) and Marie Gluesenkamp Perez (D) should tighten along with the Senate race between 30-year incumbent Patty Murray (D) and Tiffany Smiley (R), and Legislative District 10 Position 1 race between Greg Gilday (R) and his opponent Clyde Shavers (D) who was caught in an eleventh-hour election scandal regarding his military record and lying about being an attorney.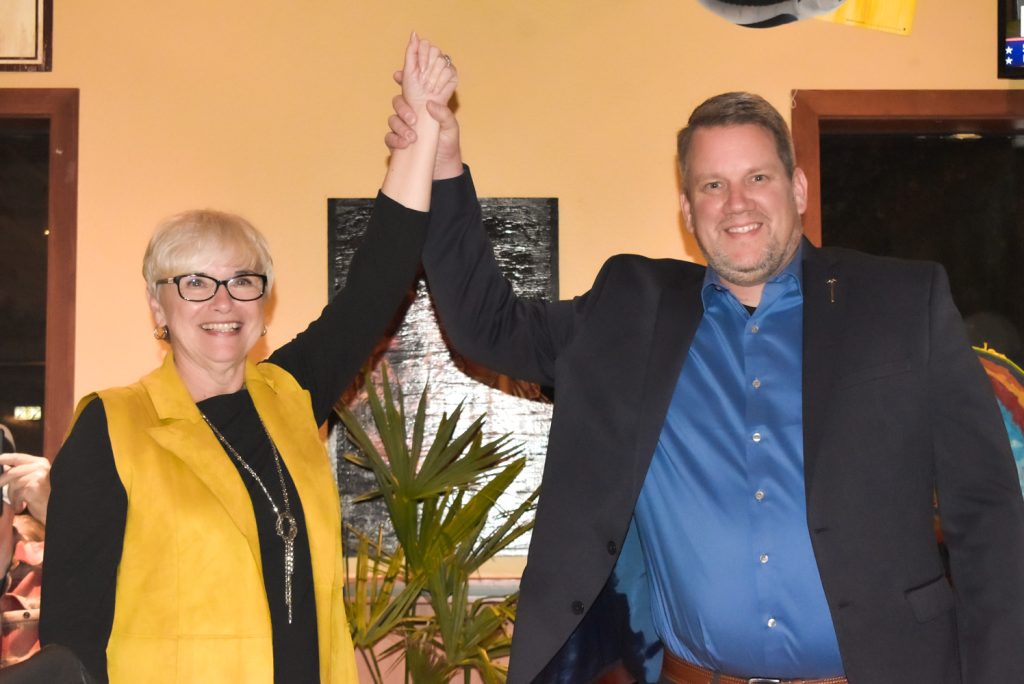 In Snohomish County, Councilman Sam Low (R) defeated incumbent Rep. Robert Sutherland (R) in 39th Legislative District and County Councilman Strom Peterson (D) has won re-election in the 21st Legislative District – both will now serve in the Washington State House and on the Snohomish County Council, a historic first.
Newly appointed Brandy Donaghy (D) of the 44th Legislative District has won re-election. All of the Lynnwood delegation (LD-32) for the State have retained their legislative seats.
For detailed statewide election results, click here. For Snohomish County election results, click here. The Lynnwood Times will be updating election results on this page by 6 p.m. each day until Monday, November 14, 2022.
Featured Federal Election Results (as of November 8)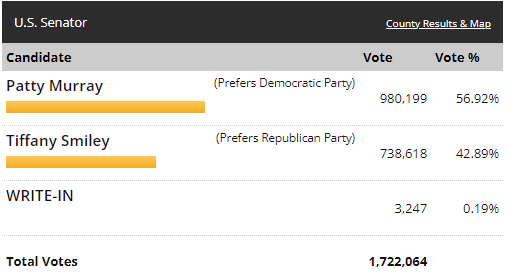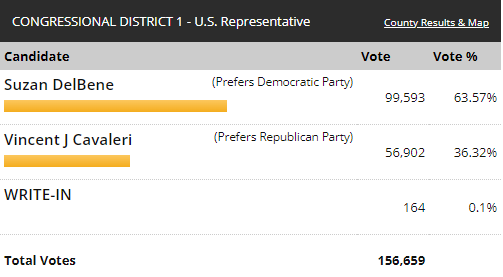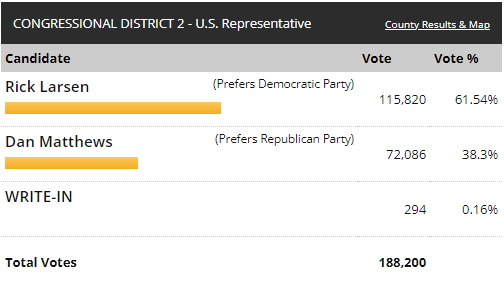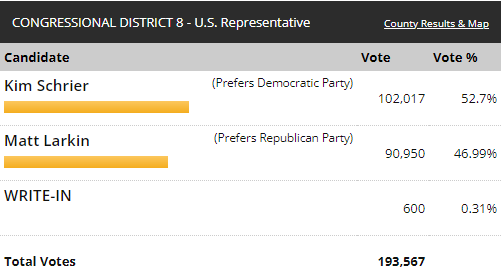 Featured Washington State Executive Results (as of November 8)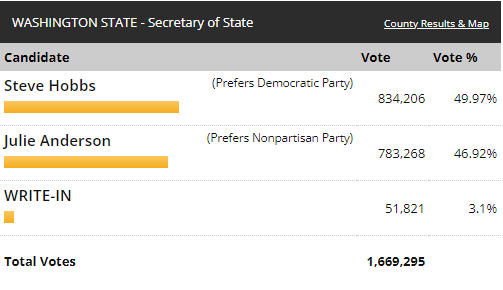 Featured Legislative Race Results (as of November 8)
Legislative District 1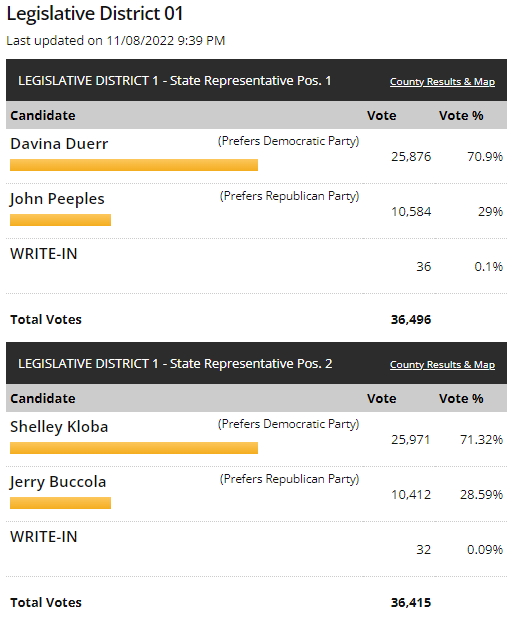 Legislative District 10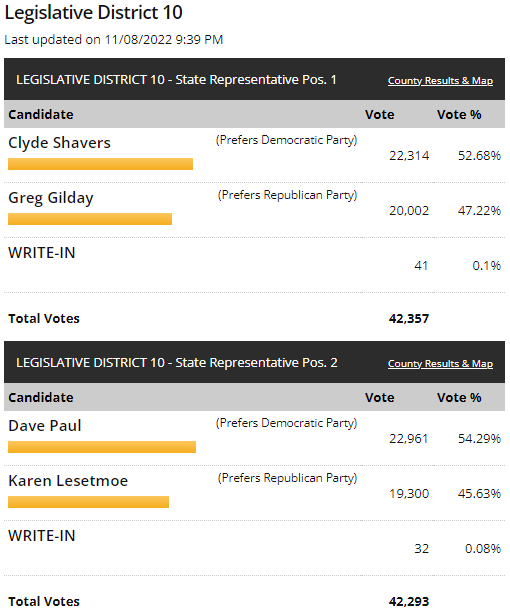 Legislative District 21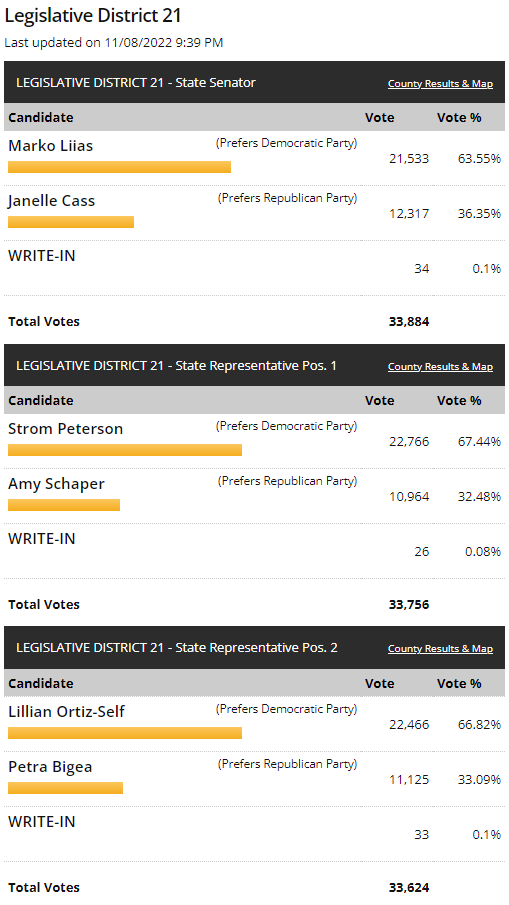 Legislative District 32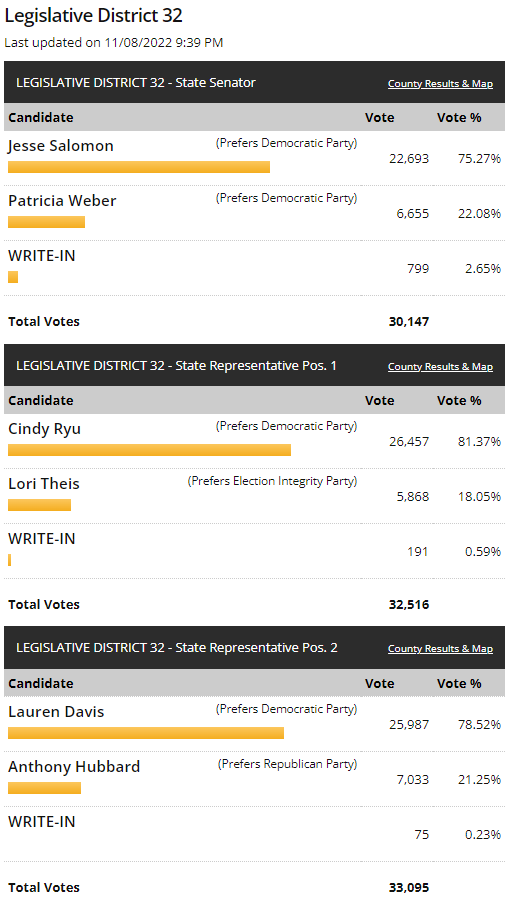 Legislative District 38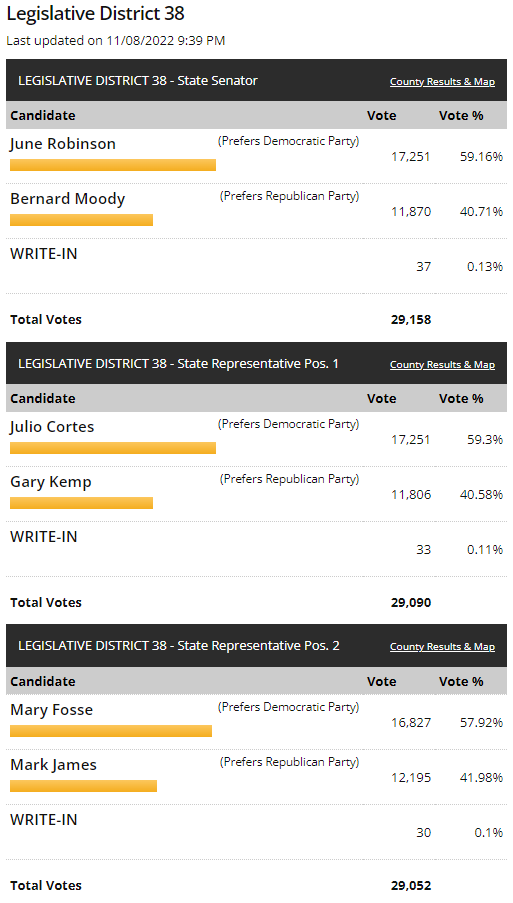 Legislative District 39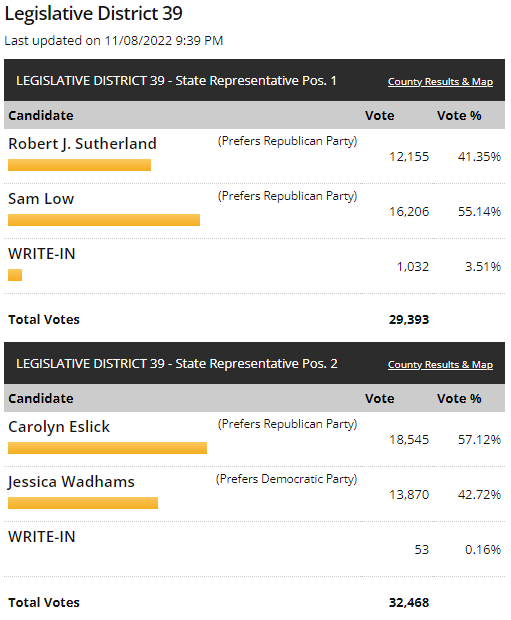 Legislative District 44